Green Harvest
In search of sustainable energy sources, Oglethorpe Power is building biomass electric generating facilities to make use of Georgia's 24 million acres of trees.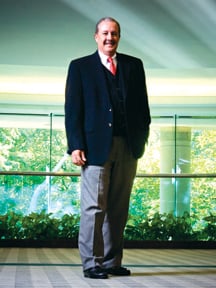 There's an energy harvest in Georgia as utility companies look to the state's abundant forests for a clean fuel stock to satisfy a growing appetite for electricity and lessen reliance on coal-fired plants that spew harmful greenhouse gases, such as carbon dioxide (CO2), into the atmosphere, contributing heavily to global climate change.
In mid-September, Oglethorpe Power Company (OPC) unveiled one of the nation's most ambitious renewable energy plans yet. OPC, the nation's largest provider of power to co-ops, is planning to build two, and possibly three, 100 megawatt (MW) biomass electric generating facilities at a cost of up to $1.5 billion.
"With the growing trend toward renewable energy, we wanted to see what we could do to expand our power supply portfolio," says Tom Smith, OPC's president and CEO. "Also, there still is some uncertainty about where the nation and the state are going with respect to renewable portfolio standards. These projects will help us in that regard."
In August, Georgia Power asked the Georgia Public Service Commission's approval to convert an old coal-fired unit at its Mitchell Generating Plant to use wood wastes.
These developments followed a Fulton Superior Court ruling earlier in the summer that blocked construction of the first coal-burning power plant proposed in Georgia in more than 20 years. The planned Longleaf 1,200 MW plant outside Columbus had been approved by an administrative court, but was overturned by Judge Thelma Wyatt Cummings Moore because it had no plan to limit its CO2 emissions.
So far, major utilities, such as Georgia Power parent Southern Company, have lobbied hard against U.S. Energy Bill provisions that would introduce federal Renewable Portfolio Standards mandating that all utilities replace 15 percent of their fossil fuel power generation (coal, for example) with renewable alternatives by 2020.
Renewable Capacity
"Frankly, the Southeast is not blessed with a lot of renewable capacity," Smith says. "Wind and solar power offer very limited opportunities in Georgia. When you get beyond that, the question is, 'How in the world can you develop something in this state with some sustainable and renewable capacity?' We turned our attention to wood-burning biomass facilities."
Georgia has about 24 million acres of trees, which cover almost two-thirds of the state, a vast green fuel source.
In September, OPC identified five potential sites in four rural counties – Appling, Echols, Warren and Washing-ton, counties located in "wood baskets," or areas within or close to ample wood supply. OPC will spend about $30 million a year at each plant to buy trees and wood waste.
About 1.1 million green tons will be delivered annually to each plant; and each plant will consume up to 1.7 million gallons of water a day, says Mike Price, chief operating officer for OPC. In addition to trees and forest waste, the plants will be designed to process other types of biomass, such as pecan hulls and peanut shells, and will burn manufacturing residue from sawmills.
"In 2009 we'll start working closely with the Georgia Environmental Protection Division on the permitting process and probably won't start serious onsite activity until 2011," Price says. The first two plants should be operational in 2014 and 2015. A third unit could also be ready in 2015.
"We made sure to select sites close to transmission lines that could adequately support a 100 megawatt injection into the grid," Price says. "These projects won't require a lot of upgrade into the integrated transmission network."
Two plants totaling 200 MW will generate enough electricity for about 100,000 homes. At this stage, Smith doesn't want to plan beyond 200 to 300 megawatts of biomass-generated electricity.
A Good Start
"It's a pretty small piece of our total portfolio, but it's a good start," he says. "And there is a limit to what you can do. We believe there is a finite amount of sustainable forest in Georgia. If we thought there was an unlimited supply of wood, we'd be doing more than what we've already announced.
"Based on our analysis, we feel comfortable that we can develop two and possibly a third plant without endangering the sustainability of the resource. I don't think you're going to see an explosion of new wood-burning biomass facilities in Georgia. Maybe a dozen or so."
If that's the case, Georgia is more than halfway planned out. So far, at least six energy companies (including OPC and Georgia Power) have announced plans for up to nine biomass power plants across the state. But other concerns are vying for Georgia's wood supply as well. There are traditional users, such as the paper industry, and at least two companies which plan to start making cellulosic ethanol derived from wood to keep our automobiles moving.
But proponents of alternative energy don't seem to think the state will approach "peak wood" anytime soon."There definitely is a growing competition for the resource, but anytime you can diversify your energy supply, that's a good thing," says Ann Blair, diesel and biofuels program coordinator for the Southern Alliance of Clean Energy. "We're excited about the proposals put forth by Oglethorpe Power."
OPC's biomass plants will burn the fuel in a boiler, and the resultant steam will power a turbine-driven power generator. Each plant will create about 40 new jobs, and all the fuel will be homegrown; plants will be located within 50 to 75 miles of the fuel source – those ample wood baskets. "I would argue that this fuel source is not finite in the sense that petroleum is finite, where it's a case of this is what we've got and that's all we're gonna get," says Ryan Adolphson, director of the biomass processing facilities at the University of Georgia.
"For one thing, in Georgia we know how to grow trees. We're experts at growing, harvesting and transporting fiber. We've been doing it successfully for a long, long time."