Columbia County: Rapid Expansion
Area expects double-digit population growth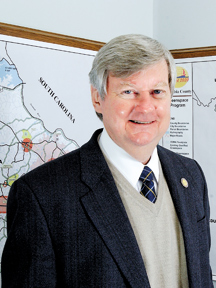 The drive from Grovetown to Harlem in southern Columbia County is only nine miles and the country scenery is straight off a feed and seed calendar – at least for the first few miles.
Then the landscape becomes dotted with subdivisions and the site prep evidence that more are to come. With retail centers certain to follow there are some predictions that Harlem and Grovetown may someday be joined at their city limit signs, a fitting marriage for the only two municipalities in fast growing Columbia County.
But that's a ways down the road, say locals who right now are busy making sure new and planned subdivisions and stores can hook up to utilities and have roads to serve them. To accomplish that, municipalities such as Harlem extend their city limits to include new development. In most cases, this annexation is done to pick up additional property taxes, but the former mayor of Harlem says that municipality widens its borders more for services demanded by growth.
"In a hundred years, we've only annexed one subdivision," says Scott Dean, who served as Harlem's mayor for six years and now represents the town on the Columbia County Commission. "In the last six years, we've added six subdivisions into the city. Our city limits started out as a quarter-mile circle and we've gone out a good one-half to three-quarters of a mile. We're putting our tentacles out in different directions now."
New homes grow both the population and the property and sales tax revenues, says Dean, who calls Columbia County "a sales tax engine."
"Both the cities and the county do better on sales taxes than they do on property taxes," he says. "We have very low property taxes." With less than 10 percent of the county living in a city, there's plenty of room for population growth, even though Columbia is one of the state's smaller counties, at 307 square miles.
Experts say the county may need a considerable portion of its landmass to house forecasted double-digit population growth. Over the next six years the county's current estimated population of 110,000 is expected to reach 132,000, according to the state's Office of Planning and Budget. But there's evidence that projection may be far too modest.
"Riverwood's projection – in another five or six years there are going to be 25,000 people in that northwest area of the county alone," says county commission chairman Ron Cross, referring to Riverwood Plantation, a residential development of homes in the $205,000 to $1.8 million range. That development has attracted various retailers including a shopping center anchored by a Publix supermarket that has been approved for construction.
"The housing market here is off but it's not drastically off," Cross says. "Instead of 1,200 or 1,300 [residential] units starting every year, now we're starting about 1,000. In today's housing market that is still good growth."
Cross's interest in the new homes going up in his county, and the stores that spring up around them, is understandable: His board must find the means to fund the services and infrastructure it will take to satisfy such a growing population.
"We do have a lot of infrastructure needs," says Cross, seated at his desk on the second floor of the Columbia County Government Center in the unincorporated community of Evans. One of those needs is the $40 million widening of a road just a few hundred yards away, the one that accesses the growing River-wood Plantation area. There are water and sewer needs to be funded and recreation improvements to be made.
"And the [Superior Court] judges are petitioning to enlarge the justice center we built in 2002," Cross adds. "They are asking for four more courtrooms."
Many of these needs will be funded from a Special Purpose Local Option Sales Tax approved in the last election. Building new roads and improving old ones is the most worrisome part of the growth equation for Cross and, he says, that's not just a Columbia County problem. "The Georgia Department of Transportation (DOT) has told counties there will have to be more state and local government partnerships [in road construction]," he says.
Just across the street from the government center the $100 million-plus Marshall Square at Evans Town Center is going up. Marshall Square is under the watchful eye of Don Lawrence, project manager for D.C. Lawrence Commercial Real Estate, LLC, who says building a mixed-use development at this moment is well timed.
"It's based on new job growth in the region," Lawrence says. "We have new job growth at Fort Gordon with the arrival of NSA (National Security Agency) and its mission; and at the Medical College of Georgia. And more jobs, potentially, at Plant Vogtle with two new nuclear reactors [being added]. Ride around here and you see a lot of new construction, where a lot of other places are kind of dead right now."
Currently chairman of the board for the Columbia County Chamber of Commerce, Lawrence came to Columbia County with his family in 2004. "We were attracted by the family-friendly atmosphere here and the high quality of the schools," he says.
Historic Ties
For a time back in the 18th century, what is present day Columbia County was a part of Richmond County. But the 30- to 40-mile distance from the county seat, Augusta, to the outer reaches of western Richmond County was too much of a travel burden on citizens. In 1790 Columbia County was carved out of Richmond County. Since then, the two counties have joined and divided their interests like the cells of an organism, and they continue to use each other's assets much like members of a commune.
For instance, the Augusta Chamber of Commerce is 100 years old but in Columbia County, "There wasn't even a chamber here at all until sometime in the 1980s when one was actually formed as a satellite of the Augusta Chamber," says Pat Goodwin, who is a business manager for university advancement at Augusta's Medical College of Georgia. She lives in Columbia, however, and chairs the board for the Columbia County Convention and Visitors Bureau (CVB).
Speaking as a Columbia County resident, Goodwin says, "The two counties still share a number of assets. They [Augusta-Richmond County] are our neighbor and our big sister city and we rely on each other, depend on each other. We can't be islands apart from each other."
Indeed, the counties still share a phone book. In 2005, however, Columbia's leaders decided it was time for their CVB, development authority and chamber of commerce to stand alone and they broke away from the Augusta Chamber. "It was just that we were growing up," Goodwin says. "And that's well evidenced by the growth in the county, which has been phenomenal."
Stan Shepherd, chairman of the board for the Development Authority of Columbia County, believes Augusta's Fort Gordon could be an important source in providing high tech workers for his county. "There is great potential to use the assets Fort Gordon provides, especially the Signal Center there," he says. "There are so many separating from the U.S. Army there that have a wealth of IT-related skills, and we're looking at ways to take advantage of that. And we continue to look to expand the medical research side, especially that coming out of the Medical College of Georgia."
Shepherd's comments on the value of the longtime ties between the two neighbors were underscored late last year when Augusta's Medical College of Georgia announced approval from the Georgia Department of Community Health (DCH) for the construction of a $34 million, 63,000-square-foot ambulatory care center in Columbia County to be run by MCG's Physicians Practice Group (PPG). The center will house a variety of facilities and services for medical care, including three operating rooms, 45 exam rooms, lab testing, a CT scanner and two procedure rooms.
While the planned MCG Medical Associates Ambulatory Care Center expands healthcare opportunities in Columbia County, the DCH certificate of need approval was based on MCG's plans to use the facility for training and research. "It's an educational, a patient care and research benefit, and obviously it's a huge benefit to the community economically," says Dr. Curt Steinhart, PPG's president and CEO. "But I think its biggest impact is that people wanting to move to the area are going to see we've got great [healthcare] facilities here."
Expected to be complete within the next five years, Columbia County's Ambulatory Care Center will create 80 to 100 new, high-paying jobs. And Steinhart sees the new facility playing into the state's efforts to increase the number of new physicians. Doctors-in-training and newly-minted physicians want good hospitals and ambulatory clinics for their patients.
With MCG and its hospital, and the ambulatory center going up, "We'll have the best of both worlds," says Steinhart. "That is very important in recruiting physicians and retaining physicians. And right now Georgia is lagging behind the national averages in physicians per capita." Columbia County's new ambulatory center will be used in training medical students and residents.
Technological Evolution
The buzz around the GIW Industries facility at Grovetown is a flurry of inquiries about the hydraulic slide rule developed and copyrighted by the company more than 40 years ago. It seems there was a request from the curator of the International Slide Rule Museum in Denver for one of the GIW slide rules and another from a math museum curator. And there was that email saying the Smithsonian was interested in one.
For the uninitiated, a slide rule is a mathematical computing device that falls somewhere between the abacus and the modern computer in the evolution of such instruments. In the 1960s, the 14-inch-long slide rule in a leather holster was the standard sidearm for geeks. The GIW hydraulic slide rule could measure all kinds of details related to slurry pumps, the machines that carry both liquid and solids from one place to another.
Today's GIW engineers depend on more modern devices for their mathematical transactions, and they have propelled the company to the forefront of those providing the machinery key to squeezing oil out of the soil in Canada and squeezing cash out of wealthy Dubai.
GIW Industries, Inc. builds pumps that can be three times as tall as a standing man and cost $250,000 or more. "Our biggest market right now is – surprise, surprise – oil sand in Canada," says Pamela Welty, GIW's marketing specialist. "They had been trying for years and years and years to get that oil sand out of the ground but it was too expensive. But as the cost of oil started going up and up, that made things more viable."
At GIW's test facility, which Welty believes is the largest in the world, engineers have found a way to get the gooey oil sand out of the ground, with an unintended consequence. "An interesting thing that happened as they were pumping the tar sands: The oil started separating from the sand, so the pumps did a little bit of processing along the way.
The company also provided the pumps used to build the highly publicized islands of Dubai, home to some of the world's most expensive shops, an indoor snow skiing facility and stunning high-rise condos.
Born more than a century ago as Georgia Iron Works, the firm got its start as a foundry located on the banks of the Augusta Canal in Richmond County. It moved to Columbia County in the 1960s and later was purchased by its present owner, German-based KSB. It currently employs 400.
While oil production is the number one use for the pumps, other precious commodities are transported to market by GIW machines. "Our second biggest market is hard rock mining," Welty says. "That's copper, gold and iron ore."
Community Snapshot
Local Leaders
Ron Cross
Chairman
Columbia County Commission
706.868.3379
rcross@columbiacountyga.gov
Stan Shepherd
Chairman
Development Authority of Columbia County
706.729.5600
B. Karen Chrjapin
Executive Director
Columbia County Chamber of Commerce
706.860.4735
karen@columbiacountychamber.com
Population
(2006)
Columbia County, 106,887; Grovetown, 8,139; Harlem, 1,802
Per Capita Income
Columbia County, $35,324;
Georgia $30,914
Unemployment
(October 2008)
Columbia County, 5.4 percent; Georgia, 7 percent
Major Manufacturing Employers
Club Car, Inc.; John Deere Commercial Products; Augusta Sportswear, Inc.; GIW Industries, Inc.
Sources
U.S. Census Bureau, Georgia Department of Labor, Columbia County Chamber of Commerce