Cobb County: Poised For Growth
Projects await an economic upturn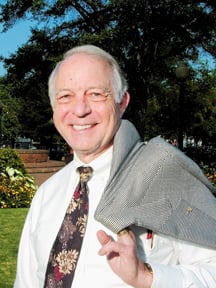 In Cobb County, local leaders and developers are talking about what might have been, if not for the economic crisis that produced a nationwide collapse in the housing market. From the Cumberland Galleria in the south, to Marietta and even the northern cities of Acworth and Kennesaw, many graded plots of land and gleaming new condo towers are sitting idle and empty.
The streams of eager homebuyers have slowed to a trickle and construction workers are idle, but just for the moment, they say. When the smoke clears and credit loosens, the move of residents into a bevy of new mixed-use developments will resume.
"Several of our major redevelopment projects are, so to speak, on hold," says Marietta Mayor Bill Dunaway, but he adds that "we're in a tremendous position. Whenever it does turn, we've got a lot of good projects where the land is already developed."
Most of these projects are residential units that have been the primary focus of the city's redevelopment efforts. A great deal of commercial construction is still moving forward, including several Class A office projects – the first to be built in the city in decades.
Officials here certainly aren't panicking at the slowdown. In fact, some see it as an opportunity to work on improving infrastructure and ensuring that development is appropriate for a county with high expectations.
"We are now solely interested in quality, which is where it should have been the whole time," says Cobb Commission Chairman Sam Olens. "We are supporting mixed-use development along the interstates and mixed-use development in some of our arterial corridors such as Cobb Parkway – and absolutely discouraging any increased density throughout the whole balance of the county."
In fact, Cobb may just be in a better position than most.
"The nice thing from a Cobb perspective is that our housing overstock is the lowest in the metro region," Olens explains. "Our percentage of foreclosures is the lowest in the metro region. When we get out of this recession – whether it is third or fourth quarter next year – we are going to be in the best shape to move forward."
Changing Landscape
Cobb is no longer the fast growing population center it was during the 1960s. Today, growth and development are measured in keeping with a maturing first tier suburb. In fact, the county seems to have two distinct personalities. There's the region of well-manicured subdivisions, but there's also a growing urban feel as well.
The Cumberland Galleria submarket has long been known as a busy office, convention and retail hub, with the traffic to prove it. These days it's attracting young professionals and empty nesters who want to live, as well as work, here. Several mixed-use developments are in the works combining high density residential with retail or office. Most are higher end, including condo towers in the million-dollar range – a first for Cobb.
A catalyst for this type of growth is the new Cobb Energy Performing Arts Centre off Akers Mill Road. It brought professional performers to the suburbs, becoming the new home for the Atlanta Ballet, The Atlanta Opera and the Atlanta Broadway series. Suddenly Cobb became an appealing idea for city dwellers.
"We view the Cobb Galleria area the same as Atlanta views Buckhead and Midtown," Olens says. "And we want the same level of quality."
Here homebuyers can have much the same kind of lifestyle they enjoyed in the city, but at a lower cost. "You come across the Chattahoochee River and all of a sudden your taxes drop substantially," says Geoff Anderson, president of Taz Anderson Realty, who is building the Aberdeen condo tower in Vinings. "Yet you're still 10 minutes from Buckhead. You're within range of all your friends."
The Aberdeen offers units priced from $900,000 to $2 million, and so far buyers have put down more than $20 million, Anderson says.
"This is an area that we've planned and projected to be highrise, and by that I mean what we designate a regional activity center," says Cobb County's Economic Development Director Michael Hughes. "It's there where we provide a suitable amount of infrastructure to support that type of high density."
Rethinking Funding
For several years redevelopment has been the byword for mayors when it comes to older urban areas. That meant encouraging mixed-use projects combining residential, office and retail as a means to revitalize older, sometimes blighted areas. The prime tool for financing these projects has been tax allocation districts, or TADs, that commit city, county and school district property taxes to pay off bonds.
Those plans were dealt a blow by a Georgia Supreme Court ruling last January that school taxes could not be used for anything other than education. That forced developers to either scale back their projects or seek alternative means of financing.
Although Georgia voters approved a TAD amendment in November, development-minded cities are still struggling with the much bigger problem of a souring economy and tight credit markets.
The city of Smyrna created a TAD that included two rundown shopping centers that were slated for redevelopment. Both were delayed as developers sought to rework plans while finding new sources of money.
The old Belmont Hills shopping center is undergoing development by Halpern Enterprises. With only tax revenues from the city and county available, a bond issue was out of the question, says Smyrna's economic development coordinator, Andrea Hall.
"Instead, the developer is going to assume the risk of putting the money up front and instead of the bond being issued we would reimburse them as the tax money comes in," Hall says. "It's a lot riskier and not all developers have the ability to do that."
Also in Smyrna, Century Retail, which is developing the old Jonquil Plaza into a Publix-anchored center, is moving forward with site work.
"They've got over $17 million of their own money in the project and they're just waiting to get their permanent financing," says Smyrna Mayor Max Bacon. "They've been working on that for about four months but in this downturn it's just hard to borrow money."
Bacon questions whether the effort required to secure TAD funding and the controversy they create is worth it – even if school board taxes are again available.
"There are other tools in the economic tool box," Olens adds. "The idea that TAD is the only thing available is wrong."
Marietta also has projects in the works. On Roswell Street not far from the Marietta Square, the seven-story Emerson Overlook building has risen on a site once occupied by a small convenience store. Its first three floors of Class A office already have been leased to local law firm, Moore Ingram Johnson & Steele, LLP. On the floors above are luxury condos with commanding views of the surrounding country. All but 10 of the 32 units have been sold, says developer Roger DeBoy, and he expects the others to move as well.
"It's a unique opportunity for people who want to live in a community and not have to drive to get somewhere," DeBoy says. "They can go out and walk and enjoy themselves."
He was one of the first to see Marietta's potential, local leaders say. Several years ago DeBoy developed Emerson Hill townhomes off Roswell Street. That success led to acquisition of the Emerson Overlook property.
Owner occupied condos and townhomes are a cornerstone of Marietta's redevelopment philosophy. The city has long had a surplus of rental units and that encouraged transient residents, who sometimes placed a burden on local schools. Several years ago officials set a goal of increasing owner-occupied units to 50 percent by 2012.
While the emphasis has shifted away from apartments, that doesn't mean the city isn't willing to work with developers who may not be finding the market right now for those pricey condos and townhomes.
"So we've taken a step back and said hey, we want to make sure we help our builders and if they need to slow down their development phase we'll work with them," says Reggie Taylor, executive director of the Marietta Redevelopment Corporation. "If they say we can't do the condos at this moment, but we may be able to do some higher end apartments and then convert those to condos at a certain point, then we're going to work with them."
Touting Tourism
The county is increasingly billing itself as a tourist destination. The Cobb Energy Centre is a big draw, but out-of-towners from throughout the metro area also come to Marietta Square to shop and attend shows at Theatre on the Square and the newly renovated Strand Theatre. The Gone With the Wind museum attracts fans of that classic film. Later this year, the city will get a new and even bigger attraction when the Aviation Museum and Discovery Center opens next door to Dobbins Air Reserve Base and Lockheed Martin.
The facility will have airplanes to be sure, but its primary emphasis will be on creating interactive experiences for young people that spark interest in science, engineering and math. "One of our main focuses is making sure we are preparing our youth to help our country continue to be a strong technologically advanced nation," says Executive Direc-tor Lori Cowie.
Children and adults as well are attracted to the speed and thrill of flight, and the Aviation Museum will offer a wide variety of education programs for young and old alike, Cowie explains. The 60,000-square-foot first phase will include a large exhibit hall that will also serve as a classroom for the hands on type of instruction backers believe will keep visitors coming back. The county convention and visitors bureau estimates the museum will draw more than 100,000 visitors a year, providing a substantial boost to local business.
"But if we have only 50,000 visitors we will be able to put about $34 million into the economy with tourism dollars," Cowie says.
New development and tourist attractions complement the county's other strong points. Cobb is generally acknowledged to have one of the best public school systems in the state and is home to Kennesaw State, Southern Polytechnic and Life universities.
A well educated, highly trained workforce has helped attract a wide variety of industries, including biotech firms such as Solvay, UCB Pharma and Quintiles. Their presence has made the region more attractive for similar biotech companies that want to be located in the same cluster, Olens says.
Overcoming The Downturn
The economic slowdown has affected every area of Cobb, though some saw a few projects move forward. Kennesaw has focused on developing more commercial activity including retail, office and business parks along with the U.S. 41 corridor. With more than 700,000 square feet of commercial and retail space under development in five different locations, the city hopes to shift its tax base away from dependence on residential property taxes, says Community Development Director Bob Fox.
After a fast start it, along with other projects in the city's downtown, has slowed. "This past year has been extremely challenging in terms of development given the credit market and the economy," Fox says. "But we have had quite a bit going on that's still in progress."
Among these developments is the 34-acre Columns project, that will encompass some 16 buildings and more than 400,000 square feet of commercial and office space, along with a new hotel. The first building to open is the new home for the Edge Connection Enterprise Center, a business incubator formerly headquartered at Kennesaw State University. The 30,000-square-foot facility will offer support and low cost workspaces to some 25 small businesses. A commercial kitchen will cater to food related businesses, and training programs and counseling for entrepreneurs will be available.
The program, part of a nationwide effort to foster micro enterprises, is supported by KSU's Coles College of Business and the city of Kennesaw. "This is a vehicle to help people who may be living in poverty move to economic self sufficiency," says Janine Anthony, vice president of business services and director of the SBA/Women's Center at The Edge Connection.
North on 41 in Acworth, a bevy of retail and restaurants has sprung up around the city's $6.5 million Lakeside Tax Allocation District. This TAD converted an old flea market into a shopping center anchored by a Super Target. That encouraged more development, including the addition of a second Super Walmart, says Assistant City Manager Brandon Douglas.
That upsurge also helped land a new 40,000-square-foot, 12-screen movie theater for a 68-acre multi-use development (office and retail) just off Highway 41. The city is waiting for construction to begin on two senior adult communities near downtown. One is projected to be a $40 million mixed-use development on the site of an old car dealership.
Elsewhere in Cobb, cities are busy sprucing up their downtowns as they wait for the economy to improve and developers to return. In Austell, a major streetscape project is under way, and the city is readying plans for converting an old golf course into a 50-acre park to be named in honor of pioneering pro golfer, Louise Suggs.
A founder of the Ladies Professional Golf Association (LPGA), she grew up in Austell and learned to play on the local course, says Director of Community Affairs Jimmy Graham. The city plans to invite Suggs, who has retired to Florida, back for ground-breaking ceremonies later in the year.
In the meantime, building seems to have come to a stop. "People are holding back waiting on money, even on commercial development," Graham says.
That's a view echoed by Powder Springs Mayor Pat Vaughn. She says a planned mixed-use development fell through and the property is now in foreclosure. In the meantime, the city is moving forward on creating a new entrance to its flourishing downtown area that will include an overpass for the rail line that comes through town.
Powder Springs now has a new city hall and library and work has begun on a cultural center. In addition, it's negotiating with a local university about locating an extension program there, Vaughn says.
With all these improvement, Cobb's cities should be even more attractive when those elusive developers are ready to return and start building again.
Community Snapshot
Local Leaders
Sam Olens
Chairman
Cobb Board of Commissioners
770.528.3305
solens@cobbcounty.org
Bill Cooper
President & CEO
Cobb Chamber of Commerce
770.859.2330
bcooper@cobbchamber.org
Michael Hughes,
Director
Cobb County Office of
Economic Development
770.528.2607
mhhughes@cobbcounty.org
Population
(2007 estimates)
Cobb County, 679,481; Marietta, 67,021; Smyrna, 49,534; Kennesaw, 31,613; Acworth, 19,130; Powder Springs, 15,380; Austell, 6,984
Unemployment
(October 2008)
Cobb County, 6.2 percent;
Georgia, 7 percent
Top Employers
Cobb County Public Schools; WellStar Health System, Inc.; Lockheed Martin Aeronautics Company; The Home Depot, Inc.; Cobb County Government; Kennesaw State University; Publix Super Markets, Inc.; Six Flags Over Georgia; Walmart; Marietta City Schools
Sources
Cobb County Chamber of Commerce, Georgia Department of Labor,
U.S. Census Bureau