Water Solutions
Clayton County turns wastewater into drinking water with an innovative recycling system that's drawing international attention.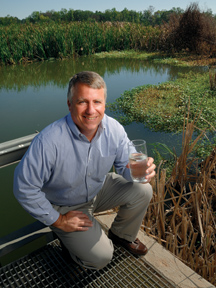 A drought envelops Georgia like pitiless lava and parched communities carefully monitor their drinking water supplies. Stream flows approach record lows, and lake levels plummet.
Water authorities throughout the state try to wring every available drop. Administering the supply of this most precious resource is more important than ever, and the professional water managers who do the job well approach political celebrity status. But technology and human ingenuity can do only so much.
"We have some solid systems all over Georgia, some excellent professionals, and they face serious challenges," says Jack Dozier, executive director of the Georgia Association of Water Professionals (GAWP). "We can engineer some solutions, but it's not like we can manufacture new water."
But one community is skipping through puddles thanks to foresight and planning – in Clayton County they say it rains every day.
"Last summer, when the drought was about a half inch away from being the worst on record, we always had plenty of water," says Mike Thomas, general manager of the Clayton County Water Authority (CCWA). "That's because we put about 10 million gallons back into our water supply every day."
For almost 30 years Clayton County, located just south of Atlanta, has outpaced the rest of the state – and pretty much everyone else – with a sustainable, robust system that recycles treated wastewater.
They did this for years through a state-of-the-art land application system, in which treated wastewater was sprayed over forestland. The water goes through a natural cleaning process as it filters down through the soil, back into the watershed, and into Clayton County's faucets. Then, about 10 years ago, the county started another, less land- and energy-intensive project – constructed treatment wetlands.
Some of the best drinking water in Georgia this minute was flushed away six months ago.
Water Witchers
Dozier says it's a tricky business, handing out gold stars to water authorities, especially in Metro Atlanta, when Georgia is at war with Alabama and Florida over water rights and water managers operate subject to restrictions and regulations imposed by the Army Corps of Engineers.
"It's a tricky situation to say who is doing a good job or a better job when we're still in limbo," Dozier says.
Nonetheless, every year GAWP honors the best systems across the state, presenting awards in a number of categories, including best tasting drinking water, wastewater treatment plants and water treatment plants, collection and distribution systems and public education programs.
Some of the recent all-stars and usual suspects include Gwinnett County's F. Wayne Hill Water Reclamation Center, Americus Waterworks, the city of Gainesville's Lakeside Water Treatment Plant and Dalton Utilities' Riverbend Wastewater Treatment Plant.
Dalton Utilities was honored also for having the best tasting drinking water in District 1. Clayton County (again) won the honors for District 3. The Macon Water Authority won the statewide drinking water test and will compete in a national taste test next year in San Diego. Macon's Frank C. Amerson Water Treatment Plant also took top honors in competition against the state's larger systems (15 million gallons per day, surface water).
"The authority's leadership showed great foresight in the 1980s, when they started acquiring land to build an off-stream reservoir," says Tony Rojas, executive director of the Macon Water Authority (MWA), referring to Javors J. Lucas Lake, a 625-acre reservoir that holds up to 6.5 billion gallons of water.
For the past several years MWA has been performing an inventory of infrastructure and equipment, forecasting capital costs for future projects. The board raised rates and MWA received a boost in its credit rating.
"We're doing projects without bonding them and setting money aside for the next several years, earning interest off that," Rojas says. "And we've got about $20 million in various projects right now under contract, being designed or constructed. We're extending the life of our assets, which ultimately saves money for our customers."
Up in Habersham County, Duncan Hughes brings together a disparate group of community leaders to focus on common concerns. Hughes, director of the Soque River Watershed Association, is heading the Soque Watershed Partnership, a group of 14 organizations – municipalities, business groups and so forth – working to protect the river and establish long-term management strategies.
"The neat thing about this is the diversity of the groups involved," Hughes says. "We have groups like Fieldale Farms (poultry) and the Northeast Georgia Cattlemen's Association, stakeholders who need to have a say in how we protect our resources.
"Our ultimate goal is to determine what our water quality threats are and develop a protection plan that cities and citizens can use to make informed decisions regarding our watershed.
"One of the quickest ways to turn an anti-environmentalist into a conservationist is to get him thinking how good or bad water management will affect his property value, and how it affects his family's and children's future."
Best In Show
Innovation, solid leadership and cutting-edge technology have thrust some Georgia water authorities into the international limelight.
In September the Columbus Water Works (CWW), along with environmental engineering firm Brown and Caldwell, received the 2008 Global Project Innovation Award from the International Water Association for a first-of-its-kind biosolids treatment project.
"In the treatment of wastewater, you produce as many solids as you take out," says Billy Turner, CWW president. "That's a large amount of solids that have to be dealt with and digested."
With the newly patented process (which CWW has given back into the public domain through the Water Environment Research Foundation), solids are exposed to high temperatures, killing all of the pathogens, leaving Class A biosolids which may be used as fertilizer. This treatment produces methane gas – enough green energy to meet 40 percent of the treatment plant's electricity demand ($600,000 to $700,000 worth of energy a year, Turner says).
A full-scale unit should be in operation next spring, says Turner, who plans to retire in January after 52 years in the water business.
Clayton County has attracted the attention of an international audience of late. Besides being featured on National Public Radio, and on the covers of three different trade magazines, Clayton has been drawing visitors from Australia, Asia, Mexico, Canada, and – across the country – water professionals interested in the CCWA's extraordinary system.
"We've been held up as an example, but we're not letting it get to our heads. We're taking it all in stride," Mike Thomas says.
CCWA started recycling its wastewater to drinking water standards in 1980, acquiring 4,000 acres of forest with help from the federal government. It turned wastewater into potable water, but took almost every square foot of available land and energy costs were high – about $30,000 a month, Thomas says.
As the CCWA developed its 2000 Master Plan, alternative methods for treatment were explored.
"One suggestion was a big treatment plant like the one in Gwinnett, but we would have lost water in that option – it would go back into the Flint River," says Thomas, describing a path that almost every drop of wastewater takes – treat it, then send it downstream. Clayton County, which draws water from the Flint River and Pates Creek, needed every drop it could get back into its drinking water system.
"We're very water poor, we sit on top of this subcontinental divide and there isn't an abundance of surface water or groundwater available. We've always had to think outside the box to support a growing population," Thomas says. "So they came back with the treatment wetlands option."
Working with engineering firm CH2M HILL, they built 22 wetland ponds, or cells, on 55 acres in the south part of the county. The cost to build the Panhandle Wetlands, which came online five years ago, was only $4 million.
Up at the Huie Land Management Site, where thousands of sprinkler heads used to disperse treated wastewater, are four phases of treatment wetlands on 400 acres. Three are completed. When the fourth comes online, CCWA will be able to treat more than 17 million gallons a day throughout the county system.
"That means we'll be putting two thirds of the water we use back into our water supply system," Thomas says. "We're using about 15 acres to treat a million gallons, where it used to take about 200 acres through land application, and our energy bill is now about $10,000 a month."
CCWA gave nature a head start, constructing the wetland ponds and planting seven plant species. Within a few seasons, hundreds of plant species have colonized the area, and more than 100 different bird species have settled in.
The treated wastewater works its way from one cell to the next. Plants and animals remove additional pollutants and nutrients. Eventually the water spills over a gate into a reservoir, which pumps the water to a treatment plant before it reaches the faucet. It takes six months to a year for water that went down the drain to come back to the tap.
In the middle of Phase 1 at the Huie site, there is no smell, nothing to connect the pond water with its previous life as toilet water. A marsh hen – previously rare in these parts – nests among the cattails. Last summer, as many reservoirs in the state dipped down to 50 percent or less of full pool, Clayton's never went below 77 percent. It always had at least 200 days of drinking water available.
Other communities in Georgia have employed treatment wetlands, most notably Augusta. But only Clayton is recycling the water.
"Clayton is the model, the poster child for efficient water use and progressive management," Dozier says. "They've gotten it right from day one. For the past 30 years, everything they've done has been innovative and environmentally friendly."