Too Many Patients, Not Enough Nurses. Too Many Students, Not Enough Teachers
Georgia will need an additional 20,000 nurses by 2012 and could easily miss the mark by 8,000. Yet some 4,000 applicants to nursing programs are turned away annually. One big part of the problem: a faculty shortage.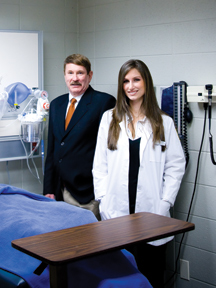 Richard Sowell took a roundabout route from blood-spattered kitchen tables in the wee hours of rural south Georgia mornings to his current post as dean of the WellStar College of Health and Human Services at Kennesaw State University.
His father was one of only two doctors in Guyton, a tiny town about 25 miles north of Savannah. His mother was a lab technician. Dr. Sowell, a registered nurse with a PhD, likes to think that it was his upbringing around two dedicated healthcare professionals that led him to his field.
"My father served people off the beaten path – way off," Sowell says. "There wasn't a hospital in Effingham County back then. People would get shot, cut, stabbed and Daddy would get me out of bed, and I'd have to hold someone down on the kitchen table while he stitched them up.
"I didn't want to be a doctor, or a lab technician, so I ran as far away as I could. Got a degree in journalism, then the government decided that I was needed in Southeast Asia."
By the time Sowell returned from his hitch in the Air Force in 1973, he was open to new possibilities. There was a recession, unemployment was up and a million other young men were returning to the workforce. A high school sweetheart who had become a nurse gave Sowell an idea.
He studied nursing at Georgia State University, and the day after graduation he was working in the Grady Hospital Intensive Care Unit. Sowell thrived on interaction with patients. He was hooked. He kept going back to school, became deeply committed to, and developed renowned expertise in, the care of persons with HIV/AIDS.
"It just took a while for me to get to where I was supposed to be – we all have to find our own course," says Sowell, part of the widespread effort to address a severe nursing shortage in Georgia and across the nation.
Educators and medical administrators are scrambling to solve a perilous, multilayered supply/ demand dilemma: too many students, not enough teachers; too many patients, not enough nurses.
In 2006, the Georgia Depart-ment of Labor reported the state will need an additional 20,000 registered nurses (RNs) by 2012; at the current rate Georgia could fall about 8,000 nurses shy of that goal. Projections vary widely, but the U.S. Department of Health and Human Services (HHS) estimates a national nursing workforce shortfall of more than 500,000 by 2025. With some estimates as high as 1 million by then, nursing schools must increase the number of graduates by 90 percent.
"The situation is pretty alarming right now, and the question is, will there be enough nurses to take care of us when we need them?" says Dr. Rhonda Scott, chief nursing officer at Grady. "We have plenty of people interested in pursuing a career in nursing, but nursing schools have waiting lists of 500 and more."
Nursing faculty is aging and there aren't enough people interested in taking a pay cut from their clinical posts to teach. A shortage of clinical placement opportunities also is constraining enrollment. About 4,000 applicants to nursing programs are turned away annually in Georgia. KSU's Sowell says his nursing school admits almost 200 applicants a year into the undergraduate program – out of 1,333 applicants this year, 1,640 in 2007.
It's a healthcare workforce maelstrom that led the University System of Georgia (USG) to launch the Nursing Education Task Force (NETF) in August 2006, to develop a plan and meet the demand for RNs in Georgia.
Part of the task force strategy stresses faculty development. In 2006, 41 percent of USG nursing faculty was 55 or older, with 63 retirements (out of 513 fulltime positions) planned within five years. And the clinical nursing workforce, with an average age over 46, is creeping toward retirement also.
"The faculty shortage is more severe than the nursing shortage," says Dr. Lucy Marion, dean of the nursing school at the Medical College of Georgia, and chairperson of the NETF. "We're all getting ready to retire or getting close to it, although a lot of teachers are working longer than they planned, because we're begging them to stay."
The NETF's primary goal is to increase the number of new RNs prepared by the USG to 2,700 annually (up from 1,726 in 2006). There are 25 nursing programs in the USG, 39 in the state (and about 2,200 total annual graduates) including technical and private colleges.
Most RNs have an associate's degree (nine Georgia technical colleges have programs in this arena) or a bachelor of science in nursing (typically four years in a university setting). An LPN (licensed practical nurse) requires about a year of education. The difference between the LPN and RN is, generally, in the range of practice, duties, opportunities and pay. Earning potential for RNs may also increase based on educational degree and area of specialization.
Universities and colleges are increasing enrollment in nursing programs (or trying to, given the shortfall in nursing faculty and limited clinical training slots), inventing new ways for students to accelerate their education. Meanwhile, a small – but growing – number of Georgia hospitals are reaching for new levels of excellence in the effort to attract and retain good nurses during the worst workforce shortfall in 50 years.
Magnetic Force
Some hospitals are reaching for what has been hailed as the gold standard in nursing excellence, drawn by the "14 Forces of Magnetism," characteristics or tenets that attract and retain nurses.
Created and granted by the American Nurses Credentialing Center (an arm of the American Nurses Association), the prestigious Magnet designation is given to systems that meet rigorous criteria, where nursing is responsible for excellent patient outcomes and nurses have, ideally, high job satisfaction.
By design, nurses at Magnet certified hospitals are autonomous and heavily involved in decision-making – in patient care, governance, policy development – and are empowered to advance their educations and careers.
Georgia has five Magnet hospitals: St. Joseph's/ Candler (two hospitals), St. Joseph's in Atlanta, University Hospital in Augusta and the Medical Center of Central Georgia (MCCG) in Macon. Only four percent of the hospitals in the country are Magnet certified, but the number is growing.
"When we began our formal journey to become a Magnet hospital, there were only 50 in the country. Now there are 294," notes Barb Stickel, MCCG's chief nursing officer, who says the journey required about 3,000 pages of documentation. "You have to prove on paper that you meet every single standard in good form, and then there's the site visit. They interviewed about half of our nursing staff."
In 1995 St. Joseph's of Atlanta became the first in the state and third in the nation to achieve Magnet status. But the hospital already had a reputation as a sort of nursing empowerment zone.
"We recognized that the bedside nurse is the one who needs to make decisions on the best way to manage patient care," says Kim Sharkey, chief nursing officer at St. Joseph's. "Our model of shared governance thrived early on."
Some Georgia hospitals have tried and failed to meet the mark, but the state's existing Magnet systems have formed a consortium to help other hospitals in the application process. Grady's Rhonda Scott, who has worked at four Magnet hospitals in her career, has instilled a set of initiatives as a roadmap to Magnet status.
The designation lasts four years, after which a hospital must re-apply.
"Magnet designation isn't about being static and stable," Sharkey says. "It's about how you utilize your resources to work through chaos and provide an environment where nurses want to work and patients receive the highest quality care."
A number of Georgia hospitals, Magnet or otherwise, offer tuition assistance and other education or leadership training opportunities in the hopes of retaining a talented workforce.
Across the street from St. Joseph's in Atlanta, mammoth Northside Hospital is delivering more babies than any other place in the country, and employing 2,700 nurses.
"We have not applied for Magnet designation, but all of the things we do are geared toward those same standards," says Janis Dubow, chief nursing officer at Northside.
Like every other hospital in the metro area and across the state, Northside works with university and technical college nursing programs, offering clinical rotations for students, or externships geared toward junior and senior level students who work alongside experienced RNs, obtaining hands-on technical experience they can't get in a classroom.
Well, most classrooms.
College Tries
At the Medical College of Georgia, at Georgia Southern, and elsewhere, nursing students are discovering that mannequins can bleed. And breathe, and have babies or heart murmurs – and complain.
"Our simulators behave so much like humans, the students forget they're working with a dummy," says the Medical College of Georgia's Dr. Marion. "I was watching a student exam recently and somebody was in the control room, behind the two-way mirror, speaking for the simulator patient, slurring the voice. The student had to figure out why the patient's voice was slurring."
Georgia Southern University (GSU) in Statesboro has four simulators that force students to deal with multiple scenarios.
"It's serendipity in the clinical environment. Whatever happens, happens," says Dr. Jean Bartels, dean of Georgia Southern's School of Nursing. "We complement clinical training with the simulator, and place our students through situations they might otherwise never see during their training."
To help create more clinical training opportunities, the university system is partnering with the Georgia Hospital Association.
GSU and MCG also are pioneering distance-learning programs. GSU has put its RN to BSN (a program that many universities offer for licensed RNs with associate's degrees who want to earn a baccalaureate) online. MCG has partnered with schools across the state for a teleconference class as part of its Doctor of Nursing Practice (DNP) program. GSU has put its DNP program completely online.
"This new kind of doctoral program is going to help us achieve more faculty," Marion explains. "There is an argument in nursing that you should have a clinical master's degree, and your education degree should come at the doctoral level. I don't have a strong opinion – I'll take anyone we can get!"
She's joking, but the point is taken. According to a study on nursing compensation released last year by the Institute of Higher Learning at the University of Georgia, nurses with advanced training can earn $100,000 salaries in the clinical sector, compared to $60,000 for faculty positions.
"Nursing salaries are going up, but salaries in nursing education have not kept up," says KSU's Sowell. "So why would someone come back to school for a doctorate to become a teacher and make a lot less money?"
That isn't just a rhetorical question. Sowell, who chairs the task force subcommittee on faculty salaries, really wants to know.
Without waiting for the answer, North Georgia College and State University has designed a program specifically to create new nursing teachers, the MS in Nursing Education (MSNE). The program is designed to generate interest in teaching in colleges, or in hospital settings.
"You can be a very good clinical nurse, but not a very good teacher. We want to develop great teachers," says Michelle Byrne, coordinator of the MSNE program. "With the faculty shortage we all are facing, you're seeing more of this type program."
In addition to some master's level clinical training, North Georgia's MSNE program emphasizes curriculum development and philosophy, instructional methods, assessment and evaluation techniques.
North Georgia has what it claims is the first nurse-managed clinic in the state, on campus, where students receive clinical training and professionals provide care to an impoverished clientele. The school also is training Army nurses. The only way students can become Army nurse lieutenants through higher education is if their school has both an ROTC program and an accredited nursing program – North Georgia has both, and designates five slots for Army nurses.
Across the state, schools are trying to increase enrollment, to meet the needs established by the task force, adding nursing programs (like at Fort Valley State) or expanding existing programs. The University of West Georgia, for example, is turning its nursing program into a school of nursing.
"That will give us greater visibility within the structure of the university and the broader community, and it will facilitate recruitment of high quality faculty and students," says Kathryn Grams, the department head who became the UWG School of Nursing's first dean.
Kennesaw State's ongoing partnership with WellStar Health System is allowing the university to add capacity and size. WellStar recently committed $5 million to KSU (over the next two years), earning naming rights to the nursing school, creating the cumbersome-sounding WellStar School of Nursing within the WellStar College of Health and Human Services.
Working out the name game is not what matters here, though. The money will help KSU pay for a new, $60 million, 200,000-square-foot health sciences building.
By the time the building is completed, Megan Joyner should be well into her career. Joyner is a senior in the accelerated program, which requires just four straight semesters to get earn a BSN, because she already has a bachelor's degree – in finance and information technology management from Georgia Tech in 2004.
"I was sitting at my desk, working on the computer, doing a lot of code, and I realized it just wasn't the job for me," Joyner says. "I'd grown up around healthcare my whole life. My mother was a nurse anesthetist. But I'd never really thought of it as a career. At least, not until I started hating my job!"
At Grady in downtown Atlanta, 28-year-old Justin Greenfield is exactly where he wants to be. He started at KSU with intentions of studying nursing as an undergrad, as a steppingstone to medical school. But there was the huge waiting list at KSU. He transferred to Georgia State. Same thing. He stuck it out, finally got into Georgia State's vaunted nursing school.
Every day is an education for Greenfield, a recent graduate. Now, Grady (like so many other hospitals trying to keep their nurses) offers many educational opportunities – in fact, Scott requires a minimum of 12 hours of continuing education a year from each nurse. But Greenfield is getting more than he imagined.
"I was offered positions at other hospitals, but really wanted to come here. You see stuff here you won't see anywhere else," Greenfield says. "During my externship, one of my first days working with a nurse here, they brought in a patient who had jumped off a bridge. I mean, his abdomen was open. He was on eight different drugs, a ventilator, and I watched the nurse as she took care of this patient and another one.
"It was mind blowing, to think that some day I'd be at that level, doing that kind of work. Mind blowing."