Ticket To Ride
After 15 years and $9.4 billion funneled into education, Georgia's lottery is going strong. Its HOPE Scholarships have put college within reach for an entire generation and helped keep top students instate.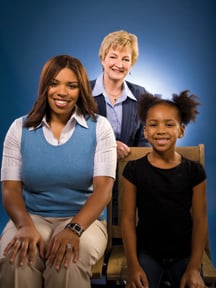 It seems like such a long time ago, but it was only 1990. Running for governor, Lt. Gov. Zell Miller had a two-pronged plan: To grant voters' wish for a lottery, and to use it to fund his ambitious education platform. In retrospect, it's easy to forget how controversial the lottery proposal was, but as Georgia Lottery Corporation (GLC) President/CEO Margaret DeFrancisco observes, "It was incredibly visionary, and incredibly risky."
Miller hired two political advisers, James Carville and Paul Begala, in part for their work in a previous campaign: They'd helped elect Kentucky Gov. Wallace Wilkinson, whose platform included a statewide lottery. In a Baptist state.
Son of two north Georgia teachers, Miller attended college on the government-funded GI Bill. He was convinced that Georgians – who were spending an estimated $200 million a year for the lottery across the state line in Florida – didn't much care what was done with the money, writes biographer Richard Hyatt in Zell: The Governor Who Gave Georgia HOPE. Miller's plan would pay for college and pre-K for qualified Georgia students, but wouldn't cost taxpayers a dime.
Pastors opposed the idea, and their billboards carried one word: "No!" Another primary contender, Roy Barnes, campaigned against it. But voters seemed more inclined to believe Miller's take on the notion: "Thomas Jefferson once said a lottery 'is the fairest tax of them all, because it taxes only the willing,'" he pointed out. Carville would attribute Miller's strong primary showing to the lottery and its ability to draw white suburban voters, telling The New York Times: "Zell Miller was able to set the agenda, and the agenda was the lottery." Soon after Miller was installed in the Governor's Mansion, voters narrowly passed the lottery referendum. Miller bought the first ticket on June 29, 1993.
A lot of tickets have been shredded into confetti since then, along with several of those relationships. Carville and Begala went on to help elect Arkansas Gov. Bill Clinton president. Miller, who served as a U.S. Senator from 2000 to 2005, officiated at Carville's marriage to Republican strategist Mary Matalin before he and Carville fell out over Miller's keynote speech to the 2004 Republican National Convention. Miller enraged more of his former colleagues by writing A National Party No More: The Conscience of a Conservative Democrat.
But a few things remain virtually unchanged since the lottery's inception: The governor promised his lottery would be different from most states' funding methods, with money channeled solely into education, rather than into a general fund. And the amount of money involved would be far larger than most states' education bequests from their lotteries, funding three main aspects: The HOPE (Helping Outstanding Pupils Educationally) scholarship, paying tuition, mandatory fees and books for any high school graduate earning a 3.0 average or better at any state public technical school, college or university, and $3,500 annually for full-time private Georgia college students; continuing education for teachers; improvements to equipment and facilities; and free, voluntary pre-kindergarten programs for 4-year-olds.
Potent Legacy
Miller's plan succeeded beyond anyone's wildest dreams. Ten years after its passage, the AP reported, even some of the pastors who had railed against it changed their minds once they saw their parishioners gain scholarships. Some of their churches would eventually house state-funded (and non-faith-based) pre-K classes. Lottery-funded education remains Miller's most potent legacy. Perhaps only integration is as transformative an educational force in Georgia history.
The numbers are compelling: More than $4.6 billion in lottery proceeds have gone to 1.1 million HOPE scholars and $3 billion to 940,000 4-year-olds in pre-K. Another $1.8 billion in capital outlay and technology grants have funded, for example, all public schools' internet access, and provided 12th graders' admittance into state universities' library system.
Perhaps most important, the state also benefited: Georgia's best and brightest high school students more often opted to go to college instate to take advantage of free tuition. One 2001 study estimated that the number of students scoring SATs of 1500 or higher and choosing to attend college in Georgia had jumped from 25 percent to 75 percent. As those students crowded into state schools, the schools' standings grew proportionately. Many of those best-and-brightest college graduates stayed in Georgia to live and work, greatly enhancing the state's pool of educated employees.
While the HOPE scholarship is probably the best-known aspect of the lottery's education benefits, its pre-K program is a kind of unsung hero, affecting the state in a far-reaching way that's only beginning to be measured.
DeFrancisco, the second executive to lead GLC (the first, Rebecca Paul, went on to pattern Tennessee's lottery after Georgia's), says one of the first persons she contacted after getting her job in 2004 was Miller. "I got the background on his motives," she says. "He knew we needed to move – in every way, from agriculture to education – into the 21st century. We needed to find a way to keep our 'A' talent. I promised to protect his legacy." She came from the New York lottery, whose college scholarships are fewer, and more meager (one senior per high school is eligible for a $5,000, four-year scholarship, or $1,250 per year), and the pre-K benefits nonexistent. Although most states now have lotteries, few rival Georgia's education subsidies.
"I can't go anywhere without someone telling me how they've benefited," DeFrancisco says. "It's been a great ride in Georgia." She also points out that the grassroots economic impact of the lottery includes "the retailers who sell our games, their employees, the TV, radio and print advertisements … and of course, the winners, who infuse money back into the local economy, to realtors and car dealers, as well as into state tax coffers." She remembers that when Robert and Tonya Harris, who lived in a trailer in tiny Portal, Ga., hit the lottery for $275 million (they opted for the $167 million lump sum payout), her office received a call from tax officials eager to know what their withholding share would be.
Today, she says, her job is making sure people continue to buy tickets. "Our business is all about human behavior and random occurrences," she says. "It's how we generate everything, without any state appropriation. If they want this program to survive, they need to buy a ticket." One of the lottery's most recent commercials shows a 4-year-old morphing into a college grad. It's an appropriate image, considering that this year's HOPE graduates were the state's first free pre-K grads.
As a governor who sent free classical music CDs to new parents to play to their infants, Miller saw the pre-K program as equally important to the HOPE scholarship. Many studies back him up – one New York Board of Regents paper estimated that every $1 spent on early childhood education saw a $7 savings by avoiding grade retention and special education classes and earning higher graduation rates. The most deprived students often saw the most improved results.
As ever-greater numbers of working parents struggle to find care for their youngest offspring, Georgia's pre-K programs have grown increasingly popular. The Georgia Department of Early Care and Learning's "Bright from the Start," headed by Commissioner Holly Robinson, administers the state's pre-K programs, federal child nutrition programs and child care licensing, and houses the federally funded Head Start State Collaboration Office.
Economic Impact
Those close relationships have allowed the department to work in concert to provide quality care and nutrition for the state's kids. A recent study by Bright from the Start, the University of Georgia and Georgia State University provides some compelling evidence of the long- and short-term economic impact of the state's early care and education industry, public and private. It's surprisingly large, with gross annual receipts of $2.4 billion, and more than 61,000 jobs, caring for an estimated 383,000 children. Primary benefits include allowing parents to work, support their families – and pay taxes. According to the study, "conservative estimates" of parents' annual earnings supported by the availability of childcare are $13.6 billion – but may range to $32.7 billion. The tax revenues generated by that employment are $117 million in federal, state and local tariffs.
The report also estimates that the programs benefit proportionally higher numbers of black children, and a big segment of kids in need (45 percent of children in centers receive free or reduced-price lunches). It also includes a summary of current research that outlines big-picture, long-term benefits: Children with pre-K and early childhood training are more likely to graduate from high school, enter college and themselves become tax-paying citizens. Some studies have found that pre-K can have more positive impact on a child's education than ethnicity, gender or even the child's mother's level of education.
With Georgia's high rates of single-parent households, coupled with projected increases in occupations such as healthcare (which often have nontraditional hours, and are therefore more difficult for child care placement), demands for care are only likely to increase.
Robinson and Assistant Commissioner Mary Mazarky say they've apportioned 1,000 new, pre-paid pre-K slots from the state by looking at a number of issues (pre-K wait lists, low high-school graduation rates) in 18 targeted counties. But the program's quality remains a paramount issue: "Providers are vetted by a very long process," Mazarky says.
Once a provider is approved, the state stays involved: Unlike many other states, Georgia's program is monitored by onsite observers, who visit classrooms twice each year and provide progress reports. Technical assistants are evaluated every year, and every center's finances are monitored. "When we see a program in trouble, we can step in in time to help," she says. In addition, a Resource Coordination program allows for a liaison between a program and a child's family, who can intervene when consistent problems of tardiness and absenteeism arise.
"We receive calls from all over the nation," for advice on how to run a pre-K program, Robinson says. This year, the first lottery-funded class of pre-K students will become HOPE graduates. "It's a significant return on investment," she adds.
As director of communications for the Georgia Department of Education, Dana Tofig knew the state's pre-K program's reputation. Still, he says, when some friends were camping out all night to secure a spot for their kid in a private program, he walked across the street from his home to check out a lottery-funded pre-K space in a church. Not only was the location convenient and a slot available, but he was impressed by the kid-friendly room, the teachers, the economic and racial diversity of the students and, perhaps most of all, the quality of the curriculum.
"I was amazed at how learning-focused it was," he says. His 4-year-old, Will, was quickly introduced to reading. "There were hands-on science programs," Tofig says. "They made soup at school, which led them into measurements, portions, following directions, fractions, all kinds of things."
Tangible Results
At 54, Judy Miller has taught for 18 years, 12 of them at State Bridge Crossing Elementary School in Alpharetta. She has watched as her school's pre-K students learn the basics: "They are just awesome little miniature students," she says. "Some of them are better behaved than the fifth-graders! They learn to walk in the second square of the linoleum tiles in the hallway, and they're so quiet and serious. They have so much respect for the school – partly because they think it's really cool to be in here and around the older students to begin with."
She likes visiting the pre-K center, where "they're never sitting down. They've got a reading corner and a kitchen center, a sand area. Sometimes they have guided lessons or reading, and there is a nap time. But they also are encouraged to use their creativity – they play dress up and make up stories."
As a result, she says, the "one or two" pre-K graduates she sees enter her second-grade class each year are "more verbal, have more respect for their teachers, their classmates, their schools. They don't usually have the crying fests you sometimes see. And they're much more comfortable if you ask them to talk in front of the class about something, because they've been doing that already."
Aside from the measurable, monetary impact of the program, there seem to be other side benefits: Fun, for example. Tofig says that his son has happily adjusted to kindergarten. But every once in a while, as he's getting ready for school, he'll ask: "Can I go to pre-K today?"