Rome/Floyd County: Back To It's Roots
A bustling industrial climate and vibrant downtowns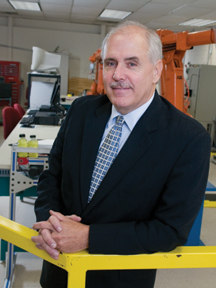 If you want to understand why Rome, Georgia, has become home to so many industries, look no further than the boardroom of Coosa Valley Technical College. On one wall a framed plaque commemorates four major manufacturers that the school helped land.
Pirelli Tire, Neaton Rome, F&P Georgia, and Suzuki ATV all came to the college looking for trained workers to man their high tech assembly lines – and found them.
"This is demand driven education," says Craig McDaniel, president of Coosa Valley, which has worked closely with local industries to produce worker training programs through Georgia's Quick Start program.
Those efforts have made Rome and Floyd County very attractive for manufacturing. In fact, while manufacturing jobs make up just 10 percent of the national economy, it's 23.4 percent here.
"It's no accident that it's that high," says County Commission Chairman Jerry Jennings, who also serves on the faculty at Rome's Berry College. "We have a city, a county, a chamber of commerce and an economic development team that works really well together and our compass is pointed towards economic development and manufacturing as one of the key components of the employment mix in our community."
And, he notes, the county's ability to offer a trained workforce has helped seal the deal with more than one company looking for a new home. In fact, out of the first 11 workers hired by Pirelli, nine were trained by the college.
"We felt very good that they relied so heavily on Coosa Valley Tech gradates to start the plant up," McDaniel says. "But 10 months into the process they said to us, 'We'd love to hire Coosa Valley Tech students, but you don't have enough of them coming out of the programs.'"
A former chairman of the Greater Rome Chamber of Commerce and the Rome-Floyd County Develop-ment Authority, McDaniel realized the county couldn't rely just on students finding their way to its programs, if the area was to remain competitive.
"We had to broaden that pool," he explains. "So we started looking at the high schools."
Beginning in 1997, this region felt the pain of large scale job losses when closing textile mills put more than 1,400 workers on the unemployment lines. With each plant shut down, Coosa Valley's enrollment went up as workers tried to prepare for new jobs. For most it was like starting from scratch, as many of the skills they had acquired in old manufacturing processes didn't readily transfer to the highly automated jobs at Pirelli or F&P Georgia.
"Some of those people who lost their jobs really didn't have the academic foundation to go into some of the highly automated type programs," McDaniel says.
The goal was to begin training workers early – while still in high school – so they were prepared not only for high tech jobs such as operating robotic systems, but were also able to see the relationship between their academic studies and future livelihood. That has led to college faculty teaching on the campus of Rome High School to prepare students for join enrollment at Coosa Valley. Even more advanced training is on tap in the county school system.
Those future workers will be trained at a newly opened College and Career Academy on the campus of Floyd County's technical high school. Located just yards from the Coosa Valley Tech campus, the school has broken ground on a new 16,000-square-foot building that will house an engineering and robotics training center. When it's completed in 2009, high school kids – along with tech college students – will learn how to operate the complex machines that have replaced human hands in making tires and a host of other products.
Floyd is one of only four counties to receive $3.2 million from the state to create a charter school. That win was due in large part to active participation by both local industries and government in making the case for the school, McDaniel says.
Come July 2009, Coosa Valley will further broaden its range when it merges with Walker County's Northwestern Technical College as part of the Technical College System of Georgia's restructuring efforts. McDaniel will become president of the combined institutions.
The school's former Quick Start client, Pirelli Tire North America, announced in early October that it would add a new $15 million production facility to its Rome plant. The expansion will represent close to a 25 percent boost in manufacturing output when it becomes operational during the first quarter of 2009.
Taking Flight
The county also displayed its belief in the power of education to drive economic development when it ponied up $1 million to help Coosa Valley get a training program for aviation mechanics and avionics specialists off the ground. The money helped construct a training facility at Rome's Richard B. Russell Airport that opened to students this fall.
"We see that one as an important training ground, but also an economic development tool because we've got a lot of acreage around the airport that's a potential for aviation-related industries," Jennings explains.
McDaniel sees these alliances as a path to keeping more young people in the county by giving them the ability to get good jobs close to home. That's a big part of the reason Coosa Valley is forging a unique program that allows students to move seamlessly from high school tech programs at the Career Academy to more advanced classes at the tech college before completing a bachelor's level degree at Southern Polytechnic State University in Marietta.
"We want young people to realize that there are good paying jobs available here in Floyd County," he says.
The Academy will not only offer advanced training – and greater employability – to Floyd students, but local economic developers see it as one more weapon in the fight to attract new industry.
"That is building a very highly skilled technical workforce and so we're really using those as a part of our marketing to these high tech companies," says Heather Lathbury-Seckman, director of economic development with the Greater Rome Chamber of Commerce. "Anybody building a car or a car component nowadays, it's very highly skilled and technically oriented."
And these industries take education seriously. When Pirelli Tire came to town it declined an offer to forego paying education taxes. It and other companies also have worked closely with local educators to fashion school curriculums that prepare students for modern jobs.
A Lively Downtown
A trained workforce is important, but companies also like the fact that Rome offers a lifestyle comparable to just about any big city. Executives can find quality housing and they don't have to drive far to eat in good restaurants or enjoy a variety of cultural and artistic activities.
Rome also has a well deserved reputation for high quality healthcare that has helped place the city on several "Best Cities" lists in national publications.
It's a city conscious of the fact that quality of life is a big part of its success. Nowhere is that commitment more on display than in its lively downtown, where more than 3,000 live and work within a block and half of Broad Street – the central artery. While many small – and not so small – cities found their centers turning into a collection of empty storefronts, Rome went in the other direction.
"We didn't wait until our downtown had died when malls came into existence," says Rome Mayor Wright Bagby. "We have been working on this for 30 years, and we were one of the first towns in Georgia to do a streetscapes program. We just kept the emphasis on our downtown."
City and county offices have remained downtown as have a number of large churches – providing reasons to visit. The downtown corridor enjoys an occupancy rate well above 95 percent. Rome has its share of loft condos and apartments atop these busy storefronts, as local developers have renovated the city's large stock of historic buildings. The recent conversion of the Curry and West buildings into mixed use won developer Ron Goss, Jr. an Excellence in Rehabilitation award from The Georgia Trust.
"That brings vitality back to an area that we had … in the earlier part of the 19th century … ," Bagby says.
Developer Ira Levy moved to Rome 20 years ago from Atlanta. One day a friend told him there were plans to demolish two historic downtown buildings to provide a better view of the city's auditorium, The Forum. "Why would they want to do that," he remembers asking. "That building's ugly." He decided to buy the old structures and preserve them – the first of several such projects.
Today, he's planning a new commercial development on the corner of Broad and Third Avenue that will include office and retail below with apartments on upper floors. After undergoing several incarnations, the plan won Rome Preservation Commission approval to tear down two abandoned structures to make way for the new development.
"He originally was looking at condos and doing it unit-by-unit, which was part of the difficulty with the preservation commission and even our department," says Ann Arnold, director of the Office of Downtown and River Development. "We were concerned if it was done piecemeal it would take much longer and we'd have a void for a very long time."
On the other side of the river, along West Third Street, the city is working to develop four acres near the city's football stadium, which will play host to the National Association Intercollegiate Athletics football championships in November. This collection of buildings may give way to more mixed use residential and commercial if a pair of developers is able to secure financing for their plan.
Nearby, Floyd Medical Center – the county's largest employer – has been busy buying up property as its facilities expand.
Saving South Rome
While much of the city has seen an upsurge in development, residents of the South Rome area along the other end of Broad have yet to see the benefits of growth. Once the city's upscale neighborhood, it began to decline decades ago when the main thoroughfare was shifted away from Highway 27 to the outskirts of town.
Today, South Rome suffers from heavy concentrations of poverty. Stores and other businesses have long since fled. While you can still see striking Victorian homes on South Broad, most of the area has deteriorated into collections of dilapidated rental houses and run-down industrial sites.
After tolerating the neighborhood's decline for years, the city has begun fighting back by channeling more funds into the area. A new Boys & Girls Club built with Special Purpose Local Option Sales Tax (SPLOST) funds opened a few months ago. A streetscape project is getting under way along Broad and absentee landlords are being hauled into court when they fail to maintain their properties.
"We have had a pretty concentrated effort in the entire South Rome area to eliminate or at least go through court action to get the property owner to take care of any dilapidated structures," says Rome City Manager John Bennett. "So we've made a lot of headway on that in the last two years."
The city has made less progress in upgrading housing options for low-income residents. Over the last five years, the South Rome Redevelopment Corporation (SRRC) built 35 single-family homes in an area containing 10 percent of the city's population. That lack of success prompted officials to seek advice from the Tom Cousins Family Foundation, which successfully redeveloped the deteriorated East Lake area of Atlanta.
"Initially our master plan and the thrust of the redevelopment activity was centered solely on home ownership," says SRRC Executive Director Karen Moore. "We are now in our sixth year and at the point where we understand that is not realistic."
The city now is seeking other options to bring affordable housing to South Rome including more rental units – an option it had sought to avoid considering the poor condition of most such properties.
Preserving Cave Spring
Just 10 miles south of Rome, Floyd's only other municipality is also seeing an upswing. Cave Spring likes to bill itself as your scenic laid back hometown. A century ago the town was a destination for those seeking the healing properties of its mineral springs. Today, people still trek here with jugs in hand to take advantage of the free water. More stop in to browse the stores along the town square or even spend the night in one of the two bed and breakfast inns.
A movie crew from Atlanta recently was in town looking for a "typical small town" to serve as the backdrop for filming. That feeling of home has drawn an increasing number of new residents who want the quiet life.
Historic buildings have received fresh paint and façade upgrades to greet the increasing numbers of out-of-towners who fill the streets on weekends, says Betty Sue Hickman, director of the Cave Spring Down-town Development Authority.
"Cave Spring is a good place to go for a day trip or maybe one overnight trip," says Nancy Boehm, owner of the Tumlin House Bed and Breakfast Inn. "Especially with gas prices the way they are, it's a good place for people from Atlanta or surrounding areas to get away. It's nice and peaceful in Cave Spring."
Those are qualities locals don't want to lose, even as they seek more growth.
"We want to preserve a way of life that is very special to the people of Cave Spring," says Dina Bissonnette, a transplant from California who fell in love with the city after one visit with her husband. "We're all very much in love with Cave Spring and we'd like to improve quality of life, but not to the detriment of spoiling what it is."
That's a sentiment that many throughout Floyd County would echo.
Rome /Floyd County At-A-Glance
Population
(2006)
Floyd County, 100,000; Rome, 36,142; Cave Spring, 1,010
Per capita income
(2005)
$19,004
Unemployment
(August 2008)
Floyd County, 6.7 percent; Georgia, 6.4 percent
Top Employers
Floyd Medical Center, 2,000; Floyd County Schools, 1,855; Harbin Clinic, 1,230; Redmond Regional Medical Center, 1,200; Mohawk Industries, 1,080; Inland, 915; Pierre/Zartic Corp., 800
Sources
Greater Rome Chamber of Commerce, Georgia Dept. of Labor, U.S. Census Bureau