2008 Silver Spoon Awards: South Toward Home
This year's winners find inspiration in their own backyard, as Southern cooking soars to new heights. We select the state's 10 best restaurants, spotlight some old favorites and find 10 exciting new "Old South" dishes.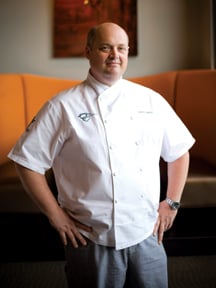 The South is rising again – in biscuits, hoecakes and Coca-Cola bubbles. Despite a difficult economy for restaurants, it has been a Watershed year.
And yes, I do mean the Decatur restaurant co-owned by Indigo Girl Emily Saliers and helmed by James Beard award-winning chef Scott Peacock, whose mentor was the late, great Edna Lewis. Celebrating its 10th year last month, its faithful-but-fresh Southern menu looks prescient now, as new restaurants all around the state create inspired twists on old dishes straight out of Mrs. Dull's landmark 1928 cookbook, Southern Cooking.
One prominent milepost: At the little Buckhead house where Guenther Seeger once served his versions of classically European-inspired dishes, often including local ingredients, Top Chef finalist Richard Blais, famous for his high-tech "molecular gastronomy" techniques, shaped a menu of daring Southern suppers. Blais has gone on to other projects, but Home's dining room acquired a restlessly inquisitive – you might even say fun – energy that chilly Seeger's lacked.
In some cases, like the recently re-opened Georges', on Tybee, and Savannah's Local 11 Ten, the menu has been reoriented to include more Southern exposure as part of a price-lowering strategy. Also in Savannah, the New South Café is just one example of fresh new casual spots focusing on Dixified dishes from local, organic products. (What else are you going to do with collards?)
But adventurous, genre-bending new Atlanta spots such as Holeman & Finch, from pioneer chef Linton Hopkins of Restaurant Eugene, and 4th & Swift, a cool new space in the old Southern Dairies' engine room, share more than just an ampersand – they're turning on a whole new generation to the glories of their culinary traditions, from Benton's country ham to Coca-Cola cocktails. One suave new downtown Atlanta restaurant, Dogwood, features a "grits bar."
Even the Ritz-Carlton Atlanta is getting into the act, with young chef Bennett Hollberg sneaking his mom's fried chicken onto the bill of fare. Meanwhile, restaurateur Lorenzo Wyche is busily building an energized Atlanta empire (Harlem Bar, Social House) based on a rich African-American culinary tradition. This year, it seems, everybody wants a slice of the pie – as long it's Georgia pecan.
Georgia's Top 10 Restaurants
Bacchanalia
Atlanta
How your grandmother would have cooked – if she had a degree from the Culinary Institute of America. Egoless attention to culinary precision paired with remarkable respect for the quality of ingredients, which chef/owners Anne Quatrano and Clifford Harrison make available to the public in their market, Star Provisions.1198 Howell Mill Road. 404-365-0410.
The Dining Room
Ritz-Carlton Buckhead, Atlanta
No one takes better care of you than the Ritz. It's the place to go when you want to put yourself in the hands of a world-class team, including Dining Room Manager Claude Guillaume, chef Arnaud Bertholier and sommelier Robert Evans. 3434 Peachtree Road NE, Buckhead. 404-240-7035.
Elizabeth's on 37th
Savannah
The strength of Elizabeth Terry's concept and creativity of her cooking shows in the continued quality and success of her restaurant, now largely operated by brothers Greg and Gary Butch. The two former waiters continue to serve the dining room, as chef Kelly Yambor carries the torch. 105 E. 37th St., 912-236-5547.
Marco's
Macon
Still our favorite Macon spot for contemporary Italian cooking. 4581 Forsyth Road, 478-405-5660.
The Georgian Room
The Cloister, Sea Island
The Mobil five-star Georgian Room creates an experience as ethereal as the harpist's accompaniment. 800-732-4752, ext 4347.
Five and Ten
Athens
Hugh Acheson's charming spot is as quirkily unique as the college town that spawned R.E.M. and the B-52s. 1653 South Lumpkin St., 706-546-7300.
Mrs. Wilkes' Dining Room
Savannah
The late Mrs. Wilkes created fine cuisine from Depression-era ingredients. The fried chicken and biscuits alone are worth the drive to Savannah. 107 West Jones St., 912-232-5997.
Georgia Sea Grille
St. Simons
Relaxed, simple and spot-on. 310 Mallory St., 912-638-1197.
MF Buckhead
Atlanta
Inspired and audacious. The Kinjo brothers (MF Sushibar, Nam) bring high-end sushi in a gorgeous environment to Atlanta's busiest crossroads.
Restaurant Eugene
Atlanta
Chef Linton Hopkins is both reverent and iconoclastic in this elegant, intimate temple to all things South-ern. 2277 Peachtree Road (in the Aramont), 404-355-0321.
The Best of the Rest
Glen-Ella Springs
Clarkesville
At presstime, longtime innkeepers Barrie and Bobby Aycock had just handed over the keys to new owners Luci and Ed Kivett. We're hoping the focus on great food will remain as strong as ever. 1789 Bear Gap Road, 706-754-7295.
Bone's
Atlanta
The city's best and oldest steakhouse only reminds us of newcomers' shortcomings. 3130 Piedmont Road, 404-237-2663.
Blue Bicycle
Dawsonville
This charming little neighborhood French bistro has minimal atmosphere, but serves a solid list of inventive French standards with local twists (think duck liver mousse with peach preserves) and a long list of Georgia wines, many by the glass. 671 Lumpkin Campground Road, 706-265-2153.
Park 75
Atlanta
Besides being one of Atlanta's best spots for celebrity-spotting, the Four Seasons' restaurant has a quiet, sexy sizzle, our favorite dessert menu and the best chef's table in town – inside the busy hotel kitchen. It's great for a fancy pre-symphony meal. 75 Fourteenth St., 404-253-3840.
Kyma
Atlanta
Pano Karatassos' awe-inspiring tribute to his homeland, Greece, is as fresh and exciting as ever. Perhaps the best Greek restaurant in the nation. 3085 Piedmont Road, 404-262-0702.
Colt & Alison
Sea Island
Sea Island's very serious steakhouse, at The Lodge, is a place for a roaring fire, aged New York strip and a tiny glass of very old port. However, we mourn the loss of the tableside tossing of the Caesar salad. 1-800-732-4752 ext 4353.
Canoe
Atlanta
Chef Carvel Grant Gould somehow manages to placate Canoe's well-heeled neighborhood locals while challenging adventurous palates with a contemporary Southern menu. 4199 Paces Ferry Road, 770-432-2663.
Repast
Atlanta
The rare exception to the rule that "fusion cuisine never works." You could hardly imagine a more disparate mix than Joe Truex's Southern background with his wife's Eastern background (as in Japanese). How-ever, co-chef Mihiko Obunai's light hand and tight editing make a fascinating – delicious – menu combination. 620 North Glen Iris Drive, Atlanta, 404-870-8707.
Local 11 Ten
Savannah
After the departure of chef Keith Latture, new chef Bradley Daniels (formerly of Tennessee's plush Blackberry Farm) reoriented the menu to a less experimental, but intriguing Southern point of view, including a fabulous heirloom tomato "sandwich" with basil and Sweet Grass Dairy goat cheese on a crispy waffle. 1110 Bull St., 912-790-9000.
The National
Athens
This winning contender, co-owned by Five and Ten chef Hugh Acheson and attached to Athens film arthouse Cine', is our favorite Athens lunch spot – but we're seriously considering an overnight road trip to take in a movie and dinner. 232 W. Hancock Ave., 706-549-3450.
Farm 255
Athens
Athens' farm-to-table restaurant has its own farm – as well as a dedicated group of servers with a missionary's zeal for the restaurant's best offerings. 255 W. Washington St., 706-549-4660.
Greyfield Inn
Cumberland Island
The food alone is good, but the environment is rare, exotic and irreplaceable – as reflected in the inn's nightly tariff. (All meals are supplied, on the American plan.) Guests dress for dinner, where you may find yourself seated next to someone from Atlanta, or Denmark. Daytrippers and guests get a generous picnic lunch, often made from local shrimp or the inn's garden, to take to the gloriously deserted and unspoiled beach. 866-401-8581 or 904-261-6408.
Rathbun's
Atlanta
Exciting as the Iron Chef episode in which Kevin Rathbun and his brother outcook Bobby Flay. Rath-bun's passion for American regional cooking means you'll find great grits alongside Kansas City beef. How-ever, if you're going for a quiet conversation, head for the patio. 112 Krog St. (in the Stove Works), 404-524-8280.
Allen's
Athens
Hallelujah! A revival that really captures the authentic spirit of the original, beloved Normaltown fixture, a few blocks from its old home. In fact, in addition to a new burger of fresh-ground beef, the new owners even tracked down Allen burger's original, frozen patty, to placate customers who complained the new version "just doesn't taste right." 810 Hawthorne Ave., 706-353-6244.
The Harlem Bar
Atlanta
The joint is jumpin' – with fried chicken, peach cobbler and mac and cheese, not to mention the chill soundtrack, sophisticated cocktails and well-dressed young African-American crowd. We're really looking forward to owner Lorenzo Wyche's new breakfast place, the Social House, but when, oh when, will Rare, our favorite late-night Moroccan-influenced "soul food tapas" haunt, reopen? 262 Edgewood Ave., Atlanta. 404-588-0014.
Johnny Harris
Savannah
Our favorite memento of barbecue's glory days, Johnny Harris still sports the stage that once revolved while Harry James' band blew, under its twinkle-lit ceiling, for a swirling crowd in evening dress. Many things may have changed since its opening in 1924, but not the delicious lamb barbecue, or the house's special mustard sauce. 1651 East Victory Drive, 912-354-7810.
JCT
Atlanta
The chef with the delicious name of Ford Fry brings his inventive Southern, flavor-forward dishes (crispy chicken leg confit, ricotta dumplings, melted leeks) to a clamoring dining room full of enthusiasts. 1198 Howell Mill Road, 404-355-2252.
Wisteria
Atlanta
At last, this neighborhood standout is getting the respect it deserves for a Southern bill of fare that can satisfy the most prosaic or progressive diner. 471 North Highland Ave., 404-525-3363.
Top 10 New South/Old South Dishes
Want a taste – or sip – of resurgent Southern cooking? Try these familiar flavors with a twist.
1. Chicken liver pate with apple cider/sorghum jelly and green tomato pickle
Chef Linton (Restaurant Eugene) Hopkins' next-door tavern menu is as masculine and meaty as an issue of Field & Stream, but it's hard to imagine a more fun date night. Wash it down with a Southern Cola (Amaro cio Ciaro, Coke, frozen lime juice). If you prefer, try the whole fried Tybee shrimp. Holeman & Finch, 2277 Peachtree Road, Atlanta. 404-948-1175.
2. Sapelo Island Sweet Potato Clam Chowder
The signature dish at Brunswick's newest dining destination. Christie's, 1618 Newcastle St., Brunswick. 912-262-0699.
3. Deviled eggs and fried pickle chips
Chef Jay Swift's affectionate tribute to two Southern staples (cholesterol and hot oil) is delightfully re-fined. 4th & Swift, 621 North Ave., Atlanta. 678-904-0160.
4. Old-fashioned cornbread with butter bean-tomato succotash
Even if only one George (Spriggs) is now in the kitchen, we're glad Georges' is back. And when succotash starts appearing on Southern menus, can shucky beans be far behind? We can only hope. The New Georges' of Tybee, 1105 East Highway 80, Tybee Island, 912-786-9730.
5. Fried green tomatoes on seared, cheddar cheese grit cakes with tasso hollandaise
With all its vacationing, daredevil South Georgia diners, Tybee Island is turning into a laboratory for funkified Southern favorites. Sundae Café, Highway 80 and Jones Avenue, Tybee Island. 912-786-7694.
6. Moon pie and Coca-Cola float
Former Chef Richard Blais's old sous chef Jeff Wright is now Top Chef at Tom Catherall's restaurant tribute to native cuisine. The homemade "moon pie" and Coke float (with cardamom ice cream) lack only a few peanuts to drop into the bottle. Home, 111 West Paces Ferry Road, Atlanta. 404-869-0777.
7. "Wheelchair Platter"
OK, so it's thoroughly old-school – after all, that's part of the name. But we guarantee you've never experienced anything like this overwhelming, Melamine chip-n-dip platter of fried shrimp, deviled crab, barbecued ribs and anything else that's the current whim of the redoubtable Chef Jerome at this eccentric backwoods coastal dive. Chef Jerome's Old-School Diner, Jessie Grant Road off Harris Neck Road (near Harris Neck Wildlife Refuge), Townsend. 912-832-2136.
8. Pimento cheese-stuffed celery
Like much else on Watershed's menu, it looks easy – this could even be a throwaway nod to a childhood favorite. But one bite reveals the respect chef Scott Peacock restores to this deli-counter staple, using fresh roasted red peppers and house-made mayonnaise in immaculate, celadon shafts. Watershed, 406 W. Ponce de Leon Ave., Decatur. 404-378-4900.
9. Barbecue Sundae
Could function as a DNA test for Southerners: If you don't like this tall sundae glass of Brunswick stew, topped with crumbled corn bread and house-made slaw… . Well, we're going to have to ask for some ID. Blackwater Grill, 260 Redfern Village, St. Simons. 912-634-6333.
10. Mother Hollberg's fried chicken leg with braised greens and creamy grits
The downtown Ritz's young chef Bennett Hollberg is an Atlanta native who has steered more elegantly retrofitted Southern favorites onto the menu. This menu special brings in his mother's recipe, along with grits – an ingredient he wowed his cooking school colleagues with. Atlanta Grill, Ritz-Carlton Atlanta (downtown), 181 Peachtree St., Atlanta. 404-659-0400.