$150 Million And Counting
The Commission For A New Georgia, one of the Perdue Administration's proudest achievements, recruited volunteers from the business community to help streamline government. The state has been recognized as one of the best-managed in the country.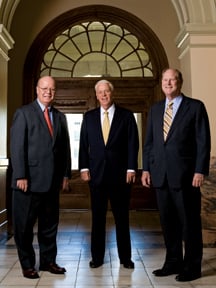 When he was first elected in 2002, Gov. Sonny Perdue set out to bring business practices and principles to state government – with a little help from his friends. The result was The Commission For A New Georgia (CNG), formed in 2003 as a citizens' advisory board to the governor and charged with finding ways to streamline government to make it more efficient – and to save money for the state.
To head the commission, Perdue turned to Robert Hatcher, president and CEO of MidCountry Financial Corp., and Joe Rogers, Jr., chairman and CEO of Waffle House.
"The governor wanted people with business experience, who were closer to practical solutions," Rogers says. "The state wasn't sure what it owed, didn't coordinate purchasing, etc. There was a need for actionable ideas that would make such good business sense they would last through successive administrations."
Perdue looked to Georgia's chief operating officer, former Bank of America executive Jim Lientz and Tommy Hills, a former Wachovia Bank executive, who serves as Georgia's chief financial officer, to provide overall direction. He called on longtime Georgia public servant Lonice Barrett to oversee implementation of Commission For A New Georgia recommendations; Barrett retired in 2006; Jeff Strane has taken his place.
The commission set up task forces – 23 to date – involving more than 350 volunteers, many from the business world, who are influencing decisions that will affect state government for years to come.
Earlier this year, the Pew Center on the States and Governing magazine gave Georgia a grade of B+, ranking it as the best-managed state in the Southeast; the national average was B-.
Advocates say the commission's achievements may be Perdue's greatest legacy and that he has made Georgia run like a business at a time when many governments are associated with waste and debt.
The achievements cited range from shorter waiting times at the state's driver's license offices to centralizing property management, realigning policies and procedures relating to state-owned vehicles, establishing economic development incentives and creating an atmosphere where services are faster, easier and friendlier in what is believed to be the only state government customer service initiative in America.
The Perdue Administration estimates that the CNG, which is still in operation, has saved Georgians more than $150 million, and helped recover some $400 million in money owed the state.
The commission's approach is in line with Perdue's view of himself as CEO of the state of Georgia. In a 2007 Georgia Trend interview, he said, "I believe my job, my primary job, is to add value to the quality of life of Georgians, where they get more bang for their education buck, they get better bang for transportation, they're healthier. I am, as CEO of the state, responsible for many of these moving pieces here … looking for as much efficiency as possible.
"If I can leave behind a legacy of having added value to this state by management and the oversight of Georgia into the future … I will feel like I have done what the people hired me to do."
Budget Woes
All of this is a subtle shift in government culture that hasn't exactly balanced Georgia's budget or solved all its monetary problems. As this was being written, the state was addressing a budget shortfall of at least $1.6 billion from decreased tax revenues; that will have broad-ranging effects, including decreased funding for higher education and some state park closures.
Additionally, Georgia's K-12 education system is problem-plagued; the Department of Transportation (GDOT) is scaling back hundreds of projects and struggling to close a huge gap in its budget – including more than $365 million in outstanding contracts that came to light in September; and the state's mental health patients are being failed by the system that is supposed to protect them.
But the entire point of CNG is to identify problems like these and take them on, says Lientz, adding that the GDOT shakeup was a result of a culture change and a new climate of self-scrutiny within state government.
"Identifying the problem is a huge part of the solution," he says. "I believe the DOT now has the facts to make fact-based decisions and the leadership to act on those facts."
Lientz believes both the DOT problems and Georgia's broken mental health delivery system can be corrected in the two years remaining in Perdue's second term.
"I'm optimistic – I'm not happy about the $365 million in outstanding contracts, but we do have the capability to deal with it over time."
The CNG may be hard to wrap your mind around, but state government itself is a $20 billion enterprise with a staff of 120,000 delivering more than 2,000 services.
The commission leadership initially created task forces of about 10 members each to address aspects of government that could generate the most savings or increased efficiencies. Upon creation, each task for was assigned a chairman and a pro-bono consultant and given about 90 days to complete their work and report back to the governor and the commission. Envision a swarm of business leaders crawling over the Gold Dome, applying their lessons of experience to Georgia's affairs.
The savings realized by the commission are immediately applied to the state's increased need for services. "We're the third fastest growing state [but] there are constraints on the revenue side," says Jeff Strane, director of the Governor's Office of Implementation. "You could say the efficiencies have caused our budgets to expand less."
Lientz speaks of a "quiet transformation" in state government since the Commission for a New Georgia began its work. CNG Manager of Information and Strategic Services Sharon McMahon notes that success isn't always measured in dollars, citing the new "one-call" effort. "When you think about the efficiencies and better access to the public, and the fact that Georgians can now call one number (1-800-GEORGIA) and be connected to a live person," she says, whether the inquiry relates to child support enforcement or driver's license services, "you can't put a price on it."
"We've not sought a lot of publicity because it wouldn't do us any good," says Robert Hatcher, who, with Rogers, handpicked most of the task force leaders from the private sector. Nor has the shakeup caused a lot of turnover, he says, noting that the commission didn't want to "crowd out" departments or lay off personnel as a result of recommendations. The strategy has focused on "faster, friendlier and easier" service, such as decreasing the wait time for driver's license applications and renewals, as well as inventory and asset management. All things, commission members point out, that don't grab headlines.
"The press would rather write about the controversies, but I argue that this [the CNG's work] is more important. A perfect government is one you don't know is there, and I want government to think like I do – I don't want a bigger tax bill every time I turn around," Lientz says.
The customer service slant to the commission's reforms has made it easier for the public to access the state's services and resources, creating more transparency across state government, Hatcher says.
"No state has done this kind of customer service initiative, and it's made a profound difference," Hatcher says. "It used to be, [when] a family was approved for [government] assistance, it may take several months before the check would come. Now, in some cases, they have same day service."
"Busting Silos"
To implement the commission's recommendations, the governor coaxed out of semi-retirement his old friend and state government trusted utility infielder Lonice Barrett, longtime head of the Department of Natural Resources. "Lonice was the ideal choice to head the Governor's Implementation office," says CNG Managing Director Jerry Guthrie. "Over the years, he had gained the respect and admiration of people at all levels of state government, and with his knowledge of the state, he was able to form teams that worked together to implement most of the task force recommendations. The key to the success of the Commission For A New Georgia has been the implementation efforts that started with Lonice's leadership and guidance."
"We called it 'busting silos,'" says Barrett of the commission's work, "because so much of Georgia's operations were run independently and information was not shared across agencies. For years when folks would ask how much land does the state own or lease, we knew at the DNR, but no one else knew about it because it was like storing grain in a silo where the information piled up, but was not shared with the public. Now the information is available online, and every leased building and acre of land owned, leased or rented in the state of Georgia is publicly accessible."
Using private sector-style motivation brought quick results, and it soon became apparent that Hatcher and Rogers had assembled an impressive team. Fleet management, for instance, is co-chaired by Albert Wright, former VP of engineering for UPS.
"We realized we had more cars in certain areas than we needed, like the Capitol Hill Motor Pool that was idle for the most part," Strane says. "By outsourcing, we've been able to redistribute those cars to other areas in the state and better utilize them." In addition, 1,867 vehicles were sold and not replaced.
"We are more accountable, we communicate more effectively, and we are much more teamwork oriented. An example would be that we were decentralized in property management," Lientz says. "We didn't know how much property the state owned, how many leases we had or the terms that were coming due. It was a basic, 'You've gotta be kidding me' situation to someone from the private sector." In addition to consolidating its fleet and inventory – even selling some extra items on eBay, the state has renegotiated leases and also consolidated many utility contracts, he says.
"There was a lot of low-hanging fruit, but also a steep learning curve," Lientz says. "The process is a journey, not a destination. It took us a couple of years to define it, hire a state property officer and establish an online database of properties." This role was formerly filled by Gena Abraham Evans, now commissioner of the Georgia Department of Transportation. Evans also updated the construction manual establishing procedures for all state projects for the first time since 1954.
Children's Healthcare of Atlanta CEO Donna Hyland, chairing the receivables task force, helped promote a program to collect back taxes and monies owed the state from delinquent individuals or companies that brought in more than $400 million.
IBM Community Relations Director Ann Cramer's Workforce Development Task Force recommendations have evolved into a new Office of Workforce Devel-opment that has resulted in more than 21,000 people being certified as ready for employment in Georgia's communities, and more than 75 counties are working toward the graduation and em-ployee certification goals to earn work ready status.
Internally, state departments are coordinating more to come up with solutions to common problems, due to a new program incorporating bi-weekly meetings conducted by Lientz and Chief Financial Officer Tommy Hills with department heads from "centers of interest" such as health, safety and education.
Primarily, the transformation of Georgia management has been philosophical. "What is happening is that we've changed the culture," Lientz says. "The whole notion of making Georgia the best managed state in the country has helped to increase our focus and motivation. People need to appreciate the focus and intensity and the intellectual ability of Governor Perdue to deal with this. It's been his focus to leave the state better managed and more accountable than when he found it, and whether you agree or disagree about his overall philosophy, you can't argue with this."
Report Card
Outside the Perdue Administration, the CNG gets good marks for its efforts, but is not hailed as a cure-all.
"The important thing to remember is that Georgia's tax base has eroded to the point that it can't keep up with the normal growth of state government services," says Alan Essig, executive director of the Georgia Budget and Policy Institute, adding that CNG efforts will "help but not cure" Georgia's budget ills.
"After this immediate crisis, the CNG savings will help with Georgia's structural deficit," Essig says. "I think the governor is being responsible by reinvesting the savings into state services. And any reform recommended from the private sector is a good thing – unless it's used to cut programs for political or ideological reasons."
From his vantage point of four decades in state government, Lonice Barrett says this overhaul has been a long time coming, and he unhesitatingly calls his involvement with Governor Perdue's Commission For A New Georgia initiative "the single most exhilarating experience of my career."