The Middle Years
Private schools help kids navigate the tough transitional time between the elementary grades and high school with innovation, attention and a strong belief in self-determination.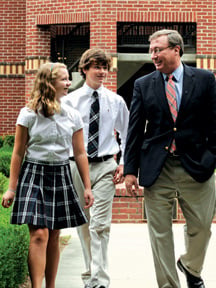 Anyone who honestly remembers early adolescence knows that the "Wonder Years" were not always so wonderful. The sporadic, out-of-sync growth spurts, the sudden appearance of facial hair and attitude, raging hormones, raging curiosity, raging independence – all in all, quite the tumultuous, glandular roller coaster ride to maturity.
"What a confusing time, that transition, childhood passing into adulthood," says Roger Cox, dean of the middle school at Rabun Gap-Nacoochee School in the northeast corner of Georgia. "You're a child, but you're not a child. You're almost an adult, but not quite. It's a constant see-saw."
Given this surging developmental sea change – which often serves as a natural adult repellent – it's small wonder that the average middle school or junior high may resemble the island from Lord of the Flies.
About 20 million students are enrolled in the nation's mid-level schools. Middle school reform has been a part of the country's public education conversation or strategy for about 50 years, ever since researchers pushed for creation of separate schools for young adolescents, who merit special attention.
While middle school students – typically 6th through 8th grade – remain vulnerable to the risks of a mega-media age, when there is more pressure to worship at the altar of false gods of affluence and beauty and popularity, a number of Georgia private schools are meeting the challenge.
Still, the task of adequately educating the ever-evolving young adolescents, who are forming the thoughts, principles and habits that will shape their adulthood, is still a work in progress.
"The middle school years may be the most critical period in a person's development," says Ned Murray, headmaster of Episcopal Day School in Augusta. "And those are the years that we do the worst job in our country's education system.
"This is the second most active and important time in the brain's development – after the first three years of life. The neural pathways are being developed and formed, but also trimmed and eliminated," Murray says. "Everybody knows that only a certain percentage of the brain is used. Well, a lot of those doors are opened and closed during the middle school years."
Caught between elementary and high schools, middle school kids feel the tug in both directions.
"It reminds me of something Adlai Stevenson said when he was asked how it felt to lose an election," says Paul Bianchi, founding headmaster of the Paideia School in Atlanta. "He said he was too old to cry and it hurt too much to laugh. It's an in-between thing for these kids."
Defining Years
Like public schools, private middle schools typically comprise 6th through 8th grades, but sometimes only 7th and 8th, and sometimes they call themselves junior high schools.
"One of the struggles is how do you even approach the concept of middle school, how do you define it," says Michael Drake, executive director of the Georgia Independent School Association (GISA). "Should it be called junior high? When I started teaching in 1969 the concept then was you put 7th through 9th grade together."
Paideia does call it junior high, and Bianchi prefers to keep it small, just 7th and 8th graders. "We think it's better if 6th graders extend their childhood one more year," Bianchi says. "Eighth graders are in a very different phase of development, on the threshold of high school.
"There already is enough pressure on 6th graders. A lot is going on. Our preference is not to accelerate that developmental pull, and I think that allows them to develop at a more appropriately natural pace."
At the Brookstone School in Columbus, the middle school used to house 5th through 8th grades. But creation of an intermediate school (4th and 5th grades) has reduced student load in the middle school.
"We will be able for the first time to offer gender specific classes at the 7th grade level," notes Cassandra Kennon, director of studies for Brookstone. "Research and observation of our students indicate that this approach will remove many of the distractions that interfere with student achievement. It will give teachers the opportunity to plan lessons that acknowledge boys and girls learn differently."
The Cottage School in Roswell has grades 6-12 only, and caters exclusively to children with special learning needs, such as dyslexia, attention deficit hyperactivity disorder (ADHD), obsessive compulsive disorder (OCD), "to students who have found it difficult to be successful in more traditional school settings," says Joe Digieso, middle school principal and co-founder, with his wife and Cottage School Executive Director Jacque Digieso.
The Cottage School treats school like a job. Students clock in and earn "paychecks" that may be exchanged for participation in a number of extracurricular activities and clubs.
"It's very concrete, not abstract, and it treats students as if they were employees of a corporation. Our focus is not preparing them for college, but for a post-secondary plan, whatever that might be," Joe Digieso says. "And we put the student in charge of the day-to-day outcome."
The one constant among all private middle schools is the concept of self-determination. Private schools have choices that don't exist in public schools – such as creating a workplace structure. Private schools define their own missions and that often includes religious or spiritual education – most of GISA's 159 member schools are secular, but many are religiously affiliated.
Also, private schools have small class sizes, and they typically don't put so much weight on standardized testing, like public schools; they charge application fees and tuition. The state average is about $13,000 a year, but ranges widely.
The Westminster Schools, on West Paces Ferry Road in Buckhead, one of Atlanta's toniest neighborhoods, asks $19,080 per junior-high student, per year. Tattnall Square Academy in Macon costs $9,000. Rabun Gap-Nacoochee will cost a boarding-student's family almost $34,000 this year (making its day student rate of $15,220 a bargain by comparison).
Private schools also have a selective admissions process – the real reason why most Georgia private school grads become college grads.
"The big secret about private education is not that we do anything so much better. It has to do with our selective admissions," Episcopal Day School's Murray says. "We take students who are predisposed to finish college. Socioeconomic status, educational background of the parents – these are the predictors of college success.
"What then is the definition of success for us? Most private schools will say average SAT scores and college admissions. I say that's bull. That's only measuring the success of your admissions office."
Murray says that Episcopal Day School's concentration on K-8 is emblematic of the fastest growing education model in the country – flying in the face of the "separate school" philosophy that has shaped the middle school experience for decades.
"We focus on the developmental years, which eliminates one tough transition at a key time in a child's development," Murray says. "The elementary school, middle school, high school model can put a kid in three schools in four years. At a time when they are most socially vulnerable, we squeeze them between bookends."
Holistic Learning
The 13-year-old human is one of the most self-centered creatures on earth. His body, voice and mindset are changing by the day, hour and minute. Looking inward is a favorite pastime.
"One of their characteristics is self absorption," says Bo Adams, junior high principal at the Westminster Schools in Atlanta. Last year, 567 students (6th-8th grades, with an average class size of 15) were based in Westminster's three-year-old, state-of-the-art junior high school building.
"Some of that is healthy as they discover themselves, explore who they might be. But we also try to work the margins, get them to look outside a bit. Then, maybe part of who they become is someone who cares for others."
Westminster considers fine arts and physical education on equal footing with math, science, English and social studies as part of the cognitive curriculum. All classes meet the same number of minutes, and count equally on the report card.
"The message is, all these things matter," says Adams, who explains that Westminster has been developing parallel lines of curricula for the past few years. One – the subjects mentioned above – is called cognitive curriculum. The other line deals with solving the world's problems.
"Affective curriculum," Adams says. "What we're attempting to do is work on scope and sequence, integrate experiential learning, adventure-based outdoor learning and service learning in particular, as a means of advancing our cognitive curriculum."
The junior high experience culminates with an 8th grade leadership project, after students have read J.F. Rischard's book High Noon: Twenty Global Problems, Twenty Years to Solve Them. Each homeroom picks one of the 20 problems, narrows it down to a specific issue at the local level, and tries to solve it. Recently, one class produced a video public address announcement to create awareness of child homelessness. Another created a literary carnival for at risk elementary school kids.
"They're taking what they've learned in the cognitive curriculum and putting it into action, making a difference," Adams says. "Junior high is when these kids discover that the real purpose of learning is to improve the world."
The integration of academic disciplines – art with science with math with music with social studies and so forth – come together in Westminster's 100,000 square foot multifaceted junior high building (which replaced 1950s era Scott Hall in 2005) on a two-story mural in the art-science commons.
Albert Einstein writes formulas on his chalkboard. Some 20 feet above him, in the opposite corner, Leonardo DaVinci creates art on his canvas. In the busy space between them, concepts and theories morph into images of discovery, nature, planets, paintings, biology, architecture, music, letters, atoms.
Spanning the commons to Einstein's right is a second-floor bridge, and alongside it are balconies, so that classes studying Romeo and Juliet can feel the shape of Shakespeare's romantic tragedy.
Educating the "whole person" may be literally written on the walls at Westminster, but it's a theme that scores most private middle schools. At Brookstone, for example, students are exposed to French, Spanish and Latin through 6th grade, then select one language for formal study; all students are involved in drama, art, music and computer science.
Another shared private school theme is development through bricks and mortar.
Rabun Gap-Nacoochee, surrounded by spectacular mountain views, plans to move its middle school students out of the two old houses that currently serve as their classroom space into a new building – the capital campaign for that project hasn't quite started.
And this year Paideia, which runs parallel to the Olmstead Linear Parks on Ponce de Leon Avenue, opened its new LEED-certified facility for 7th and 8th graders.
Safe Havens
Paideia's alumni, although supportive of the school's evolution since it opened in 1971 in a rehabbed old house, have never been shy about sharing a certain cynicism directed at conformity.
"There's always been that skepticism among graduates who say things were looser in the early days," says English teacher Jennifer Swift, who spent 13 years as a Paideia student (K-12), and has taught there for 15 years. She chuckles at the well-worn "hippie school" reference. "We've had alumni say, 'Man, I can't believe that kids have lockers now.'
"Paideia never has over-emphasized facilities, but there is a sense of excitement over this environmentally friendly building. With everyone together it really helps our sense of community. Our core values remain the same. As a student here, I felt known and loved and appreciated. The teachers knew my strengths and weaknesses, and I always felt they cared."
Paideia always has stressed that sense of personal familiarity, creating a safe haven with adult mentors and listeners for an age group that has begun the inevitable separation from the parental apron strings.
In essence, Paideia strives to make the school experience personally meaningful. Teaching the evolution of American democracy and constitutionalism, for example, takes on personal meaning when classrooms operate under a system of self government, with elections and court systems.
And communication skills sink in deeper when students are encouraged to write creatively about themselves and their issues, when they are drawn away from cell phones and email into actual conversation without any arm-twisting. If anything, Paideia's teachers are as eager to be taught as they are to teach.
"My goal is that kids don't feel like school is being done to them," says Swift, who recalls a seminal moment in her 8th grade year at Paideia.
"My parents separated the last week of school. I told one of my teachers and he got up, slammed the door and talked with me. It was an amazing thing to have an adult be so upset on my behalf! It showed that he cared, and that's stayed true about this place, the amount of energy the faculty puts into trying to figure kids out.
"I had no idea how much time and attention, and intention, went into what I was receiving as a student."
Getting to know the kid in a meaningful way is difficult in a public school setting with 30 kids in a classroom, but it's almost an important given at most private middle schools.
"It's important to really get inside a kid's head at this age, when there is so much transition," says Gerry Kosater, academic coordinator at Tattnall Square in Macon. "They're learning organizational skills, changing classes more. A lot of times, it isn't the academics that are most challenging for them. It's figuring out how to get the locker open."
At Rabun Gap (grades 6-12) that teacher-student or adult-child partnership takes on new meaning if the child is living away from home for the first time. Sixth graders are day students only and, therefore, mostly local kids.
"And we've frequently debated if we should continue boarding 7th graders," says Roger Cox, the middle school dean. "But our boarding students seem to become independent quicker than the day students."
Rabun Gap employs full-time dorm parents while giving students an early taste of living in a post-parental world.
That's a world Ned Murray of Episcopal Day School (EDS) is interested in, one that requires a new education model. So he asked his faculty about the nature of the world, the necessary skill sets to navigate the future, asked them to identify the five most important cognitive skills they want EDS students to leave with. Then he asked them to identify the components of those skills.
"Communicating to a variety of audiences through a variety of media, for example, is a 21st century skill. What are the components of that? Let's break those down," Murray told his faculty. "If this is one of the essential skills we can develop in students, what are we doing in our curriculum to help kids build those skills?
"Notice that I never said anything about English, social studies, math and science," Murray says. "Those are categories of information, not categories of thinking processes. Those were borne out of an 18th- or 19th-century world."
Murray wants to work backward from the conclusions, use those broad information categories as tools en route to understanding. EDS is working along the same path in developing personal ethics, asking faculty to identify the attributes and habits – the outcomes beyond test scores, high school and college graduation rates, because the middle school years are critical in setting the course for subsequent life success, or failure.
"At our school, we're already producing an inordinate number of valedictorians and salutatorians in the area high schools. Our graduates are far exceeding benchmarks like SAT scores and grades. That's all well and good. But what I really want to know is how successful in the world are they.
"I want to see them at 35 or 40. How happy are they? What's their divorce rate? Have they changed careers? These are the things that are interesting and matter, outcomes that are connected to the real world."