Water Lessons, Water Plans
The long drought has Atlanta leaders looking to Denver for ideas and solutions, even as critics of regional and state water plans say the conservation measures are toothless.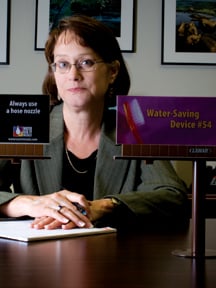 Last April a group of 100 or so Metro Atlanta leaders went to school in Denver, where they saw a thriving metro region confronting familiar challenges of rapid growth.
These Atlantans, part of the 12th annual LINK (Leadership, Innovation, Networking, Knowledge) trip organized by the Atlanta Regional Commission (ARC), saw energetic leaders cooperatively supporting the arts and culture, and proactively tackling transportation, healthcare, economic, political and environmental issues.
And they had an opportunity to meet Peter Binney, a modern day dowser of the American Southwest, a water witcher without divining rods or rain prayers. For years, Binney's mission was to conjure new water resources, to quench the thirst of a growing region where every drop of water already is spoken for.
To the delegates from parched Atlanta, a city lurching through an extended drought, Binney's ideas on water were refreshing. And the lessons of Denver – particularly Binney's innovative water supply solutions – are a likely blueprint for Atlanta and other cities grappling with water problems.
"Even though the two metropolitan areas are 1,500 miles apart, there are similarities that make the lessons learned in Denver relevant to Atlanta," says Binney, director of sustainable planning for Black & Veatch, a global engineering, consulting and construction firm.
"Both are located in water short areas, at the top of watersheds, so they must look to remote geographic areas to develop new sources of water for future needs. They are both therefore susceptible to area-of-origin questions and politics, environmental mitigation, regulatory oversight and trans-basin dynamics.
"Both have reached the level of service capacity of existing water infrastructure, and there is the planned growth of millions of new residents, and water consuming economies that will deplete even wet weather surpluses in the system."
When, or if, such surpluses ever exist again. But there's another Binney suggestion: Don't count on it.
In March Binney, a native New Zealander who had been battling a rare blood cancer, decided to make a career change and pursue the chance to develop sustainable water projects around the world with Black & Veatch.
For the previous six years, he was director of Aurora Water in Aurora, Colo., a city of more than 310,000 in the Metro Denver area. When he took the job in 2002, the region was struggling with one of the worst droughts in modern times and in the early stages of what has become a long dry spell. And Aurora's population is expected to nearly surpass 500,000 by 2035.
The twofold challenge: Deal with the drought, and boost water supply for future growth. It all sounded so familiar to the LINK delegates.
"I was struck by the similarities and common issues," says Jim Stokes, president of the Georgia Conservancy. "I was surprised to find another city as high up in the watershed as we are. We're both expecting dramatic population growth – Denver by about a million by 2030, Atlanta about 2.3 million.
"One of the things that became very apparent is the need in Atlanta for better demand management, and that's really all about water conservation and efficiency."
Big Ideas, Low Flows
The Georgia General Assembly created the Metropolitan North Georgia Water Planning District in 2001 to serve as the planning agency for the Atlanta region, a 16-county swath of about 5 million people who suck most of their water from lakes Lanier and Allatoona.
In 2003 the district produced its first – and the state's first – long-range comprehensive watershed, wastewater and water supply/conservation plans. Chief among the district's conservation strategies is tiered pricing – the price of water increases as more is used.
Most communities within the district have implemented a conservation pricing mechanism, and many offer rebates to water customers who replace their old 5-gallon toilets with more efficient 1.6 or 1.28 gallon models. Rebates and suggestions were not enough in DeKalb County, so it became the first Georgia community to pass mandatory retrofit-on-resale legislation.
The ordinance requires all pre-1993 buildings in the county's unincorporated areas to be retrofitted with water-saving plumbing devices (building codes went into effect in 1993 to require installation of low-flow water devices).
The onus is on the buyer, who must retrofit the building before receiving water service. The ordinance went into effect June 1 for single-family dwellings, with all other properties becoming subject to the new law on Jan. 1, 2009, to the dismay of a real estate lobby that had crushed earlier efforts to legislate such conservation measures.
"Attaching a mandate to replace plumbing fixtures to a real estate transaction presents an unnecessary barrier to that transaction of property, and we are opposed to it," says Robert Broome, governmental affairs director for the Atlanta Board of Realtors.
"It isn't reasonable or cost effective and creates additional bureaucratic burdens on DeKalb County property owners. And it's only going to get worse in January when it kicks in for commercial properties. Then it begins affecting economic development."
DeKalb County Commissioner Jeff Rader, one of the leading proponents of the DeKalb ordinance, says the new law will save 3.5 million gallons of water a day, and property buyers ultimately will see savings in the form of smaller water bills.
"The water we get out of the Chattahoochee is increasingly discharged into the south Ocmulgee basin," Rader says. "That inter-basin transfer is taking water out of the Chattahoochee basin, where it's needed downstream. This is one reason why DeKalb has to be a leader in water conservation and stewardship. This is a great opportunity to conserve water simply by minimizing what we flush down the toilet."
Robert Hunter, commissioner of Atlanta's Department of Watershed Management, says, "I have to tip my hat to DeKalb County for getting it done. This is an idea that the state legislature and real estate lobby has not embraced."
The district tried to get state legislature support for a retrofit law during its original planning process five years ago, but had no luck. By law the district must update its plan every five years. Drafts of the updated plan will be available for public comment this fall with final approval coming next year. For the time being (at least until the next plan update in 2013) the district plan – basically because it came first – supersedes the fledgling state plan in the Atlanta region.
Critics of both the district plan and the newly minted state plan say the conservation strategies in each are fairly toothless – a lot of "may" or "should" and not enough "shall."
"I don't see mandatory measures, or enforceable milestones," notes Sally Bethea, executive director of the Upper Chattahoochee Riverkeeper.
Larissa Thomas, who chairs the Ocmulgee Basin Advisory Council for the district, says the updated plan does a good job of providing guidance and suggestions to local authorities, but describes the early draft of the updated conservation plan as "vague and open ended."
"It's not really a rigorous, compelling document," she says. "Local governments are not held accountable with specific and quantifiable standards. It's not as stringent as it could be. I would like to have seen more research that shows how well our conservation measures are doing. Maybe next time."
Pat Stevens, chief environmental planner for the Atlanta Regional Commission (which provides the district staff) disagrees with critics such as the Georgia Water Coalition (comprising dozens of groups, including the Georgia Conservancy and Upper Chattahoochee Riverkeeper), who give the district a failing grade for not being more aggressive in its conservation strategy. The district is a work in progress, she says.
"We've only been at this a few short years," Stevens says. "And we're talking about a major metro region with over 100 different governments. This large metro area has done more in a short period of time than any other major metro area in the U.S."
Down The Drain
Sally Bethea cites Boston as an example of how a metro area may conserve water on a massive scale – which she calls the more cost-effective alternative to building new reservoirs.
"They were using about 335 million gallons of drinking water a day in 1987 and anticipating a population of about 3.5 million by 2006; they projected their future needs at 450 million gallons a day. But then they did something amazing," Bethea says. "Instead of investing $500 million in water supply projects, they spent $40 million over 20 years on a whole suite of water conservation and efficiency measures."
The population grew, as expected, but daily water consumption in the metro region went down. It was at 225 million gallons a day last year. The city of Boston itself is consuming about as much water today as it did 100 years ago, thanks to its massive conservation program – retrofitting old plumbing fixtures, fixing leaks, evaluating and repairing meters, implementing outdoor watering restrictions, educating – and of course, sharply increasing the water rates.
"There is no better conservation incentive than water rates," says Stevens.
If so, Atlanta water customers will become more conservation minded than ever as their water rates continue to rise sharply in the coming months and years. But with the steady flow of new residents, the ongoing struggle among Georgia, Florida and Alabama over water rights, the wrangling with the Corps of Engineers over the water flowing out of Lake Lanier, and the ramifications of climate change, it's probably going to take more than conservation and efficiency to keep development-happy Atlanta hydrated.
In developing its initial long-range plan, the district estimated infrastructure, operations and maintenance costs of $97 billion to meet the region's needs through 2030.
Right now Atlanta is in the midst of a $3.9 billion "Clean Water Atlanta" campaign – a forced march, dating back to lawsuits filed by the Upper Chattahoochee Riverkeeper, state and federal government agencies. A federal consent decree committed Atlanta to improve its crumbling wastewater system ($3 billion).
The city also has committed itself to a $900 million plan to repair and upgrade a drinking water system that was losing about 20 percent of its treated water to leaks, or roughly 120 million gallons a day. Leak detection and repairs are among the lowest hanging fruit in water conservation, and Atlanta's watershed management department has reduced leakage to about 14 percent so far.
"When United Water was managing the system, they did about 750 leak repairs a year. We're doing more than 800 a month," says Hunter, whose department took over management of the system in 2003, after Atlanta ended a four-year privatization experiment with United Water.
Hunter heads a department that serves 1.2 million people in a 650-square-mile area. When asked to conserve water as the drought bore down on North Georgia last year, Atlanta water customers responded, cutting consumption 10 percent and creating a pricey Catch-22 in the process. The city sold less water at a time when it needed revenue to pay for the ongoing Clean Water Atlanta campaign.
"An unfortunate nexus," Hunter says. "We've got to change our behavior in the short and long term, which means we've got to conserve water. Unfortunately, in the short term it's a shock to the system. Our revenue decreased $45 million last year and we've got projects to pay for."
In June the Atlanta City Council unanimously adopted a proposal to increase water and sewer rates 27.5 percent (that kicked in on July 1) to help offset the revenue loss. Rates will go up another 12.5 percent in fiscal 2010 and 2011, and 12 percent in 2012, pushing the average monthly bill to $143, among the highest in the nation.
Waste Opportunities
Peter Binney realized early on in his job as director of Aurora Water that the city was heading for disaster if it didn't find more water. Supply had dropped below 26 percent of capacity, and the city couldn't withstand another dry spring.
So he negotiated deals to buy water from neighboring cities, leased water rights from farmers, and began a comprehensive conservation program that included water cops who enforced the new rules, which resulted in a 30 percent reduction in water consumption.
And he conceived the $750 million Prairie Waters Project. When completed in 2010, it will increase Aurora's water supply by 20 percent – without adding a reservoir, in a state where all of the rivers already are over-appropriated. The project will allow Aurora to collect its flushed wastewater downstream, treat and clean it and then reuse it as drinking water.
Clayton County, south of Atlanta, has its own innovative system of man-made wetlands and reservoirs that collect wastewater and convert it to drinking water. But Binney believes Aurora is the first municipality in the United States to employ a closed-loop system such as Prairie Waters.
Aurora would take water it already owns rights to from the South Platte River, pour the treated wastewater back into the river, then retrieve the wastewater downstream in a series of riverside wells, pump it back to the city for ultra purification and further use.
"A typical project of this nature would take about 40 years from concept to completion. This project will take five years," Binney says. "It required a strong level of working with environmental groups, who have become some of the strongest advocates of Prairie Waters."
Binney believes the Prairie Waters example will be followed in other cities which, like Aurora, will have to consider the governance of multimillion- and multibillion-dollar public works investments.
"Don't count on rain or the climate working in your favor," he says. And a city can't conserve itself out of a drought. It can, however, increase the efficiency of current supplies, and conservation can be a supply alternative if it's institutionalized and sustained – something stronger and more consistent than the voluntary, reactive, piecemeal approach that often defines Atlanta strategies.