The Sky Is Not The Limit
Ben DeCosta, the man who runs the world's busiest airport, says Hartsfield-Jackson is poised to soar despite high fuel costs and tough economic times that will change the map of the airline industry forever. He's building a new internatio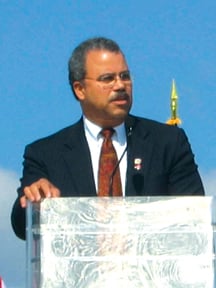 For 10 years, Ben DeCosta has been general manager of Hartsfield-Jackson Atlanta International Airport, the world's busiest. The city of Atlanta-owned airport is home to Delta Air Lines, on track to become the world's largest carrier when its merger with Northwest is complete.
DeCosta came here from Newark International Airport, just in time to refine and implement a master plan that included a fifth runway. Now he's overseeing construction of a new international terminal, which he believes is crucial to Hartsfield-Jackson's continued growth.
DeCosta talked to Georgia Trend's Susan Percy at the airport earlier in the summer. Following are edited excerpts from the interview.
GT: You've been here 10 years. That's a long time in your line of work.
DeCosta: I've never been in one place as long as I've been here – one single job for 10 years. Things have changed a great deal – nothing has been static.
GT: What were your priorities when you arrived?
DeCosta: One of the key parts of the job was to get the master plan for the airport completed. My predecessor had done a great deal of work over this and it came down to three options. We had to go through a process to select one, and negotiate that with all the airlines. Of course the key factor of that master plan was the fifth runway. Not only did you have to get a $5.4 billion plan adopted by every one of the stakeholders, including City Hall and the City Council, but you also had to get what could have been the most controversial part of it – the fifth runway – accepted for implementation. We got it done in record time. We were able to … move forward with the fifth runway, which was open for business in May of '06.
GT: Anything come as a surprise when you got here?
DeCosta: I had been the manager of Newark International Airport and been a long-term employee of the Port Authority of New York and New Jersey, so I had experience with Newark, which I ran, and before that dealings with LaGuardia and JFK and two Port Authority heliports. I came to Atlanta with a great deal of experience but no single airport as busy as this one. Shortly after I arrived this became the busiest airport in the world, and it has maintained its status as the busiest ever since.
GT: There was a time when Atlanta was running second … .
DeCosta: Chicago was number one, then Atlanta was number one, then it was back and forth. But now Atlanta is number one in both landings and takeoffs – we had almost a million last year – and number one in number of passengers at 89.3 million.
GT: What was the airport like 10 years ago?
DeCosta: It was a very busy place with an airline industry that was doing pretty well in '98, '99. And 2000 was a banner year for our industry, in terms of being profitable; but also, if you recall, before 9/11, on everybody's lips was [talk of] problems of congestion. Con-gestion delay. Across America our skies were full of aircraft and planes [were] lying around on the ground – lots of delay and lots of complaints and lots of testimony before congressional committees. It was the right time for us to be pushing for an expansion of the airfield and the fifth runway.
GT: Then 9/11 came.
DeCosta: We had a decision to make. Many airports around the nation decided to defer their investment in infrastructure in their airports; but we decided here, given what we knew about Atlanta's economy and the resilience of this airport, its location and the hub carrier Delta, we decided to place our bets, take a risk, which has paid off handsomely. We went full steam ahead for the fifth runway.
GT: You have a new international terminal in the works now.
DeCosta: That's right. That was part of the master plan, so we are currently in both construction and design for the new international terminal. This will be a $1.6-billion terminal, which will serve a 40-international-gate complex. It's the 28 gates we already have on E and the 12 additional wide-body gates which will be built as part of the Maynard H. Jackson International Terminal.
GT: International traffic is obviously increasing.
DeCosta: Delta is one of the strongest airlines in America today and has adopted a strategy for downsizing its domestic and unprofitable operations and upsizing the international operations, which will tend to be more profitable. Not only is it a good business strategy, but it's a good strategy for this airport and this region. The Atlanta region is connected to more places in the world, able to strengthen our cultural ties, our social ties and now our community's ties to other places around the world.
GT: Even with aggressive leadership and the right political climate in Atlanta's favor, were other cities asleep at the wheel? Why is Atlanta benefiting from all this international activity and not other cities?
DeCosta: Maybe you can blame Thomas Friedman [author of The World Is Flat]. He educated all of us that the world is flat, and it turns out that he was very right very early and the rest of us are kind of catching up to a recognition that we are so connected to the rest of the world.
GT: Is Hartsfield-Jackson in a good position to take advantage of this flattened world? What about the economy and its effects?
DeCosta: We are well-positioned for the expansion internationally and also to weather this storm. Today oil is $134.86 [a barrel]. I track the crude oil prices. We know from some analysis done by the International Air Transport Association that at $130 a barrel, the airline industry will lose $2.3 billion. But at $135 from now through end of the year … the industry will lose over $6 billion. That tells me that with all of the consolidation, the reduction in seats – they [airlines] are all going down by 10, 12 percent in capacity and laying off thousands of workers – that's still not enough. Our industry will not be profitable unless something else happens. So we're now trying to look at our budget here at the airport to determine what we should be doing for the future if things don't change.
GT: The airport has to pay its own way, right?
DeCosta: This airport operates as a business, not just as a government department. We don't have any access to taxpayers' money except we do get some federal grants, but local sales tax and property tax from the city of Atlanta or any of the local jurisdictions – we don't get any. In order for us to grow the airport we have to run it as a business, a business enterprise, and to make a profit.
GT: You're dealing with a lot of variables.
DeCosta: Let's say, for example, the airlines have to reduce seats and raise fares. Well, there's a certain number of us who won't fly. We'll say, "I think we'll see Grandma next year instead of this year … ." That means that those people who don't fly won't park – parking's our number one revenue source. They won't come in and have a hamburger, so our food and beverage concessions will make less money and so will we. And they won't go shopping, and the business traveler may not rent a car. Car rental is also a major revenue source – about $30 million annually is the revenue we get from car rental, with parking being probably around $85 million.
We may have to tighten our belts here, so we're doing analysis – already our budget is a recession budget. We knew as we were developing the budget that we were looking at being in a recession, so we were very conservative on a go-forward basis. Now we're doing analysis for fuel to see what we think may occur.
Although we're being cautious, we are also confident that this airport will not be affected as other airports around the nation. As Delta cuts flights, they're going to add flights here. Other places will lose service but Hartsfield-Jackson, which is the home of Delta and AirTran, will be about the same. But our growth will pause.
GT: Where will you do the belt-tightening?
DeCosta: We are looking to privatize our list of capital projects, and I may just lop off a number and say I'll defer them. Of course the big-ticket items will go forward. The consolidated rental car facility, $600-plus million on the rental car facility – that will go forward. We'll keep on going to complete it, and that will be open for business by the end of next year. In the international terminal, we think there's no reason for us to slow down or stop. One of the reasons is that the prices keep going up on everything. Concrete, steel, all oil-based products – the prices are escalating, so we need to get it done as quickly as possible to keep it as affordable as possible.
GT: Are you likely to be looking at staff cuts?
DeCosta: No. We've planned very carefully to make sure that we don't have to make staff cuts. We've slowed the increase in staff; we did not add any staff, except for those that are absolutely critical for the expansion projects.
GT: From your perspective, when is it likely the economy will pick up?
DeCosta: I'm thinking that things are going to slow up around the nation for the next two years. And then we need to be prepared for it to pick up or prepared for it not to pick up. The recession budget is looking forward from a year, and I'm currently having staff analyze to see if certain parts of the capital program should be deferred because of a possible squeeze on airport revenues and also a downtick in passenger facility charges we collect. Every passenger who comes through, we get $4.50, so if you get a decrease in passengers you also get a decrease in that support for our capital program. My real belief is that it's going to be flat. That this year we're going to have over 89 million passengers just like last year, but you can't be sure, so we've always got to anticipate, plan ahead.
GT: And the price of oil … ?
DeCosta: That's the Katrina here. This is a major impact on our industry and on the economy of the U.S. We are in uncharted territory. I think there is more than one airline that will disappear in the next two years.
GT: How big is it for Atlanta to have Delta here?
DeCosta: Delta is absolutely critical to the success of our economy and of this airport, so I think we're grateful and very appreciative of the leadership of Delta, which has emerged from bankruptcy much stronger as a carrier, and [we can] see how they manage the merger with Northwestern, which will make them even a stronger worldwide carrier. The map of our industry is going to take shape in different ways.
GT: Is it likely that we could be looking soon at just a handful of airlines?
DeCosta: Three. Three or four airlines. Yes.
GT: And … .
DeCosta: It means there will be a real question as to whether low-cost carriers can sustain themselves. The question will be for each of us whether we can afford to fly. If you were to compare the price of a seat-mile in 1980 with the price of a sea-mile today, it's about half. Many more of us are flying today because flying is affordable.
A question is, in a couple of years with consolidation of the industry and the need for increased fares because those who survive have to be profitable – then who gets to fly? So it may be the people who fly [then] will not be the people who fly today.
GT: You obviously believe Hartsfield-Jackson will thrive.
DeCosta: This airport will be fine. There are many communities, however, around the U.S., who are currently planned to lose all air service. So if [their citizens] want to fly, they have to get in their cars and drive for three or four hours to get to an airport.
GT: If you live in Atlanta, you get spoiled.
DeCosta: You just jump on MARTA, come to the airport, get on your plane and go.
GT: Exactly.
DeCosta: One of the things that's vital to this airport's success and the success of our region is the people who work here. People just take for granted the success that we've had over the last 10 years, and it's all about the people. One of the things I'm proudest of is our senior team has been able to develop the airport and its staff in a way that will allow it to succeed for another 10 years.
GT: Isn't the airport implementing faster security lanes?
DeCosta: Oh, yeah. Three things are happening this summer. First we're making a $25 million investment to add new space to the terminal to develop new space and change its use and … add 10 new productive security lanes with new equipment that the federal government has promised us and a commitment by the Transportation Security Admin-istration that lines under the worst peaking situation here would not exceed 20 minutes. So it would be less than 20 minutes. They made a promise to me that they are going to staff these new lanes, so that means everybody's going to get a much better deal than we have had over the last year.
GT: Hartsfield-Jackson must have some clout with TSA to get them to make that kind of commitment.
DeCosta: This is the busiest airport in the world, and we have also gotten a lot of good help from our elected officials. Johnny Isakson and John Lewis along with others have gone to bat for us. We've relied on our elected officials to help us with this. At the same time I have been blessed with staff members who work very closely in partnership with the airlines and with TSA to come up with a system that works for everybody.
GT: What are the other security changes?
DeCosta: We are rolling out something called a Black Diamond. It's a self-selecting system [for] people who know the rules about liquids, water, know you should take your shoes off, take your laptop out. Those people will go into kind of an expert travel lane so [they] can speed right through. We want the expert and the business traveler to be in the fast lane and the people who need a little bit more help will be in another lane, and we are going to supply them with folks to help them.
We're going to pilot the Registered Travel Program [in which travelers pay an annual fee for access to high-speed security lines] that's called VIP or Clear Atlanta.
GT: Stephen Brill's project?
DeCosta: I've been in conversation with Steve Brill and my staff is working with his staff, and so before the summer is out we will be piloting the Registered Travel Program.
GT: Anything else we should know about?
DeCosta: We have a strategic plan that deals with, number one, employees. We want competent, happy employees. Two, it deals with customers – we want to move the needle on customer satisfaction.
Number three, we want to be efficient and effective from the airlines' perspective. We are always thinking of ways of trying to save the airlines money, because they either pass it along to the passenger, or they are closer to being profitable, which is great for them, us and our economy. This airport was recognized by the Air Transport Research Society as one of the most efficient airports in the world, and we have gotten their award for the last five years. That's something we're paying more and more attention to.
The DeCosta File
In 1998, Benjamin R. DeCosta became the city of Atlanta's aviation general manager, with responsibility for running Hartsfield-Jackson Atlanta International Airport, the world's busiest.
On his watch, in 2006, the airport opened a fifth runway; a new international terminal now is under construction.
DeCosta was named Best Airport Director of the Year in 2007 by Airport Revenue News; the same year, Hartsfield-Jackson was selected by the Air Transport Research Society as the most efficient airport among all such large facilities worldwide. In 2006, the airport was honored by American Express Executive Traveler as the Best Large U.S. Airport.
DeCosta, a native New Yorker, received his bachelor's degree in physics from Queens College in 1968 and earned a juris doctor from New York Law School in 1975. He studied state and local government at the Kennedy School of Public Administra-tion at Harvard University.
He serves on the boards of directors for the American Association of Airport Executives and Airports Council International.