Homegrown: Georgia's Winning Wines
At Georgia Trend's second tasting of Georgia wines, judges looked for taste, balance, character and food-friendliness. They found three winners and five wines of distinction.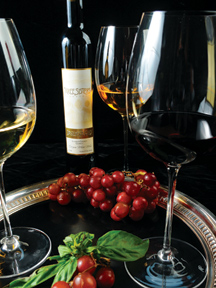 In the Ritz-Carlton, Buckhead's elegant, empty Dining Room, staffer Michael Lueptow is in his shirt sleeves, methodically opening, sorting and numbering 30 wines from a dozen Georgia winemakers into three categories – whites, reds and desserts.
Upstairs, a few Georgia Trend staffers and our judges are gathering in a small lounge outside the conference room where, after months of planning, the magazine's second wine tasting competition will take place.
Robert Evans, the Ritz Dining Room's sommelier, is the first to arrive, greeting us all in a business suit and formal demeanor. Wine journalist and author Barbara Ensrud, smiling and sporting a sterling grape cluster brooch, is next to appear, having journeyed from her home in Durham, NC. Finally, a slightly disheveled John Driscoll hurries in from the unexpected traffic between the Ritz and Sherlock's Wine Shop in Brookhaven, where he is the buyer. (For more information about our judges, see "Meet Our Judges," p. 35.)
"Are we ready?" Ensrud asks, checking the time. "I want to give these wines a fair shake."
As the judges settle in before their blank notepads, water bottles and crackers, a now-jacketed Lueptow pours white wines into glasses and discreetly hands me a numbered key. At this "double-blind" tasting, I'll be the sole person in the room to know anything about the wines as they are judged – including their types or the fruits from which they are made. (Even the bottles' shapes are disguised by napkins.)
Once the judges begin tasting and scoring, the room falls silent, except for the faint clink of glasses, the scribble of pens and soft slurping (wine experts sometimes inhale gently through the mouth while tasting, as oxygenating brings out more flavors).
The three judges approach their tasks from three very different viewpoints. Sommelier Evans' method is as structured as his bearing, breaking down his comments on "nose" (aroma) and "palate" (taste) for each glass. Normally, in tastings, "I'm looking for clean, well-balanced wines that marry well with foods," he says – not surprising considering that he chooses the wines on the Dining Room's wine list.
Food-friendliness is one of Ensrud's main criteria as well, she says: "I want to make sure there are no off tastes, but I'm also looking for character."
For Driscoll, who tastes as many as 75 wines in a week, spending this much time evaluating each glass is unusual: "I'll just line them up and start eliminating the ones that don't work for me," he says. His clientele is looking for unusual wines and good values, he says: "We don't even carry Clos du Bois [a popular Chardonnay] in the store."
Sherlock's carries only a couple of Georgia wines – Persimmon Creek and Frogtown – largely because the winemakers drive them to the shop. "Distribution is a problem," he says. "Price point is another issue. Winemakers will bring me their wines, and I want to like them, but sometimes that's the sticking point." (For more information about how we conduct our wine competition, see "Behind The Scenes," p. 37.)
In a little more than two hours, it's all over. The judges have spoken, and their choices are finally unveiled. Among the whites, a dark horse emerged as a clear favorite: Boutier Winery's Chardonnay is the number one or two choice among all three judges, earning comments such as Driscoll's "richly textured and viscous with ripe peach, apricot and pear. An oaky backdrop at the end of the palate."
Even winemaker Victor Boutier proclaimed himself "pleasantly surprised" to find his wine declared the winner over many more established wineries'.
"I think we may be the youngest winery in Georgia," he says, open only since 2005. (However, Montaluce, a new winery and real estate development in Dahlonega, which has just begun production, has now claimed that slot).
A self-taught winemaker who began learning the craft at home just 10 years ago, the Netherlands native moved here 15 years ago with his Irish-born wife, Mary, and got an idea for a business: making wines with custom labels for anniversaries and special events.
That strategy has helped Boutier grow its winemaking business even as Victor and Mary brought home prizes for their wines – including international competitions such as the Indy International in Indianapolis, and The Dallas Morning News' regional wine competition, as well as a Georgia Trend "Wine of Distinction" nod for their Peach Chardonnay last year.
This year's winner, Boutier says proudly, is a 100 percent Georgia product, grown in his Danielsville vineyard from his own Chardonnay grapes. Business is going so well the Boutiers soon will open another location in Danielsville, and a friend is building a bed and breakfast inn nearby.
Boutier admits his novel names, custom labels and affordable prices (the Chardonnay is $16.99 – including a custom label) have been key to the winery's success. Among his top sellers: blackberry and blueberry wines the Boutiers have named after themselves: Cranky Bas-tard and Skinny Bitch.
Among the reds, Frogtown Vineyards' Cabernet Sauvignon Family Reserve 2004 took the top spot. (It also won a 2007 "Best of Class" on the Atlantic Seaboard from the Vinifera Winegrowers Association.) Winemaker Craig Kritzer says, "I knew this crop was special right away. It is tremendously ripe-forward."
The Kritzers make their award-winning wines at a multimillion-dollar facility, from their own grapes, without additives such as California concentrate. Kritzer says that because of cabernet sauvignon grapes' relatively later bud-break and harvesting, "I believe Georgia is the only viticulture on the East Coast that could ripen cabernet every year."
It was Driscoll's top choice: "Ruby, turning slightly brackish," he wrote. "Inviting nose with a hint of dill, good balance of fruit, wood, tannins and spice. Bordeaux-like."
In the dessert wines category, Three Sisters repeated its win from last year – with a different wine. Last year, its Georgia Port won; this year, its Dahlonega Gold, an ice wine traditionally made when the grapes freeze on the vine, took the category. Three Sisters' Sharon Paul says she and husband Doug make their wine of "very special, very limited Vidal Blanc grapes" cryogenically frozen. "God doesn't freeze it; we do." Driscoll noted: "Deep gold. Extremely rich, with honey, pineapple, apricots and a crème brûlée character."
We designated runners-up "Wines of Distinction." Among the whites, our judges were enthusiastic about Creekstone's Viognier – which was Georgia Trend's winner of this category last year. Noted Ensrud: "Dry, crisp, tart, refreshing. Long finish."
Winemaker Steve Gibson at Habersham Vineyards, which makes Creekstone wines, says he may know why it didn't take the category again. "For the first time in 15 or 20 years, we were not able to use Georgia fruit," he says. After last year's freeze, he was forced to use California grapes instead.
"I think the Georgia grapes make a better wine," he says (last year's winning wine was made from Dahlonega's BlackStock Vineyard grapes). "We want to produce Georgia wines. I hope this [freeze] will turn out to be [only] an every 15- to 20-year phenomenon."
Among the reds, our judges awarded Wines of Distinction designations to Persimmon Creek, for its 2005 Merlot, and to Wolf Mountain's 2006 Instinct, a blend of the estate vineyards' cabernet sauvignon, syrah, mourvedra and touriga nacionale.
Both are proud to declare their wines 100 percent Georgia grown, from their own vineyards. "We are huge terroirists," says Mary Ann Hardman of Clayton's Persimmon Creek, referring to the French term that links wine's flavors to the earth in which the grapes are grown. (When Hardman takes wines to suppliers and restaurants, she often takes a bag of her soil with her.)
"The general public doesn't understand why Georgia wines taste different from French or California wines," she says. "But our wines express our sandy, loamy, alluvial soil." She adds: "People should remember that we are farmers first. Wine shouldn't be a snob sport." Evans wrote: "Smells like ripe black fruit, currant, blackberry, strawberry, wet cinnamon. Palate: Nice depth, good balance, oak, integration. Great finish length. Yeah! Tannin!"
Wolf Mountain's Karl Boegner points out that his winery specializes in blends – which Ensrud says she'd like to see more of.
"I'd like to see more winemakers take advantage of several wines' strengths," she says. That's exactly what Boegner does, although he has not stopped adding new wines to his inventory, including a blanc de blanc brut, one of the rare Georgia sparkling wines made from vinifera using the natural, traditional French methode champagnoise. Ensrud's notes on the Instinct blend: "Dark garnet, tart but lively blend. Good length, high acidity, light tannic bite, good black cherry finish."
Runner-up Butterducks Winery's Sweet Peach won a Wine of Distinc-tion prize among dessert wines. "There's a lot of handmade love in there," says winemaker Bill Utter, who until recently hand-pitted about 5,000 pounds of the 100 percent Georgia-grown, Peach County fruit to make his wine. It ranked as an Ensrud favorite: "Ripe nectarine/ cling peach aromas," she wrote. "Exotic peach-pit flavors – good acid."
After a difficult year – the freeze that cost Three Sisters and other vineyards up to 80 percent of their grapes; a drought that taxed winemakers physically and financially – there were also a few bright spots.
On the day of our competition, the Georgia Legislature passed laws allowing consumers to order up to 12 cases of wine from each of their own states' wineries – a breakthrough for most small vineyards without distributors, because customers had to drive to tasting rooms to sample and buy wines.
And although recognition in their home state may be slow to come, Georgia winemakers are bringing home prizes from well-respected judges in national and international competitions, where knowledgeable wine enthusiasts are constantly scouted for new, unique flavors.
Wine experts think "wines are tasting too much alike in the world," says Mary Ann Hardman. "Our wines are unique, and we should be proud of that."
She also wonders why Georgia's own wine enthusiasts know so little about their own state's wares: "How can any wine connoisseur not know the taste of his own place?"
Through The Grapevine: A Selection Of Georgia Wineries
1810 Country Inn & Winery
254 North Seymour Drive
Thomson
800-515-1810
www.1810countryinnandwinery.com
BlackStock Vineyards & Winery
5400 Town Creek Road
Dahlonega
706-219-2789
www.bsvw.com
Boutier Winery
4500 South Main St., Ste. 101
Acworth
770-529-0490
www.boutierwinery.com
Butterducks Estate Winery
3332 Blue Jay Road
Guyton
912-728-9463
www.butterduckswinery.com
Chateau Élan Winery
100 Tour de France
Braselton
1-800-233-WINE (9463)
www.chateauelan.com
Chesser Island Winery
3940 Chesser Lane
Folkston
912-496-2916
www.chesserislandwinery.com
Courson's Winery
2222 GA Hwy. 22
Sparta
706-444-0616
Crane Creek Vineyards
916 Crane Creek Road
Young Harris
706-379-1236
www.cranecreekvineyards.com
Frogtown Cellars
3300 Damascus Church Road
Dahlonega
706-865-0687
www.frogtownwine.com
The Georgia Winery
6469 Battlefield Parkway
Ringgold
706-937-9463
www.georgiawines.com
Habersham Vineyards & Winery
(Also: Creekstone wines)
7025 S. Main St.
Helen
770-983-1973
www.habershamwinery.com
Meinhardt Vineyards & Winery
305 Kennedy Pond Road
Statesboro
912-839-2458
www.meinhardtvineyards.com
Montaluce Winery and Estates
501 Hightower Church Road
Dahlonega
866.991.VINO (8466)
www.montaluce.com
Persimmon Creek Vineyards
81 Vineyard Lane
Clayton
706-212-7380
www.persimmoncreekwine.com
Sharp Mountain Vineyards
110 Rathgeb Trail
Jasper
770-735-1210
www.sharpmountainvineyards.net
Still Pond Vineyard & Winery
1575 Still Pond Road
Arlington
(800) 475-1193
www.stillpond.com
Three Sisters Vineyards & Winery
439 Vineyard Way
Dahlonega
706-865-9463
www.threesistersvineyards.com
Tiger Mountain Vineyards
2592 Old Hwy. 441
Tiger
706-782-4777
www.tigerwine.com
Wolf Mountain Vineyards & Winery
180 Wolf Mountain Trail
Dahlonega
706-867-9862
www.wolfmountainvineyards.com