Cartersville/Bartow County: Prime Destination
A community that's close to atlanta, but not too close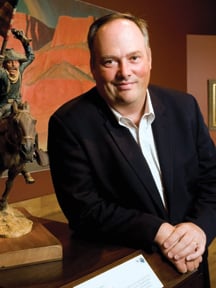 Situated on Metro Atlanta's outer rim in Bartow County, Cartersville was long considered just another sleepy small town. But thanks to Metro Atlanta's ever-expanding growth and the efforts of shrewd and energetic local boosters, those days are long gone. This city and county are on the map thanks to a growing number of people ranging from visitors looking for a great place to dine to manufacturers seeking a new plant location.
There's no shortage of things to do here, and for longtime residents such as Mazie Underwood, a local historic preservation activist, that takes some adjusting. It was a very different place when she first arrived from Athens.
"I moved here in 1990 and nothing much was happening," she recalls. "I don't think anyone here had heard of the word preservation, but the town had not started growing so much then."
In those days, the quiet in Cartersville was broken only by the metallic clank of trains passing through the center of town. Today, the city is positioning itself as an attraction that boasts plenty of reasons to visit and to stay – particularly if you're a major employer such as Toyo Tire, a new industry already expanding up Hwy. 411 in White.
New residents are moving to the area in search of lower home prices and less congestion than they're likely to find to the south in Cobb County. To manage the prospects of more rooftops and the assorted commercial growth that accompanies them, officials recently created a growth management plan. A consulting firm brought together a cross section of residents to formulate advice on what areas of the county should be reserved for residential development and which should be commercial or industrial.
"We want to grow, we just don't want to grow so fast that it messes everything up," explains Clarence Brown, the county's sole commissioner, acknowledging the negative impact that too rapid expansion can have on water, sewerage and roads.
Over the past few years Bartow has experienced slower population growth than some other metro counties, but for Brown that's a good thing. It allows the county to keep up with development while preserving the quality of life.
Attracting Industry
More recently, Bartow constructed two new industrial parks in the central and southern sections of the county.
"We really strive to market our location," explains Rachel Rowell, existing industry director for the Cartersville-Bartow County Department of Economic Development.
She points to I-75, which cuts through the center of Bartow and Cartersville, halfway between Atlanta and Chatta-nooga, Tenn. The area also is within easy distance of the intermodal yards in Cobb County, and Hartsfield-Jackson is, in ideal traffic conditions, little more than an hour away.
"Being on the cusp of Metro Atlanta is a very good position for us," Rowell says. "We've got 180-plus manufacturers so we've got a broad range of different [industrial] areas. We even have 17 international companies – some of them are Japanese – which really helps to attract other international companies."
Strong interest in Bartow led the county to construct the new Cartersville Bartow County Corporate Park on 865 acres near the city. Utilities and infrastructure are going in and officials will begin marketing the location to potential tenants by the end of the year.
Highwoods Properties recently leased 100,000 square feet of space to Beverage House Inc., a maker of specialty teas, at its River Point development near Emerson in the county's southern end. The company plans to double its workforce to 100 when it moves into the new facility.
Another major employer, Toyo Tire, which constructed a big new manufacturing and warehouse distribution facility on what was once pastureland, also is expanding. Its workforce has already climbed to 400 as it adds additional production lines.
"Even in bad economic times that plant is expanding faster than even they thought they would," Brown says.
Landing the Toyo plant was a victory Bartow County sorely needed, he adds. The company originally pledged to expand its local workforce to about 900 and is well on its way.
Another Japanese company, small engine builder Yanmar America Corp., is expanding and moving its North American corporate headquarters to Adairsville. It recently started production on a line of the legendary Cub Cadet tractors. The company will add another 240,000 square feet of space to its existing 220,000-square-foot facility.
All this is good news for a community that has lost a couple of thousand manufacturing jobs over the past few years. The successes are due in large part to Bartow's ability to put together an attractive package of incentives and overcome local opposition when needed. Much of that work has fallen to Clarence Brown, who wields a good deal of power as the county's sole commissioner.
When Toyo wanted land in a largely residential and agricultural area of White rezoned for industrial, some residents protested loudly. The company, however, had decided the Bartow location was its only choice in Georgia, and Brown approved the project. While some homeowners lost a scenic view, the fears of pollution and traffic have largely dissipated.
"There are a lot of people that once they [the plant] were there, they just didn't see the problems that everybody was telling them they are going to have," Brown says.
Small Town Charm
Additional jobs are one critical aspect of local revival, but there's much more, locals say. The city of Cartersville has clearly come alive, while managing to retain its small town charm, says Kay Read, president and CEO of the Cartersville-Bartow County Chamber of Commerce.
"This is a self contained community," she says. "There are plenty of residents here who work elsewhere, but there are also quite a few people who live elsewhere and work here in this community. We have a good mix of all that makes up a solid economic base of big industry like Shaw, Anheuser-Busch, Trinity Rail and such. We also have a lot of local entrepreneurs and retail shops."
These businesses, big and small, have located here because the county offers many of the factors that make for a high quality of life – from shopping to recreation to good schools.
"The desirability of living here I think is a draw to businesses, in that you are not in the huge metro area, but it's very accessible," Read says. "Since I've moved here I've been surprised at how few times I've gone to Atlanta."
Locals may be making fewer trips to the big city, but an increasing number of outsiders are heading north and making Cartersville a stopping off point. A visitor who pulls off the interstate at the main city exit will see all the usual suspects from chain eateries to retail strip malls. If he drives just a little farther on Main Street across U.S. 41 into downtown, he'll see the real revival in the historic – and quite scenic – downtown.
There's plenty of tradition here. The venerable Four Way is still serving lunch, as it has for decades. But the streets around it now boast many new establishments. Under the Bridge, a small district of shops and restaurants, is home to the eclectic Appalachian Grill and D. Morgan's, with its extensive wine selection.
Tourism pumps about $90 million into the economy each year. Many are visiting attractions such as Lake Allatoona, Red Top Mountain State Park, the Etowah Indian Mounds and one of the last covered bridges in the state at Euharlee.
Yet Cartersville remains the prime stop for visitors, thanks in large part to the city's efforts to develop and revitalize this area. Local officials started actively seeking more tenants for the center area after a study found that the city needed more night life if it was going to develop its downtown, says Liz Hood, executive director of the Cartersville Down-town Development Authority.
"When I moved here in 1989 we had two restaurants and both of them closed at 3:00 on Saturday, and there was nowhere to eat until Tuesday morning," she recalls. "So we've added since then 14 restaurants, and we have several more on the drawing board."
An average of 5,000 people crowd the city streets for a series of First Saturday events that feature concerts and antique car shows. These events give local merchants a chance to stay open late and do business with the throngs.
Building Detective
Another sign of downtown's upsurge can be seen in the renovation of one of the historic courthouses (Cartersville has three) as quarters for the Bartow History Center. The move marks a revival of sorts for the old building. Built shortly after the Civil War, it served as home for courts and county government until the early 1900s, when it was sold to private owners.
In the years that followed, the building was home to several stores and at one point even served as a skating rink. The city purchased it a few years ago at a time when it was close to falling victim to the wrecking ball. Although saved from destruction, the structure was clearly in sad shape. Walls were torn down and the original furnishings were long gone when local developer and award winning historic renovation specialist Ron Goss, Jr. was hired to restore the building to something approaching its original look.
"We had no records other than what the building itself told us," he says. "We could tell that upstairs under a certain number of windows that it had very decorative panels. You know that this is where the courtroom started based on the trim that was still intact. Even though walls were gone, you know … this is probably how it was laid out."
He could see, for example, the outline of two grand staircases.
Although most of the interior walls were gone, workmen discovered that bricks, slate and even spindles from the original grand staircases had been thrown into a crawlspace under the building. They provided more clues as to its original look.
"That helped us to get a grasp of the style and the look that it originally had," Goss says. "So we can take some of those features and try to let the cosmetics of the interior somewhat match up to the original style of the building."
Funded by a SPLOST grant to the tune of $1.7 million, the renovation is another part of the city's continuing effort to revitalize the district without losing its historic character. Encouraged by the availability of public money, local building owners have been willing to invest and encourage businesses to resist the attractions of strip malls near the interstate.
Most storefronts in the city are filled, although not every effort has met with the same success. A couple of blocks away, the 47,000-square-foot mixed-use Integrity Plaza has had a harder time finding tenants for its lower floor retail. The loft apartments above are all occupied, however, indicating that here as in other cities people are eager to live close to downtown.
"As far as the growth and revitalization downtown, it's been led by individuals who have a vested interest in the community that wanted to see downtown revitalized and recognized the value of having a strong downtown," says Cartersville Mayor Matt Santini.
He has long had a good view of what goes on in the city. Serving his first year in office, Santini is general manager of the local radio station, WBHF-AM and runs the Grand Theatre.
"You know you've got more and more people wanting the flavor of downtowns and they can appreciate the history of downtown," Goss says. "You are seeing a lot of people going back and living in these areas making loft apartments a hot item. You're also seeing a lot of specialty businesses and restaurants coming back as well."
All this activity and development has transformed Cartersville from that sleepy little town so many locals remember to a prime destination.
"Ten years ago we really weren't ready to say come see us, but we are now," says Ellen Archer, executive director of the Cartersville-Bartow County Convention and Visitors Bureau. "Those Georgians who might remember Cartersville as a total hayseed town – we have developed to such a degree now that we can justifiably say 'Hey, we're worth your time.'"
Cartersville/Bartow County
At-A-Glance
Population
Bartow County, 95,795; Cartersville, 19,308
Unemployment
(June 2008)
Bartow County 6.6 percent; Georgia 6 percent
Major Employers
Shaw Industries, 2,100; Bartow County Schools, 1,618; Trinity Rail Operations, 1,140; Cartersville Medical Center, 750; Anheuser-Busch, 706; Bartow County Government, 555; Cartersville City Schools, 503, Georgia Power/Plant Bowen, 400
Sources
Cartersville-Bartow County Dept. of Economic Development, Georgia Dept. of Labor