The Soccer Explosion
More than 88,000 Georgia children and adults play some kind of organized soccer, but so far that enthusiasm hasn't bubbled up to the pro level. Could an MLS franchise make the difference?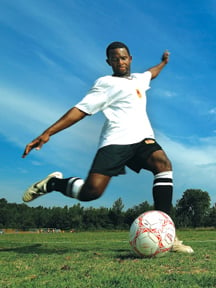 The seeds of a national revolution were planted 40 years ago in Atlanta, when Phil Woosnam guided a soccer team stocked with foreigners to the city's first major league sports championship.
Throughout that summer of 1968 the Atlanta Chiefs played in front of sincere fans, usually a privileged few who gathered like a furtive cult. The Chiefs were playing world-class soccer, and drawing about 5,700 fans at home on average.
But there were times when it felt like home to Woosnam, Atlanta's Welsh player-coach, and his fellow expatriates who in their native countries were accustomed to rowdy, emotional fans who passionately revered soccer – or football, or futbol.
There were two stunning upsets of Manchester City, England's top professional club, before large crowds of about 25,000 in now-deceased Atlanta Stadium. Then, in September, the Chiefs beat the visiting San Diego Toros for the North American Soccer League (NASL) championship. The 15,000 Atlanta fans went nuts, flooding the field when time expired.
"This was a major accomplishment, something that most of them had never experienced. They were delighted," says Woosnam, who lives in Marietta, retired after a long career at every level of the game, including 15 years as commissioner of the NASL.
"We'd put together a talented team of players from all over the world, who knew what to expect with Manchester," Woosnam says. "I think we proved that our brand of soccer was pretty good. It was always a matter of getting the right product on the field, something to excite the public."
Over the years, while U.S. excitement for pro soccer waxed and waned, interest in youth and amateur adult soccer grew steadily. That memorable 1968 season sparked soccer's American big bang.
"The NASL was the driving force behind the popularity of soccer in the U.S.," Woosnam says. "We got it started, and now soccer is entrenched in every state in the country."
Today, 3.2 million kids (5-19) play under the U.S. Youth Soccer organizational banner. More than 81,000 children (and 7,000 adults) are registered in Georgia Soccer programs. The state's de facto governing authority, Georgia Soccer has some 120 youth and adult member soccer clubs and organizations under its umbrella and expects to reach 110,000 kids by 2015.
"Several things have fueled that growth," says Georgia Soccer Executive Director Rick Skirvin. "First, of course, there was the NASL. Beyond that, soccer is an ideal sport in terms of cost – very little equipment is required. The other thing is, every kid gets to play at least half the game. That's still in our rules."
The Georgia youth movement was fueled by immigrant Chiefs who brought their sons along for the American ride.
"The credit goes to Ron Newman," says Woosnam, recalling his old teammate, a Brit who went on to a great coaching career and preceded him as a National Soccer Hall of Fame inductee.
"Ron and a few others went to the DeKalb YMCA and started youth soccer competitions around the city. It grew from one YMCA to another. Later, the state association formed a youth branch, and it's been growing ever since."
Today, all of those kids, and those soccer moms and dads, generate a lot of money for local economies. A 10-year-old study by Georgia Soccer put the economic impact of 40 youth soccer tournaments across the state at $35 million. Since then, 25,000 more kids are playing soccer, and the old tournaments are bigger.
The Atlanta Cup, held every Labor Day weekend, is Georgia Soccer's biggest fund raiser (netting about $200,000). Skirvin says it's the largest three-day soccer tournament in the world. Last year, 750 teams brought 13,500 players and 35,000 spectators to 22 venues across town, including the Georgia Soccer Park in East Point, which held its grand opening that weekend.
Eben Hardie, the father of two soccer-playing girls and a commercial real estate developer, was one of the leaders in the joint venture (Georgia Soccer, the Concorde Fire Soccer Club, Georgia Soccer Development Foundation) that produced the five-field, 100-acre complex.
"We've raised $1.5 million of the $6 million we need, so we've got a long way to go," Hardie says. "We've got the irrigation infrastructure in place and the space to handle 16 fields. The idea is to create a first-class sports facility to serve the kids in that community, and host some big weekend tournaments, which can easily have a $10-$12 million impact. Not bad for one weekend."
In May, at the 16-field Woodruff Farm Soccer Complex in Columbus, 184 of the best youth teams from 55 different soccer associations played in the first weekend of the Georgia State Cup tournament, packing an estimated $14 million economic impact.
"They like us a lot in Columbus," says Bubba Hunt, general manager of the Columbus Youth Soccer Club (CYSC), which hosts several major youth tournaments, including the President's Cup, a gathering of top teams from across the Southeast.
"We're the only youth sports organization in this area that has that kind of impact. We bring in people from all over, and they leave their money here, in our hotels, our restaurants and gas stations. We're like an industry."
Pro Logic
Seduced by the beautiful game and the New York Cosmos, they came in record numbers, the crowd spilling all over Giants Stadium, bobbing in the rows and aisles, angling for a glimpse of Edison Arantes do Nascimento – Pelé to millions of fans on every bend of the globe, a supreme athlete who did with his legs what Michelangelo did with his hands. He created art.
"The greatest player ever," says Woosnam, who was well into his stint as commissioner that August day in 1977, when almost 78,000 spectators saw Pelé in the fading moments of a long and brilliant career, an 8-3 Cosmos playoff win over the Fort Lauderdale Strikers. "This was the biggest crowd we had in the NASL, more than a full house. A lot of people were surprised to find they had no seats, so they sat on the steps."
Woosnam watched, satisfied, as the day unfolded. The overflowing crowd, the Brazilian superstar, the temporary soccer madness – all of it was largely his doing.
He saved the NASL, becoming commissioner and rebuilding the league after 12 of its original 17 teams disappeared in 1969. He established league headquarters in the visitors' clubhouse of Atlanta Stadium, eventually moving the offices to New York. During his tenure the league grew to 24 teams – too quickly, some have said, because while the Cosmos drew well, the league's average attendance never reached 15,000.
Woosnam was removed from his post in 1983, and the league died of suicidal hubris in 1984. But the NASL served a long-term purpose.
"Our challenge was to produce players and spectators, to increase American interest in soccer," Woosnam says. "We did that."
Major League Soccer (MLS) descended from the NASL. But unlike its forebear, the 14-team MLS features mostly American players, with some international stars – most famously David Beckham of the U.K., who earns a base salary of $5.5 million (50 times the league average) playing for the Los Angeles Galaxy.
MLS recently awarded new franchises to Seattle and Philadelphia and plans to add two more in 2011. Atlanta Falcons owner Arthur Blank has expressed interest in a franchise and the MLS apparently is interested in Atlanta – and the $40 million franchise fee.
"The MLS would work on a number or levels," says Gary Stokan, president of the Atlanta Sports Council. "We've got a fan base of 5 million in Metro Atlanta, a huge Hispanic population that has grown up with soccer, and a youth base that plays throughout the state. And the MLS is interested in a top 10 TV market like Atlanta."
A new women's professional league also is considering Atlanta. For now, the Atlanta Silverbacks are the top rated professional team in the state. They play in the United Soccer Leagues' (USL) first division – the soccer version of AAA baseball.
The Silverbacks organization, in addition to fielding its men's pro team, features a top-level women's team in the USL's amateur W-League (made up of college stars and former pros from the defunct Women's United Soccer Association), youth development teams, adult teams, and indoor soccer at a 48,000-square-foot indoor soccer facility in Suwanee.
The club, which has expressed big league dreams in the past, is based in a 20-acre park (near Spaghetti Junction) with three lit fields, including a 4,000-seat stadium that is designed for gradual expansion.
"We don't disregard the possibility of becoming an MLS franchise," says Silverbacks General Manager Michael Oki.
But the pro team averages only 2,600 fans per home game and loses money for its owners, Boris Jerkunica and John Latham.
Soccer's proponents have tried for decades to convince the U.S. to fall in love with the professional game but no one has figured out a formula that works in America yet. MLS loses money, and it's not as if sports fans were clamoring for the league. The U.S. Soccer Federation agreed to start a top-level pro league in the deal that lured the 1994 World Cup to America.
Parent Traps
Adrian Juarez played soccer on the streets of Santa Fe, Argentina, using trees as goal posts and a paper-stuffed plastic bag as the ball.
"If you wanted a heavier ball, you used a lot of Scotch tape," says Juarez, director of the academy and select teams for the Macon Soccer Club, which means he runs the program that develops top-level players.
"Soccer is all about being creative. That's what we tell players – when you get the ball, its yours, and it's up to you to be creative and do things on your own, without a coach telling you what to do – we encourage initiative."
Sometimes there are dozens of coaches offering their own, conflicting ideas from the sidelines. Part of Juarez's job is dealing with conflict.
"People pay good money, and they always want what they think is best for their child," he says. "So, they might have issues about how much playing time their kid is getting, or what the ref is doing, or they don't trust the ability of the coaches and trainers. So they coach from the sidelines. That's a big issue."
Many parents develop higher than normal expectations if and when their child gets plucked from the rank and file recreational league to play on the traveling, or select team. Visions of college scholarships, or professional careers, waltz into the ambitious imagination, no doubt inspired by the fact that Georgia's youth programs have produced some major stars on the international and domestic professional circuits.
Clint Mathis, Josh Wolfe and Ricardo Black developed their skills in suburban soccer hotbeds like Rockdale, Gwinnett and Fayette counties, where clubs and associations pay licensed coaches like Juarez to train the best players.
Most soccer associations have a director of coaching. The starting salary is around $30,000, with most in the $40,000 to $50,000 range, says Pete Santora, a former college and professional player who co-founded Atlanta-based Blue Sombrero, a company that provides online registration and league management systems for soccer club administrators in more than 30 states.
"Some are full-time employees, some are part-time and some don't coach games, but hold training sessions and charge about $100 a session, per kid," adds Santora's co-founding partner, Erik Stadler, who also played college and pro soccer. "At the high end there are coaches making $100,000. They start forming little Pelés at 5 years old."
The cost per season, per kid, can easily run well past $1,000 – beyond the cost of the uniform. So, some parents feel their role as designated check-signer entitles them to an unofficial spot on the coaching staff, a feeling often expressed in ugly ways.
"We've all heard the horror stories about the guy berating the official or the coach or a kid in front of everyone," says Matt Padula, a soccer dad whose two kids play in the Atlanta Youth Soccer Association. "Parents can't help but have a certain amount of emotion invested in anything involving their children, and some people say and do things they regret later."
So Padula constructively channels his own soccer dad energy.
"If you can't keep your mouth shut, like me, find the positive stuff. There are so many good things you can say to fill the empty spaces if you just have to say something. 'Great hustle there, man! Nice try!' And you can expand your frame of reference to include the other team, or the ref.
"One of the problems in Georgia is, the sport keeps growing quickly, but not enough people want to be refs. There's a real shortage."
Larry Lord, president of the Concorde Fire Soccer Club, was inspired by his wife to help fill that breach. She was looking at a magazine article about soccer with a picture of parents on the sidelines, their tongues hanging out.
"They were obviously yelling, and they reminded her of me," says Lord, an Atlanta architect who also is helping to lead the Georgia Soccer Park effort. "She said I needed to button it up and stop yelling at referees. She told me, 'Why don't you take a course and become a referee.'"
In 15 years as a youth soccer referee, Lord has learned to ignore overzealous sideline banter. "My main job as a ref," he says, "is to control the flow of the game."
The Bigger Picture
For others, the main job is nurturing the heart and soul of the game. Three nonprofits in Metro Atlanta are creatively using soccer to sketch a larger picture.
Soccer lovers define their sport as poetry in motion. America SCORES takes that literally. The program, which promotes literacy and empowers elementary school students in urban communities through soccer and poetry, reaches 120 Atlanta Public School students (3rd-5th grade), who participate in two days of poetry lessons and writing, and two days of soccer – and if they're active all four days, an actual game.
Soccer dad Matt Padula, who has done literacy tutoring before, chairs the board of the Atlanta chapter of this national organization.
Soccer in the Streets, a national program based in Atlanta, strives to develop playing-, educational- and life-skills for disadvantaged kids in urban communities. Older kids in this program can earn both coaching and referee certification. "We reach a lot of kids in the Latino community," says program director Ricardo Montoya, a former college and professional player, and one of the Atlanta area's top coaches – he guided an amateur men's team to the National Cup finals last year.
For Luma Mufleh, soccer was the simple way to make a big impact in the lives of truly disadvantaged children.
Mufleh, who is from Jordan, is the coach and founder of the non-profit Fugees soccer program for refugee children who have been resettled in the Clarkston area of DeKalb County. As of June, the program was serving 86 children (11-18) from 24 different countries, including Afghanistan, Iraq, Bosnia, Kosovo, Ethiopia, Liberia, Kenya and Somalia.
The team made national news last year when an article in The New York Times detailed the players' struggles. Universal Pictures has purchased the rights to make a movie version of the story.
"I have learned so much from these kids and their families," says Mufleh, who also started a cleaning service to employ some of the kids' parents.
"I have seen both a really ugly side and beautiful side to people through their eyes – the racism and hatred on one hand and the outpouring of support and people wanting to help on the other hand.
"They have taught me that it takes so little to be happy."