Planning Without Boarders
A growing movement is focusing on mega-regions that cut across geographical and political boundaries to meet the challenges of the 21st century. Atlanta is at the heart of a six-state zone expected to have 82 million people by 2050.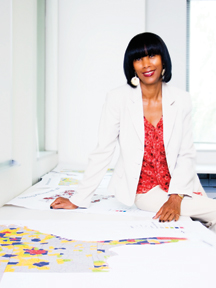 When Catherine Ross looks at a map of the Southeastern United States, city limits and state lines start to blur and something else comes into focus. She sees the rough draft of economic salvation, a web of seamless connectivity, metropolitan centers linked by roads, high-speed rail, water resources and thin air. She sees a more perfect union.
Ross, director of Georgia Tech's Center for Quality Growth & Regional Development (CQGRD), is one of the leading architects in a growing academic movement focusing on mega-regions as a framework for national planning and public investment, cutting across geographic and political boundaries to meet the economic and environmental challenges of the 21st century.
Mega-regions are extended networks of cities and communities with shared identities, distinguished by economic, social, environmental and cultural parallels. The concept is a few years old in the United States, where adjacent jurisdictions are known to compete bitterly over natural resources and economic development scraps.
But other countries – notably, China and the European Union – have successfully implemented the mega-regional approach, reaching across traditional borders to secure strategic advantages in an increasingly global marketplace.
"The global economy begs a different view of the world, and mega-regions allow us to engage in the world that happens around us. They allow us to have conversations in global, national, regional and local communities. They permeate all those levels," says Ross, editor of the upcoming book, Mega-regions: Frontiers in Spatial Planning, which addresses some of the critical issues of the next 50 years, examining the roles of mega-regions in tackling equity, environmental and economic concerns.
"Given our population growth and the geography of mega-regions, and the imperative to enhance our global competitiveness, it is crucial for American planners, policy makers, developers and community members to examine its potentials in meeting future opportunities and challenges," Ross says.
By 2050, the U.S. population will exceed 400 million. More than 70 percent of those people will probably reside in or live near one of 10 mega-regions scattered across the country. Ross places Atlanta in the heart of what she has dubbed the Piedmont Atlantic Mega-region (PAM), a six-state zone that includes all or part of Alabama, Florida, Georgia, North Carolina, South Carolina and Tennessee.
Mega-regions encapsulate core metropolitan hubs. The Northeast mega-region, for example, is defined by Boston, New York, Philadelphia and Washington, DC, a corridor that author Jean Gottman called Megalopolis, the title of his 1961 book about the urbanized Northeast, and the inspiration for the mega-region concept.
PAM's core cities are Birmingham, Atlanta, Charlotte and Raleigh-Durham, connected by Interstates 85 and 20. Gateway cities include seaports Charleston, Savannah, Jacksonville and Mobile.
"Think of those separate areas as one entity, linked by cultural similarities, common lifestyles," Ross says. "And Atlanta is at the center of the fastest growing mega-region in the country."
PAM's population of 47 million (2000 census) is expected to reach 82 million by 2050. That kind of growth will place even more stress on a region already grappling with runaway development and sprawl; automobile addiction and the resulting traffic congestion; disparities in healthcare, education and income; and multiple natural resource challenges – the tri-state water war involving Alabama, Florida and Georgia, for example.
"I wonder sometimes if we would have had the problems we had with multi-state water concerns if there had been a formal mechanism in place, where the leadership of those states regularly sat down to hash out issues on a regional scale," says CQGRD Professor Harry West, former executive director of the Atlanta Regional Commission (ARC).
"These issues – water, transportation or freight movement – these are the things that need to be considered in a much broader context. They don't stop at state lines," West says. "It's this combination of metro areas that is putting us in position to be competitive in the global marketplace."
Lines In The Sand
Water wars are being fought on multiple fronts. Alabama, Florida and Georgia have wrangled for 18 years over the Alabama, Coosa, Tallapoosa, Apalachicola, Chattahoochee and Flint rivers. South Carolina is suing North Carolina to prevent the additional pumping of millions of daily gallons from the Catawba River. And Georgia has its eyes on the Tennessee River and is hoping to nudge the state border with Tennessee about a mile north.
And there is tension on the Georgia-South Carolina border over the quality and quantity of water from shared resources – the Savannah River and the Upper Floridan aquifer.
"The states have consistently held separate, different and often conflicting views of their respective economic futures, rather than constructing a regional economic view that would allow mutually beneficial discussions and decisions," says Nap Caldwell, senior planning and policy advisor for the Georgia EPD, who imagines a permanent cooperative natural resources consortium to develop and implement mega-regional resource management plans.
Governance, resource management and tax allocation across state lines should prove as daunting as it sounds.
"We haven't figured all of the answers," Ross says. "Maybe we're talking about a six-state entity, elections across a six-state region. That's a conversation we have to engage in, how we govern ourselves."
Ross envisions the creation of administrative and geographic units of governance, based on population, and a sort of "super MPO," or Metropolitan Planning Organization. MPOs (like the ARC) are responsible for transportation planning in urban areas of 50,000 or more. Of the nation's 384 MPOs, 40 curently cross state boundaries.
Chick Krautler, who has followed in West's footsteps as executive director of the ARC, says he and other planning agency directors, from across the Piedmont Atlantic Mega-region, will meet later this summer to begin a borderless dialog.
"Most of our work at ARC has been looking inward, at our planning areas, but we really need to be thinking about our relationships with Raleigh, Charlotte, Greenville, Atlanta, Birmingham, Jacksonville, Savannah. All of these areas will be interdependent on one another within the next 30 to 50 years," Krautler says.
"It's incumbent on us to build those relationships, because within the next few decades we won't be thinking about how Atlanta competes with Charlotte. We'll be thinking about how this mega-region competes in the world. That's exactly what's going on in Europe."
The rest of the industrial world is planning on this larger, mega-regional scale, says Bob Yaro, president of the New York-based Regional Plan Association (RPA), and planning professor at the University of Pennsylvania in Philadelphia.
"In our country we have all of the disadvantages of being in these large, expensive and congested mega-regions, and none of the advantages," says Yaro, who devised the modern mega-region concept with graduate students during an exploration of national growth trends.
"We're not getting the synergies between metro economies we should be getting, the synergies our competitors around the industrial world are getting," Yaro says. "We are playing catch up ball and we need to accelerate our thinking and our actions."
Mega-regions offer a framework for national planning – which has become something of an alien in the modern world. "National planning in this country is widely believed to be an un-American activity, an exercise in bureaucratic hubris best left to the French," writes Robert Fishman, a professor in the Taubman College of Architecture and Planning at the University of Michigan.
But, as Fishman notes later in his paper, 1808-1908-2008: National Planning for America, the U.S. Constitution – the federal government – was created in large part, thanks to the conviction of George Washington, to facilitate national planning.
U.S. presidents Thomas Jefferson and Theodore Roosevelt launched national plans for transportation, economic growth and natural resource management 100 years apart. These plans evolved and ultimately defined the 19th and 20th centuries.
"Washington and Jefferson were proponents of national and regional scale planning. So was Teddy Roosevelt. It occurs to me that 2008 is the right time to be having this conversation again," Yaro says. "Planning on a regional scale is old as the Republic. We've just forgotten how to do it."
But Europe was paying attention.
"They've been working across national borders to create economic development for 50 years," Yaro says. "When you see countries that were at war with each other a little over 60 years ago – a history of antipathy that goes back, in some cases, 1,000 years – working on strategies and investments in infrastructure, in natural resources, it suggests to me that Tennessee and Georgia might be able to collaborate on water and rail and economic development."
Bright Lights, Mega-Cities
If you could look down from the Earth's orbit, you'd see that the planet isn't separated into defined boundaries. There are oceans, landmasses and lights. Bright clusters of lights are signs of a strong economic pulse.
Economic strength has little respect for state and national borders. Mega-regions, not nations or states, are the true economic world powers.
The U.S. Northeast, that Boston-to-Washington corridor, looks like Christmas and generates $2.5 trillion in economic activity, according to author and University of Toronto professor Richard Florida, one of the leading authorities on economic competitiveness, demographic trends and cultural innovation.
Mega-regions, Florida writes, "take shape as powerful complexes of multiple cities and suburbs, often stretching across national borders forming a vast expanse of trade, transport, innovation and talent."
Florida has been a leading researcher of the phenomenon while global organizations such as the World Bank and United Nations have been virtually idle on the subject. In Europe, one mega-region spans four nations – the Netherlands, Belgium, Germany, France. Another connects Barcelona to Marseille. China has three giant mega-regions that account for most of the country's economic output.
"And these other countries are investing at the mega-region level," Ross says. "They're not doing it because they're stupid and want to flush money away."
Identifying the landmass that represents an economic mega-region is the easy part. Birmingham to Raleigh makes sense because of the interstate, the characteristics of the population and the economy. The real difficulty comes in planning across the platform. What should PAM look like in 50 years? Which roads and bridges need to be repaired or replaced? How do we cope with traffic congestion, the high cost of fuel? What lands do we preserve?
"We've got to get in front of these issues or we're going to be paved over, or flown over, and I don't think we can afford for that to happen," Ross says. "One of the first things we started looking at was the green infrastructure. Where is the federally protected land? Who uses that water? Where does it flow? Where is the flood plain? Which ecosystems should never be disturbed? We mapped all of that, and took it out of the development picture, subtracted it."
The most critical component of any mega-region plan, though, is probably transportation, the roads and rails that link economic metro centers. PAM is characterized by its reliance on the car, but every regional planner who has sat in rush hour traffic breathing noxious fumes thinks rail has to play an integral role in PAM's future.
Tom Thomson, director of the Chatham County-Savannah Metropolitan Planning Commission, supports a public-private partnership to upgrade an aging freight railroad infrastructure, in which government would provide funding in return for ownership in the railroads, or a fee on shipped goods.
"Next, I would link all key economic centers – universities, military, job centers – with a high-speed rail passenger system," Thomson says. "Fuel availability and cost is going to make this type of investment more important. It would make commutes to major job centers as easy, or easier, than many normal commutes.
"It will also allow new cities to be created – small, dense retail and residential centers that will link to the rail system. This will help conserve our natural areas by creating competition for the suburban forms of development that surround and sprawl out from our current cities."
Europe's transportation diversity and connectivity is the model, but the reasons for investing in such an infrastructure may differ.
"We're trying to arrive at the same place, but we have a very different approach from the Europeans," Krautler says a few weeks after attending a conference in Alexandria, Va., that brought together leaders from DC-area regional councils and leaders from METREX (the Network of European Metropolitan Regions and Areas).
"For example, when we deal with traffic congestion, we deal with it as an issue relating only to traffic congestion. In Europe, they're dealing with it as an issue related to global warming.
"Also, they operate from a top-down approach. The EU or an individual country sets a policy, and the regions implement them. Here, we get little or no direction from the federal government, and not a whole lot of direction from the state," Krautler says. "That's all over the country, not just Atlanta or Georgia. A lot of what gets done on the regional level here starts by bubbling up from local government. It's a very different approach."
Ross and CQGRD are recipients of some top-down attention. The U.S. Department of Transportation is funding a study (about $200,000).
"We're looking at U.S. infrastructure investment and planning at the mega-region level," Ross says. "They want to know how to use the mega-region footprint, and we're thrilled, because it means the U.S. Government is saying, 'We think we need to know more about this.'"
And there is at least one huge project typical of what a mega-region approach would facilitate. The 1,300-acre, $600 million Jafza International logistics and distribution park in Orangeburg, SC, should provide opportunities for ports in Georgia and South Carolina. It addresses the mega-region's global competitiveness, underscoring the region's drawing power worldwide, and supposedly will create 8,000 to 10,000 jobs in the next decade.
It's a project that reflects a world view that has been missing from so much of the us-and-them economic development rhetoric, the kind of project that EPD policy advisor Nap Caldwell would like to see more of.
"In so many ways we continue to be mired in mid-20th-century competitions with our neighboring states, when what's needed is a 21st-century approach that embraces global economic realities that clearly point to regions, rather than individual states," Caldwell says.
"We just opened a trade office in Beijing intended to attract business opportunities for Georgia. A good idea on the surface, but a very strong argument could be made that a PAM trade office in Beijing might have been the far more perceptive, effective and efficient route to take.
"PAM has much more to offer Asia than single state within our region can offer, and what's good for the region is good for Georgia."