Good Reviews
Two thumbs up for Georgia's entertainment industry. It's clean, it's glamorous and it's a boon to economic development and tourism.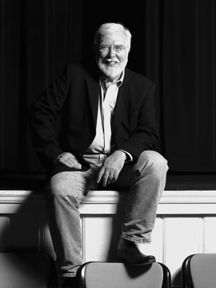 Georgia's entertainment industry has come a long way since the big-screen Deliverance and small-screen The Dukes of Hazard, which more or less book-ended the 1970s and put Georgia on the minds of millions of fans. In fact, the state has hosted production of some 575 films and TV projects since 1972 and now claims more than 20 film festivals.
The industry, which includes film, television, gaming, commercials and music videos, makes $2 billion a year and supports 150 businesses and 5,500 employees, says Bill Thompson, director of Film, Music and Digital Entertainment for the Georgia Department of Economic Development. And there's likely to be more: A law passed by the 2008 legislature and signed by the governor offers new tax incentives for producers. Additionally, this is a clean industry that enhances tourism and economic development.
Take the Savannah Film Festival, sponsored by the Savannah College of Art and Design (SCAD). It has grown into a celebrity blitzkrieg. Last year's festival – honoring actor Michael Douglas, who attended with his wife Catherine Zeta-Jones – sold 40,000 tickets and accounted for a walloping $600,000 in direct spending.
"The figure does not include any economic multiplier that could easily push the overall impact of the festival into the millions of dollars," says Len Cripe, executive director of the Savannah Film Festival and the Trustees Theatre. This year's festival takes place Oct. 27-Nov. 3.
"The state's numerous film festivals indicate a very solid filmmaking community here in Georgia," Thompson says.
Where festivals appear, so do directors; and location shoots often follow. How else would you get a Hollywood producer to stop off in Rome, Georgia, between visits to festivals in Aspen, Colorado, and Rome, Italy?
"We have a lot of that," says Harry Musselwhite of the Rome International Film Festival (RIFF), which takes place Labor Day Weekend. "One of our winners actually came from Kathmandu."
A few years after RIFF's inception in 2003, Rome became the location for Dance Of The Dead, a horror spoof produced by Greg Bishop that has been picked up by Lionsgate Distribution and Sam Raimi's Ghosthouse. "One of our stated goals is to encourage and help develop filmmaking in northeast Georgia," Musselwhite says.
Location, Location
The benefits to a community of providing a location for a film are impressive – in terms of enhancing the economy and providing bragging rights. Savannah has prospered for many reasons, including providing the setting for some 85 films and television projects.
But serving as the location for a successful film can literally make a town. Take Juliette in middle Georgia; before Fried Green Tomatoes filmed there in the early '90s, the town had just four residents. Tomatoes tourism now brings nearly 100,000 visitors each year. Even serving as an inspiration has benefits: The appeal of Gone With The Wind, which wasn't even shot in Georgia, continues to draw tourists to the Margaret Mitchell House in Atlanta, the Marietta Gone With The Wind Museum, the Road to Tara Museum in Jones-boro and the Holliday-Dorsey-Fife House Museum in Fayetteville, which has a fine collection of GWTW memorabilia.
More recently, Dallas Austin's ATL, a coming of age tale set in a roller rink not unlike Lithonia's Golden Glide, did far more for the capital's reputation than his jingle for the city's ad campaign of the same title.
Sometimes it's urban settings that draw producers; sometimes it's the appeal of a quieter place. Covington's small-town charm was a big part of the success of TV's Dukes of Hazard, even though only the first five episodes were shot there; after that, the series moved to California. Nonetheless, the Dukes legacy still draws tourists to Covington from all over the world, accounting for 75 percent of all visitors to the town.
"Who would have thought, 30 years later, we would still be reaping rewards from Dukes," says Clara Deemer, director of tourism for the Covington-Newton County Chamber of Commerce.
Festival Bonanza
Often a festival can grow filmmaking interest in a community, says one industry professional. "Being film commissioner for southwest Georgia, a 14-county region, it was critical for me to find innovative ways to get film producers to visit the region, and film festivals do that," says actor/director Ralph Wilcox. He founded the Jokara-Micheaux Film Festival five years ago in Colquitt; it has grown to include venues in Blakely and Camilla. This year's festival will take place Labor Day weekend.
"Georgia has an unspoiled quality, and tremendous untapped resources," Wilcox notes.
The Atlanta Film Festival (AFF) was one of the first of its kind in the country 30 years ago, but today there's no shortage of film festivals in the state. The collaboration and cooperation among them works to the advantage of the industry and local communities. AFF (now AFF 365) premiered Wilcox's The Lena Baker Story, shot in Colquitt, and also featured Dance of the Dead this year. "We're an international festival, but it just happened that this year's opening night premiere was a Georgia film – that just shows there's a nice synergy," says AFF Director Dan Krovich.
Atlanta alone has more than 12 festivals, including DragonCon In-dependent Film Festival, which anchors one of the biggest fantasy conventions in the world, and the Atlanta Jewish Film Festival (AJFF), which saw attendance jump from 9,000 to 15,000 this year.
"The AJFF is a showcase of great international and indie film, and attracts culturally sophisticated Jewish and non-Jewish movie lovers alike," says AJFF Director Kenny Blank. "As indie film goes more mainstream, and fests like the AJFF grow in size and reputation, local audiences are becoming more aware and adventurous in sampling the different tastes and experiences offered by filmmakers working outside the Hollywood mainstay."
Games Afoot
Technological opportunities provided by higher education help independent filmmakers such as Bishop and Wilcox, Krovich says. "The recent incentive bill [passed by the state legislature] will bring more films to Georgia," he notes. "They provide the opportunity for the film crew to really make a living working on film – then, if they [crew members] can stay in Georgia and work on some of the bigger films, [they can] take that money and work on independent films. So many colleges in the Atlanta area, from Kennesaw State to Emory, have film programs; this provides a way for students who graduate to stay in the state."
The available technology also helps another booming segment of the entertainment industry: gaming. There are now 60 gaming companies in the state, three of which have moved to Atlanta in the last six months: CCP Games, from Iceland, is the number 10 online gaming company in the world and plans to employ up to 200; CDC Games, the largest game developer in China, plans to hire 40 people initially. Eve Online merged with White Wolf Productions, which has been based in Stone Mountain for 12 years.
SCAD actually offers an interactive design and game development degree; the University of Georgia, Georgia State University, Georgia Tech, and schools such as the Art Institute and Intercontinental University are also training game developers.
"As traditional media has stabilized, or rather matured to the point where it may seem in decline but is in reality leveling off, we see more companies like Turner Broadcasting expanding their gaming component – not just licensing existing games but creating original new video game products," Thompson says. "Turner built three new studios in the last year exclusively to develop new video games."
More synergy erupts here, such as the Dukes series, which spun off not one but three PlayStation2 video games. Look for the convergence of more traditional media forms, says Thompson, like Turner's hit small-screen to big-screen Aqua Teen Hunger Force Colon Movie.
"Formerly disparate areas – film, video and music – are starting to come together," Thompson says. "You have music producers like Dallas Austin doing movies like ATL and Drumline. Andre Benjamin of OutKast has emerged as a very accomplished actor in Four Brothers and Idlewild. Benjamin has also produced the series Class of 3000 for Turner's Cartoon Network.
Sparking Tourism
But the most lucrative spinoff from movies in terms of longevity is tourism. After Deliverance premiered in 1972, three stunt doubles from the movie – Payson Kennedy, Claude Terry and Doug Woodward – quit the business to start whitewater rafting companies. Kennedy's Nantahala Outdoor Center in Clayton now brings in 200,000 visitors and $15 million annually and provides jobs for 600 part time employees.
That's quite a statement on the power of cinema – after all, Deliverance hardly showed north Georgia in a flattering light. Former Gov. Zell Miller, who fought the location of a reality series version of The Beverly Hillbillies in Georgia, might also object to the "country bumpkin" image of Southerners portrayed in Dukes.
But even though Covington has been the location for Remember The Titans, TV's In The Heat of the Night, Cannonball Run (in which Burt Reynolds landed his plane to pick up a six-pack of beer), and, most recently, Tyler Perry's The Family That Preys, Deemer describes Dukes as the town's "bread and butter."
The Dukes movie in 2005, which was paired with a new version of the Nancy Sinatra song, These Boots Are Made For Walking, was actually filmed in Louisiana. That state beat out Georgia as the location site because of its aggressive tax incentives; but that didn't stop MTV from coming to Covington for a kick-off festival featuring the original "General Lee," the car made famous by the TV series.
Louisiana may have landed the movie, but Georgia still gets the tourism. (True Dukes fans, Deemer says, disdain the racy movie.) "We're very fortunate," she adds. "I don't know how many places that have had 30 years of year-round tourism."
Successful movie and television projects are gifts that keep on giving, it seems. "An important component of our thinking is that when a film is finished, it's not just a wrap – it's a legacy," Thompson says.