Thomasville/Thomas County: History Repeating
Thomasville enjoys a 21st-century boom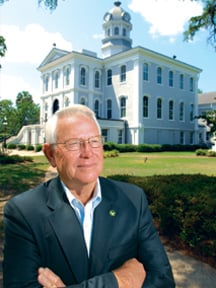 In Thomasville these days, you can hardly turn around without running into a newly arrived Florida refugee. Not only are their numbers growing, several have brought their businesses and employees along with them.
This story is repeating itself all across the southern third of Georgia, and Thomasville's leaders are vigorously at work to make sure their community gets more new residents.
"Most of the people from Florida we've been getting have been walk-ins," says Don Sims, president of the Thomasville-Thomas County Chamber of Commerce. "They are being taxed and hurricaned out of the state. What we're doing now is looking back at where these people are coming from. If we have people coming from Miami, Hollywood and Fort Myers, then we're seeing some trends. We're saying now, proactively, we're going to go back down there and knock on some doors."
Some of the most recent Florida business transplants didn't need encouragement to land here.
When Ian Quinton began looking for a Thomasville site to which he could relocate his Miami area-based company, he could have selected the local industrial park or one of several parcels of land outside the city. But Quinton, a garrulous Australia-born businessman, had a happy history with Thomasville and wanted to plunge headlong into the community's center, so he chose a nearly dilapidated 1930s building in the heart of downtown.
He eagerly attacked the former moving company facility with his own rehabilitation plans and interior designs. Today, the building is filled with trés chic furnishings and objets d'art, castaways he has rescued from the junk piles of former clients.
"I am a pack rat with a vision," Quinton says. Part of that vision was to someday return to Thomasville. For Quinton, it seems, life has come full circle.
He first came to Thomasville 32 years ago as an exchange student, with the words of his fellow Aussies still ringing in his ears. "Every person in Australia who found out I was going to Thomasville, Georgia, said to me, 'We're sorry,'" Quinton recalls. "But for me, at the age of 18, it was the best year of my life. I got to play on the state championship football team and I had a blast. I always wanted to come back here."
Quinton returned to Thomasville last year to set up shop for his company, International Design and Display Group, which designs and builds upscale trade show displays, real estate sales offices, model residence furnishings and just about anything else a client requires. "We build anything that is three dimensional that relates to marketing or advertising," Quinton says. And he can do it quickly, specializing in emergency orders. "I like to say we do unreasonable things for unreasonable people, given an unreasonable amount of time, and for that I like to charge an unreasonable amount of money."
International Design brought nine of its 23 employees from Miami to Thomasville and, in a way, the seven that have remained with the company received nice pay raises.
"If you are in Miami and you are a cabinet maker earning $45,000 a year, you are living below the poverty line,"
Quinton says. "If you are living in Thomasville, Georgia, earning $45,000 a year, you're middle income." Some of his workers' kids, he adds, will become the first in their families to attend college.
Quinton says he left Miami when faced with a rising overhead fueled by increased taxes and insurance. And, he says, there was that diminishing quality of life auto-bound urbanites know so well. "I was commuting three hours a day round trip from home to work because of the Miami traffic. Now it takes me about seven minutes to get to work."
Help Wanted
Other Florida business refugees came to Thomasville when faced with a thinning workforce. John Wagner had jobs available for years at his south Florida facility, but could find no takers. "Most of the reason we came here was because of the workforce there," says Wagner, a third generation executive with family-owned Bayly Inc., a 148-year-old company that manufactures hats for the military, marching bands, the post office and police and fire departments.
Just before Bayly Inc. went into production earlier this year in a new 32,000-square-foot building located in Thomasville's Plantation Oak Industrial Park, Wagner was praising the number and quality of the region's jobseekers. With more than 25,000 cut-and-sew jobs lost in the Thomasville region over the last decade, Wagner received a warm welcome from local economic developers when he announced his relocation plans.
"There was a huge void when those 25,000 jobs left," Wagner says. "A lot of those people worked in factories before, and they were people who enjoy the work, something we didn't have in south Florida."
Predictably, Wagner found eager applicants for the 30 to 40 jobs he's filling. "There are plenty of people trying to get the jobs we have; we've had about 400 applicants so far."
Wagner says he doesn't have to worry about any of his business going overseas. "What's protected us and what is unique is that we are more of a custom sewing shop," he says. "Our orders are anywhere from two hats to maybe three or four hundred hats. That market for overseas is for large numbers of hats."
Bayly has customers stretching from Thomasville to San Francisco, the most notable being the United States Military Academy at West Point, NY, for which he produces the tall, plumed "tar buckets," or shakos, the cadets wear when the long gray line turns out for special occasions.
Entrepreneurial Past
From its very beginnings, Thomasville has owed much to the keenness of strangers, those arriving out-of-staters who developed affection for the town and then went on to help develop it further.
"Even before the Civil War you had the merchants who came here from New England and who were among the founders of the town," says local historian Ann Harrison, executive director of the Museum of Thomas County, who came here from west Florida 20 years ago. "In studying Thomasville's history, one of the things that strikes me is the spirit of entrepreneurship from the very beginning in developing this new land."
Following the Civil War, Thomasville, like most Southern towns, was adrift in an uncertain economy, but help rode into town from the North. "After the war, Thomasville's leaders sort of had to recreate their economy," Harrison says. "And that became the resort era."
Thomasville was the southernmost stop on railroad routes from the Midwest and New England. The popular perception was that Thomasville – at 300 feet above sea level, the highest point in southwest Georgia – was a healthy place to vacation. "They didn't know at that time that mosquitoes carried yellow fever and malaria," Harrison says.
Rail travel to Thomasville grew, fine hotels opened and spacious winter homes were built with all the latest amenities – locals believe the 1893 private bowling alley at the home of northern industrialist O.C. Ewart is the oldest still standing in Georgia.
City leaders, anxious to keep the stream of wealth flowing into Thomasville, offered hotelier T.C. Mitchell what was a novel idea in 1894: a tax incentive for constructing the Mitchell House Hotel. "They gave him a 10-year tax exemption," Harrison says. "That's something we think of as a modern idea."
Return To Downtown
Thomasville's downtown economy marched on, until the late 1960s when a shopping center sprang up at the edge of town along busy U.S. Highway 19 and the central business area began to wilt.
"If you go back to the '70s, our downtown was in a state of decline," says Karen Smith, executive director of Thomasville's Main Street program and its Downtown Development Authority (DDA). "But in the 1980s, what began as a few citizens planting a few trees and cleaning up a little bit has come to full blossom."
Since 1982, Smith says, more than $52 million in public and private funds has been invested in downtown Thomasville improvements, resulting in the net gain of 212 businesses. Almost 700 new jobs have flowed to a downtown area that has become a regional shopping and dining destination. Local boosters enjoy inviting visitors to spend a few minutes on a Saturday morning counting and cataloguing the license plates on cars parked in the downtown shopping district; usually one-third of the vehicles have Florida plates.
A new era in the city's history is dawning as 30 loft and condo units are being created in the old Mitchell House Hotel. The units are priced from about $200,000 to just under $400,000 and mark the first development of its kind for the downtown area. Significantly, says the DDA's Smith, there is a grocery store just a few blocks from the new condos.
"Downtown living is a step back to the basics," she says. "Because you're seeing old friends and making new ones when you're in the same grocery store and the same restaurant several times a week, it's a great way to get to know your neighbors."
Another former hotel, the Scott, has been converted to an information technology center for Flowers Industries, and is home to 85 employees.
Elsewhere, once declining neighborhoods are coming back to life thanks to innovative approaches to affordable housing. "What we have done and what we are doing is partnering with private industry to make houses available," says Thomasville's mayor, David Lewis.
A project begun a decade ago, when Lewis was in his first year on the city council, resulted in 30 new homes being built on lots acquired because of abandonment or nonpayment of taxes. "What we did was provide the lots for about $500 and the prospective homeowner provided the mortgage money," Lewis recalls. "And then using a $1 million [federal] grant from a program called Youth Build we were able to train high school dropouts age 17 to 24 in the construction trades, and they built the houses under the supervision of expert craftsmen."
Lately, the city has been on a campaign to get rid of "unfit and dilapidated houses," Lewis says. "We got rid of 34 last year and we have about 65 on our evaluation list for 2008."
Every municipality has difficulty locating the owners of substandard houses, especially those who have moved away and may not even know they own the property, but Thomasville is looking at a novel solution to dealing with those eyesores.
"I don't think this has been tested in court," Lewis says. "But [we are looking at] having the property properly appraised and depositing that amount of money with the court and then taking title to the property. It seems to me that if Junior comes home four or five years from now and claims Mama's property, the best he could get is what it was worth when the city or [other] authority took it over."
Should the city move forward with the plan, it's sure to attract the attention of Georgia's entire municipal network.
An important downtown landmark, the Thomas County Courthouse, is set for a $5 million makeover, thanks to a Special Purpose Local Option Sales Tax (SPLOST) issue recently passed by voters. And the historic building is getting a new $11 million neighbor – a proposed judicial center, also a SPLOST-funded project.
A Healthy Hospital
With all the retirees eyeing Thomasville, healthcare is an important concern. To meet upcoming challenges, Archbold Memorial Hospital is in the midst of an historic expansion and upgrade project capped by the $125 million North Tower, a 225,000-square-foot, eight-story structure.
"It is the largest single construction project that we have ever contemplated in the history of the organization," says Perry Mustian, Archbold's president and CEO. "It is basically the replacement of a number of services that we have either outgrown or are reaching the point of where their useful life is an issue from a code and regulatory compliance standpoint."
Added to that is the continuing population shift. "We are in the three- to three-and-a-half percent [annual] population growth range," Mustian says. "But we are seeing a little bit higher change in the 65 and over population."
Archbold is seeing another kind of shift – away from the hospital's 83-year-old main building to a 100-acre site a few miles west. "Part of our recent master facility plan calls for us to un-bundle services that don't necessarily have to be located on our main campus," Mustian says. That includes a new $5 million, 15,000-square-foot dialysis center to open next spring, as well as a new $7 million administrative services building on the hospital's western campus.
Accompanying technology upgrades will be made to the new buildings. "We are in the process of installing a new information management system," Mustian says. "And that is leading us toward a paperless environment."
The movement of certain hospital functions to the western edge of town has another benefit. "We're in a residential neighborhood now and we're limited in our ability to expand," Mustian says. "[By moving services] we can take some of the congestion impact out of this residential neighborhood."
Winning The Game
Based on increasing retail sales, a per capita income growth rate that has outstripped the state's for a decade and new homes going up to house new residents, Thomas County appears poised to cash in on the future, says County Commission Chairman Josh Herring.
"We are in a time of historic growth," Herring says. "But about a year ago we put in impact fees and that will take care of a lot of the [residential] infrastructure we are going to have to put in. I don't know that we are ahead of the game, but we do feel we are on top of the game."
Staying on top of the game became a challenge four years ago when residential development accelerated. By the end of 2010, the total number of built residential lots in Thomas County is projected to reach 21,107, an increase of nearly 3,000 new homes since 2000.
"Part of our residential growth was due to people moving here out of Florida after the hurricanes [of the early 2000s]," says Michael Stephenson, Thomas County manager. "Then we were featured in several national publications as one of the top retirement communities in the U.S. And that has generated inquiries from all over the country."
To lessen the cost of providing those new homes with infrastructure, government leaders from Thomas County and Thomasville have a handshake agreement to discourage development in the county's rural areas. Forcing development closer to town means new homes can get water and sewer service by tapping existing lines, a huge cost saver.
"There is also a concern for our environment," Stephenson says. "We want to preserve the rural agriculture character because that is traditionally what we have been."
Thomasville/Thomas County
At-A-Glance
Population
Thomasville (county seat), 18,988; Boston, 1,445; Meigs, 1,069; Ochlocknee, 617; Pavo, 419; Coolidge, 557; Barwick, 333
Per Capita Income
(2005)
Thomas County, $28,718; Georgia, $30,914
Unemployment
(April 2008)
Thomas County, 4.5 percent; Georgia, 5 percent
Top 10 Employers
Archbold Memorial Hospital, 1,784; Thomas County Schools, 814; Southwestern State Hospital, 700; Flowers Foods, 560; Thomasville City Schools, 450; Turbine Engine Components Technologies, 443; City of Thomasville, 388; Wal-Mart, 350; Thomas County Government, 304; Hurst Boiler and Welding Company, 303
Sources
Thomasville-Thomas County Chamber of Commerce, Georgia Dept. of Labor, U.S. Census Bureau