The Georgia-China Connection
A new air route and a new trade office highlight the multibillion-dollar ties that bind the state to the world's largest marketplace.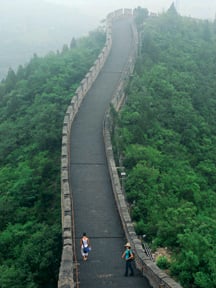 The expanding economic ties between Georgia and China were celebrated handsomely, even exuberantly, last spring when Delta launched direct service from Atlanta to Shanghai the same week that Georgia opened a trade office in Beijing.
The governor, first lady and secretary of state were passengers on the inaugural flight, joined by airline officials and business leaders. At the departure gate, the mood was festive. There were balloons, banners, welcomes, speeches, applause, a greeting from the Houston-based People's Republic of China consul general and a performance by a troupe of young dancers.
"This new direct flight will connect the world's busiest airport with the world's most populous country," Gov. Sonny Perdue said moments before boarding the plane for a nearly 16-hour flight.
In Shanghai, Delta hosted a traditional Chinese banquet that started with Cantonese barbecue and ended nine courses later. Through-out the evening, wine and good will flowed in equal measure. There were congratulations, bi-lingual toasts, a Chinese martial arts demonstration and a bluesy rendition of Georgia on My Mind.
Two days later, in Beijing, the ribbon-cutting ceremony at the new Georgia Business Advisory Center felt a little like a mid-morning cocktail party, except that there were no cocktails, just packets of pecans for the 40 or so Georgians who had traveled to China, at their own expense, to be part of the celebration. They chatted and mingled, as a gaggle of Chinese and Georgia media worked its way around the room, vying for elbow room and camera angles. The excitement of state officials – from the governor on down – was palpable.
"Good business is built on good relationships," an elated Perdue said as he prepared to cut the red ribbon. "I'm proud to be part of today, opening the door between China and Georgia just a little bit wider."
That night Georgia hosted its own banquet, sponsored by The Coca-Cola Company, for representatives of Georgia and China businesses. Between courses, guests table-hopped to swap greetings and business cards. A pair of lion dancers got the evening started, and the UGA Jazz Band closed it out.
China, it seems, is on everyone's mind. The upcoming Beijing Summer Olympics have brought a ramped-up level of attention to the country and its Communist government, its ferocious traffic and its smog – and, more recently, to the tragedy and devastation caused by the earthquakes in May that killed upwards of 50,000 and brought an outpouring of aid from throughout the world.
Yet in Georgia, there has also been a steady stream of China-related economic news: In the 18 months preceding the governor's trade mission in late March and early April, more than $75 million in Chinese investment was announced for Georgia.
It would be easy to assume that the Georgia-China connection simply materialized, spontaneously and fortuitously; but it has been a long-term project, involving many from the public and private sectors. The new Delta route is the product of a long-term effort by the carrier and its civic and business allies; the new trade office came after nearly two years of planning and preparation.
"When you look at 1.3- or 1.4-billion people in a market, that presents a lot of opportunities," says Hans Gant, senior vice president of the Metro Atlanta Chamber of Commerce, "but in order to do business over there you have to figure out how you're going to do it."
Gant has been a chief China strategist since efforts to enhance ties to that country began in earnest three or four years ago – involving the chamber, the Georgia Department of Economic Development and the city of Atlanta, among others.
He says there's been a gradual opening of the marketplace and strengthening of the relationship between China and the rest of the world ever since Richard Nixon made his historic trip in 1972. "The gradualness helped spur the interest of private sector investment from around the world. That included companies here in Georgia like UPS and Coca-Cola.
"The first trip over there, about four years ago, was when we started to explore how to get better air connections between Atlanta and China. We needed to have a 'direct highway, a highway in the sky' to begin to see a flow of traffic both for cargo and people."
The establishment of service to Atlanta from Hong Kong-based carrier Cathay Pacific was an important step, followed by announcements of significant Chinese investments, or "landing a couple of big fish," as Gant puts it. "And of course the direct flight – that was kind of the icing on the cake. The inaugural flight and the opening of the Georgia office are two huge steps."
The one-two economic punch has highlighted the multibillion-dollar connection between China and Georgia.
"China is already our second-largest trading partner," Gov. Perdue reminded guests at the Beijing office opening.
At this point, the balance tips pretty heavily in favor of China: Some $13 billion worth of Chinese goods moved through Georgia's ports last year; China imported $1.6 billion in goods from Georgia – a much smaller number, but 48 percent more than the previous year, according to the Department of Economic Development. China accounts for nearly 40 percent of the trade coming through Georgia ports.
Imports from China include industrial and electrical machinery, toys, games, furniture, bedding, footwear and iron and steel products. Leading Georgia exports to China are paper, meats, organic chemicals, wood pulp and machinery.
Recent Chinese investment in Georgia includes the "big fish" Gant references: Sany Heavy Industry Co. Ltd., a manufacturer of construction equipment, expected to bring 200 jobs and $30 million to Peachtree City; General Protecht USA, an electronics manufacturer expected to bring 240 jobs and $30 million to Barnesville; and Kingwasong LLC, a food products company that will create 200 jobs and attract an estimated $12-$15 million to Newnan.
Gant says those successes came after considerable effort. "We were successful in getting a handful of those companies interested in looking at Georgia as a possible investment [site] for their U.S. strategy." Their decision to locate in Georgia was the result of years of building relationships.
"Obviously we have to have some value we bring to the table – costs, customer access, infrastructure," he says. "You can have all that but if you don't have relationships with the people, the companies, the government over there, none of that really matters. It is extremely important … that's what we have been working on, just building on those relationships and selling all the wonderful assets we have. It's begun to pay off."
While the Georgia delegation was in Beijing, China's PAX Technology announced it will locate its U.S. headquarters in Metro Atlanta.
Building Relationships
The pace of doing business with the Chinese can seem slow by Western standards. There are subtleties and nuances that come with the territory, cultural differences and traditions that must be respected and observed if the outcome is to be successful.
"You have to create the right relationship," Lee Macenczak, Delta's vice president of sales and marketing, told a group of Georgia media at a briefing in Shanghai the morning after the airline's celebration banquet. "The Chinese want to understand the people they are doing business with and the culture of the company and understand your intentions.
"It takes time to build the communications level. That's why we've been here for a number of years," he says. "We've actually had Delta employees in China for years trying to establish that presence. There's a level of familiarity that comes with doing business. You can't just pop into the market and say, 'Hey, we're ready to do business … . '
"We've taken our time and done it right. We started developing relationships with the right civil aviation authorities. The minister of the civil air authority was instrumental in helping us get the right slots for flying into and out of Shanghai. Otherwise, we would have middle of night departures and arrivals – not good for our customers. We're now in prime arrival and departure slots. The relationship piece for us was very, very critical."
For the last year, the airline has had its Delta.com website up in Mandarin Chinese. "The Chinese point of sale has been one of our strongest markets," Macenczak says. "We feel very strong about it, to be able to relate to the culture, to do it sensitively in the right tone and the right language."
It isn't just the big guys such as Delta and Coke that can benefit from opportunities in China, although their trail-blazing presence is a plus.
Georgia Economic Development Commissioner Ken Stewart, whose department is responsible for the state's overseas trade offices, says the Beijing center will help Georgia companies in relationship building – and in practical matters such as providing a place for meetings and help with the language. "The office establishes the immediate one-on-one relationships" that are so important to doing business in China. Chinese businesses interested in Georgia opportunities "have a place to go, an office to call on that speaks their language. Business will be able to flow both ways."
Some 28 U.S. states and cities have trade offices in China.
The Appeal
The Chinese are attracted to Georgia for a lot of reasons. "We have a number of things that give us a competitive edge," Stewart says. "Our logistics network is outstanding, our workforce is second to none, our access to markets throughout the United States is superlative. We view ourselves as the gateway to the Americas. Our airport and the flights to Shanghai and all over Asia – it ends up being one step from China to anywhere in world because of our airport."
In an interview in Beijing, Gov. Perdue invoked the R-word: "Bus-iness is about relationships, and I think people have an innate sensitivity or ability to detect when they are wanted, when there is a warm and welcome attitude. I think [that's] coming through on this trip. Our attitude is one of acceptance, not protectionism, but an understanding that the world will be a global marketplace. We believe it is mutually beneficial for us to do business in this part of the world."
Having hosted the Olympics gives Georgia – and Atlanta – something of an advantage as well, since China and Beijing are so focused on making this summer's games an athletic and public relations success.
Additionally, there is a network of trade, business and cultural organizations in Georgia, including the Georgia-China Alliance and the Atlanta Chapter of the National Association of Chinese-Americans; some 50,000 Chinese immigrants live in the metro area alone.
The availability of land is appealing to many Chinese companies; in China, property is owed by the government and leased, rather than sold.
Recent Chinese investment in Georgia has been most evident in Metro Atlanta, but the assumption is that it will spread out into the rest of the state.
"Companies from any country that invest have got to start somewhere," Stewart says. "They create a beachhead in Georgia here in the Metro Atlanta area, but we fully expect they will venture out into other areas within Georgia with further investment. This is just a beginning. As Georgia's treasures are slowly discovered by Chinese manufacturing and knowledge companies, we'll see expansions all over the state."
"There's a huge potential," says the metro chamber's Hans Gant, "an upside here in terms of economic development for Georgia and for Metro Atlanta – just tens of thousands of jobs for Georgia if we are successful in executing our strategy.
"There is enough business to go around the rest of the state, not just for Atlanta – but for Savannah, Columbus, Macon, opportunities for all parts of the state to benefit. That's why there is this partnership between us, the city, the state economic development department. We are all working together from the same roadmap."
Gant and others believe having a Chinese consulate in Atlanta is an essential next step. "I hope in the next year or two that we would have a consulate. We have to continually impress upon the Chinese government that Atlanta ought to be the next location for the next consulate." Such a move would have to be approved by the U.S. State Department, of course.
"There are functions consulates play in a country's business," Gant says. "They play a very important role in connecting the business community with the marketplace in China and vice-versa."
The Possibilities
China enthusiasts say prospects for Georgia and Georgia businesses are virtually unlimited. The numbers alone make the case. Shanghai has 18 million people, Beijing has 15 million. Nearly 200 cities in China have populations over 1 million. "A small- to medium-sized city in China is 6, 7, 8 million," Gant points out.
Gov. Perdue says just trying to wrap one's head around the fact of 1.3 billion Chinese and the markets they create for Georgia is daunting. "That magnitude, that scale, what that can mean for what percent of the market share you get … when you look at Beijing and Shanghai and think about the dynamic atmosphere that exists already, I can see a lot more potential for consumer demand. I think the growing middle class will be powerful – a consumer market that will need goods worldwide. They won't all be produced in China. There's a global marketplace ready to happen right here – and not from a negative sense of jobs outsourced to China. I see more potential in the ability of the U.S. companies to export here to meet growing consumer needs."
There are some challenges to doing business with China – language and distance among them; but Georgia leaders don't consider them insurmountable.
"What I hear businesses talking about," says Gov. Perdue when he is asked about obstacles, "even businesses as large and sophisticated as UPS, is the lack of standardization and the multifaceted permits that must be gained in virtually every area in which business is done. That can be problematic. But I advise small businesses to start in one area. … You have to pay attention to the fact that these decisions have to be blessed by government and pay attention to those rules."
Stewart says, "It's about providing an environment for success, to put the right product in the right markets. China's growing middle class and growing economy is a market that is a must for any business interested in growing offshore. Obviously, it's going to be necessary to learn cultural differences [in order] to pay proper respect and operate within China."
Some China authorities will say in private that the growing middle class's demand for goods may ultimately have political repercussions, as people become more exposed to Western culture and its trappings. Most businesspeople believe that increased commerce and trade can exert a positive influence.
Certainly, the dilemma of dealing with a country whose government is repressive, with a shameful history of human rights abuses, cannot easily be overlooked; but business tends to separate politics and commerce.
"I think it's on people's minds," says Hans Gant when he is asked about it, "but I'm not sure it's been a problem. If you point to the successes that many, many companies are having over there … many of them major household brands right here in Atlanta and Georgia that are doing very well over there, I'm not sure it's been a problem; but I know it is on people's minds in terms of the differences we have. I would say I think the only way to overcome those things is by engaging."
Ken Stewart says, "The short answer is the language and culture of business is universal. Our government is different from theirs, and that's fine. What this is about is growing and fostering an environment where business can be successful."
Does he believe business can be a positive force? He quotes his boss: "Governor Perdue has said on numerous occasions that once we have developed a business relationship, we find lots of reasons to get along."
As far as what comes next for the business relationship, Gant says enhancing Georgia's ties to China is an ongoing process. "We are at an early stage. We've had some good successes. We have a lot of Georgia businesses doing very well in China. We have established enough in terms of network and critical mass. It's time to think about what the next level ought to be. It's time for an assessment, to say where do we go from here. We've got to keep working on the relationships already established."