Liquid Gold
Georgia's craft breweries, part of the fastest-growing segment of the nation's thriving beer industry, face tough regulatory challenges here at home.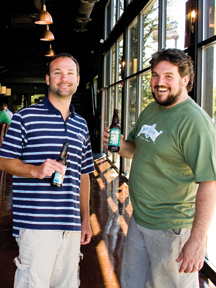 The path to enlightenment for Freddy Bensch and Kevin McNerney began with 10 cases of liquid gold. The two were students at the University of Colorado at the time, studying environmental conservation and accounting, and working part time at a Boulder brewery.
"After our first day on the job, we came back to the house, to our four other roommates, and we had all this beer. Their eyes got that big," Bensch says, motioning wide with his hands, a bottle of Sweetwater IPA hanging casually between thumb and forefinger. "That's when we started to find out how cool it was to have free beer."
Their cars started running better, professors were nicer than usual, delivery guys from the Chinese restaurant were happy to deal food for beer. Bensch and McNerney progressed in the thriving Colorado craft-brewing scene, working their way through college, and life was good.
"Then you come to the realization that college is about over and you have to do something with yourself. As we're sitting there having that conversation, we're drinking beer and we say, 'Hey, we'll follow through with this,'" Bensch says, nodding to the cold one in his hand. "We made a pact with each other: Learn as much as we can over the next few years and open our own brewery."
Since then, a lot of beer, brain cells, blood and sweat have gone into the effort, says Bensch, whose business card identifies him as the Big Kahuna at Sweetwater Brewing Company, the Atlanta based-brewery he and brewmaster McNerney launched 11 years ago.
Sweetwater is a craft brewery, and part of the fastest growing segment of the $97 billion U.S. beer industry (and the alcoholic beverage market in general). Craft beers, or microbrews, accounted for $5.7 billion in sales last year. Distinguished by higher quality all-malt beers brewed to traditional standards, the craft brewing industry grew by 12 percent last year while sales of domestic non-craft brews (Anheuser-Busch, Miller, Coors, etc.) and imports inched upwards a sluggish 1.4 percent.
And the Southeast is the fastest growing region in craft beer sales with a 33.9 percent increase last year. Much of that income bolstered distant economies, but the industry that started and flourished in the West and Northeast is gaining a tentative foothold in parts of the South, most notably North Carolina, which has a dozen microbreweries and about twice as many brewpubs (restaurants that brew their own beer).
The United States is home to 1,449 breweries according to the Brewer's Association; of those 1,406 are considered craft breweries (this includes brewpubs). Georgia has three award-winning craft brewers – Sweetwater, Atlanta Brewing Company and Terrapin Beer Company (Athens), and a dozen brewpubs scattered across the state. These are the survivors in a state where strict regulatory challenges are threatening the growth of this niche industry. Three Georgia companies – Dogwood Brewing Company, Old Savannah Brewing Company and Zuma Brewing – have closed over the past four years.
"We're lucky to still have three great microbreweries in Georgia, each with its own distinct personality," says Owen Ogletree, a nationally certified beer judge who founded the Classic City Brew Fest in Athens and writes about beer for a number of publications.
"But Portland, Oregon, has more breweries than we have in the entire Southeast. Out West, in places like Oregon, California and Colorado, they're encouraging these small, local breweries to succeed. They're generating interest in local flavors and culture, and enhancing local economies. That's just not happening in Georgia yet."
Oddly enough, it was a Georgian who is largely responsible for opening the craft beer taps almost 30 years ago. President Jimmy Carter signed the law legalizing homebrewing in February 1979 and started a chain reaction.
The law allows an individual (21 and over) to brew up to 100 gallons a year for personal use (200 gallons per household). By the 1980s, a wave of artisan homebrewers started opening commercial breweries and brewpubs, and the beer geeks have been smiling ever since.
The Art Of Beer
Brian "Spike" Buckowski always has loved beer, but he became a brewmaster because he hates wearing suits and ties, can dance only to the beat of some weird internal drummer and does not play well with others. Typical artist.
"He really does have the magic touch," says Dave Blanchard, co-owner of The Brick Store Pub in Decatur, considered one of the nation's top beer pubs (not a brew pub, but a place known for its diverse, vast beer selection and knowledge). "When Spike makes something, you know it's going to be very good. He's really made a name for Terrapin in beer nerd circles."
Buckowski and John Cochran met while working at Atlanta Brewing Company in 1997. One day, after getting reamed out by the boss (the brewery is under different ownership now) for ditching work to attend the Atlanta Braves home opener, they decided to start their own company. The prevailing sentiment was, "that'll show him."
"I always knew I was going to do something for myself," Buckowski says. "My dad is an electrician who owns his own business, and he always taught me that if you get up every day and love your job, your life is pretty much set. And I absolutely love what I do."
So do legions of beer drinkers. The first batches of Terrapin's Rye Pale Ale were brewed at Dogwood in 2002 and sold only on tap in Athens. The product was introduced at the Classic City Brew Fest in April that year and six months later won a gold medal at the prestigious Great American Beer Festival.
"After bottling it and sending it out for judging in Denver, we couldn't afford to go the festival ourselves," Buckowski says. "When we got the phone call telling us we won, it was like, we've really got to do something with this now."
Based in Athens from the start (Cochran is a UGA grad), they made 163 barrels that first year (a barrel equals 31 gallons, or two kegs). The next year they started brewing under contract at Frederick Brewing Com-pany in Maryland. Last year they produced about 9,000 barrels and realized their dream of opening their own brewery, signing a lease in July on a 45,000-square-foot facility just outside downtown Athens. But the brewery sat idle until December, when the state finally granted them a brewing license.
"I don't know if they were dragging their feet or what," Buckowski says. "But we'd submit the paperwork and they'd say, 'OK, now you need this, this and this.' We'd do that, that and that, submit it again, then they'd go, 'OK, and now you need this, this and this.' It went on like that, and meanwhile we're paying for this building."
While Cochran has been running point as Terrapin's president, Buckowski has added new styles to the year-round roster (Golden Ale and India Brown Ale), and introduced the popular, higher-alcohol, seasonal Monster Beer series (such as Big Hoppy Monster and Wake-n-Bake Coffee Oatmeal Imperial Stout).
"We're considering making that a year-round project," Cochran says, clutching a 22-ounce bottle of Buckowski's new invention, Hop Shortage, the first beer in a limited edition series called Side Project.
The beer name reflects the reality – there is a worldwide hop shortage and it's preventing smaller craft brewers from acquiring their aromatic the key ingredient. Hop Shortage is an ironic name – it's a particularly hoppy beer, Buck-owski's sardonic, tasty sense of humor in a bottle. The Terrapin boys expect the hop situation to improve, but want to continue growing its limited "Side Pro-ject" editions.
"This is where the industry is going, this is what craft brewing is about, the experiment. We want to be on the forefront of that, so we're going to start producing random, crazy beer styles and see what people think of them."
Buckowski is a Grateful Dead freak who decided to move to Georgia after scoring tickets to three consecutive Dead shows in Atlanta one week in 1992. "I also got tickets to see Rush that week," he says. "I was sold."
They named the company after the Dead's famous Terrapin Station album. And they hired Richard Biffle, the artist who created the Dead's album covers, to design their colorful turtle logo labels.
Strange Brew
Like Buckowski, the Sweetwater boys found Atlanta by accident.
"We were down in Charleston helping some guys open up a brewpub, on a consulting basis," Bensch says. "All of my possessions were in my truck, including my dog. This was during the blizzard of 1995, and we were just cruising around the Southeast looking for a spot.
"Got here right before the Olympics and there was such a good buzz in Atlanta, the whole world was watching the city. The beers being made here at the time were a completely different style from what we wanted to make, and we felt like, if we're gonna roll the dice and take a chance on building something, this was the right place to do it."
They brewed their first batch on April 20, 1997, and ever since, Sweetwater 420 has been the company's popular signature beer. They have won national and international medals for several styles, including a gold for best small brewery in the 2002 Great American Beer Festival.
Today, Sweetwater, which has always brewed its own beer, is Georgia's largest craft brewery, producing more than 45,000 barrels in 2007. By comparison, Georgia's two mega-breweries (Miller has a plant in Albany, Anheuser-Busch in Cartersville) produce about 15 million barrels a year between them.
In March Sweetwater in-creased production capacity, ripping the roof off its Midtown Atlanta brewery to install eight additional tanks.
"That will be our final expansion here," Bensch says. It's a potentially ominous statement for fans of Sweetwater's popular brewery tours and tastings. If the company outgrows its current digs, staying in Georgia might not be an op-tion. "This is a tough place to be in the beer business. That's why there are only three of us."
Georgia's microbreweries are hamstrung in several ways.
Like most states, Georgia is tied to the three-tier system, in which beer must go from the producer to a distributor before reaching the bar-tap or store shelf. In other words, a small brewer can't sell a single drop of beer to visitors who tour their facilities – unlike other states, such as neighboring North Carolina.
"I was up at Highland Brewing in North Carolina, where they were making a special release, and you should have seen the people, about 200 of them, lined up out the door to buy beer," Cochran says.
Large craft breweries such as California's Sierra Nevada may have taprooms and restaurants on site, enhancing the tourism experience. In Georgia, breweries can't have brewpubs on site, and brewpubs can't sell their beer off restaurant premises. Also, Georgia has tough franchise laws – once a brewer hooks up with a distributor, getting out of the relationship is extremely difficult, ultimately requiring state approval.
In Georgia, it is illegal for brewers to pour their own products at festivals, or any event outside the brewery – but they can travel to another state and do it. And a year ago, the Georgia Department of Revenue started proposing new rules to limit the amount of beer visitors may drink at brewery tasting tours, the favored and most affordable marketing tool for microbreweries, most of which can't afford large advertising campaigns.
"The biggest challenge facing craft breweries in this state is the regulatory environment," says Crawford Moran, brewmaster at Five Seasons Brewing in Alpharetta. Moran knows the sting – he was the owner of Dogwood Brewing Company.
"There's no good reason why a small, local brewery shouldn't be able to self-distribute, up to a certain point. No good reason why they shouldn't be allowed to have a restaurant or pub attached. Those are the things that help small companies grow into larger companies."
So, a state like Colorado, with a more supportive environment for brewers, has half the population of Georgia with about 15 times as many microbreweries.
"They produce over $500 million in craft brews in eastern Colorado alone," notes Robert Budd, president of Atlanta Brewing Company, which fell into the hands of new owners several years ago and won its first gold medal at the Great American Beer Festival last year for its Red Brick Blonde ale. This year they added a gold (for Red Brick Barrell Select) and a bronze (for Numbers Ale) at the World Beer Cup in San Diego.
Budd envisions a beer tourism market not unlike the one fermenting in North Georgia wine country. This year the legislature boosted the wineries' business potential, introducing and approving one bill that allows internet wine sales and another permitting wineries that have tasting rooms or restaurants to serve other alcoholic beverages, including beer. Budd says he can't figure out why Georgia's homegrown craft breweries were left out.
"That totally shocks me," he says. "This is a green industry, a sustainable industry, a tourism industry that produces more tax per dollar of profit than any other industry. I think that we, Sweetwater and Terrapin are at the forefront of a Georgia industry with tremendous economic development potential."
And he thinks that history may be on his side.
"You know, the South has been making beer for at least 300 years. When Oglethorpe landed in Georgia, his brewer was on the boat."