Columbus: Seismic Shift
Bracing for new industry, new jobs and new residents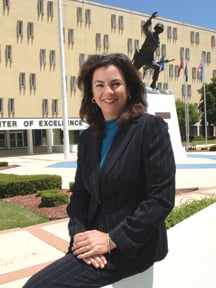 From its vantage point on the Alabama border, Columbus sits on what some say is about to become one of the hottest spots in the state. It's been a long time coming, but a flood of jobs, residents, and assorted economic growth seems to be just around the corner.
Consider some of the signs. Local insurance giant Aflac is rapidly expanding its corporate campus with new facilities and more jobs. Just north in West Point, automaker Kia is building a manufacturing plant that will employ 3,000 people as it invests $1.2 billion in the area.
South of the city at sprawling Fort Benning, the military is spending $2.9 billion to get the post ready to accommodate a new Maneuver Center for Excellence that will consolidate the Army's infantry and Armor Schools and bring more than 35,000 soldiers to town. The spinoff effects of all this activity will be far reaching. The Kia project already is bringing in a host of suppliers who must be up and running when the plant opens – and that means more jobs. All those soldiers and their families will be searching for places to live and stores in which to spend their money when the first units begin arriving in October 2009.
"I would say it creates tremendous opportunities. That can also be … another word for challenges," says Mike Gaymon, president and CEO of the Greater Columbus Georgia Chamber of Commerce.
A flood of people means local infrastructure will be stretched, but hopefully not broken, by the load.
"You've got over 7,000 school age kids coming and somewhere around 10-12 new schools are needed," Gaymon says.
"You've got infrastructure and roads. It typically takes seven to 10 years [to widen a road], but we don't have seven to 10 years … . We don't have five to seven years to build a school."
To meet the coming population influx and the growth it will bring, Columbus Mayor Jim Wetherington is pushing a one cent sales tax increase to fund public safety and transportation. If approved by the voters this measure will put 100 new police officers on the streets and make "Columbus one of the safest cities in America," says the mayor, who is a former city police chief. The rest will go to improve roads that promise to be filled with more cars – and more school buses.
Yet, these are problems that Columbus is delighted to have, Wetherington says. The growth will mean that the city is likely to avoid the economic downturn threatening much of the rest of the country. "We're in a unique position," he says. "We had the Terry School of Business here to make a presentation to us a couple of months ago and they projected that Columbus wouldn't be affected by the recession because of the all the growth we're anticipating." (See "State Of The Economy," page 120.)
Managing the opportunities and demands of growth is easier here than in many other locations, thanks to a regional approach to economic development. Columbus is part of the Valley Partnership, which encompasses six surrounding counties and trio of cities. Members include Chattahoochee, Harris, Muscogee, Talbot, Taylor and Marion counties, along with the cities of Manchester, West Point and Phenix City, just across the river in Alabama.
A Place For Everyone
One of the partnership's most immediate challenges is helping Kia suppliers find locations for their operations. In order for the carmaker to get the first vehicles rolling off the assembly line in early 2009, the various parts suppliers have been busy finding sites within servicing distance of the plant. The "just in time" suppliers have to be close to the plant, but other so-called tier two operators can locate farther away.
"We are starting to see some tier two suppliers out kicking tires and because they are not just in time sequencers they don't have to be so close to Kia," says Becca Hardin, executive vice president of economic development for the chamber. "So it's an advantage for us because we can look at property product as far away as Columbus and in our territory looking into even Talbot County, possibly Taylor County."
When they're all in place, these suppliers will add another 3,000 jobs to the area.
Columbus also is anticipating a massive influx of personnel into Fort Benning. The federal Base Realignment and Closure Commission was kind to the region. While other bases around the country lost units or were closed, the local facility is expanding rapidly. Construction already is under way at the base and the first new units will arrive next year. All of them should be in place by 2011.
"There are a lot of infrastructure preparations that have to take place, as well as educational preparations with new schools and … making sure that we can accommodate the families that are coming in," Hardin says. "While Fort Benning is in the process of rebuilding most of the housing on the base, they are not adding new housing. So a lot of the growth is going to be occurring off the base."
Drivers on I-185 to Columbus already are seeing extensive work on this main artery to the region. The Georgia Department of Transportation is working to widen and create new access roads off the interstate to ease traffic flow to the base.
Columbus and Muscogee County, which have a consolidated government, have been busy conducting an in-depth study of the needs that growth will create.
"We are looking at the number of housing units needed as a result of BRAC and Kia – the growth where people might live here in our county," says City Manager Isaiah Hugley. "We want to prepare and make sure that it's smart growth, sustainable growth."
By determining where people will be living, the city can make judgments about what kinds of dollars need to be spent on transportation. Do roads need to be four-laned, or will a new intersection do the job?
While time may seem short for all these developments, it didn't keep some people – particularly homebuilders – from jumping the gun. Many didn't seem to understand the time lag between the announced deployments for Benning and the actual arrival of those troops.
"When they first announced the BRAC was coming a lot of homebuilders just kept rolling with the line of credit they had with the banks and that was the end of 2006," says Reynolds Bickerstaff, a local investor and broker with Waddell Realty Co. "Some of these houses have been sitting vacant for a year and some of those folks have gone into other professions."
The market is only now beginning to absorb the excess product, but in the next couple of years, home sellers won't have that problem, as military families and Kia workers settle throughout the area.
"So it's slowly, slowly trickling in and once we get the big wave of 1,000 to 1,500 coming in that's going to be exciting," Bickerstaff notes. "We're going to go through some peaks and valleys where there's nothing available and then all of a sudden we've got another 300 houses on the market. But that will clear up."
All this impending development has driven Columbus and its neighbors to take a hard look at regional planning. The Valley Partnership received federal funding to support a Regional Joint Land Use Study that it hopes will provide a clear path for growth.
"We are working to implement a regional growth management plan and that incorporates 10 counties around Fort Benning so that we can begin to address infrastructure needs, transportation needs, educational/residential needs," Hardin says. "So with the help of the federal government and several different consulting firms, this regional growth management plan will help give us specific actions to handle these issues."
All the attention has made the area even more attractive to potential developers. The expansion of Fort Benning's infantry and armor units is drawing a cohort of supporting defense companies that want to locate nearby.
"We are going to be targeting some really high paying good quality jobs just with having the defense industry increase their numbers here," Hardin says.
In addition, aerospace contractors such as Pratt & Whitney, Israeli-owned Precision Components Inter-national and Cessna are undergoing expansions. Their growth has attracted a number of related companies, which have been coming by to look around as well, Hardin says.
Quality Of Life
While growth in the region may be new, it's no surprise to locals who have been laboring for the last decade to make Columbus an attractive place to live and work. Quality of life is a favorite phrase here and Columbus has assembled an impressive list of attractions.
The arts are a particular point of pride. The Rivercenter's Bill Heard Theatre and the Springer Opera House are bringing national acts such as Jerry Seinfeld to area stages on a regular basis. A growing arts community includes a symphony orchestra and theater companies.
This vibrant culture didn't happen by accident. Columbus realized long ago that the arts could be a strong catalyst for economic development. For more than a decade local leaders have visited other cities around the country to see how they were building strong economies. A trip to Austin, Texas, showed how the arts could be a catalyst for economic development.
"They turned an oil well economy into a high tech economy and one of the threads that ran through that transitional change was the arts," Gaymon says. "They discovered that folks who are artsy use the same side of the brain as these high tech folks. So, if you need programmers, then, guess what? There is a direct parallel between support of the arts and high tech company growth."
That realization gave rise to the Columbus Challenge, which raised more than $100 million to build the Rivercenter and endow the Springer Opera House, along with a host of local arts groups. That effort raised the profile of culture in Columbus and has served the city well in attracting high tech companies. Along with Aflac, the city is also home to banking giant Synovus and electronic payment processor, TSYS (Total System Services, Inc.).
"I think it says that we've made a commitment that is pretty bold, but that will serve us well in the recruitment of and the retention of high tech jobs," Gaymon adds. "It creates that critical mass that you can start building upon."
Much of the arts scene is concentrated in Columbus' uptown area, which has undergone a wave of renovation and revitalization. New shops and restaurants are beginning to open and something of a night life is starting to take hold, although the real resurgence is yet to come.
"The restaurant movement and the retail movement were kind of holding back until all that construction got completed," says Richard Bishop, Uptown Columbus president and CEO. "Now we are seeing interest in the area."
That interest is being fed by the increasing number of people who are spending their time here. Columbus State University recently moved its Music, Art and Theatre and Dance programs and around 650 students and faculty to the new RiverPark campus in Uptown. Some 350 students also are living here full time in University apartments on the campus.
The revitalization of downtown has made it a more desirable location for those seeking an urban living experience.
"We've got 93 loft condos that will come on line this summer, the average price range from $185,000 to over half a million dollars," Bishop says. "The city just finished about $14 million in streetscape projects on Broadway, from Ninth Street all the way up to 14th. We are now just in wonderful shape with a beautiful setting for visitors and people who are shopping in the downtown area."
Water Power
Locals also see great potential in the Chattahoochee River, which runs through Columbus, separating it from Phenix City, Ala. For a century it shaped the area's economic life. In those days, mills hugged the banks, using the river to power machinery. The river was a place you came to work. "I'm in a building right now and our front door is on a city street, while the back of the building has very few windows, but is overlooking the river," says John Turner, an executive with W.C. Bradley Co.
"It's an historic building and that's the way folks thought about this river for over a hundred years. It was not something that you would choose to live on and look at, " Turner says.
The idea of the Chattahoochee as simply an engine of industry has long faded, replaced by a more modern idea of the riverfront as a place where you want to be. Back in the 1980s, the city installed an 86-inch pipe on the banks of the river to control sewer overflow. Then came a 16 mile paved and lighted Riverwalk connecting the historic downtown riverfront district with the soon to be opened National Infantry Museum at Fort Benning. Today, the path is filled with walkers, joggers and bikers.
The W.C. Bradley Co. is renovating the 1851 era Eagle & Phenix Mills, which overlook the water, into upscale loft condos. So far they've sold about 30 of the units, mostly to professionals who can back up an appreciation of the view with ready cash.
Residents will enjoy a different view of the river when two aging dams that control its waters are gone. The dams, which once generated power for the mill, have outlived their usefulness and local leaders now want to restore the Chattahoochee's natural whitewater rapids by breaching them.
"You would have a very natural looking river flowing between the two cities," says Turner, who is leading the river project.
Plans call for walking and biking paths on both banks, with a constructed whitewater course in-between for kayakers. Fishermen would be treated to a number of new species of fish that thrive in free flowing waters. The area would have a unique draw for whitewater enthusiasts as "the southernmost river east of the Mississippi that has this kind of high quality whitewater," Turner explains.
The project's cost – between $16 million and $28 million – is still being formulated and funds have yet to be raised. While the price may be steep, Turner says the aging dams will have be repaired or replaced at some point anyway. "There isn't a 'no cost' option," he says. A revitalized river will strengthen the city's already formidable economic development war chest.
All these factors contribute to Columbus's success, but perhaps the greatest resource the city has been able to muster is its ability to pull diverse factions together and make the most of its natural gifts. Leaders and citizens alike have been able to see what the future could offer and work to make it happen.
"It is a process of changing the culture, changing the attitude, changing the fabric of the community that I think just sets us up. If we work smart and work hard, we can continue upon this kind of development that I think will be tremendous for us," Gaymon says.
Columbus/Muscogee County
At-A-Glance
Population
(2007 estimate)
Columbus/Muscogee County consolidated, 187,046
Unemployment
(Mar. 2008)
Muscogee County, 5.6 percent; Georgia, 5.3 percent
Per Capita Income
(2004)
$29,460
Top Five
Nonpublic Employers
TSYS, 4,300; Aflac, 4,100; Columbus Regional Healthcare, 2,700;Blue Cross Blue Shield of Georgia, 1,540; Pezold Management, 1,500
Sources
Greater Columbus Georgia Chamber of Commerce, Georgia Dept. of Labor, U.S. Census Bureau