2008 Most Respected Business Leader: The Many Worlds Of Tom Bell
Cousins Properties' CEO brought a fresh pair of eyes to Grady Hospital's financial plight and is a leader in efforts to save the facility. He also has guided one of the nation's premier REITs and blended in seamlessly with Atlanta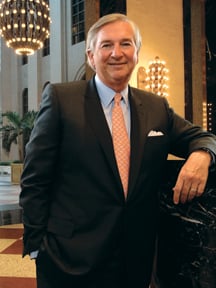 Tom Bell just didn't get it. He was the new guy, so he couldn't possibly know that Grady Memorial Hospital's financial despair was like traffic or Neal Boortz or gravity – a chronic condition of life in Atlanta, subliminally evident, accepted without much thought.
Every so often, Grady would cry "wolf," but there never was a snarling payoff at the climax, as if Grady suffered from an incurable illness without a death sentence.
"I kept hearing these stories about Grady being in trouble, and did a little investigating," says Bell, chairman, president and CEO of Cousins Properties. "People would tell me, 'Tom, you've only been here five or six years, you don't understand – Grady is always in trouble. It's standard procedure, don't worry about it, everything will be fine.'
"But as I dug deeper I found out that this time it was not going to be fine. This was the real deal. They had pushed the string as far as they could push it and things were beginning to unravel."
Sometimes it just takes a fresh pair of eyes. The hospital, which treats about a million patients a year (most of them uninsured) faced massive cuts to staff and services. It was under-funded, bleeding green, going $8 million to $9 million deeper in debt every month. The new guy was worried.
"If Grady were to close, the emergency healthcare delivery system in Metro Atlanta would collapse within a week," says Bell, who surreptitiously led the effort over the past year to save one of the country's leading teaching hospitals and trauma centers.
Bell, 57, has only been on the Atlanta scene since January 2002, when he succeeded Tom Cousins. But he has blended in seamlessly with the city's business culture, taking on important extracurricular projects (like Grady, and earlier, the Peachtree Corridor Task Force).
He's assumed leadership roles at Central Atlanta Progress (current chairman), the Metro Atlanta Chamber of Commerce (past chairman), served in various functions and capacities for diverse organizations, such as the Georgia and U.S. chambers of commerce, Emory Healthcare, the YMCA, Woodruff Arts Center, World Congress Center and Georgia Research Alliance. And he's expertly guided one of the nation's premier REITs, a development firm that continues to shape the look and feel of the city – and this is his first real estate gig.
"His fingerprints are on so many important community issues," says A.J. Robinson, president of Central Atlanta Progress. "He has become the go-to guy in a very short period of time."
All of it – the business acumen, the civic involvement – makes the new guy a natural choice for Georgia Trend's Most Respected Business Leader for 2008.
The challenge for Atlanta and Georgia may be in keeping Bell here. He's well-traveled and multi-skilled, and sought after – Bell has never applied for jobs, he is always asked, which isn't a bad place to be for a guy who dropped out of college.
He began his career in politics, running campaigns and a leading political think-tank. He's held leadership positions in manufacturing companies, was CEO of one of the world's top marketing communication agencies. Now he runs Cousins.
"Different worlds, and he travels back and forth between them effortlessly," says Sam Williams, president of the Metro Atlanta Chamber of Commerce.
It comes from years of practice in the universal business of relationships.
"Start with the fact that Tom is one hell of a smart guy," says Peter Georgescu, former CEO of Young & Rubicam, the marketing giant where Bell spent 10 non-contiguous years.
"He's a terrific listener with a curious mind, excellent business competence and a great intuitive sense of people, which he gained in the political and public relations arena. He has been involved with some of the largest, most sophisticated clients in the world, managed large organizations, learned how to manage creative, brilliant people. Put all of that into a cauldron and churn it up, you get an extraordinary leader. That's Tom Bell."
Party Politics
When Bell was 13, maybe 14, he decided that it might be pretty cool to be governor of Tennessee. He kept the grandiose thought filed away as an unspoken fallback position for the next decade or so, at least until life in Washington, DC, shredded the notion.
"My dad was chairman of the Tennessee Manufact-urers Association, and I went with him to the big annual dinner in Nashville," says Bell, who grew up in Memphis.
"The governor, Frank Clement, was there. I was so impressed that everybody wanted to talk to this guy, wanted his advice, and I was sitting right there, listening to all this. It kindled a real interest in politics for me."
Bell threw himself into Republican politics at the University of Tennessee, working for U.S. Senator Howard Baker then helping Bill Brock in his campaign for the Senate. After Brock's victory, Bell made a decision that caused great controversy in his family for many years – he quit college, joining Brock in Washington, eventually becoming the senator's chief of staff at 23.
"That was an eye-opener. Let me put it this way: Within six months I no longer had my sights set on becoming governor," Bell says. "Living in Washington, watching these guys, the way they live their lives with everyone wanting a piece of their time – it made me realize that I much preferred helping other people get elected."
He worked for Richard Nixon's re-election campaign in 1972, "a great disappointment after the fact," says Bell, who ran campaigns full-time after Brock lost the 1976 election. He helped Lamar Alexander get elected governor in Tennessee, guided Dan Quayle's first bid for the U.S. Congress in Indiana and worked on Ronald Reagan's 1976 challenge of Gerald Ford for the Republican presidential nomination.
In the 1980s, as president and CEO of the Hudson Institute (a right-leaning public policy think tank), Bell worked for Reagan again, leading something called the Committee on the Next Agenda.
"We were asked to take a look at the major issues confronting the president in his second term, so we brought together a broad coalition of representatives from other think tanks, from the left and the right," says Bell, who was the national finance chairman early on in Fred Thompson's short-lived bid for the GOP presidential nomination. "There was probably very little difference between the left and right on about 85 percent of the issues, so we set out to focus on those things we all agree on."
They met for six or seven months and turned in their report, 13 pages of generalizations, mostly, a single-spaced outline of policy priorities. Millions of these things get written, Bell says, but they usually are captured in the bureaucratic dis-assembly line, picked over and torn apart, then presented to subordinates before the president and cabinet secretaries simultaneously dig into what's left of the carcass.
This time, the White House was undergoing a major transition. Chief of Staff Jim Baker and Treasury Secretary Donald Regan were swapping posts, and the changeover wasn't completed when the president received the report.
"Nobody was in charge of the White House for those few days," Bell says. "The president just took the report upstairs, read it himself – made his little notes in the margin and everything. Next day at the cabinet meeting he pulls out the report. 'Now here's a good idea,' he says, and, 'how about this.' The Secretary of Defense, all of these secretaries, are going crazy because the president is reading something they've never seen.
"Within 15 minutes my phone starts ringing off the hook. It's cabinet staff members asking, 'Where is this damn document and how come you didn't brief us?' Well, we did. But while it got swallowed up in their system, the president read it himself and made his own decisions, rather than staffing it out, which is what normally happens. The whole thing was hilarious."
Frequent Flyer
Bell's career has indeed been the world-hopping odyssey Sam Williams describes.
While he led the Hudson Insti-tute, which moved its headquarters from New York to Indianapolis during Bell's tenure, he also chaired the board for the Center for Naval Analysis.
After recruiting Mitch Daniels, now the governor of Indiana, to succeed him at the think-tank, he became executive vice president for Ball Corporation, (packaging and aerospace manufacturing) in Muncie, Ind.
He left Ball after two years and went to work for marketing giant Young & Rubicam (Y&R) in Wash-ington, DC, eventually becoming CEO of the public affairs unit, Burson-Marsteller. Then he moved to Gulfstream Aerospace in Savan-nah, where he was basically hired to take a new aircraft to market.
"We went from losing money in 1993, to making a little money in 1994, to making a lot of money in 1995," says Bell, who left Gulfstream after two years, returning to Young & Rubicam in the wake of a bizarre tragedy.
One of Bell's confidants at Young & Rubicam, Tom Mosser, was murdered by the "Unabomber" in December 1995. At Mosser's funeral, Bell spoke to his old friend Peter Georgescu, who had since become CEO at Y&R. Georgescu wanted him back with Y&R.
"I was really, really sorry to see Tom go to Gulfstream, but completely understood it," says Georgescu, now chairman emeritus of Young & Rubicam, Inc.
"So, we wished him well, but knew Gulfstream was not going to be a lifetime occupation. His mission was to fix it, build it. But I never gave up hope that we'd get back together. From my perspective, it was not an accident."
Y&R was reorganizing and recapitalizing. Bell went back, helped take the company public in 1998 and succeeded Georgescu as CEO in January 2000.
"I had every intention of spending the rest of my career with Young & Rubicam," Bell says. "Then we got a bear-hug from WPP. They threw so much money at us." In May 2000, Y&R agreed to a $5.7 billion takeover by the London-based WPP Group. It was the biggest deal in the history of the advertising/marketing industry.
At 50, Bell was unemployed and living in suburban Greenwich, Conn.
"I tried retiring," Bell says. "It lasted about six months. I still served on some outside boards, did some consulting work to keep busy. But I was restless."
One of those boards was Cousins Properties. Bell had gotten to know company founder and CEO Tom Cousins on the golf course, at East Lake, where Y&R had a corporate membership. (Editor's note: Tom Cousins has a financial interest in Georgia Trend.) In January 2001, Bell became vice chairman of the board and chairman of the executive committee, and a well-established pattern in Bell's career re-emerged when Cousins asked Bell to join the company on a full-time basis: Bell declined at first, then gave in.
"Tom was persistent," Bell says. "I didn't know anything about the real estate business, but that's not what he was looking for. Most real estate companies are founder-driven, but he wanted a professional manager, someone who could bring transition to the company, move it away from the founder-driven orientation into a publicly-traded entity that would survive well into the future."
Atlanta Player
Cousins Properties has interests in 7.7 million square feet of office space, 4.8 million square feet of retail space, 2 million square feet of industrial space and more than 9,000 acres of strategically located land tracts, in addition to other land holdings for development of single-family residential communities. The company's signature is all over Atlanta, including Buckhead, where the 10-acre, $600 million mixed-use Terminus project continues to evolve.
The most significant piece of real estate, though, is probably company headquarters at 191 Peachtree – which the company acquired in a landmark swap in 2006. Cousins bought what was a mostly empty building in downtown Atlanta for $153 million (about $123 per square foot) from Equity Office Properties (EOP), which paid $355 per square foot (a record price for Austin) for Cousins' Frost Bank Tower in Texas.
"This was classic Cousins," Bell says. "There was negative sentiment about downtown because some major law firms were moving out and Wachovia was moving out. But this is the fastest growing metro area in the U.S., capital of the Southeast. The central business district is not going to stay down. We had the aquarium, the World of Coke, the new dorm at Georgia State – 2,000 more beds. We knew downtown was going to come back."
Central Atlanta Progress's A.J. Robinson calls Cousins' shift from Cobb County to downtown "a pragmatic and symbolic move. It was really a great economic deal for them, but it also shows a great commitment to the center city."
The building was less than 51 percent leased when Cousins obtained it. Today it's 87 percent leased, but that number will fall when Wachovia's lease expires at the end of this year.
Bell acknowledges the widespread real estate implosion: "We're going to have a very, very difficult 2008 from a real estate perspective, and some people will think it's one of the worst real estate recessions in modern times."
But he has strong survival instincts, and Cousins always finds a way to thrive. In April, the company announced it was unloading its industrial property business, an initiative Bell started.
"I have never been one to hang [on] to an idea that is not living up to expectations," he says. "Some-times you just have to say, 'Enough. We did our best. It doesn't work for us. Let's move on.'"
Before the implosion, Bell directed the sale of $3 billion in properties, making Cousins' shareholders smile. "And we refinanced everything we could before the credit market slammed shut," he says. "We're in a great capital position, most of our stabilitzed assets are fully leased or close to it. There is momentum at Terminus, and this building [191 Peachtree] has been a home run. We ought to be OK."
Last spring, Bell wasn't feeling so optimistic about Grady, so he arranged for a meeting with Pete Correll (chairman emeritus of Georgia-Pacific) and the leadership of Grady's governing body, Fulton-DeKalb Hospital Authority chair Pam Stephenson and vice-chair Chris Edwards.
Bell asked them to contact the Metro Atlanta Chamber of Com-merce, which led to creation of the Greater Grady Task Force, a 17-member committee of Atlanta business, academic and health leaders.
"It is not possible to sustain a safety net hospital, which is what Grady is, in today's world unless it is fully supported by the community," Bell says. "So we had to have business support, philanthropic support, people out there raising money every day.
"The community has to understand that Grady is important to everyone. It isn't just a teaching hospital, not just a hospital for indigent care, not just a trauma hospital. It is a core piece of the overall healthcare delivery system in the metro region. This was everybody's problem."
Based on the task force's recommendations, Grady's governing structure was changed. A private, nonprofit management corporation now will lease the hospital from the Fulton-DeKalb authority. As part of the deal, Grady will receive up to $300 million in private dollars and more in state aid.
Grady will remain open, with a new lease on life. It took a community, but it also took Bell.
"He was the driving force behind the Grady effort," says Correll, who co-chaired the task force with Michael Russell, CEO of H.J. Russell & Company. Bell, who also served on the task force, will join Correll and Russell on the new governing board. "I've been the one out in front, but from day one Tom has been the key.
"It's astounding, how much he's been able to do here in five or six years. It's almost as if Tom Bell has been here forever."