South Metro Atlanta: Rapid Expansion
Atlanta's southside welcomes industry and residents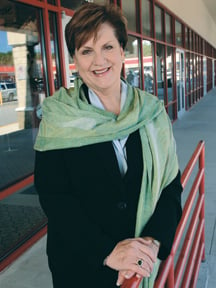 A few years ago, Atlantans usually thought of the region south of this bustling city as the forgotten side. Now, ask any leader in the counties that make up the South Metro area, and in unison they're likely to say they represent the "best side" of town.
From south Fulton and Clayton counties with the world's busiest airport to Henry, Spalding and Coweta, new homes, businesses and industries are taking root. Shopping centers are sprouting in what was once farmland, following the increasing number of residents who have made South Metro home. Where once southsiders bemoaned the rapid growth to their north, now they admit it's time to begin grappling with the pleasure and perils of rapid expansion here as well.
The area is seeing continued population growth in south Fulton, Fayette, Henry and Coweta counties, coupled with strong interest in commercial retail, says Michael Hightower, founder and managing partner of The Collaborative Firm, LLC, a real estate and strategic planning firm, which sponsors the South Metro Develop-ment Outlook Forum.
"We are also seeing some unique revitalization projects," Hightower says, pointing to efforts ranging from south Fulton to downtown Senoia in Coweta County.
The factors driving growth here are many, from more affordable land to increasing amenities, but at the center is always Hartsfield-Jackson Interna-tional Airport.
Nowhere is the presence of this behemoth felt more acutely than in south Fulton, which counts Harts-field-Jackson as one of its leading citizens. The airport not only brings people to Atlanta, it also brings development to the surrounding area.
"The airport has done a lot of expansion which has gotten a lot of attention, but that's only one aspect of what's happening," says Leslie Hamrick, president and CEO of the South Fulton Chamber of Commerce. "South Fulton Parkway has seen a number of new businesses locating in the shopping center and I know along Camp Creek Parkway there have been more shopping centers popping up to help service the number of new houses that have populated the area."
Along with its growing virtues, South Metro has profited from other people's woes. Atlanta's worsening traffic congestion is a main driver for continuing residential growth south of the city.
"I think people started looking at how far they were commuting on the north side and realized, 'Wait a second, here is this available land in south Fulton that has much closer proximity, has the airport, which is the busiest in the world, and say, 'Why aren't we looking here?'" Hamrick adds. "It's a paradigm shift for those that do economic development."
The story is told in the numbers. South Fulton County is forecast to grow from 291,829 residents in 2000 to 365,325 by 2030, according to an Atlanta Regional Commission study. Population growth in South Metro, including Clayton, Fayette, Henry, Coweta and Spalding counties, should outpace the rest of the 20-county Atlanta region.
Even better, job growth in the area is also forecast to increase by 74 percent over that same time and by 85 percent across the south side of Atlanta.
To make way for these changes, the trend is finally beginning to shift away from industrial and more toward people-friendly retail, office and residential. Redevelopment is a word often on the lips of officials in the heavily industrialized area around the airport. The Camp Creek area of East Point has enjoyed resurgence in mixed-use development reflecting growing incomes and better demographics.
Two large fixtures in south Fulton are on the verge of conversion to vastly different uses. Plans call for the U.S. Army's Fort McPherson, which is being closed as part of the military's base realignment process, to be developed into a research park. Atlanta also is seeking proposals to redevelop the nearby Lakewood Fairgrounds.
South Fulton also saw a trend toward city status, which has swept the north end of the county, arrive with the creation of Chattahoochee Hill Country; although a referendum for a city of South Fulton was defeated. Chattahoochee Hill Country's new city status is the result of almost a decade's work by local residents worried about the effects of impending growth.
Airport focus
In neighboring Clayton – the smallest South Metro county – the emphasis also is on redevelopment. Underused areas are getting extensive makeovers ranging from the Mountain View community to Jonesboro, Riverdale and many places in between. Cities are preparing plans to build modern town centers, office parks and residential developments with the emphasis on mixed use that combines all three.
More than a dozen projects are in one state of development or another. Officials say they are assembling parcels of land that will take advantage of expansion at the nearby airport and the changing face of development in an area long dominated by industrial buildings. With so many people moving south, many are seeing the advantages of this location.
One particular focus is the Georgia International Convention Center (GICC) where plans are under way to develop a nearby 28-acre site into a $230 million mixed-use project including a 400-room convention hotel and a 140-room suite hotel. More than 1.1 million square feet of office, retail and hotel space also is expected.
The hotels will provide a much-needed boost for GICC's convention business by offering visiting groups adjacent accommodations. These hotels will also allow the facility to recruit bigger and longer meetings.
The hotels are expected to open around the same time as Hartsfield-Jackson's automated people mover starts transporting travelers from baggage claim to the hotels or the new consolidated rental car agency complex.
Coupled with the airport's massive $5.4 billion expansion due for completion in 2015, this area and other sites around the airport are likely to become much busier as development money is funneled in to take advantage of the renewed activity.
"Wouldn't it be a wonderful opportunity to put a people mover completely around the airport," says Clayton County Commission Chairman Eldrin Bell, who has pushed the idea that "transportation and land use development must go hand in hand."
Threats to growth have come in two areas. The county has been hard hit by the sub-prime lending debacle, with one of the highest foreclosure rates in the metro area. In addition, Clayton's public school system faces the threat of losing its accreditation this year. The Southern Association of Colleges and Schools said that violations of school board procedures and infighting had left the district "fatally flawed."
Business and political leaders "representing a cross section of the county" are meeting with school officials to find a solution to the problems, Bell says.
"The most important thing for us to do at this time is to address the issues – the nine issues that have been presented to us by SACS," he adds. At press time, the situation was in flux – one board member had been removed but was appealing; another had promised to resign but given no official date. Angry parents, meanwhile, were gathering at the school board office to call for the resignation of all nine members.
On a more positive note, one area ripe for redevelopment is Fort Gillem, which lies within – and occupies more than a third of – the city of Forest Park. When the military announced that this base and Fort McPherson were closing, locals quickly took action to find new uses for the facilities.
The Forest Park/Fort Gillem Local Redevelopment Authority created a strategic reuse plan for the facility when the troops depart for other bases. Over the past 15 months, the agency has studied the best means for buying the property and turning about 55 percent of the base's 1,427 acres into job-producing development.
This year the authority hired Cousins Properties, LNR Property Corp.'s Commercial Property Group and the Benham Cos. to carry out the $750 million mixed-use redevelopment of the site "going from conception phase to the reality phase of what we're trying to do," explains authority executive director Fred Bryant. Their primary goal is to develop a detailed proposal that will persuade the U.S. Army to sell about 1,190 acres to the authority rather than auctioning it off on the open market. Bryant is confident the deal will go through sometime this year.
Once the land is in their hands, work can begin on converting some 65 percent of the property into industrial, assembly and bulk warehouse uses. In addition, about 700 single-family homes will be built. All told, the project is expected to generate more than 18,000 new jobs and create more than $243 million in new property taxes. Considering the property has been a military outpost since 1941, the new incarnation should be a much bigger boost to the community than its military use.
Growth In Henry
Once proclaimed the fastest growing county in the nation, Henry has slowed down a bit these days but it's attracting its share of new people and development. In fact, the county's population is expected to grow from its current 175,000 to 400,000 by 2030.
Those are hefty numbers, even if the growth isn't occurring quite as fast as in previous years. With only half as many new students entering the school system, the county can catch its breath and better consider where it wants to go without worrying about finding new revenues to support services.
"We are one of only two counties in the state as of right now whose revenue from sales tax is holding at the same level as this same time a year ago – not increasing but holding while every other county's revenues are decreasing," says Kay Pippin, president of the Henry County Chamber of Commerce
Bisected by Interstate 75, Henry is a prime location for warehousing and logistics facilities. Millions of square feet of space are filled and more is on the way.
Yet, as residential has grown, the area has also started attracting much more retail. Tanger Outlets in Locust Grove already draws 4 million visitors a year. Atlanta Motor Speedway has long been a mecca for NASCAR fans, attracting upwards of 150,000 a race, Pippin says.
Those numbers have helped attract developers who have proposed at least three shopping centers.
Among the developers moving earth is the Sembler Co., which is developing Henry Marketplace on Jonesboro Road. On Ga. 20 and Ga. 81 near Interstate 75, Lassiter & Baker Inc. is developing South Point, which is projected to become a giant open-air center and a 9,000-seat civic center. At Jodeco Road and I-75, Bayer Properties LLC and Shailendra Group LLC are reportedly considering a mall development on 165 acres.
Courting Retirees
In Spalding County the talk is about the change that a massive new adult community will bring to the area. Sun City Peachtree is the first active adult community to bear the Sun City brand in Georgia. The company plans to build 3,400 homes on a 1,700-acre site north of Griffin that will include all the amenities active retirees want, such as single level living, easy maintenance and lots of activities. After all, residents may be retired, but they still want to pursue their favorite hobbies and sports.
"We're anticipating [Sun City] to have an extremely positive economic impact on the region, not just Spalding County," declares David Luckie, executive director of the Griffin-Spalding Development Authority. "You've got middle income and higher moving into the area from around the country and that will have a huge impact."
He figures the community's 3,500 homes will be occupied by at least 5,000 well educated and affluent empty nesters moving into the area from around the country, thanks to the developer's national marketing efforts.
"That's a huge impact into our housing market around here," he adds.
The development's size will generate a wave of positive economic activity. Once construction is done, property taxes will start flowing from all those homes, but unlike younger couples with children, residents won't be placing demands on infrastructure or the local school system.
"With those kinds of people it attracts a large number of peripheral industries," Luckie explains. "The Sun City over around Hilton Head has seen that whole area develop commercially just because of the people moving into that housing area. We're anticipating the same kind of thing happening here."
The demand will quickly attract more medical centers and hospitals, banks and retail eager to cater to consumers with disposable income. The development also is creating a halo effect that's attracting other residential developments to the area.
This influx also will help the ongoing revitalization of downtown Griffin. Efforts are under way to refurbish buildings in order to begin attracting more high-end retail, along with restaurants and coffee shops. That also should draw more students to the area's two growing educational institutions – Griffin Technical College and the University of Georgia Griffin Campus.
The UGA branch – which got its start as an agricultural experiment station – is growing with a new Student Learning Center under construction.
Change In Coweta
On South Metro's western border, Coweta County also is seeing a population boom coupled with expanding retail and industry. Bulls-boro Drive, the main drag into Newnan, is lined with shopping and restaurants including Ashley Park, a 600,000-square-foot, open-air, up-market center developed by Stan Thomas.
Once rural and isolated, Coweta is growing rapidly and beginning to attract the affluent looking for high-end resort homes. Atlanta-based Cousins Real Estate Corp. is developing Blalock Lakes, a hunting- and equestrian-themed subdivision on almost 3,000 acres near Grantville. The gated development boasts 399 home sites coupled with a hunting preserve complete with a shooting clay course and equestrian center. Homes here will run in the $800,000 range, making an exclusive retreat for those seeking what developers call "a slower paced, pastoral lifestyle."
Newnan also is getting a new state of the art medical center to replace its aging facility.
"It's really a replacement facility to provide a hospital in Coweta County that can accommodate the technology needed today," says Michael Bass, president and CEO of Piedmont Newnan Hospital. "This facility can be focused toward the outpatient orientation that the healthcare delivery system has moved to in recent years and it will give us a much more energy efficient building."
The new 136-bed hospital is scheduled to open at the end of 2010. The facility incorporates the latest in sustainable design and development concepts and will be as energy efficient and environmentally-friendly as any facility of its kind, Higgs says. The structure is being specifically designed to meet the standards required to qualify for the LEED – Leadership in Energy and Environmental Design – designation.
At the other end of the county in Senoia, the owners of River-wood Studios have purchased much of the historic downtown and are busy refurbishing buildings for new tenants.
"The property was owned by three families and all of a sudden it came on the market and they bought it," says Candace LaForge, president of the Newnan-Coweta Chamber of Commerce.
"They are doing a complete redevelopment of downtown Senoia and having it reflect the characteristics of the 1920s to 1940s community.
Throughout South Metro, thoughts are on growth and renewal. While other regions might be facing limits, many here are seeing fewer roadblocks every day.
South Metro Atlanta At-A-Glance
Clayton County
Population: 271,240
Unemployment: 6.0 percent
Per Capita Income: $18,075
Major Industrial Employer: Fresh Express, 850
Coweta County
Population: 115,291
Unemployment: 4.6 percent
Per Capita Income: $21,949
Major Industrial Employer: Yamaha Motor
Manufacturing Corp., 1,600
Fayette County
Population: 106,671
Unemployment: 4.1 percent
Per Capita Income: $29,464
Major Industrial Employer: Panasonic, 1,200
Fulton County
Population: 960,009
Unemployment: 5.3 percent
Per Capita Income: $30,003
Major Industrial Employer: (South Fulton)
Delta Technology, Inc. 2,000
Henry County
Population: 178,033
Unemployment: 5.1 percent
Per Capita Income: $22,945
Major Industrial Employer: Snapper, Inc., 1,200
Spalding County
Population: 62,185
Unemployment: 6.6 percent
Per Capita Income: $16,791
Major Industrial Employer: Caterpillar, 780
Unemployment Figures for Jan. 2008; Georgia, 5.2 percent
Sources
U.S. Census Bureau, Local Development Authorities, Georgia Dept. of Labor