Fuel In The Pines
Can an abundant natural resource – the pine tree – put Georgia in the forefront of ethanol production? Bioenergy experts are predicting that the state will play a leading role in the research and production of biofuels in the 21st century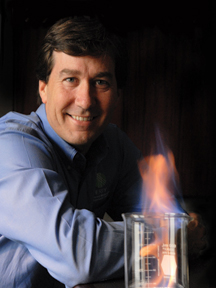 It was like a religious conversion for Jill Stuckey, or maybe the Big Bang, a tree falling in the woods hundreds of miles away, heard and felt.
About two years ago she was called to Gov. Sonny Perdue's office for a meeting. Georgia Forestry Commission Director Ken Stewart – now commissioner for the Georgia Department of Economic Development – was there. And there were some other guys she didn't recognize, representatives of a Colorado-based company called Range Fuels.
"I'll never forget that day. After we were finished, I knew that I'd just been to the most important meeting of my life," says Stuckey, director of alternative fuels for the Georgia Environmental Facilities Authority. "I knew that this was something that would change Georgia's future, change us forever."
In November, Range Fuels broke ground on the new age, beginning construction of the nation's first cellulosic ethanol plant at a site in rural Treutlen County, just outside of Soperton, the "Million Pine City."
Aided by a $76 million Department of Energy (DOE) commercialization grant and $6 million from the state, Range Fuels plans to produce 20 million gallons of fuel from pine trees when the first phase of construction is completed later this year, or early 2009.
"This is the first phase of an industry – cellulosic ethanol – that is going to be very important in Georgia's future, and that's because we have the feedstocks," Stuckey says.
That is, we have mass quantities of biomass, which is why bioenergy experts are predicting that Georgia will play a leading role in the research and production of biofuels in the 21st century.
The state's 24 million acres of commercial forest (second only to Oregon) are just the beginning. There is copious farmland to grow crops for fuel or food or both; tons of wood debris, paper pulp, grass; about a billion pounds of chicken fat and grease from the poultry processing industry (a key biodiesel feedstock), and at least one power plant producing electricity from chicken litter.
Susan Varlamoff, director of the Office of Environ-mental Sciences at the University of Georgia, has coined a now well-worn phrase, calling Georgia "the Saudi Arabia of biomass."
"We're heads and shoulders above almost everyone else," says Varlamoff, who represented UGA at the annual conference of the National Council for Science and the Environment in January. "There are a lot of ethanol plants cropping up in the Midwest, out in Iowa and Kansas, but they're making corn ethanol, and that's just an interim solution. It's not the future.
"At the conference, when I told them that we're using chicken litter to make electricity, and that we used chicken fat to heat the campus, they laughed at me. But they also think that Georgia is going to be the center for biofuels research, because we have so much biomass, a long growing season and inexpensive land."
Georgia also has pioneers in biofuels research and commerce, at UGA and Georgia Tech, and in south Georgia, where slumps in the pulp and paper industry (mainly due to overseas competition) could be offset by gains in biofuels.
Teamwork
Jerry Schnoor, engineer and co-director of the Center for Global and Regional Environmental Research at the University of Iowa, came to UGA in late January to talk about global warming, the causes and the consequences.
When he was through talking, the audience dispersed, bummed out after hearing the sobering truth: It's worse than we thought. We have to start mitigating yesterday, and bring carbon dioxide emissions down by 80 to 90 percent in order to spare our grandchildren some serious pain. He also said that biofuels are critical in reversing the effects of climate change, but they need to improve.
For one thing, the mad dash to increase corn ethanol production (in the wake of the U.S. Energy Independence and Security Act of 2007, which calls for producing 36 billion gallons of biofuel a year by 2022, a six-fold increase) is stressing the food market and water sources.
"He painted a really gloomy picture and people were walking away very depressed," says Joy Peterson, professor of microbiology at UGA. "I just wanted to jump up and shout, 'It doesn't have to be like this!'"
Instead, she went back to her lab to prove the point.
Peterson works in the trenches. She's like a safe cracker, seeking the most efficient ways to break into plant cells and extract the sweet riches inside, sugars that can be fermented into cellulosic ethanol. From pine trees, wood debris, grasses, sugar beets – cellulose is the most abundant organic compound in the world.
There are two methods of converting biomass to ethanol: thermochemical (gasification of biomass, then conversion to liquid fuel) and biological (using enzymes and organisms to break down cellulose, followed by the fermentation of simple sugars into ethanol).
"Both [processes] have their own intrinsic strengths and research or process challenges," says Art Raguaskas, a professor in Georgia Tech's School of Chemistry and Biochemistry, and a primary investigator in the DOE's $125 million Bioenergy Science Center at Oak Ridge National Laboratory in Tennessee. "The research investments by DOE are targeted to make both processes better and more efficient."
The center, one of three planned across the nation, will bring together select institutions, including UGA, the University of Tennessee, Dartmouth, the National Renewable Energy Laboratory and others.
Meanwhile, scientists from Georgia Tech and UGA have been collaborating on a commercial venture for the past several years. C2Biofuels, a three-year-old Georgia firm, will use the biological approach when it finally begins producing ethanol. The company is relying on the expertise of scientists such as Peterson, and Georgia Tech's Bill Bulpitt, senior research engineer for the school's Strategic Energy Institute.
"We're about to finish a 'process development unit,' which will enable us to continue our pre-treatment experiments, one of the most important steps in producing ethanol from pine," Bulpitt says. Pretreatment involves the actual opening up or breaking down of the biomass, through physical or chemical processes. Then Peterson is responsible for perfecting the enzymatic process of breaking down the cellulose.
In late January, the DOE passed up C2Biofuels for a $25 million demonstration facility grant in favor of four other plants.
"They expect to make more announcements later in the spring and we are hopeful," Bulpitt says. "But we need to amp up our lobbying efforts."
Fuel Economy
A confluence of economic, environmental and technological factors is driving the exponential interest in biofuels – but particularly economic. Longtime energy researchers such as Bulpitt and UGA's John Goodrum, former colleagues at Georgia Tech, remember when the oil crises of the 1970s inspired then-President Jimmy Carter to make energy conservation and alternative fuel development focal points of his administration.
"The price of oil came down and the federal government shut the faucet off," Goodrum says. "A lot of good work was done, but it never went past the research stage."
Carter lost his re-election bid, federal programs in alternative fuels dwindled and even the emphasis on energy conservation evaporated.
"Fuel, meaning oil, was extremely low priced and none of the biofuel technologies made sense then," Stuckey says. "Now, almost 30 years later, we're blowing the dust off of that research. With gas at $3 a gallon, these options start looking feasible."
A century ago it wasn't only feasible, it was preferable. Rudolf Diesel's engine was designed to run on peanut oil or vegetable oil, and ethanol was the fuel of choice for Henry Ford's Model T. But oil was cheaper and plentiful.
Today, fuel from wood is a reality. Making it financially practical has been the challenge. Now the soaring price of finite oil is solving that problem.
C2Biofuels founder and CEO Roger Reisert, who has a background in petroleum processing, made the move to biofuels in May 2005, when the price was right.
"Before that, the price of crude was too low for biomass to be a viable alternative," Reisert says. "When I became convinced that crude would stay above $40 a barrel for good, that was the trigger point. But I started thinking about this right after 9/11, and the energy security issue just jumped out at me."
C2Biofuels is considering several Georgia communities for its demonstration plant, which will produce about 3 million gallons of ethanol per year (with plans to scale up to about 25 million). Meanwhile, Range Fuels has landed in Georgia. But Reisert doesn't see the Colorado company as his competition.
"The competition is wholesale gas, not other ethanol producers," Reisert says. "Biofuels have to be used in combination with other solutions, including fuel efficient cars, plug-in hybrid cars, or just changing our driving habits.
"Biofuels are a wonderful partial solution, but they won't replace gas."
Not tomorrow, but perhaps eventually.
Biofuels are a key ingredient of what could become a sustainable "carbohydrate economy," in which biorefineries use all the components of biomass to make fuels, foods, chemicals, textiles, paper, building materials, electricity. Researchers at UGA and Georgia Tech are working toward development of a new generation of biorefineries that would fuel the carbohydrate economy.
"Industrial biorefineries have been identified as the most promising route to the creation of a new, domestic bio-based industry," Raguaskas says. "Our vision is that the biorefinery will complement or supplement today's petroleum refinery operations; and as the demands for finite petroleum reserves increase, biorefinery operations will also naturally increase."
UGA lays claim to Georgia's first biorefinery, the Biorefining and Carbon Cycling Center on White-hall Road in Athens, where they're working on "converting wood to value added products," says Tom Adams, retiring director of UGA's Engineering Outreach Service, who led the effort last year that produced a new biofuel from wood chips, that can be blended with biodiesel and petroleum diesel.
"We're cooperating with some Swedish companies to further develop this process. All indications are that it will be economical, competitive with petroleum or other fuels." says Adams, who also was heading the state university system's energy plan.
"Here on our campus, we've found that we can save money using biodiesel in our buses. They run better, pollute less and it's less expensive. And we're investigating alternative fuels to produce steam, to heat the campus and maybe make electricity."
Down in Plains a group of bioenergy researchers, in the ongoing effort to discover low-cost, high-yield fuel sources, gathered to harvest some polonia trees.
"These are extremely fast-growing trees, planted by an environmentally conscious ex-president of the United States," says Ross Harding, vice president of business development at the Herty Advanced Materials Development Center in Savannah, where the trees will be chipped; then the pieces will be sent to universities for study as a possible fuel feedstock.
The sooner the better for Bill Bulpitt, who wonders if the whole biomass industry will become overbuilt before it ever really takes off. Georgia Power has announced plans for a wood-burning electricity plant in Fort Gaines that Bulpitt says will "suck up about a million tons a year of wood.
"Anybody who wants to put an ethanol plant in proximity to that is going to run into supply issues with the obvious result that the price of wood will go up dramatically."
Demand for the state's wood supply is only increasing. In February, Rollcast Energy of Charlotte, NC, announced it was building a $150-million electricity plant in Heard County, where it plans to complete renewable energy from waste wood, and sell the output to Georgia Power.
Bio Portfolio
While researchers and investors race toward the cellulosic ethanol promised land, Georgia already has built a biofuel commercial and intellectual foundation.
At UGA, Peterson is chairing the Bioenergy Group, a pan-campus initiative bringing together about 80 members from different colleges and disciplines within the university, who are involved in bioenergy-related issues and research.
"We're trying to present a tight, cohesive front, and learning how we might work together, and to demonstrate the resources that exist here, and how it might be translated into something tangible," Peterson says. "As human beings on this planet, I think we're kind of behind the eight ball, and we have to bring everybody together who has any input in this area, and get them focused."
Across the state, biofuel companies – specifically, biodiesel companies – have been conducting business. U.S. Biofuels in Rome has been producing biodiesel from multiple feedstocks for the past several years at a plant capable of making 10 million gallons a year.
Several other biodiesel companies, such as Middle Georgia Biofuels in Dublin and Bulldog Biodiesel in Ellenwood, have entered the market, but business has been tough lately because the prices of the most prevalent feedstocks – soybeans and chicken fat – have nearly doubled in the last several years, increasing the cost of biodiesel at the pump.
That's sad news for UGA's Goodrum, a self-described "biodiesel person."
"I don't think anyone would refute that biodiesel is more energy efficient than ethanol. You get four times the energy out of it than you put into it," he says. "You get more miles out of every gallon of fuel, close to a 50 percent boost over gasoline."
A major disadvantage for biodiesel producers is the small number of passenger vehicles in the United States that are diesel – less than 3 percent (compared to more than 30 percent in Europe, where biodiesel use is high).
But Georgia also has a fledgling commercial ethanol base. U.S. Ethanol plans to recycle soft drinks and juices into ethanol at its plant near Arabi, where they hope to produce about 5 million gallons a year. Windgap Farms has been making ethanol from brewer's waste for the past few years. And this year, First United Ethanol is expected to open its $175 million plant, capable of producing 100 million gallons of ethanol from corn.
"For now, they're importing corn, but last year in Georgia we doubled our corn acreage," says GEFA's Stuckey. "But I think corn is a stepping stone. Hopefully, 10 or 15 years down the road we won't be using corn. We'll be using other feedstocks."
Like all those pine trees.
Until Range Fuels started digging in Treutlen County, cellulosic ethanol from pine trees was basically a lab experiment. They'll use a patented thermochemical process to squeeze ethanol out of pine trees, primarily paper industry rejects.
The goal is to eventually produce 100 million gallons of ethanol a year at the $225 million facility, which will employ 69 at first, possibly doubling that number as production increases. The $76 million federal grant is a leap of faith by the Department of Energy.
"There's a concern among many people, a question of whether or not the cellulosic ethanol industry is ready for commerciality," says Bill Shafer, Range Fuels' VP of business development. "There's testing and then there's testing. We've done a lot with a lot of different feedstocks, built our development center and we're doing more testing and technology development as we speak.
"Ultimately, the real test will be when we build that first commercial unit and have it in operation. I imagine it'll be a long time learning all there is to know about how to optimize this technology, but we're very encouraged."
For Range Fuels, landing in Soperton was a leap of logic.
"We're in the heart of the pine forest region, we're in the middle of it," says John Lee, executive director of the Treutlen County Development Authority, who grew up in Soperton. "It's no exaggeration to say that this is the biggest thing to ever come to our county. The first of its kind, anywhere."
And it is emblematic of Herty's new mission. Formerly the Herty Foundation, the Advanced Materials Development Center helped the pulp and paper industry for 70 years in the development of viable applications for Georgia's commercial forestlands. The center, with 150,000 square feet of labs, offices and pilot plant space, is located on 10 acres of land near the Garden City port in Savannah.
"We're a relatively new entrant to biofuels, but after 70 years of manipulating cellulosic fibers and running cellulose pilot plants, this is a natural transition," says Harding, who predicts Georgia will be able to produce 20 percent of its fuel needs – about 1.6 billion gallons of ethanol a year – from forest resources.
In January, the Herty center hosted a meeting of the Pine2 Energy Coalition, a collection of land and business owners, environmental and conservation organizations, invest-ors, researchers, government agencies and energy producers who are off-book in reciting the cellulosic energy mantra, particularly regarding Georgia's ubiquitous feedstock: Pine trees won't compete with food crops – like corn – for land; they don't require irrigation (a key point during a devastating drought); they have a positive energy balance.
And if this industry takes off, it could add more than $5 million to the state economy, much of it in rural Georgia.
The Range Fuels plant is seen as a significant leap toward energy independence and economic hope for South Georgia.
"We've waited a long time to do anything about our energy problems. Well, we can choose to ignore our energy problems if we want, but we can't escape the consequences," Harding says. "This is a sign that we're beyond research, that it's time for us to stop talking about it and actually do it."