The Arts Connection
What's good for Georgia's arts is good for the state's economy. Communities are using the arts to help spur economic development, and citizens have a growing menu of arts options.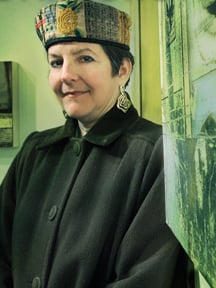 Recent times have been good for Georgia arts – and the arts in general. Both Atlanta's High Museum of Art and Savannah's Telfair Museum have completed massive expansions to broaden audiences and improve programming. A new Atlanta Symphony Hall is in the works, while in Athens, the Georgia Museum and the University of Georgia's Lamar Dodd School of Art are expanding into new facilities. Savannah College of Art and Design opened an Atlanta campus in 2005, and the new Cobb Energy Performing Arts Centre opened last year.
Georgians have an increasingly innovative menu of arts options available to them as cities and counties throughout the state are using the arts to build or rebuild downtowns, revitalize depressed areas and stimulate economic development.
That's because what's good for Georgia's arts community is good for Georgia. In Atlanta, arts organizations generated $274.8 million in revenue in 2005 – and that pool is split between nonprofits ($113.94 million) and events ($160.8 million). These numbers are from a revealing study by Americans for the Arts, a national advocacy group, that found the arts further generated $167 million in household income and $27 million in state and local revenue.
It also found that Atlanta could do better. Minneapolis, for instance, derives $328 million from its arts organizations, with 100,000 fewer people. Neighboring St. Paul draws $310 million, with 200,000 fewer residents. A realization among arts groups, arts supporters and citizens that the arts can gentrify and rebuild communities, while actually putting more money into the coffers, has mobilized coalitions to take on a thorny issue: how to create a perpetual arts fund for Metro Atlanta that people will trust.
Signs of Atlanta's flourishing cultural life abound; the city has benefited greatly from private and corporate donations. John and Susan Wieland helped build the massive new pavilion at the High Museum that bears their name. The Cobb Energy Centre includes a theatre named after developer John Williams, who donated $10 million to the facility. Additionally, Peachtree high-rise projects such as The Gallery plan ground level art spaces, as opposed to traditional retail, to boost the quality of life for condo residents.
Still, nonprofits – the lifeblood of the arts community – find stability not from sporadic private sources but from public funding; there has been a breakdown in how the city supports the arts. The city's Office of Cultural Affairs gives some $600,000 a year in grants, roughly matched by Metro Atlanta Arts Fund, a partnership of the Community Foundation for Greater Atlanta and the Metro Atlanta Chamber of Commerce. That's about half what Fort Worth, Texas, gives, but there's a deeper issue.
Thirty years ago, the city passed an ordinance that would reserve 1.5 percent of capital improvement projects for public art; but little has been forthcoming. Collection of those funds has been erratic, according to a 2006 Baseline Allocation for Public Art report. Many in the arts community feel shafted; tempers have flared and trust has eroded. But the cloud may be lifting.
Atlanta Mayor Shirley Franklin, a longtime arts advocate, wants a stronger funding source, not just for the city but the six-county metro area. She's been working with leaders such as Sam Olens, chair of both the Atlanta Regional Commission and Cobb County Commission. The resulting Arts and Culture Task Force, consisting of 15 representatives from the business and civic communities headed by Penelope McPhee, president of the Arthur M. Blank Family Foundation, has been charged with creating a Cultural Investment Fund. Franklin has said she wants to increase public-private funding for the arts tenfold to $10 million annually.
Franklin's initiative attracted Flora Maria Garcia to the city, and she now directs the Metro Atlanta Arts and Culture Coalition. Garcia replaces former director Bill Nigut, who established the Atlanta PlanIt website to streamline arts information for the public; she already has partnered with the Atlanta Convention and Visitors Bureau and Brand Atlanta to coordinate cultural information online.
"Overall, the amount being given to Atlanta's arts organizations is quite small," she says. "The need for an increase in funding to the arts is very significant. But public art money is very different and specific – the Atlanta 1.5 percent ordinance specifies that it can't be spent on programming."
In other words, Atlanta can use more public art; but its arts nonprofits need more funding as well. "When you consider that the arts generate $274.8 million for the local economy each year, $10 million doesn't seem like all that much," Garcia says of the mayor's goal.
In Missouri, Garcia helped create the $100 million Cultural Trust Fund using an entertainment tax, to be matched by private sources. "That was accomplished by working with five statewide partners, including historic preservation groups and public libraries," she says. "It's an unlikely partnership, but it made sense in Missouri. I'll be looking for partners like that here in the region. One of reasons I was attracted here is the incredible potential."
Garcia's experience in Houston and Fort Worth also includes joining funding mechanisms such as entertainment and hotel taxes to foundations created specifically for arts support.
This public-private approach has worked well for Cobb County's Cobb Energy Performing Arts Centre, which raised nearly 40 percent of its $145 million cost from a $57-million bond to be paid off using the county's share of its eight percent hotel/motel tax. The Atlanta Opera already has moved in.
The foundation element has ignited arts support in Columbus, which raised $140 million for the arts eight years ago through the Bradley Turner Foundation, and has since evolved its mostly private effort into a more regional Chattahoochee Valley Community Foundation. "It's thriving, helping many arts organizations," says Columbus Museum Director Tom Butler. "We're not that big a city to be insular, so we think in regional terms," he says. "Our wonderful patronage here makes arts possible for communities that might not otherwise have it. We see it as doing good business."
Revival And Outreach
Many communities are using specific arts-related projects to revitalize their downtowns. Columbus State University is moving its fine arts disciplines from the city's periphery to downtown, populating the area with students and giving it life. Butler says the move was inspired by the success of the Savannah College of Art and Design, which turned around portions of downtown Savannah.
SCAD students helped ease the process, and community outreach is critical to what has become an ongoing effort. The Indigo Sky Com-munity Gallery, a former icehouse on Waters Avenue, is an example of SCAD's gentrifying spirit drifting into other parts of town.
Similarly, Georgia State University has brightened up downtown Atlanta. The GSU Sculpture Department, led by the venerable George Beasley, has anchored the Sweet Auburn area, now gentrifying so much that the nearby Subway looks out of place.
Savannah's Telfair Museum, which last year opened the massive Jepson Arts Center, tripling the amount of exhibition space, hosts free concerts every month and offers a new gathering space downtown. "We want to make it a centerpiece of the city, a place for people to hang out and enjoy themselves," says Jepson Center Director Steven High.
In Atlanta, the High Museum of Art's new design emphasizes a large "piazza" or public square where pe-destrians can walk from the Arts Center MARTA Station to Peachtree Street.
When it comes to community outreach – and, often, innovation – nonprofits and academic entities exert tremendous influence. Non-profits' offerings are frequently more experimental than the commercial sector's.
As an example of how nonprofits offer a funky flip to larger museum and theater exhibits, consider Atlanta's Eyedrum, the gallery that brought Vincent Gallo's experimental band "RRIICCEE," and Art Papers, a nonprofit monthly publication with international readership that brought international sound/art star Christian Marclay to Atlanta's Woodruff Arts Center for ART PAPERS LIVE! Contemporary Art Lecture Series.
These offerings shared the 2007 media spotlight with an historic collaboration between The Louvre and the High Museum, which brought fine Impressionist and Renaissance works to America for the first time. For contrast, there was Cybil Shepherd's turn in the Alliance Theatre's Curvy Widow, which brought a touch of unintended camp to the venerable company.
The Atlanta Symphony Orchestra teamed with Indie-rock singer Joanna Newsom; and Spelman College Museum mounted an all-film exhibit that raised questions about "unfixed" art.
The message is not only that "fun" or "surprising" arts programming has a role in building an audience, just as old standbys such as Beethoven and Impressionism do; but there is room in Georgia communities for numerous different kinds of fine arts: academic and exotic, classic and modern.
"The more different type of arts available, the better," says Jepson's High. "SCAD brings more national and international artists, where ours are more local/regional, more 19th-century and contemporary."
Breaking Down Barriers
Nonprofits and academic institutions have added immeasurably to Georgia's cultural cachet and helped create an insider-outsider vibe – to borrow the art-world term explaining how works from "outside the academy," such as paintings by the late Howard Finster, have penetrated the dinner conversation of collectors and patrons.
Certain celebrity names associated with Atlanta (from Elton to Usher) are so ubiquitous it's easy to forget they live there. In local critical circles, however, artists such as Radcliffe Bailey (represented by Solomon Projects) and Kennesaw State University Professor Alex Kvares (represented by Marcia Wood and The Contemporary) carry more weight.
Perhaps the most promising arts development is the breaking down of discipline barriers, particularly between art and music, following international trends.
Mayor Franklin has said she hopes to engage the hip-hop community in the local arts scene, particularly the National Black Arts Festival, in which Andre Benjamin of Grammy-winning duo OutKast has reportedly expressed interest. Athens has already leveraged its musical reputation to enhance the visual arts.
"If you know a musician, they're probably also a visual artist, and if not they will know someone who is," says Chris Wyrick, who opened Mercury Art Works in Athens in 2001 with his wife, Sandi, to provide a venue for UGA's Lamar Dodd students and affiliates. "Our arts scene hasn't been recognized like our music scene, but there is a lot of overlap. Michael Stipe studied art here, and took classes from Jim Herbert, an extraordinary painter and filmmaker; and they continue to be friends. A lot of musicians who have succeeded maintain ties to Athens, support our gallery, and even show here."
Interest in the UGA art school has grown, owing to the quality of its faculty and visiting artists (colorful painters Nina Bassavo and Radcliffe Bailey have both been affiliated with the school). "Ten years ago, it was still very region-specific – a lot of work produced was more Southern in focus, and traditional," Wyrick says. "Now the school has brought more internationally recognized visiting artists and faculty, so it's one of the leading arts schools in the South."
Sandi Wyrick says that in spite of the Dodd connection, the difference between community and commercial galleries is significant, and the struggle to win an audience is as real in Athens as in Atlanta.
"You have to distinguish between the nonprofits and community-based programs," Sandi Wyrick says. "We are a commercial business, and would not have survived for six years without seeking markets outside town."
Warming Trends
"We expanded our market into Atlanta several years ago, hosting several exhibitions. Through those exhibits, we established ongoing relationships with collectors in Atlanta and outside the state, to help sustain us," Chris Wyrick says. Just as artists form collectives to enhance their reputations, so are regional efforts rewarded; and Metro Atlanta has plenty.
MAACC's Garcia notes that the cultural wealth is spread throughout the region, with 80 fine arts organizations in Cobb and 67 in Gwinnett. One of the area's most interestingly named music events, Freedumb Fest, takes place in Stone Mountain; the environmental benefit Echo Project brought dozens of national touring bands to the Bouckaert farm south of Atlanta.
Georgia artists show their works in Savannah, Dalton, Athens and Columbus as well as Atlanta. Those who move away – from Cat Power to Goodie Mob – often come back, whether buying a house or showing locally. Charles Nelson, an Atlanta painter who "tries to stay out of politics," is nonetheless critical of what he sees as the city's disregard for its successes. He hopes seeing how other cities are rewarded for arts support will motivate Atlanta leaders to step up public support.
"I've overheard so-called arts supporters say there are no great artists in Atlanta, when two Atlanta artists, Chris Verene and Kojo Griffin, were selected for New York's Whitney Museum 2000 Biennial," says Nelson. (A group show held every two years in cities around the world, the Whitney's Biennial showcases the cream of new American talent.)
"Leaders have to understand that having a good art scene is good for business," Nelson says. "In Miami, Art Basel Miami Beach [begun six years ago and named after the 40-year-old Art Basel in Switzerland], has literally changed the economy."
(According to the Americans for the Arts 2005 study, the economic impact of Miami's arts nearly doubled Atlanta's at $574 million, with 100,000 fewer residents.)
Like cooperative efforts to save water and improve transportation, the regional thrust to the arts efforts may galvanize public support, bridging a divide that has built up through years of public indifference. "It will take competition," says Nelson, a Houston native, citing efforts in Charlotte and Charleston that threaten to steal Atlanta's cultural thunder.
From the new High to the new Telfair, public support for the arts seems to be building, but in Atlanta especially, there is still a way to go. If MAACC can reach more Atlanta visitors through a collaborative website with the ACVB, what about its wary locals? "You need an intermediary to bring the audience to the arts," says Jerry Cullum, senior editor of Art Papers.
The 1.5 percent public art funding issue still rankles, says MAACC's Garcia. "The arts community is very frustrated with it, and the city needs public art to make a significant visual statement, or it will lose. I think it [the funding situation] can be resolved, and that the city has every intention of correcting its collection system." (Atlanta Percent for Art, an artists' collective mobilizing to modernize the program, indicates on its website it will seek "a mutually acceptable settlement" regarding lost funds.)
Until then, Atlanta could see a fractured arts community continue to build on and then lose individual talents such as Dad's Garage Theatre Company Founder and Director Sean Daniels, who moved to San Francisco in 2004 after his company helped gentrify an industrial area in the Inman Park neighborhood. Successes along the lines of Daniels, however, only hint at the power the Atlanta community is sitting on, if it can muster public support to help stabilize the existing private support system.
"For Atlanta to ever reach the level of recognition of Miami, there are a lot of structural things to overcome," Cullum says. "We need a whole lot more audience support. Leaders have not stepped up to the plate with money and imagination. But the task force is a hopeful thing, and there is a new adventurousness among commercial galleries. These are encouraging times at large."
Editor's Note: The entire Americans for the Arts study can be downloaded at www.bcaatlanta.com
Click on the following link for a sampling of the people, organizations, institutions
and venues that make up the state's arts community, compiled by Georgia Trend's editorial staff.