Macon/Bibb County: Changes Afoot
A new mayor ushers in a new era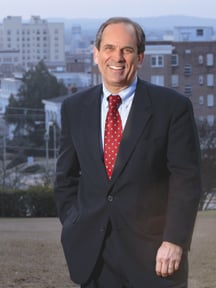 A few months ago, Macon City Councilman Richard Hutto spent a day driving around with a couple of Florida developers. The pair was looking at the area around the city's Centreplex convention center for a new housing development site. The visitors talked about building as many as 300 units – most of them in the affordable category – in a city that has long suffered from a shortage of affordable housing.
As this is one of Macon's poorest and most neglected areas, the attention was welcome and maybe a bit surprising. Why here and why now?
"They said, 'Well, we think Macon is really poised to jump and we want to be at the front of the line,'" recalls Hutto, who represents the district.
Increasingly, developers and invest-ors are seeing the Middle Georgia area including Macon and Bibb County as ripe with opportunity. The region has long had a reputation for attracting manufacturing and industrial plants, but now other sectors and areas such as the historic downtown are starting to heat up. Much of the optimism stems from a belief that obstacles standing in the way of progress have now been resolved.
The city elected a new mayor, Robert Reichert, last December and there are new faces on the city council. In past years, conflict between former mayor C. Jack Ellis and the council seemed to stymie projects. Often, the issue of race seemed to be simmering just below the surface. Some local leaders are hoping those days are past. Reichert, who is white, defeated a large field of candidates both black and white.
"So what I think it says is that we have shown here in Macon that racial politics just don't work anymore," Hutto says. "People care about your competence. They don't care about the color of your skin."
Locals hope the new leadership will be able to hang onto those good feelings as the city deals with thorny issues such as a shrinking tax base.
"I think we have a mayor that respects the role of council and a council that respects the role of mayor," says Greater Macon Chamber of Commerce President Chip Cherry.
Business Boom
Political harmony should make it easier to continue Macon's impressive industrial success story, which includes the recent grand opening ceremony for Nichiha USA's new plant. The cement panel manufacturer invested almost $100 million, becoming one of 39 companies that have located or expanded operations here.
In the last three years Bibb has seen more than $323 million in investments and 3,464 new jobs. New ventures include California Cereal Products, Inc., which purchased a facility once occupied by cookie maker Keebler, and is now rapidly expanding production. Sara Lee Food and Beverage built its own $23 million distribution center while adding 140 workers.
"These last two to three years have probably been our most active years for both new jobs and certainly for investment," says Pat Topping, senior vice president for economic development with the chamber.
Local officials say Macon gets attention for a variety of reasons. One important advantage for businesses is its central location along highways and rail lines, which allows goods and supplies to move from the Port of Savannah to Macon as well as up and down the East Coast.
"[The Nichiha] decision to locate here was based on proximity to I-75 so they can serve the Atlanta market and the Florida market with their product," Topping explains.
Middle Georgia's large and well-trained workforce, which includes more than 450,000 within a 40-mile radius, is another factor. Macon also boasts an extensive array of colleges and universities offering a wide variety of programs, from technical training to graduate degrees.
With the industrial sector humming, residential growth in North Bibb County is spurring an upsurge in retail. Even as population within the Macon city limits has declined, several affluent subdivisions have taken root along the I-75 corridor stretching into Monroe County. This surge was kicked off two years ago when Bass Pro Shops opened in North Bibb. Following it is the 750,000-square-foot Shoppes at River Crossing, a new open-air lifestyle center.
"A lot of this development that is happening up there has been on the drawing board for a while," Topping says. "Once Bass Pro announced their project, the excitement that generated has caused a lot of these projects to speed up their timeframe."
The Shoppes developer, which also built the Macon Mall in 1975, was attracted to a trade area that includes 350,000 to 390,000 people in a 30-mile radius, Topping says.
Mixed-use developments and other big box stores are on the drawing board for this suddenly hot location.
Adding On
As unincorporated Bibb has grown more affluent, Macon officials have tried to bring more of this area into the city as a means of expanding the tax base. In years past these efforts were met with indifference – few saw any advantages to paying city taxes. Mayor Reichert has made annexation a top priority of his administration as he seeks to bring tax revenues and the city budget into alignment.
"Longer term we hope to get a handle on finances by increasing the revenue to the city by revitalizing neighborhoods, attracting residents back into the city and looking at the possibility of annexing additional territory into the city," Reichert says. "To be perfectly honest the rate of growth in the tax base for the city of Macon has fallen behind the rate of inflation. That's a recipe for disaster."
The new mayor believes he can make a convincing case for annexation of the 26-square-mile area he proposed in February, even though most unincorporated areas receive water and sewer service from a local authority. Without that carrot, few residents – or their elected representatives – have been willing to consider joining the city.
"We have short-changed ourselves by doing it that way and it has some direct impact on the viability of the financial position of the city because there are people that are having similar level of benefits but are not physically located within the city," Cherry says.
With a new set of city leaders, Cherry believes that "people are actually talking about it and talking about the pros and cons of it. In the past all you heard was 'No, that's not going to happen.'"
No one is sure yet whether an annexation measure will pass if presented to the legislature or the public, but for the first time in many years it seems to be gaining support.
Another contentious issue that seems to have found resolution is construction of a new downtown convention hotel. After leaders spent several years tussling over the location and financing of a Marriott hotel to serve the Centreplex convention center, a new hotel is now under way.
As one of his final acts in office, outgoing mayor Ellis signed off on $10.89 million in revenue bonds to get the project started. The city closed a deal with Noble Investment Group, which will pay for the rest of the $32 million project. As part of the agreement, the developer will also manage the convention center.
Finally getting the hotel produced a sigh of relief from local convention officials, who have a hard time selling Macon as a destination with no nearby lodging.
"We've seen more than $33 million lost annually because we didn't have a hotel adjacent to the convention center," says Janice Marshall, president and CEO of the Macon-Bibb County Convention and Visitors Bureau.
That figure represents spending by large convention groups that bypass Macon in favor of other cities. Once the new hotel is open, officials believe they will recapture a great deal of that lost business.
"When we knew this was coming down the chain, we did a follow-up with some of those folks and asked what do you think of this and would you consider bringing your groups here to Macon," says Ruth Sykes, vice president for media relations and marketing with the CVB. "The result was a resounding yes."
The convention hotel could be the missing element in what locals say is a very attractive tourism location. Just across the river from the Centreplex is a resurgent downtown area that includes the Georgia Music Hall of Fame and a host of other attractions.
Downtown Renewal
Most visitors stop off at the CVB's new home in a former bus depot. The agency spent more than $3 million to acquire and renovate the abandoned building into a state-of-the-art facility now recognized as one of the best in Georgia.
"We really knew that if Macon was going to have the type of visitors center that our tourism product really deserved we couldn't just be another place with brochure racks and someone behind a counter asking, 'May I help you?'" Sykes says.
The result is a long, open space with displays that chronicle the Macon area from pre-history up to the present day. The focus is on the city's best known attributes, including its famed music scene – it was home to Otis Redding, Little Richard and the Allman Brothers – and Southern culture and architecture.
The center ties into popular community events such as the Music Hall of Fame's yearlong tribute to Redding. Another piece of musical history will open late next year with the renovation of "The Big House," home of the Allman Brothers Band Museum."
This rambling Tudor style home on Vineville Avenue was home to Duane, Greg and other band members, and many songs were composed there. The museum will offer band memorabilia from original music on CDs to T-shirts.
"People from all over the world came there," says Museum Director Greg Potter, himself a longtime fan of the band. "We had a couple of girls from Croatia that came and worked for several years there. It's really a neat thing. We call it a family reunion, where everybody is brothers and sisters."
The city found itself in the spotlight recently when TV personality Oprah Winfrey descended on Ma-con to film two segments of her popular talk show. A number of local establishments, and even the homes of fans, ended up on the show – creating national, if fleeting, fame.
After Oprah ate hot dogs at local landmark Nu-Way Wieners, co-owner Jim Cacavias was busy fielding calls from viewers.
"I've gotten calls from California to Alabama," says Cacavias, who's been shipping boxes filled with frozen wieners around the country.
The overall message is that downtown Macon is becoming a place where people want to live again. More than 250 loft apartments have been built in recent years. Their success has encouraged other developers to start converting some of the city's expansive stock of historic buildings into apartments and space for small businesses.
In response to rising downtown activity, NewTown Macon, the city's downtown development agency, has launched a campaign to add better lighting and improve the numerous alleyways that connect city streets.
The group has helped attract 19 new businesses to the area while creating 120 new jobs in the past year. Among its initiatives for the next five years are attracting 60 new businesses, restoring 20 historic façades, drawing 1,000 new downtown residents, and securing $50 million in private investment in downtown businesses. It also wants to extend the Ocmulgee Heritage Trail that follows the river through downtown another 15 miles.
"Our board uses the term 'tipping point' in the sense that you work and work and you don't see any progress and then things start coming together a year or maybe two years ago," says Mike Ford, president of NewTown Macon.
Other projects include a new Class A office development in the recently renovated Icehouse. It follows Gateway Plaza, which opened two years ago to become the first large office building built in the area in more than three decades.
While the city's downtown has certainly become livelier, many streets still sport empty storefronts and decaying façades. Gateway Pla-za has one floor left to lease, reflecting the lingering shallowness of the market.
Yet the activity has encouraged other investors to buy up properties. Plans are circulating for other blocks to be renovated in much the same way as the Poplar Street area where local Gene Dunwody, Jr., has launched something of a renaissance.
While these projects are meeting with success, pouring money into downtown was something of a risky proposition.
"It took an investor who had a long view of the market to take that chance," says NewTown Macon's Ford. "I think when the first person took the chance, that encouraged the investors in the Icehouse to do their renovation; and both of those are working. So it makes me think that potentially there's room for another investor."
With all the new activity it doesn't seem quite so farfetched. Last year Georgia College and State University moved into downtown, occupying three floors in the Thomas Jefferson Building, a former department store.
The arrangement has proven advantageous for both the Milledge-ville-based school and downtown Macon. Evening graduate degree programs enrolled almost 600 students last fall and officials expect that number to rise to 1,000 this year. Before the new center opened, Macon's program had fallen to less than 200 students.
Not only does downtown benefit via the reuse of yet another old building, the effort also puts more people on the streets during the evening hours.
"It's very much like a partnership with the university and with the revitalization of the downtown area," says Dr. Doris Christopher, director of the Macon Center.
That partnership is helping make Macon and Bibb County a success on every level from the city to the suburbs.
Macon/Bibb County At-A-Glance
Population (2006)
Bibb County, 154,903;
Macon, 93,665
Median Household Income (2006)
$36,459
Unemployment (Dec. 2007)
Bibb County, 5.2 percent; Georgia, 4.6 percent
Largest Employers
The Medical Center of Central Georgia, 4,700; GEICO, 3,300; Bibb County Board of Education, 3,300; City of
Macon, 1,711; Mercer University, 1,338; Coliseum Health Systems, 1,300; Wal-Mart Super Stores, 1,045
Sources
Greater Macon Chamber of Commerce, Georgia Dept. of Labor,
U.S. Census Bureau