An Ounce Of Prevention
More and more Georgia companies are investing in wellness, focusing on employee fitness, weight control, smoking cessation and disease prevention. Their efforts are paying handsome dividends.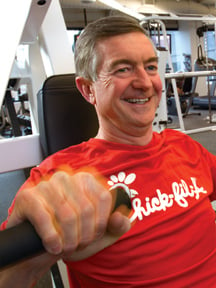 When Chick-fil-A's Bureon Ledbetter, Jr. visited Dallas' renowned Cooper Clinic for an executive physical in 2002, he returned to Atlanta with more than a clean bill of health. He also brought ideas and enthusiasm that would eventually lead to a complete revamping of Chick-fil-A's employee wellness efforts.
At the time, those efforts consisted largely of a 1,500-square-foot fitness facility for use by corporate staff members and their families, as well as store operators in the Atlanta area. But since Dan Cathy – an avid runner and health enthusiast – had become president the year before, the fast food chain was "in a mode to kick it up a notch," says Ledbetter, Chick-fil-A's senior vice president for real estate, and general counsel. "But actually because of Cooper we ended up kicking it up a couple of notches," he says.
Today the company's headquarters boasts a 12,000-square-foot wellness center managed by Cooper Ventures, a division of Cooper Aerobics, which provides health club management and develops health, fitness and preventive medicine programs for corporations, hospitals, residential communities, government agencies and private facilities. The center features state-of-the-art fitness equipment; a plethora of fitness classes, from Pilates to kick boxing to hip hop; and personal training, all free of charge to employees and operators and their families.
The fitness center is just part of a comprehensive health and wellness program offered to Chick-fil-A employees. "Our theme is being fit to lead," Ledbetter says. "To be a leader, to be able to do your job, you have to be fit physically, mentally and emotionally."
While few companies anywhere have programs on the grand scale of Atlanta-based Chick-fil-A, the fast food chain is just one of a growing number of businesses in Georgia and throughout the United States recognizing the value of healthy employees and taking first steps – or ramping up existing efforts – to promote employee health. These companies recognize not only the importance of providing health insurance for employees in the event they get sick, but also for doing all they can to ensure workers stay healthy.
A 2005 survey of 365 of the nation's leading companies by Deloitte Center for Health Solutions and the ERISA Industry Committee (ERIC) found that 62 percent of companies said they implemented wellness programs to improve employee health, and another 33 percent said they were considering such efforts. An admittedly quick and informal investigation of Georgia companies, from small family businesses to Fortune 500 firms, shows the majority offer some type of wellness benefits.
Wellness Leaders
Understandably, some leaders in this area are companies whose business it is to care for others, such as hospitals and health insurers, including WellPoint, the parent company of Blue Cross and Blue Shield of Georgia as well as 13 others Blues organizations across the United States.
WellPoint has a six-pronged approach to employee health, says Beena Thomas, director of employee wellness. Other businesses may not have offerings in all of these six areas, but most provide something for employees in one or more of these categories.
Exercise and physical fitness: Like Chick-fil-A, many Georgia businesses offer onsite gyms and fitness facilities. Businesses without their own facilities often provide free or subsidized memberships to participating gyms – and with good reason. According to a 2005 survey of 84 large employers by the National Business Group of Health, more than half of firms offering onsite fitness facilities or subsidized gym memberships reported increased morale, 27 percent reported healthcare cost savings and approximately 20 percent saw higher productivity and fewer absences.
Many more businesses have walking groups or encourage employees to take part in fitness events such as 5K road races or walks for charity. For the past two years, Chick-fil-A has gone the extra mile by helping interested employees train for and run marathons. "Last year we took about 200 people to Orlando for a marathon," Ledbetter says. "This year we took 150 people to hike Pike's Peak."
The company currently is considering other fitness trips, such as hiking the Appalachian Trail or the Grand Canyon. "Marathons aren't for everyone," Ledbetter says, "but there is something related to wellness for everyone, and we are trying to help people find the thing that's right for them."
Smoking cessation: According to a 2005 report from the Centers for Disease Control and Preven-tion, smoking cost the nation some $92 billion in the form of lost productivity between 1997 and 2001. Although a few businesses nationwide have made headlines for firing, fining or refusing to hire smokers, Georgia companies are more concerned with helping employees who smoke quit, WellPoint's Thomas says. Many offer counseling and free nicotine patches; some provide incentives to those who are successful.
This year, for example, Verizon Wireless is offering up to a $660 credit on 2008 benefits for nonsmokers, says Jeff Mango, president of the firm's Georgia-Ala-bama Region, which is headquartered in Alpharetta. "We have really taken an aggressive approach to help people stop smoking."
At WellPoint, a tobacco-free workplace policy has resulted in a 52-percent quit or cut-back rate, Thomas says.
Weight management programs: Obesity-related illness drains the Georgia economy of $2.1 billion annually in medical costs, reduced productivity and lost wages, according to a Georgia Division of Public Health report titled Overweight and Obesity in Georgia 2005. Increasingly, Geor-gia businesses are not only recognizing the problem of obesity, but are addressing it.
Many workplaces, including hospitals, schools, nonprofit org-anizations and corporations, have onsite Weight Watchers programs. Some, including Chick-fil-A, subsidize a portion of Weight Watchers dues for employees who join. Others, including Verizon, offer incentives for those who are successful. "When employees who sign up reach 10 percent of their goal, they get a 100 percent reimbursement," Mango says.
Diet and nutrition: Whether they offer fruit and bottled water in vending machines or free consultations with a dietitian, a growing number of businesses are helping employees eat healthfully. Earlier this year WellPoint made changes to all of its onsite cafeterias, including the Blue Cross and Blue Shield Georgia cafeteria to offer more healthful options.
Preventive care and screening: Georgia businesses of all sizes offer employees health screenings, often conducted by local hospitals, most of which already perform screenings for their own employees. In most cases, these consist of cholesterol and blood pressure and glucose screening, says Andrea Cole, community outreach coordinator for Piedmont Hospital's Fuqua Heart Center of Atlanta, which has conducted screenings at BellSouth (now AT&T), the Atlanta Business Chronicle, Georgia Power and several law firms in the past year.
The tests require no more than a finger stick and two minutes for a technician to read, but they can alert the employee to potential problems that may require medical attention, thus preventing them from becoming more serious, Cole says.
Sandra Hobbs, director of network partnerships and outreach at the Medical College of Georgia in Augusta, is fairly regularly asked to conduct health screenings for businesses both large and small. "Very often [the screenings] are done to kick off employee wellness programs," she says. "Employers like to have that baseline information when they begin programs, and employees need that baseline information."
Hobbs' department commonly performs such tests as blood pressure, height, weight, body fat, finger stick glucose, finger stick cholesterol and, for women, bone density screening, she says.
In addition to serving businesses in the Augusta area, Hobbs is sometimes called on to help affiliate hospitals provide screenings for businesses in rural Georgia. "Often they may not have the resources to go in, so I will send my team in on their behalf. It just allows them to be able to offer more services. They may not have the staff or they may not have some of the equipment, but as their partner we can help with some of that."
Well-being: One of the biggest advances in recent years has been in what WellPoint refers to as the well-being component. "Well-being en-compasses stress and depression management and work-life balance, which are important issues in the workplace," Thomas says.
"We see it every day in my department," says Talei Akahoshi, director of employee health for Piedmont Healthcare, which offers comprehensive employee wellness programs promoting mental and emotional as well as physical health. "People are coming in and they are stressed, they are overworked and they need support."
Many companies offer that support through employee assistance programs, like that of the Pastoral Institute in Columbus (see story, page 52), which provides employee counseling and educational programs for more than 150 Georgia companies, including giants like Synovus, Aflac and W.C. Bradley.
Others are addressing the well-being component by offering workplace flexibility, which new research shows promotes healthy lifestyle habits. In a study published in the Dec. 11, 2007 issue of the Journal of Occupational and Environmental Medicine, researchers found that people who believe they have flexibility in their work lives have healthier lifestyles.
The study – which focused on frequency of physical activity, engagement in stress management programs, participation in health education activities, healthful sleep habits and self-appraised overall lifestyle – reinforces the idea that workplace flexibility is important to workplace health and suggests that flexibility programs situated within a broader organizational commitment to employee health may be useful for promoting positive lifestyle habits.
Why Wellness?
Wellness programs have become popular in recent years, largely as a way to manage spiraling healthcare costs. Indeed, the Deloitte survey found that among those companies with wellness programs, 64 percent said rising costs were "a major factor in our decision," and another 34 percent said high costs played "some role."
"Companies are finding that physical fitness is good business, and because of that they are looking into ways to promote the health of their employees," says Amy George of Cooper Aerobics in Dallas. Cooper Ventures, a division of Cooper Aerobics, manages fitness facilities for Georgia Power as well as for Chick-fil-A. "When you have healthy employees, you will have less turnover, you will be able to recruit better employees in the industry and your employees will be more productive."
WellPoint's Beena Thomas says numerous studies have shown the benefits of wellness programs to employees and their employers, citing improved worker health, re-duced benefit expense and enhanced productivity and morale.
As for any cost-saving benefit of Chick-fil-A's wellness program, Ledbetter says it is too soon and hard to measure. "We have a large young population, so our biggest health cost is the one associated with having babies, and being fit isn't going to solve that."
Yet, intuitively it makes sense that promoting health and fitness would benefit the company and its healthcare costs down the road, he says. And in the meantime, employer and employee are reaping other benefits, which extend beyond work hours.
"The one thing you do get from people when they are active and fit is that they feel better," Ledbetter says. "They are more productive and more engaged at work and at home. They have the same energy for their spouse and kids when they get home at seven o'clock as they did for their job at ten. It's one of those things that it's hard to put a dollar sign on. We do it because it's the right thing to do."
Caring For Body And Mind
Employee assistance programs (EAPs) have become a popular benefit in recent years among businesses concerned with their employees' emotional and physical health, says Mark Strunk, a licensed family and marriage counselor and director of the business resource center at Columbus' Pastoral Institute, which provides EAPs to more than 150 Georgia businesses.
Formed in 1974, the Pastoral Institute is a nonprofit, faith-based, nondenominational counseling, con-sultation and educational center that serves individuals, families and communities.
Its business resource center – which offers leadership development, management training, organizational development, executive and professional coaching, human resources consultation and trauma response – began offering EAPs in 1979. But the EAP concept goes back much further, Strunk says.
"The story goes that EAPs date back to the days of Henry Ford when factories had ministers go out on the plant floor to smell workers' breath and check their eyes for signs of alcohol use," Strunk says.
Today EAPs still work with people who have substance abuse issues. But the programs have grown to encompass any type of problem that might affect a person's well-being and, ultimately, job performance. As Strunk notes, "80 percent of problems people have at work have nothing to do with work."
He recalls a factory worker who came to see him after she had injured herself on the job. "She had run the same machine with a symbiotic relationship for 13 years," he recalls. "When I asked her what had caused her injury, she said, 'I was thinking about that sorry husband of mine.' They had had a fight that morning and she just wasn't paying attention."
Whether the problem is conflict in the employee's marriage, coping with a defiant child or caring for aging parents, it can manifest itself at work, either through poor attendance or inattentiveness, Strunk says. "It's to the employer's advantage to intervene."
Employees of the institute's EAP subscribers can see counselors at one of three counseling centers in Columbus, LaGrange and Lanett, Ala. The center contracts with private counselors for employees who live outside these areas.
Not all the counseling takes place in a counselor's office. The institute also offers trauma response teams that travel to help employees deal with the death of a coworker, a kidnapping, a shooting, a workplace accident or other crisis.
"I think I have been to more bank robberies than Jesse James," jokes Strunk, who says he travels to the site of bank robberies on an average of every other week to help victims talk through the experience in a structured way and help them take care of themselves.