Georgia's Power Women
Meet six women you should know – a general, a CEO, a storyteller, a lawyer, a journalist and a college president. They're making history, making plans, making a difference.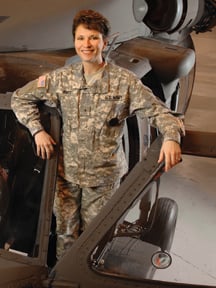 A few years before she became governor of Texas, Ann Richards gave the keynote address at the 1988 Democratic National Convention in Atlanta. She began by wryly noting the historic scarcity of women at the podium.
"But if you give us a chance, we can perform," Richards said. "After all, Ginger Rogers did everything that Fred Astaire did. She just did it backwards and in high heels."
Forget that she was paraphrasing an old cartoon strip; the line, which seems to have been made for the colorful Richards (who died in 2006), sagaciously captures the notion that women must perform better than men to reach the same levels of power and prestige.
Sometimes, though, even being the best isn't enough, as Brigadier General Maria Britt, commander of the Georgia Army National Guard, learned during Army exercises at Fort Hood, Texas, in 1984, about a year after her graduation from West Point.
"My company commander was asked to send his best platoon officer to lead a division in a river crossing, a night operation. So he sent me," says Britt, a lieutenant at the time. The requesting officer wasn't expecting a woman. He sent her back.
"At the time it caused me to wonder how there could still be people who, because I was a female, could not or would not see that I could possibly be the best leader out there," Britt says.
"I still bump up against that attitude occasionally. But it's gotten a whole lot better. As women, we still have to break through barriers and prove ourselves as leaders to gain respect. I've done that one person at a time, and I've learned to recognize when I'm being patronized and when I'm being respected."
Britt and the other women profiled here do not have Rogers' ballroom chops. But they all have persevered, and now occupy the prominent places, positions of authority and influence that make them Georgia power women.
The General
In November Maria Britt became the first female general in the 273-year history of the Georgia Guard, an unexpected outcome for the Italian girl who once thought she'd like to be a nun.
"I admired the nuns at the Catholic school I went to. They were part of something bigger than themselves, they served others," Britt says. "That forged a desire in me to do something with my life that was bigger than myself."
Her father suggested the military, so Britt set her sights on the U.S. Military Academy, about 150 miles south of her hometown, Gloversville, NY. Britt was in the fourth class of women to be admitted at West Point.
While a cadet, she and her roommate became the first women to attend the Army's jungle warfare school in Panama, where Britt and a male counterpart were injured. His mishap was all but forgotten and forgiven. However, a few months after the incident, a picture of the stitched-up Britt was found hanging in the jungle schoolhouse with the caption, "This is what happens when women come here."
"There were some people who hoped I'd flunk out and not make it," Britt, 46, says now. They didn't count on her resolve.
"My goal always has been to do the best I could in whatever position I was assigned," says Britt, who picked military police as her specialty and has climbed steadily through the ranks ever since. "I wasn't thinking about becoming a general, just wanted to take care of my soldiers. So many people worry about their next job or how they're going to get promoted. For me, it's all fallen into place."
She met her husband, Col. Timothy Britt, during police training and they were married while on assignment at Fort Hood. They live in Conyers and have three daughters.
Britt, the former Georgia Guard chief of staff, hasn't served in a combat zone, but now has 10,500 men and women under her command.
"Today the Guard has been asked to step up more and more. It is no longer a reserve, but an operational force; and we have to be prepared for a full spectrum of challenges. My job is to make sure we're ready for whatever the mission is, whether it's defense here at home, working natural or manmade disasters, or fighting the war on terror."
The CEO
When success comes at you as fast as it did to Kanchana Raman, objectives become moving targets.
"My goals 12 years ago are not my goals today. The market changes on you, and so do your aspirations," says Raman, president and CEO of Avion Systems, the global technology firm based in Atlanta that she started in 1996 as an intrepid 20-something.
The tech boom was in high gear and she jumped right in.
"There were two factors for me. First was the market itself. It was the advent of telecom in a big way, and I saw a huge need for the skill sets I have to offer," she says. "Second, I always wanted to do something on my own. This was my opportunity."
Today, Avion is a 650-person company that services the telecom, datacom and technology industries and has turned a profit every year while developing a reputation for its ability to adapt to changing market forces.
"Change is the only constant in our industry," says Raman, whose father, a Harvard-educated management professor, always has stressed lifelong education. So Raman has embraced change and growth, focusing her continuing education on executive management with programs at Dartmouth, Georgia State and Tuck Business School.
Raman, who grew up in India, sits on the board of the Georgia Women's Business Council, which honored her with a "Shining Star" award in 2004. In 2006 she received the Entrepreneurial Woman of the Year award at the national Women of Color Technology Awards Conference, and last year she received the "Business Star" award from the Women Business Enterprise National Council.
From day one Raman has had a global perspective. Avion was working with clients in 14 countries within its first 18 months, and has built a worldwide client list that includes AT&T, Motorola, Nortel, Sprint Nextel, Nokia and UPS.
"It's nothing we had planned, that kind of growth. But how can you ignore globalization?" Raman says. "It's like an iceberg coming at you."
The Storyteller
The ghosts and characters that haunt and inhabit Tina McElroy Ansa's novels are the mythical manifestations of her destiny. She was born to tell tales.
"I grew up listening to my family's stories at a time when storytelling still held its own in the South. I am one of those Southern girls who always knew she'd be a storyteller," says Ansa, 58, the best-selling author of five novels.
Ansa's just-released novel, Taking After Mudear, a sequel to her hit Ugly Ways, marks the beginning of a new chapter for the St. Simon's resident – it's the first book published by DownSouth Press, the publishing company she launched last year. Her goal is to create a new opportunity for new and established voices in African-American literature, but the choice to lead off with her novel is a business decision.
"I always knew that I could be a good publisher," Ansa says. "I'd been getting phone calls from colleagues, people with a body of work, saying they couldn't get books published anymore. The market was soft for literary or even mainstream African-American fiction. This feels like the right time to step forward."
Ansa hopes to publish about 12 books a year through DownSouth Press, and to keep helping emerging writers through her Sea Island Writers Retreats, which she started in 2004 on Sapelo Island. Since then she's taken the retreats on the road to Atlanta, where authors, screenwriters and editors convene at Spelman College (Ansa's alma mater) to lead workshops and lectures. She plans to extend the "on the road" series to New York, Chicago, Washington, DC, and eventually the West Coast.
Meanwhile, she and husband, Joneé Ansa, a filmmaker, have been trying to turn her first novel, Baby of the Family, into a movie. Like all of her novels, one of the starring characters in Baby of the Family is the fictional town of Mulberry, based on her hometown Macon. Mulberry evolved naturally out of her experience, a fated, created byproduct of life in a Southern town.
"When you look at a body of work, you might think everything is planned out," she says. "But your body of work is like your life – some things you can plan, some things you can't."
The Lawyer
B.J. Bernstein may be the ultimate power broker. But it wasn't the attorney's overwhelming influence that earned her an improbable victory in the case of Genarlow Wilson – she says she doesn't have overwhelming influence.
It was her power of persuasion, righteous power, her public relations skills and the way she won over the press, won over the hearts and minds of the public and of the Georgia Supreme Court. It was her power of argument and her power to prevail when almost every circumstance seemed to indicate that her young client was powerless.
"Joyfully insane," is how Bernstein, 44, founder of the Bernstein Firm, describes public reaction to the Court's release of Wilson, who had served more than two years for having consensual oral sex with a 15-year-old girl when he was 17. "The crush of phone calls and emails from well wishers and people who wanted to talk to him, it was absolutely insane."
Bernstein spent about two years on the pro bono case and became an international celebrity. Disappointment followed setback, and vice versa. She set out to change the law that had Wilson serving a mandatory 10-year sentence, but her best lobbying efforts could not sway the legislature. Ultimately, the Georgia Supreme Court judged Wilson's predicament as "cruel and unusual punishment" last October, several months after Bernstein made her case.
The experience inspired Bernstein to launch My5th, a nonprofit devoted to informing youth about the law.
"If we are going to impose adult sanctions on young people, we really should start educating them. We're not offering opinions about what's right or wrong with a law, but we are telling them what the laws are, and how they apply," says Bernstein, who toyed with the idea of becoming a judge and was twice a finalist for a Fulton County Superior Court judgeship.
"In hindsight, it's a good thing that I didn't become a judge. Obviously I had some more arguing to do."
The Journalist
Alexis Scott grew up in her family's newspaper business – the Atlanta Daily World, the country's oldest successful black newspaper. But she never had any intention of working in it, even though journalism was in her blood.
So she left, worked in the Atlanta office of Newsweek for a while, at The Atlanta Journal-Constitution for 18 years, spent another four at the paper's parent company, Cox Enterprises, as corporate director of diversity. But her father always knew she'd return, even if she didn't.
"One of the great stories I heard when I first came here, and this was after my father had died, was the one about people asking why I was working for the AJC instead of the World," says Scott, who joined the family business as publisher and CEO in 1997. "My father would look at them and smile and say, 'Oh, she's in training.' And we had never even discussed it. But it turns out he was right. I could not have mapped out a better gameplan."
The World has been a strong voice for Atlanta's black community for 80 years, since Scott's grandfather William A. Scott II founded the paper. After he was shot down under mysterious circumstances, his brother Cornelius Adolphus Scott led the company for more than 60 years.
The paper's original mission was to "inform, inspire, educate and entertain." The paper has a circulation of 10,000 today, is published once a week and the mission prevails, Scott says. But where her predecessors tended toward Republican notions (rooted in an era when Democrats were often segregationists), she tends to go the other way.
"My dad would say he was an independent who usually voted Republican, and I say I'm an independent who usually votes Democrat," says Scott, who takes her role as keeper of the family legacy very seriously and believes the World and the ethnic press will overcome and survive the media trend toward homogenization.
"As the country becomes more multicultural and as the world gets smaller, with the internet and other technology, ethnic and community papers are taking on a more significant role," Scott says. "I think we're seeing the pendulum swing now, and we're part of a new renaissance for the black press."
The College President
Every year for 112 years, Wesleyan College students have produced an event called STUNT, a talent competition among the four classes. Families, faculty and the community are invited to watch students lose their inhibitions on stage.
For some longtime STUNT watchers, there never has been a performance to compare with the one Ruth Knox gave when she was a sophomore in the 1970s.
"I was one of 12 dancing undertakers in a spoof poking fun at the excesses of the funeral home industry. A professor who recently retired told me he'd seen something like 35 years of STUNTs and that one was the best he ever saw," says Knox, who became Wesleyan's president in January 2003, the first alumna in the 172-year history of the world's oldest women's college to serve in that post.
Knox never actually fantasized about being in a chorus line of morticians in top hats, but that STUNT experience was the sort of thing she'd always dreamed of. It's a genetic thing. Her mother graduated from Wesleyan. So did her aunts, her sister.
"I'd pull out my mother's yearbooks and dream of what it would be like. It seemed so glamorous," Knox says. "I always expected I'd do what my mother did – become a teacher then have a family."
But she also had lawyers in the family – her father, brother, cousins. That route seemed natural, too. So she earned a law degree from UGA and specialized in real estate law and estate planning for 24 years in Atlanta, but always was closely involved with her alma mater, serving on a variety of boards. She was chairman of the board of trustees from 1994 until being appointed acting president in 2002.
Knox has brought a wide-angled vision for Wesleyan, located just north of Macon. The college has established five centers of academic excellence (community engagement and service, women in science and technology, educational renewal, creative and performing arts, women and political justice), designed to strengthen existing programs for students and promote professional development for faculty within and outside Wesleyan while extending the school's reach into the community.
The liberal arts college's undergraduate enrollment is about 610, but Knox wants to increase that to 850 eventually. Meanwhile, the historic campus already is growing with the addition of Wesleyan's first new academic building in 40 years, the $12.5 million Munroe Science Center.
Knox says Wesleyan's role in preparing the next generation of women leaders is as vital as ever in an increasingly coed universe.
"Women who go to a women's college typically are more career oriented, and are more engaged early on in their communities. That hasn't changed. It's important that women have a place where they can, from the outset, say exactly what they think. Our students tend to take more risks, push themselves to new limits, try new things. That's what it's all about."