A New Direction For Georgia's DOT
Gena Abraham, a 39-year-old civil engineer with a PhD, is the first woman to head the Department of Transportation, traditionally a boys' club. She and her staff face a statewide transportation infrastructure crisis, a massive backlogged roads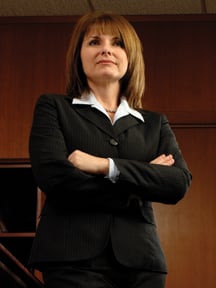 Gena Abraham wasn't like the other little girls. Growing up in a house filled with her older sisters' dolls, she was more likely to sit on the floor playing project manager, building make-believe homes and cities, shaping her vocational infrastructure.
"Dolls never interested me. I wanted to build things with my Legos, Lincoln Logs and Tinker Toys. That was me, that's what I loved doing. I've been building stuff all my life," says Abraham, the first woman to be named commissioner of the Georgia Department of Transportation (GDOT).
Abraham, a 39-year-old civil engineer with a PhD from Georgia Tech, has spent most of her life building things, figuring out how they work, how to change them or make them better and how to pay for them.
"I feel strong about change. It means progress. If you're doing something the same way you've done it for 30 years, I'm not sure you've made progress," says Abraham, who brings a Type A feminine face to a traditionally good-old boy fraternity. "I always ask 'why?' Four days from now, four years from now, we should still be asking 'why?'"
Before joining GDOT, Abraham was state property officer, in charge of the Georgia Building Authority, Georgia State Financing and Investment Commission and State Properties Commission. She reshaped the department, saved the state millions of dollars through the sale of surplus property and lease consolidation and created a database of all state facilities, land and leases.
Her experience and hardnosed reorganization skills will be rigorously tested at the helm of GDOT, a $2.1 billion, 5,700-employee government agency on the knife's edge of a statewide transportation infrastructure crisis, with a massive backlogged roads program and a deep funding deficit.
"Some significant policy decisions will have to be made. Some of it will be tough, and may not be popular," Abraham says. "I understand these are people who have been here 30 years, who know 10 times more than I do about GDOT and have tons of institutional knowledge, and my ears are open.
"But I can guarantee there is going to be change and we're going to get better – there are lots of opportunities for improvement."
Abraham spent November shadowing outgoing commissioner Harold Linnenkohl, peppering DOT staff with questions and waiting for answers. Specifically, she tried to get her mind around the department's construction program.
"I wanted to know exactly how many projects we had on the books and I didn't get a definitive answer," Abraham says. "The first number I got back was 1,100. Then it was 1,300, then 2,216. Now the answer seems to be 5,430. Last year we let 260 projects, and we still have 20 years of projects on our books.
"What kind of program can we truly deliver to the state? I don't think 5,430 projects is a program we can deliver."
That was in December, as Abraham was getting warm in her new office. At the time, Georgia was facing a $51 billion funding shortfall through 2035 for road, highway and bridge repairs and improvements, according to a report released by The Road Information Program (TRIP), a nonprofit research organization supported by road builders.
Previously, GDOT announced a $7.7 billion shortfall over the next six years, meaning 510 projects were unfunded and moved to the "long range" category (i.e., the crowded backburner). GDOT also announced it was short by $444.7 million in fiscal year 2007 for maintenance, safety and improvements.
"One of the things that made me want to change my mind about this job is the funding shortfall," says Abraham, who admits she hounded GDOT's top staffers, such as Deputy Commissioner Buddy Gratton and treasurer Earl Mahfuz, when she wasn't tailing Linnenkohl. "I've been trying to understand how the money comes together to fund projects, and the question I have is, what does the funding shortfall really look like?"
Abraham has two top priorities: developing a statewide transportation strategy and improving efficiency in project delivery.
According to the findings in an audit last year of GDOT (commissioned by Lt. Gov. Casey Cagle and House Speaker Glenn Richardson) Georgia takes 22 months longer on average than other states to complete projects. And with the costs of materials, energy and right-of-way soaring, the list of unfunded projects on the backburner will grow.
"In order to really understand the funding deficit, we have to get a grip on our plan and understand all of the projects – some of which date back to the 1980s and 1990s," Abraham says. "How many projects are there, really? Which ones will alleviate traffic congestion? We've got to do some serious [work] on prioritization."
Roads Scholar
Steve Williams is a roadgeek. Williams is, in fact, the Georgia Roadgeek – his website, www.georgiaroadgeek.com, says so. It features videos of stretches of highway and traffic jams, podcasts featuring Williams and other roadgeeks, photos of road signs.
"It goes back to my childhood, when we'd be in the family car, traveling down to Florida or to Myrtle Beach. My father always considered me the navigator," says Williams, a database administrator for a state agency – not the DOT, although the department should probably consider hiring Williams as a professional advocate.
"We're extremely blessed, because our roads are immaculate," says Williams, a Cumming resident with intimate knowledge of Georgia roads, their nuances, routes and histories. He's driven nearly every inch of the 1,244 miles of interstate in Georgia, and thousands of miles of state and county highways in his spare time, just because he wants to. This from a guy who spends about 12 hours a week in Atlanta rush hour traffic.
In 2006, when the national interstate system celebrated its 50th anniversary, it was like a year-long celebration for Williams, who gleefully points out that a Georgian, U.S. Army Gen. Lucius Clay, played a starring role in President Dwight Eisenhower's initial interstate plan.
The Clay Committee documented funding needs and proposed the interstate system be paid for with bonds. That proposal was defeated, but Eisenhower came back with a tax-based financing plan in which the federal government covered 90 percent of construction costs. Those funds, fueled by a gas tax, would be funneled through state highway departments, which did the actual work of building the highways. That was the National Interstate and Defense Highways Act of 1956.
"We haven't had a coherent national policy since Congress decided to build the interstate highway system," says Harry West, who led the Atlanta Regional Commission (the metro area's designated transportation planning agency) for 27 years before retiring in 2000.
"Now, there's no direction from the federal government. No overall plan, no overall policy or vision for where the country needs to go, no policy on inter-city rail, no policy on high speed rail, no real support for transit in metro areas.
"We keep putting 80 percent [of the federal gas tax] into highways, and all of the growth in this country is metro areas, where it's difficult if not impossible to build more highways," says West, professor of practice in Georgia Tech's Center for Quality Growth and Regional Development.
"When that kind of lack of public policy filters down to each state, it's no wonder we're having difficulty dealing with our transportation issues."
Not everyone in transportation planning agrees wholeheartedly with the multi-modal philosophy espoused by West and other urban planners. Public transit, for example, is not a key ingredient in "the whole enchilada," the $50 billion comprehensive highway plan proposed by members of the GDOT board, who think the long-term mega-project could be paid for with private investment, and paid back with tolls. Imagine new HOV toll lanes, truck-only lanes, expansion of Metro Atlanta freeways, a Midtown tunnel.
"There's a reason why DOT has been called the department of roads and bridges for so long," says Abraham, adding another cliché that road builders hate: "We can't build ourselves out of congestion.
"We have to look seriously at different modes of transportation and identify different types of funding sources and truly become a department of transportation."
This year the legislature is considering at least two different one-cent sales taxes to be dedicated for transportation. Also, as indicated in the DOT board's mega proposal, public-private partnerships are a foregone conclusion, especially when the primary transportation infrastructure funding source – the fuel tax – remains stagnant while automobile fuel efficiency gets better.
In December, Abraham wasn't ready to weigh in on the $50 billion idea.
"I've got to eat the elephant one bite at a time," she says. "Let's do a health check first. I'm not sure our organizational structure is set up to support these new public-private initiatives yet."
Pounding Pavement
Georgia is stitched together by 116,000 miles of public roads. In addition to all that pavement, GDOT is charged with the care and upkeep of more than 400 airports and almost 5,000 miles of rail.
Maintenance is a top priority, one that's becoming more difficult to afford as Georgia's transportation takes an increased beating – the state's population increased 45 percent from 1990 to 2006, soaring past 9.3 million, with another 9 million expected over the next several decades. That's a lot of trucks and cars pounding the pavement.
"There are so many transportation needs in this fast growing state. The money in the funding cycle is not enough to address those needs," Linnenkohl said in an interview last summer, before he announced his retirement. "The DOT certainly is not out of money. But the money can't keep up, so you start making choices. Do you build more roads? Do you add more lanes? Do you take care of your existing roads? It's a matter of choices and a question of, where do you put your money, and how do you keep up?"
Linnenkohl began his career with the State Highway Department in 1968, before Abraham was born. Gov. Jimmy Carter renamed it as the Department of Transportation in 1972. GDOT's mission is to provide for an overall transportation system, which includes planning and financial support for mass transit and air travel. But the emphasis always has been heavy on highways.
"When I became commissioner the sign on the building still said, 'Highway Department,'" says Wayne Shackelford, who was GDOT commissioner from Nov. 1991 until May 2000.
Shackelford changed the sign and a few other things. Under his leadership, GDOT stepped up the use of outside consultants and design teams. He presided over GDOT's first design-build project, the widening of I-95 south of Savannah; the increased use of the design-build model, in which the contractor is responsible for both designing and building the project, was touted in the GDOT audit as one way to streamline projects for timely completion.
Shackelford supervised the department's busy agenda in the run-up to the 1996 Summer Olympics, when orange traffic barrels seemed to outnumber cars on Atlanta's highways, began the HOV lane program and opened a new Transportation Management Center (TMC) – located today in the Wayne Shackelford Building.
The TMC was built to house NaviGAtor, a 24/7 intelligent transportation system (ITS) that integrates a variety of communication technologies with human know-how to monitor freeways, respond to incidents and provide traveler information. The system has become an international model since launching in April 1996.
The Highway Emergency Response Operator (HERO) program and 511 (the real-time phone service that replaced *DOT last year) live in the NaviGAtor galaxy, where the top priority is the same as it is everywhere else in Georgia's current transportation universe: reducing traffic congestion.
"We are considered one of the premier ITS departments in the country," says TMC Manager Anthony Bradford. "Going forward, the challenges are going to be funding, to keep up with the growth. But the other challenge, I think, is to get people out of their cars. Over the last five years the demands on our transportation system have far exceeded our capacity. We have to encourage the public to consider telecommuting, or carpooling, or using MARTA. That's the challenge."
But for the people who are addicted to their cars (65 percent of Atlanta commuters drive to work alone), the TMC's services are saving time and money. It's one of the things Abraham seems least worried about.
"The HERO units especially have been extremely successful," she says. "The only problem is we need more money and units and higher pay for those folks. They take a chance every day they step into their vehicles. It's a life-threatening job and we need to do something about their compensation [about $25,000 a year]."
HERO crews respond to a variety of traffic incidents (most of them stalled vehicles, a number that spikes dramatically whenever gas hits $3 a gallon). They are trained first-responders who have managed more than 450,000 incidents since the program was launched in 1996.
Changing The Guard
As soon as Linnenkohl announced his retirement last September, Georgia's power brokers went to work. Gov. Sonny Perdue's choice for commissioner was Abraham. House Republican leaders, joined by a host of House Democrats, engineered a vigorous lobbying campaign on behalf of their choice, State Rep. Vance Smith, a Republican from Pine Mountain who, oddly enough, used to be Perdue's floor leader.
In October a fiercely divided transportation board elected Abraham, seven votes to six.
Some board members have indicated they were pressured to the point of having their seats threatened, and rumors persisted within the board that Abraham would be replaced once her supporters failed to get reappointed and their terms expired.
"People were passionate about their candidates or issues," says Robert Brown, transportation board member from the 4th Congressional District. He voted for Abraham, which didn't sit well with members of his delegation who felt that Smith was more open to looking at mass transit than Abraham.
"All of the members in my delegation were very sincere," Brown says. "They gave a strong indication of what their preferences were. I do think it's important to note that the day after the election, the board came back and voted unanimously for Gena as the new commissioner. I think that solidified the board's perspective."
Both Abraham and Smith, who chairs the House Transportation Committee, come from a construction background. He is president of Vance Smith Construction Company, the earth-moving firm his father started in 1951. Before becoming state property officer in 2006, Abraham was construction director for the Georgia State Financing and Investment Commission, chief engineer for the Georgia Building Authority, a civil engineering instructor at Georgia Tech and construction project manager in the private sector.
"She's a very capable person, and I'll work with her to try and tackle our transportation issues," Smith says. "But we'll have to give the new commissioner some time to get her arms around those issues. DOT is a large department."
As DOT commissioner, Abraham holds one of state government's most influential offices. Her experience as a construction project manager and reputation as a reorganizer in government is what appealed to Mike Evans, the transportation board chairman who cast the deciding vote last October.
"It's not the people at DOT, it's the process, and the process is broken," Evans says. "She is a process-driven project manager. She'll dig deep and make DOT as efficient as it can be."
Abraham has made the welcome wagon relationship tour, meeting with other transportation agencies, like MARTA and GRTA and the Transit Planning Board. She tried to build bridges and mend fences in the wake of the contentious election, meeting with House leadership, with Richardson and Smith.
"I'm reaching out to the transportation community, to understand where they stand, understand their policy questions and concerns," Abraham says. "I've told them that I would keep coming back, because I've always got questions."
The big question, says veteran planner Harry West, is how well Abraham can handle a pressure-packed geo-political balancing act.
"How does she solve the transportation problems of the Metro Atlanta region and keep the rest of the state off her back? That's not an easy proposition," West says. "If the metro area's problems are not solved, the entire state suffers. So how do you balance that when most of your board and the influential people in the general assembly are saying, 'Where's my piece?'"
Abraham loves tough questions, but her greatest challenge might be overcoming her own impatience.
"I know you can't become an expert overnight," she says. "But I'm the type of person who wants to know it all, and right now. I can't stand not knowing."