Where The Jobs Are 2008
Modest economic growth and a wave of retirements will create employment opportunities this year. Financial services and healthcare are growing, and job-seekers with technical skills are in great demand.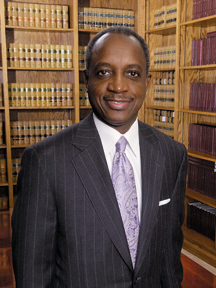 Georgia Commissioner of Labor Michael Thurmond, sitting in the conference room of his Atlanta office discussing the job market for 2008, zeroes in on a key development. "The first baby boomer [has] qualified for Social Security," he says.
Thurmond is referring to an announcement that the Social Security Administration, in late 2007, identified a woman as the nation's first boomer to be eligible for retirement benefits in 2008. "Eighty million of us are in that boomer category," Thurmond says, including himself in the group of individuals born between 1945 and 1964.
The flood of retirements that begin this year will dramatically affect Georgia's job market, say Thurmond and other job analysts. "We are seeing an inordinate number of highly skilled people leaving the workforce," Thurmond says. "We are concerned about where the people will come from to fill the positions being vacated by that retiring generation."
Even though economic forecasts for 2008 are cautious, Thurmond and others on the frontlines of Georgia's job market say this could be a year of growth, with bright prospects for job-seekers who have the technology education and skills required by today's employers.
In fact, technology is looking like a real growth area. Many tech job-seekers can all but walk from their graduation ceremonies directly into "premium" jobs, those that pay $45,000 a year or more. Even the most cautious forecasters see Georgia gaining some 13,000 of these coveted technical positions, a projected increase of nearly 50 percent over 2007.
Overall, the greatest demand for employees will come from restaurants, school boards, hospitals, financial services businesses and other industries with a strong technological component. From bartenders to X-ray technicians, the jobs are there, analysts say.
In education services, for instance, Georgia will need to fill 19,190 positions, 7,250 of them created by departing employees, many of whom are retiring, according to data from the Georgia Department of Labor (DOL). The DOL workforce trend trackers estimate that 108,000 job openings will be created in 2008 by Georgia workers who retire, die, switch careers or otherwise leave their present employers.
Significantly affected will be the white-collar classes of employees, says Georgia DOL workforce analyst John Lawrence.
"In the white collar area, the better paying jobs are going to be those for the higher skilled workers that require more education, training and experience," says Lawrence, deputy director of DOL's Workforce Information and Analysis department. Such employees are short in numbers and high in demand, an equation that equals higher pay.
"You're talking about accounting, finance and sales," Lawrence says. "Business will need better trained managers who think strategically."
Experts such as Lawrence cite Atlanta's role as a financial center and its Hartsfield-Jackson International Airport, as well as easy access across the state to the ports of Savannah and Brunswick, as assets that position the state for growing global trade and the jobs to sustain it.
All white-collar jobs are going to require familiarity with current technology, Lawrence says. "Technology is the commodity of the new economy and that is changing the way we do business," he says.
According to the DOL, Georgia employers will need 6,000 middle- and upper-level managers in 2008. But the corporate stars of 2008 may be found in a narrow niche among the estimated 1,040 jobs opening up for accountants and auditors.
Some of the better-paid numbers-crunchers may owe their jobs to an act of Congress, if they fit the bill. "One of the things we're seeing universally is a large need for finance and accounting people," says Allen Tansil, managing partner for Handler and Associates, a 30-year-old Atlanta-based executive search firm retained by corporations. "With Sarbanes-Oxley compliance issues, these are very, very hot jobs."
Sarbanes-Oxley, or SOX as it is known in corporate America, refers to the 2002 measure passed by Congress in the wake of the Enron and other corporate scandals centered on accounting misdeeds that marked the end of the 1990s.
"Sarbanes-Oxley says you cannot use your same [internal] audit company to do your compliance," Tansil says. SOX is so new, he adds, that finding accountants with SOX experience is difficult, though the financial rewards for possessing such knowledge can be quite high.
"What's happened is a lot of smaller accounting firms are growing like weeds because they're coming in and providing this compliance audit work that [company] auditors cannot do." In addition, corporations are also looking for directors of compliance, a job description tailor-made for an accountant. Tansil's firm specializes in finding executives in the six-figure and up salary range.
Healthy Prospects
In healthcare, the age factor is depleting the state's nursing corps just at the point nurses will be most in demand, says Ron Jackson, interim commissioner of the Georgia Department of Technical and Adult Education (DTAE), whose 85 main and satellite campuses placed 26,000 students into the workforce in 2006.
"The nursing workforce is aging and that's a challenge for us at a time when our population is aging and going to need healthcare," Jackson says. As a result, nursing and other healthcare professionals can just about write their own ticket in Georgia's 2008 job market.
"One hundred percent of our graduates found employment last year," says Teresa Teasley, director of nursing for Albany's Darton College. "Our new graduates are making $40,000 to $60,000 in annual salary and they are all offered many job opportunities."
Nursing graduates also have a voice in work schedules, with many opting for four- and even three-day workweeks, Teasley says. The growing number of retiring nurses has prompted Darton to open nursing programs on four satellite campuses across South Georgia and offer nursing students core curriculum courses online. At the same time, the Georgia DOL is working with the Georgia Nurses Association in the administration of federal grants to be used in underwriting portions of nursing students' education costs.
Experts say the state's logistics and distribution businesses and industries are thriving, though the 2007 housing slump could dampen growth in 2008. Still, there remains a demand for workers at every step in the movement of goods. "Logistics and transportation are huge areas for jobs," says the DTAE's Jackson. "The distribution centers you find in Georgia are important geographically. And that's because they tend to locate in the rural areas that need jobs."
"Atlanta is home to the largest logistics companies in the world," says Brett Stevens, president of Kennesaw-based Search Logix Group, a firm that matches job candidates with companies that need them, primarily in manufacturing and logistics. "We have Home Depot here and they have a massive logistics department. We have the UPS supply chain here, which is probably the largest in the world. Ryder [truck leasing] is headquartered in Miami, but they have a huge facility here as well."
Logix Group specializes in finding middle managers for logistics and manufacturing, Stevens says, "usually in the $80,000 to $100,000 [annual salary] range."
Stevens is seeing downstate de-mands for his manufacturing candidates. "Sure, Atlanta and the surrounding area are hot markets right now," he says. "But I'm also seeing a lot of companies hiring people, like, in Tifton, Valdosta and Macon, where some of our offshoot companies have an office for manufacturing plants."
Still, he says, Atlanta is the draw for his management level clients. "They call Atlanta the executive graveyard," Stevens says. "Someone comes here, works for a couple of years and then their company wants them to move and they're like, 'I'm not moving.' Atlanta is just a great place to run a business; it's affordable; it's climate-friendly; it's predominantly nonunion; there is a high quality of living; and the people here are just nicer."
Hiring Hotspot
The most dramatic regional de-mand for new employees in 2008 will be along the 43-mile I-185 corridor linking Fort Benning to a new auto manufacturer in Troup County.
"The hotspot for 2008 will be West Georgia between Columbus and LaGrange," Thurmond says. "With the decision [by the Pen-tagon] to expand the mission of Fort Benning and the new Kia plant that could begin hiring in '08, I can't think of a geographic location with more [job] opportunities than that one. The positive economic ferment is unprecedented."
One reason for the Kia auto manufacturer's presence in Georgia is the job training programs the state can offer. "If you go out there to Kia, and you look at the training center the state has built for Kia and that we will be training in, there will be all the robots and things that will be putting the cars together on the floor of that training center; and we're going to train these people on that equipment," says the DTAE's Jackson. "It's great serendipity when you have a major auto manufacturing company that locates in your state and you can deliver for them a workforce of 3,000 people within a 12-month period."
More quietly for the West Georgia region, vendors to and suppliers for Kia are already announcing their own plant construction plans, generating even more jobs there. But manufacturing jobs require specific skills and education in a state with an abysmal dropout rate.
"It's not just the 2,500 to 3,000 employees that Kia will hire initially, but it's the thousands of people to be hired by Kia and their suppliers there for the next half century," Thurmond says. "We are working to build a workforce that, frankly, is not there today. The workforce of tomorrow is sitting somewhere in a classroom today."
If the manufacturing workforce is to be ready for the growing jobs in West Georgia and around the state, new and more specific skills will be required. "They are going to be highly technically skilled individuals who keep the robots working," Jackson says.
"You can go from factory to factory in Georgia [visiting companies] that are competing in the global marketplace and you will find that they are highly mechanized and highly computerized."
The technical skill requirements for automobile manufacturing jobs are equally in demand in aviation, a sector that will exhibit a growing hunger for new employees in 2008. "We're creating and expanding our programs in the aviation area in Augusta, Savannah, Rome and Americus," Jackson says. "We've got 2,100 students enrolled in those aviation programs across the state. And every one of them has a job waiting for them."
The DTAE recently transferred its Georgia Aviation Technical College over to Middle Georgia College in Cochran to marry the tech college with a four-year institution, making it one of just a few in the nation to have such a campus. "Every graduate that we have at the Aviation College at Middle Georgia College is grabbed up the day they walk out with their diploma or certificate," Jackson says. "There is an industry-wide demand across Georgia. Atlanta, with Hartsfield-Jackson Airport, middle Georgia with Warner Robins Air Force Base, and Gulfstream over on the coast tend to be the hubs for aerospace jobs." Aircraft mechanics and service technicians have an average salary of $28 an hour.
Despite the rosy take on the 2008 job prospects, Labor Commissioner Michael Thurmond was still worried about two events that were spilling over from 2007 into the new year. "What is sitting on my mind right now," he says, "is the housing recession, as well as the drought, and how those two events – one man-made, one God made – will impact the Georgia economy and employment prospects for the year 2008."