Small Business Spotlight: Men In Trees
Arborguard's Spence Rosenfeld says the world doesn't need another tree-cutting company. Saving trees is his passion.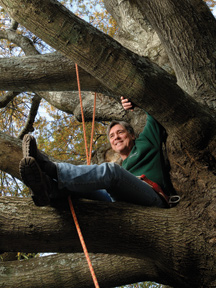 Click on the following link for extra information
http://home.earthlink.net/~oldagolda/georgiatrendextra/
It all began with a single tree, a black cherry tree that became Spence Rosenfeld's giving tree. One that gave him great joy as a boy, a refuge and way-cool hangout in high school and, ultimately, his life's work and calling.
"Trees give us so much," Rosenfeld says. "I try to give them something in return."
He is sitting in his suburban Atlanta office, in Avondale Estates, at Arborguard Tree Specialists, the company he founded in 1981 after borrowing $10,000 and buying a new wood chipper to go with one old truck. Today, Rosenfeld presides over a company that's widely regarded as Atlanta's leading tree care specialist; he had $5.5 million in revenues last year and has a reputation throughout the Southeast for providing the best in arboricultural services.
All from a single tree: Rosenfeld was 9 when the family moved from suburban Chicago to Pennsylvania. His father, Richard, had taken a job in Philadelphia and bought 2.5 acres on former farmland near Valley Forge. The main attraction for young Spence? "One huge black cherry tree," he says, smiling. "We started to climb it."
They hung a tire swing from one sturdy limb, and planted dozens and dozens more trees. When Rosenfeld turned 15, his dad helped him build a secure floor up in the black cherry, then let his son and his pals finish the four walls and roof of the treehouse.
It was there, out in the countryside, playing in the woods, "I just got infected with nature and the outdoors," Rosenfeld says. His passion, and Arborguard's focus, now is urban forestry. After earning a masters degree in urban forestry, tree pathology and entomology from Duke's School of Forestry in 1977, Rosenfeld worked in Durham and Kansas City before arriving in Atlanta in 1981. His business has thrived ever since.
His more than 50 employees, he says, aren't simply guys with chainsaws. "I didn't want to be another tree-cutting company," Rosenfeld says. "The world doesn't need another tree-cutting company."
Arborguard provides traditional tree services to residential, commercial, construction, golf course and government clients. Those services include tree care and preservation, removal, plant healthcare services (soil therapy, diagnosis and treatment), and consulting and maintenance planning.
But as both a businessman and arborist, Rosenfeld is very interested in educating clients and preserving trees – especially Atlanta's countless, priceless giant trees.
"That's really been my passion – saving trees," he says. "The trees – really big trees – are the one thing you can't replace. Urban trees really need our help."
The stresses on city oaks and elms are severe, and only getting worse. Mighty oaks weren't intended to grow between the sidewalk and the curb. Atlanta's continuing construction boom only adds to the problem. So does global warming. And now, there are the debilitating effects of Georgia's worst drought on record.
"I'm very concerned about it," Rosenfeld says. And not just about the lack of rainfall for the trees themselves. "We have to mix it with water, and I'm concerned the [water] restrictions may prevent us from getting the water and it won't protect the trees."
"It" is Arborguard's Drought Survival Prescription, a custom blend that sounds more exotic than anything you could order at Starbucks: black sea kelp, humates, yucca, soil fungi, hormones, amino acids and micronutrients. Mix with water and inject into the soil, where the absorption roots are.
And, perhaps, pray for rain.
Preserving trees, Rosenfeld says, "is not just a problem for the business, but for the whole community."
Good Timing
When Rosenfeld arrived in Atlanta, he found his timing was perfect. "There was a lot of expansion happening, into well-treed areas," he says. "There were no city arborists or tree ordinances back then."
He found work, advising developers how to incorporate existing, mature trees into their projects. Then he found himself involved with Post Properties. "With their garden apartments," he says, "they understood the importance of trees, how they provide a quality of life for people."
Rosenfeld and Arborguard did 28 projects with Post Properties. Business took off. Even before Arborguard opened branches in Charlotte and Augusta, Rosenfeld found he could be selective about whom he worked for, and with.
"If you don't love trees, I'm not your guy," he says. "I've walked away from jobs when someone wanted to mutilate a tree.
"A lot of what I do is education," says Rosenfeld. "There's forestry, and there's arbor culture. Forestry is Georgia-Pacific. Arbor culture is, you take care of trees on an individual basis, almost like a medical doctor."
His client list grew lengthy: Piedmont Center, Emory University and Agnes Scott College when it remodeled its campus. "I inventoried all the trees and gave them a health plan," Rosenfeld says. "They understood about trees on a campus. There's a sense of serenity and beauty and safety that comes from being in an environment of trees."
More clients: Cousins Properties, Olympic Games projects, the city of Decatur and the United Parcel Service of America, Inc. When UPS built its northside headquarters in 1993 in a wooded ravine, Rosenfeld identified some 270 types of trees on site. UPS threatened to fine contractors $15,000 for any tree that was damaged or destroyed; Rosenfeld recalls only two such fines during the early construction phase.
Arborguard works with individual homeowners and is now planting trees with the city of Sandy Springs. Some years ago, the company planted 100 in the city of Avondale Estates.
Once Rosenfeld paid Georgia Power $10,000 to move the power line across the street from his office so the 70-year-old willow oak outside his window will no longer be harmed by crews trimming the tree to protect the old power line. "This will become a landmark tree," he says. "It needs to be protected and preserved. I'm proud of that."
The Urban Forest
Driving with Rosenfeld from his office to Atlanta's Piedmont Park is an arborial education. He can make a tree diagnosis while going 30 miles an hour.
"See this tree?" he says, pointing. "It's declining. That one? Declining." Another point. "This one? It's dying."
He points out a red oak he saved. At a neighborhood recreation center, he sighs. "All those trees are dead. Dutch elm disease. It's been around for a long time, but I've never seen it this bad."
His mood improves as Rosenfeld passes Piedmont Park. He's one of the founders and a past president of Park Pride; in 1999, he helped the park's conservancy put together a healthcare plan that saved many of the imperiled big trees.
He's consulting on the Atlanta Botanical Garden's new skywalk: a suspended pedestrian bridge some 40-45 feet high that will wend its way through the forest canopy of tall trees on the garden's grounds.
"This will be the longest canopy walk in the United States," Ben Bradley, the Atlanta Botanical Garden's chief operating officer, says of the project, which will also include a tunnel and a cascading waterfall. "Spence has been part of this for a year, from the earliest stage."
"My job is to keep these trees alive while they bring in cranes, concrete and steel, and make sure everything survives," says Rosenfeld, who estimates that about 30 percent of Arborguard's revenue comes from consulting and plant healthcare. For the skywalk, small-diameter "micropiles" set deep in the ground will reduce the impact on tree roots.
"This," Rosenfeld predicts, "will be an icon for the city."
Back at Arborguard headquarters, there is training in progress. Every employee receives 160 hours of training per year; it may cover tree health, with an arborist, or customer service. On this particular afternoon, it's aerial rescue practice.
Working in three-man crews, workers try to simulate a co-worker hurt while up in a tree – in this case, a towering 60-year-old pecan. One crew member "calls" 911 while a second goes up to "rescue" the third. All in five minutes.
"This is absolutely one of the most dangerous industries," says Jim Bruner, a tree care manager. "There's chainsaws. Taking dead limbs down. Anything can happen. But this is like second nature to these guys."
Bruner moved here from Wisconsin about a year and a half ago to work for Arborguard.
"I heard about it from a guy I'd worked with," he says. "It's just a great company, takes care of their guys, and they're on the leading edge in technique and safety. I was blown away by the commitment, the level of training and safety.
"These guys are career guys," Bruner says. "I've worked with a lot of guys where it's just a job, just for money. It's cool to work with a bunch of like-minded guys: arborists. That's what Arborguard's about."
It's also about the company's seven "Eco-Friendly Arbor Cars," the leased fleet of Toyota Prius hybrids that get 60 miles per gallon of fuel.
And it is, of course, about the trees. "Playing in trees," Bruner says. "It's enjoyable. Every little boy's dream is to be paid to climb in trees."