High Tide At Sea Island
Georgia's premier resort emerges from an extensive restoration and renovation boasting a new Beach Club, new restaurants and a re-invented Cloister.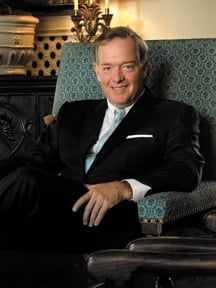 "I feel like I've been in the construction business these last six years," says Bill Jones III of the near-finished, $500 million restoration and expansion of his Sea Island Resorts. "I'm looking forward to getting back to the hospitality business."
At this elite enclave, those two concerns go manicured hand in dusty work glove. Sea Island's mystique is tied to its history – with each chapter marked by a more impossibly fanciful building plan.
As Jones sits in the Sea Island Lodge library in golf shirt and shorts, with a beautiful morning on the links ahead of him, and the latest chapter nearly behind him, it's hard to imagine how much more fanciful it can get. The completely rebuilt Cloister Hotel, Sea Island's heart, stands as gleaming testimony to Jones' visionary grandfather, who co-founded it. (Among the new touches: 24-hour butler service for its 33 suites.)
In the new Beach Club, diners with a close-up view of sea oats and shore are enjoying mussels and Sapelo clams at the just-opened Big George's Raw Bar and Grill (honoring 40-year employee and now "official Beach Club Ambassador" Big George Drayton).
Upstairs, new oceanfront condos await their owners, who can order room service or a ride to the Lodge's Colt & Alison steakhouse, part of the resort's complex on St. Simons, just like hotel guests. Designed as beachfront pieds-a-terre, the $2 million-$3 million units sold out within days. Luxury cabanas are ready to rent for $250 a day, for anyone who wants a little more privacy while visiting one of the three new pools. The new 65,000-square-foot Spa offers hot-stone massage, steam rooms and saunas.
Each new structure shares traits of the new Cloister, including Spanish arches and tile roofs – even the Beach Club condos' furnishings resemble the hotel's. Scores of historic photos in public spaces and hotel rooms celebrate the resort and its famous visitors.
On St. Simons, Sea Island's newest real estate venture, Frederica, is getting finishing touches: Full-grown palms and towering live oaks are still cabled to secure them in the sites to which they've been moved by trailer; an elegantly rustic boathouse with tabby fireplace, screened porch and electric-powered wooden runabouts awaits bass fishermen at the newly created 400-acre lake.
Frederica's private golf course, Sea Island's newest, is the result of a collaboration between celebrated designer Tom Fazio and Sir Michael Bonallack, former secretary of Scotland's Royal and Ancient Golf Club at St. Andrews. A few mansions already overlook the Frederica's marshes, but mostly, it is marked in expansive lots for sale. With this last, grand development, Sea Island Co.'s existing properties "are approaching build-out," says Al Brown, senior vice president, real estate.
With so many additions, there were also massive, and sometimes painful, extractions: Gone are the River House hotel rooms, the Guest Houses around the old Beach Club and former spa, as well as the original, much-loved Cloister, which had survived more than 70 years without a proper foundation.
Say goodbye as well to the American meal plan, which included all meals. Jones also decided to downsize from 318 total hotel rooms to a more upscale 100 Cloister and 56 Ocean House rooms. (The Sea Island Co. also offers 40 rooms at the Lodge, and manages rentals of privately owned cottages and condos, in addition to Cabin Bluff hunting preserve, available to groups of 20-40).
But Jones carefully preserved The Cloister's beloved Spanish Lounge, restoring the original windows, mantel and ceiling to the new structure. He also decided to construct a gated entry, permitting only guests and residents to drive the now privately maintained streets. The curious public is no longer permitted in for a quick look-see.
The guiding principle for each step of the resort's master plan: "We want to be the number one resort in the world," Jones says. The Lodge at Sea Island's many accolades include topping Golf Digest's 2006 list of Best Golf Resorts in North America, as well as Mobil five-star status, one of just two hotels in the state (the other is Atlanta's Four Seasons). The newly restored Cloister awaits the results of next year's judgment.
In 2004, Sea Island obtained an even more impressive honor: Hosting the G-8 Summit, with President George W. Bush bringing the "Great Eight" nations' leaders to summit at the same place his father and mother had honeymooned in 1945 (and returned to celebrate their 50th anniversary).
The Jones family's basic philosophy – build a nice place to visit, and people will want to live there – has worked beautifully since the resort's 1928 opening. Once inhabited largely by grazing cattle, the 5-mile-long, 1.5-mile-wide barrier island nestled alongside St. Simons initially earned the notice of investors at a critical crossroads: the invention of the automobile, and the 1924 construction of Torres Causeway, which for the first time allowed people to drive to the beaches of St. Simons and Sea Island.
Detroit millionaire Howard Coffin, founder of the Hudson Automotive Co., discovered the Georgia Coast and bought nearby Sapelo Island after bringing his cars to Savannah races in the early 1900s. Coffin and his younger cousin and business protégé Alfred W. (Bill) Jones I also purchased Sea Island, and first hit on the plan of building a luxurious hotel there.
Pasture To Paradise
Jones's genius was in finding ways to stucco and landscape Coffin's vague, extravagant dreams; still, the plan to turn pasture into a seaside paradise seemed riskily abrupt, so they hired noted Palm Beach architect Addison Mizner to design a temporary, Spanish-influenced structure to test the waters. They first opened a golf course on St. Simons, and a casino on Sea Island, and to house guests while the hotel was being built, parked a three-story, refurbished warship at their dock on the Frederica River, to serve as a "floating hotel," featuring 72 elegantly furnished staterooms.
The hotel, which Mizner dubbed The Cloister, was a smash from its October 1928 opening. Young, monied and newly liberated flappers and their escorts flocked to Sea Island to dance to the best orchestras in their finest evening wear and dine around the pool. Legendary Atlanta-born golfer Bobby Jones, still the only Grand Slam champion, declared the golf course to be among the finest he had ever played.
A few cottages – and back then, that's what they really were – predate The Cloister, springing up along Sea Island Drive's spine-like dividing line running nearly the length of the island between the coast and the Black Banks River and the "marshes of Glynn."
Over the years, as the resort fell to sole ownership of the Jones family, and Bill Jones, Jr. took command, both The Cloister and the residences gradually grew in size and number; today many of the roughly 600 cottages are still relatively modest '50s- and '60s-style ranches, although new, grand beach houses at Ocean Forest, at Sea Island's tip, are much larger. Because the residential area has grown slowly, with a mix of size and style of houses, it has the organic feel of a real community, as opposed to the cookie-cutter look of many newer upscale resorts.
Spotlessly maintained (owners may hire their own landscapers and maintenance crew or the resort's), Sea Island has a few small, '20s-era bungalows built in the original Mizner style as well as low-key, elegant retreats, hidden behind lush landscaping. "People here are understated," Brown says. (Architect John Portman's wildly contemporary, beachfront home is one of the few unconventional designs approved by the Sea Island architectural review committee.)
Today, entry-level prices for "cottage community" homes start at around $2 million, Brown says. Prospective owners must also apply for Sea Island Club membership, pay a $150,000 deposit and annual dues that range from a $12,000, all-inclusive package, to lower tiers for "social," golf and/or tennis packages.
The average home price, Brown says, is $3 million, with most residences under $10 million. The top end for a beachfront residence, at press time: almost $24 million. While the real estate market in general is cooling, "We're doing just fine," Brown says.
Although Georgians remain, by far, its largest group of inhabitants, Brown says Sea Island is seeing new residents from Florida and the Northeast. Marketing is so low-key that most people, including many Georgians, have never heard of the place. (Says Jones: "We don't talk about real estate as an investment. People should buy with their hearts. We're selling a lifestyle.")
Brown says the company goes out of its way to preserve island history: "When we found Native American graves during excavation, we made every effort to contact the Bureau of Indian Affairs, and make arrangements for the remains to be transferred for a respectful burial," he says. He notes the still-standing Civil War-era hospital, preserved in the midst of the building boom, and the bunkers on Frederica, thought to date to James Oglethorpe's troops' protection of Fort Frederica. Property owners will be required to preserve the bunkers. Frederica will also devote 400 acres to a rookery, or breeding ground, for the indigenous wood stork.
From The Heart
For Jones, careful preservation of his island's legacy is more than its history, but also his family's tradition of possessing "a heart for service."
"It's an intuitive thing. You can tell within a few minutes" whether a potential employee has it, Jones says, and though he is so hands-on and detail-oriented that he has personally approved every fabric and furniture piece in the new guest suites and residences, "I can't emphasize enough how important it is to hire the right people … . The ones who truly like to serve people, and make them happy." (Sea Island is Glynn County's largest employer; many Sea Island employees have long, multigenerational careers there.)
While Jones says he's nearly finished with his six-year plan, the new Ocean Club condos and more additions loom on the horizon (such as a cooking school, rumored to be on Jones's agenda).
With all the changes, many Sea Island traditions continue: A bagpiper still plays at the Lodge every dusk, honoring the Scottish tradition of calling golfers in from the course. And despite the overwhelming trend toward casual wear at most beach resorts, even Big George's Raw Bar has a dress code. In its Roaring '20s heyday, The Cloister was known for its Southern courtesies, a tradition that still stands.
The place where many Georgians brought their children to learn manners still has a bingo night – and still requires gentlemen to wear a jacket and collared shirt to play. "Jeans, caps and swim flip-flops are inappropriate," reads the purse-lipped entry in the Sea Island Pocket Guide. Over the years, such traditions have helped transform the place into a stronghold for families, whose elders pass to their children their enthusiasm for golf, hunting, riding, fishing, tennis and bridge along with their properties.
More upscale and exclusive than ever before, Sea Island is still its own world.
WHAT'S NEW IN SEA ISLAND DINNING
(Note: Sea Island's restaurants accept reservations from registered guests and Sea Island Club members only.)
Big George's Raw Bar, an airy new Beach Club addition overlooks the beach, and features local and regional favorites, including raw oysters, Georgia shrimp and country ham. Regional bounty is used to its highest good, including deliciously sweet roasted summer corn in a salad of local greens with goat cheese and horseradish vinaigrette; those mussels and Sapelo clams come with a handy slice of toast for dipping into the white-wine-enhanced broth. And Big George's has the requisite, solidly good, char-edged burger, nearly sloppy with mayo and crisp fries. Go ahead, be greedy and try the old-school favorite: The Gold Brick sundae, a chocolate-lipped goblet of vanilla ice cream with hard chocolate sauce.
The old Main Dining Room is reborn as 100 Hudson, with casual, al fresco dining near the Black Banks River, and sunset views over the marshes.
A 2006 pick for one of Esquire's Best New Restaurants, The Georgian Room's chef Scott M. Crawford and sommelier Thomas Roberts provide see-saw insights into one another's specialties: A slowly unfolding Vesevo Greco di Tufo counterpoints potato-encrusted salmon over deconstructed cod chowder with horseradish salt; Thierry Pillot "les Mazure" Chassagne-Montrachet unfurls the layers in an autumn stew of veal sweetbreads and rabbit sausage with chanterelles. The friendly service never gets claustrophobic or obsequious – although I might prefer an outstanding pianist to the "heavenly" harp in this solemnly beautiful room of white, gilt, mirrors and crystal. Be prepared, also, for celestial prices: Meals for two can exceed $600 for the eight-course tasting menu with wines, tax and tip.
Colt & Alison (at Sea Island Lodge) – the solid steakhouse favorite named for the resort's original golf course designers – still packs in diners, but longtime chef Johannes Klapdohr (formerly of Nikolai's Roof) will soon be leaving. However, major changes to this winning menu of Caesar salads, hefty cocktails and expertly charred beef (even old-fashioned steak Diane, made tableside) are unlikely.
The Terrace, another restaurant at the Lodge, has been converted to a space for private functions; but The Davis Love Grill still serves diners at the resort's Retreat. – Krista Reese