Georgian Of The Year: Facing The Future
Gov. Sonny Perdue will have more influence than anyone else in determining how Georgia addresses the two most urgent issues facing the state: a shortage of water and crippling traffic congestion on our roads.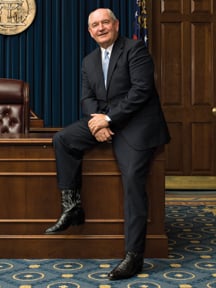 You could forgive Gov. Sonny Perdue for feeling a little like a badly battered heavyweight boxer in 2007.
Coming off a smashing reelection victory the previous November, Perdue was preparing for a major role on the national political scene as chairman of the Republican Governors Association. The General Assembly was firmly under the control of his Republican colleagues. He was putting the final touches on what he thought would be a popular program for Georgia's sportsmen, the "Go Fish" initiative. It looked like a good year was ahead.
As quickly as that, his good year started to go bad.
Perdue squabbled with the legislative leadership over a tax refund program, an argument that escalated to the point where Republican and Democratic House members voted overwhelmingly to override the governor's veto of a budget bill (an event so rare that no one could even remember the last time a governor had been so thoroughly repudiated). The fight descended to the personal level when House Speaker Glenn Richardson, at one time a close ally of the governor, made an insulting remark about how Perdue had "showed his backside."
It got worse. Perdue was placed in the awkward position of "un-vetoing" his veto when it became clear that lawmakers would override more of his actions in a special session. Perdue stoked the hostilities by instructing department heads to ignore instructions on spending state funds that legislators had put in the budget, a move that angered Richardson and his cohorts even more.
The crowning blow came in October when a historic drought parched the northern half of Georgia and precipitated a water shortage emergency while Perdue was thousands of miles away on an industry-hunting trip. Not only was the governor caught flat-footed by the rapidly dropping reservoirs, his signature "Go Fish" tournaments had to be cancelled because of low lake levels.
Think of Perdue as Rocky Balboa in the last round of his title bout with heavyweight champion Apollo Creed – pounded by several shots to the head, bloody from a cut over his eye, staggering toward an apparent knockdown.
He wasn't quite ready to hit the canvas, however. In the space of a few weeks in October and early November, Perdue reasserted his place at the top of the state's political hierarchy by punching back hard at Richardson and other adversaries.
That pushback illustrates why Gov. Sonny Perdue is our choice for Georgian of the Year. On the two most urgent issues facing the state – a shortage of water and crippling traffic congestion on our roads – he will likely have more influence than anyone else in the coming year, and he has solidified that influence by putting his own person in command of the Department of Transportation.
The year 2008 will be an opportunity for Perdue – perhaps his last one before the real jockeying begins for the next governor's race – to use the powers of his office to address these substantive issues. How effectively he seizes this opportunity will determine how well he lives up to our designation as Georgian of the Year.
"The first role of a leader is to protect, defend and stabilize," the governor said during an interview in his expansive capitol office. "Sometimes this calls for an academic, analytical fact-finding approach. Sometimes urgent issues present themselves and call for quick, decisive action necessary to create that stability … I believe the essence of leadership is an understanding of the difference between situations that call for quick, decisive action and those that call for serious scrutiny."
As soon as he returned from his October business trip to Korea, Perdue took the decisive route. He tried to seize the initiative on the water crisis by suing the Army Corps of Engineers over the rate of reservoir withdrawals (the legal action was subsequently dropped) and appealing to his good friend, President George W. Bush, for some federal assistance. Bush dispatched his top environmental aides to meet with Perdue and two other Southern governors to broker a temporary cease-fire in the water wars. More important, the Corps of Engineers agreed to cut back slightly on its withdrawals, thus giving the state at least a short-term reprieve on water supplies.
When Harold Linnenkohl decided to retire as the state's transportation commissioner, Perdue duked it out with Richardson over who would replace him. The governor lobbied for Gena Abraham, who has been in charge of state construction projects during his administration. The speaker twisted arms just as strongly for his own choice, state Rep. Vance Smith of Pine Mountain.
After an intense, behind-the-scenes discussion, the State Transportation Board decided by the slim margin of one vote to elect Abraham, the governor's choice, to one of the most powerful positions in state government.
Perdue proved an important point during those few weeks in autumn: The governor still has quite a lot of political clout, even if he hasn't used that authority as much as some might have wished.
"The governor's office in Georgia, under the constitution, has a lot of power that goes with the institution," said Rusty Paul, a former state chairman of the Republican Party who served with Perdue in the state Senate. "You can't ignore the governor. One of the messages he was sending was, 'I have the ability to get involved in this process, whether you like it or not.'"
Perdue pulled off his surprising upset victory over Roy Barnes in the 2002 governor's race largely because Barnes was an activist governor who had alienated key groups of the electorate by pursuing an overly ambitious agenda. Perdue, learning from the Barnes example, has been more cautious and much less of an activist as governor. His emphasis has been to make incremental changes in how state government is managed, rather than try to implement a sweeping vision for Georgia's future.
That low-key approach obviously paid off with voters, who re-elected Perdue by a 58 to 38 percent margin over Lt. Gov. Mark Taylor in 2006; but it also has frustrated lawmakers from both parties who criticize him for being too disengaged from the political process, for doing too little to address major issues before they deteriorate to a crisis situation.
An example often cited by Perdue's critics is the time during the waning days of the 2004 legislative session when lawmakers were struggling to finalize a budget agreement. Perdue went to an Atlanta Braves game rather than stay at the capitol and get personally involved, as every other governor in the past has done, in unraveling the knotty budget negotiations.
A Republican lawmaker described Perdue's role in a recent General Assembly session this way: "He basically gave the state of the state speech and then disappeared into his hole, and we never saw him again – like the groundhog on Groundhog's Day. I don't think he ever figured out how to work the House. If there's been any leadership, I haven't seen it."
Even newspaper columnist Jim Wooten, a staunch defender of Perdue in most instances, has argued that the governor needs to show more leadership on the transportation issue.
"The state desperately needs a realistic transportation plan – a statewide transportation plan – a gridlock-relief plan that covers the entire state of Georgia," Wooten wrote in a recent Atlanta Journal-Constitution column. "Not one region. Not one agency. One statewide plan. There's one official in Georgia who can make this happen. One. Gov. Sonny Perdue."
Perdue's defenders say that people who compare him unfavorably to more activist governors are missing the point.
"To say that Sonny is being less active than he should and less assertive than he should, I'm not sure it's a fair criticism, especially given the nature of Roy Barnes," Insurance Commissioner John Oxendine said. "You're comparing him to one of the most assertive governors we've ever had, at least in recent years. If you look at Sonny and you look at Roy, it looks as if he didn't assert himself. But most people would look that way compared to Roy."
"I think that at the end of the day, Gov. Perdue will be measured not so much on the sweeping public policy changes, but that he was a good steward who managed the state to a level that it had never been managed before," Lt. Gov. Casey Cagle said. "He is who he is, and he's a manager. And he's a good manager."
Perdue maintains that while there are times when quick action by a governor is required, there are also occasions when it is better to sit back, evaluate the available information, and try to make a reasoned decision on the best approach to an issue.
"The circumstances dictate the style of leadership for me," Perdue said. "A couple of examples: the gas tax relief that we saw after [Hurricane] Katrina. That was a time for decisive leadership and to move decisively. On the water issue, I'd just gotten off a plane at 3 o'clock the previous day after 22 hours of travel and we're on the banks of Lake Lanier at 10 o'clock the next morning, declaring a disaster in Georgia after a three-hour briefing and asking the president to declare a disaster. Those are examples of decisive leadership, when there is urgency and a critical nature to the decision. I think there is also a time for more inclusive, contemplative, collaborative decision-making."
The water crisis that emerged in October did, for the moment, raise critical questions about Georgia's ability to continue the economic growth that has increased the state's population by nearly 3 million people in less than 20 years. Has the state – or the Metro Atlanta area, anyway – reached a point where the limited supply of water is finally going to cool off Georgia's red-hot business expansion?
Perdue remains an optimist about the state's ability to keep growing and, in fact, doesn't believe water is going to be that much of a problem.
"I absolutely believe that [we can get growth back on track]," he said. "We've got to put this in context. When we get into dire situations we sometimes get insular and think that we're like this all the time. We're not. I remember in 2005 and 2006, flying over Lake Lanier, and it was absolutely beautiful, it was gorgeous, it was full."
"The fact is that the mismanagement of the reservoirs has created much more of a manmade drought than we have been impacted by a natural drought," Perdue averred. "That's why I'm optimistic. If we can get the management of the reservoirs aligned with future hydrology and potential rainfall and weather predictions and move quickly, I don't think we're in jeopardy of getting in this situation again."
Perdue's efforts to address the state's water shortage even included an hour-long prayer service on the capitol steps; the governor was less successful with that – no rain fell and the sun was still shining at the end of the service.
As he deals with the issues of water and transportation gridlock, as well as the unforeseen crises that could emerge this year, Perdue will still have to work out some sort of accommodation with legislators who fought him so bitterly over the budget issues in 2007.
"Georgia legislators are used to having a governor very much involved, being the chief legislator," observed Charles Bullock, a University of Georgia professor with an extensive knowledge of the state's political history. "Always the governor was there. His predecessors would be around the capitol, calling people in to convince them, twist arms, being there, seeming to be concerned about what would happen."
Perdue has not played the role of chief legislator, Bullock contends, which has created "a situation where the Legislature, after waiting for leadership to come from the governor's office, may be convinced that it's not coming from there. If the governor now decides he wants to play a role a bit more akin to his predecessors, the precedent is against him. Like the genie, it's hard to get it back in the bottle."
Back at the capitol, where raw political power still counts for quite a lot, Perdue doubtless has some cards he can play in this poker game.
"Certainly the statewide polls have not indicated – in the public perception – that the governor has been diminished at all," Cagle said. "As a matter of fact, most of the polls that I have seen have shown that he is the strongest statewide elected official – in terms of popularity – of any person, including myself. I think that in the end, history will repeat that there was maybe some jockeying, but that the lead horse won the day."