Elijay/Gilmer County: Past Meets Future
Holding onto history and welcoming new residents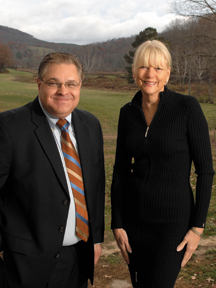 If you want to see the future of Gilmer County, it's in the dirt – or rather the mounds of earth that are the harbingers of impending development.
"It's just like somebody has taken a little sleepy rural town and just put us on the radar," says Gilmer County Economic Development Director Joanne Benson.
And it's easy to find evidence of a county on the cusp of growth fueled largely by tourism and now easily accessible from Metro Atlanta. Interstate 575 becomes Georgia 515 as it cuts a path through Cherokee and Pickens counties to Gilmer. For Metro Atlanta residents, it's a short jaunt to the apple orchards and vacation homes that dot the landscape of this rural north Georgia community.
The vacation home market has long been hot here, although increasingly Floridians fleeing rising prices and the uncertainty of the hurricane seasons in the Sunshine state are staking out permanent residences. Population growth has soared from 16,000 in 1995 to more than 30,000 today, and is expected to top 70,000 by 2025.
On weekends, roads are often clogged by out-of-towners; and making the turn off Highway 515 into Ellijay can require several light changes. In October the Apple Festival alone accounts for a 50,000-person surge in the weekend population.
Gilmer is a draw for those seeking small town charm and an abundance of outdoor activities. Along with billing itself as the Apple Capital, the county lays claim to being the "mountain bike capital" as well as a Mecca for hikers with nearby parks and wilderness areas.
Locals see great promise in tourism, which drew $28 billion to Georgia in 2005, second only to agriculture. North Georgia has claimed a slice of that pie, with visitors spending more than $200 million in the region surrounding Gilmer – then leaving without placing a burden on services.
Many visitors arrive to see the sights, but often fall in love with the area. "We are seeing that the retirees that come here through tourism who purchase a second home then become a permanent resident," Benson says.
Suburban Comforts
People and rooftops also have proven a strong draw for retail and commercial development. Highway 515, as it cuts through East Ellijay, is lined with shopping malls and cleared fields waiting for the arrival of construction crews. Major chains such as Wal-Mart, Lowe's, LongHorn and Starbucks are here. More are on the way because developers have realized that Gilmer boasts more spending power than its population would seem to warrant. These restaurants and retail help make it more appealing to new residents, local leaders say.
"They like the convenience of being able to go to Wal-Mart or go to LongHorn and have a steak without driving to Canton or Marietta, but then they like the feel that they get up here," explains Gilmer County Chamber of Commerce President Alan May. "They want that small town ambience that you still have when you go downtown and you walk around and visit the shops."
And it's an easy drive, filled with scenery but largely absent suburban development – until you hit East Ellijay and its retail corridor.
While Gilmer is still very much a rural county, it's beginning to face some big city problems. That has meant changes in the way local government approaches development and ultimately regulates growth. Less than a decade ago the mere concept of zoning regulations was contentious. By 2005 officials and citizens alike were convinced that something had to be done about the increasing traffic, and zoning was passed with little opposition.
"That has helped control the density issue," says Gilmer County Commission Chairman Jerry Farist. "Prior to that land developers could develop subdivisions on every three-quarter acre lot. Now it's two-acre lots [in the county]. That protects our environment and preserves greenspace that is part of the beauty that brings people up here anyway."
The county also has engaged in extensive planning that includes determining its best assets and how they should be used and protected for long term growth.
"That helps you become what you want to become rather than just sporadically letting [growth] happen and come what may," Farist adds.
New Residents
Gilmer recognizes that heavy industry isn't in its future. So economic developers are targeting more environmentally friendly enterprises such as call centers and technology companies. Home building is also a growth industry; prices have soared over the last five years, although sales have slowed recently.
"A lot of people have gotten into the so-called building field and so now we have more houses than we have buyers," says Susan McVay, a broker with ReMax Town and County.
With sales running 200 homes behind last year and nearly 900 units on the market, it's "a buyers' market and the buyer is in the driver's seat," says McVay, who expects home sales to stabilize in the coming year.
While houses are moving slower, there's little doubt that the people buying homes are beginning to change. More outsiders are making Gilmer their permanent, rather than weekend home. Retirees are seeking residential developments with more amenities than a simple cabin in the woods.
The influx of older citizens is having an impact on the type of homes begin offered. Ellijay is also getting its first active adult community. Called The Summit, this over-55 development will offer a variety of amenities geared to retirees who are still active.
"When people retire, they want to have neighbors that are in the same age and have the same interests and possibly amenities," McVay says.
With an aging population also comes greater demand for medical services. That realization prompted North Georgia Medical Center to break ground on a larger facility.
The influx of new residents and business has also affected one of the county's other big attractions, Ellijay's historic downtown. To preserve the charm that draws tourists and locals alike, the city set up a Better Hometown Com-mission to promote business while protecting what remains of its stock of historic buildings.
"We've had a little bit more control over the loss of our historic buildings," says Director Candy Day. "With the influx of people coming into the area we're getting looked at right and left by deep-pocket investors and have been fortunate enough to attract the ones who like our small town charm and want to keep it. Then there are others, who might want to come in, level something and build something new."
Better Hometown recently issued design guidelines for the area which, while lacking the force of law, give property and business owners direction on how their façades should be constructed. So far most businesses are complying, Day says.
To give the effort greater strength, a local commission is drawing up plans for an historic district covering most of downtown. This will give the city some control over what structures can be destroyed while regulating the look of even new buildings.
Better Hometown also is pushing legislation to create a zoning overlay that would make design guidelines enforceable.
"It's actually to everyone's benefit to keep the look, to keep the charm," Day adds. "It makes the property more valuable."
Regulations will arrive not a moment too soon. Preserving historic buildings has been a tough job in this community. A major fire swept through Ellijay in the early 1900s destroying or damaging as many as 20 structures. In the years since, others have been torn down to make way for new construction, but several older homes and commercial buildings remain.
Preservationists also are mourning demolition of the old courthouse on the square, which was scheduled to be torn down to make way for a new county facility. (See story, page 110.)
Plans call for a new 80,000-square-foot facility to house county offices and courts. The first phase is already complete, directly behind the old building, and now houses most offices. The old courthouse was scheduled to be demolished at the end of last year, with the new building getting under way soon afterward.
"We did extensive architectural studies as to what it would take and how we could save the old courthouse," says County Planning Director Jim Smith. "We had folks from the State Historical Preservation [society] and a number of experts looking at it and what they said was that we could actually demolish and reconstruct a replica for about $1.7 million less than we could try to revitalize [the old building]."
Voters echoed this sentiment by agreeing to tear down the older building in a public vote.
The courthouse project is part of a $30 million bond issue passed in 2007 that is also funding new roads, bridges, recreation, fire and public safety facilities, along with expansion of the jail and a new animal control shelter. The vote grew out of a realization that Gilmer's infrastructure hadn't kept pace with its burgeoning growth.
Spending Wisely
That growth means "for every 1,000 new homes you need to add 12 additional acres of park and recreation just to maintain the same level of service that you've been providing," explains Commission Chairman Jerry Farist.
"If you add that same theory to your emergency services, you'll need more ambulances to take care of more population. You'll need more fire trucks."
The county will pay off the bond issue through proceeds from its Special Purpose Local Option Sales Tax (SPLOST). An extension of the existing one cent tax was approved in November and should generate $35 million after it goes into effect in January 2009.
By financing improvements largely through sales taxes, officials can keep property taxes low and shift the burden onto the increasing number of tourists flooding the county. This approach has been popular with voters, who recognize the need to keep up with expansion.
"The improvements in the infrastructure had not kept pace with the growth that was occurring, and I think our citizens recognized that and our board of commissions laid out a plan, a very detailed plan, that provided for where this money would be spent … it was presented to the voters and the voters approved it," Smith says.
While Highway 515 has opened up Gilmer to auto travelers, the county wants to make it more accessible to corporate executives seeking an air route here. The local airport – closed for the last decade – has been brought back to life.
The county spent $1 million resurfacing and widening the runway, installing lights and a new beacon. New hangers and a fueling station have been constructed.
"We hope that our airport will be a full service general aviation airport that will provide for what I call the recreational flyer as well as our corporate citizens in the county and region," Smith explains.
The county hopes the facility will also be a catalyst for additional expansion. A local developer is considering the construction of a business park nearby that could be served by the airport.
All these developments are designed to ease Gilmer's transition from isolated and rural to something more developed, and in some ways quite different from the county long-time residents remember. The conveniences are largely welcome, whether it's Wal-Mart or the fact that you can see a cardiologist without driving to Marietta or Atlanta.
Even with change, Gilmer remains an attractive place for those who have lived elsewhere. Most locals agree that the draw really isn't in the new stores or restaurants, but in something much simpler.
"Best of all is the terrain," declares East Ellijay City Planner Mack Wood. "It's absolutely beautiful up here."
Ellijay/Gilmer County
At-A-Glance
Population
(2006)
28,175
Municipalities
(2006)
Ellijay, 1,569; East Ellijay, 707
Per Capita Income
(2005)
$23,660
Unemployment
(Oct. 2007)
Gilmer County, 3.6 percent; Georgia 4.7 percent
Largest Employers
Pilgrim's Pride, 1,800; Sunlink Healthcare/North Georgia Medical, 340; Appalachian Community Bank, 290; Wal-Mart Stores, 288; WhiteFab Tech, 283
Sources
U.S. Census Bureau, Georgia Dept. of Labor, Gilmer County Economic Development Association