Elberton/Elbert County: Powered By Water
A well-planned lake generates development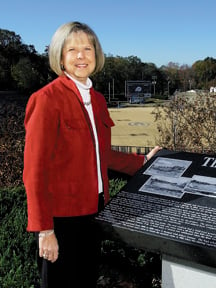 The rest of Georgia may be struggling through an epic, headline-making drought, but visionary planning and engineering some 25 years ago has produced an enviable oasis in one northeast Georgia community.
Elberton, a town of 4,700, is awash in water from a reservoir that appears to be eternally protected from drying up – or even dropping its water level more than five feet. While daily news reports feature images of north Georgia lake beds that resemble the Mojave Desert, boats are bobbing merrily on Elbert County's Lake Russell; and the citizens of Elberton are using just a third of their permitted 7.5 million-gallon daily allowance from the lake. If a plentiful, dependable water supply builds confidence for the future, economic developers here are filled with assurance.
Opened in 1984 as an electric power generator for the region, Lake Russell has a guarantee of sorts that the water will always be there. "This lake can't drop more than five feet or we can't generate power," says Angela Jones, a park ranger with the Army Corps of Engineers, the lake's manager. "That is the way the power plant and dam were designed. Other Georgia dams and lakes were created over 50 years ago when recreation wasn't as big a business as it is now."
With Lake Russell attracting 1.1 million visitors in an average year, recreation is certainly a big business in Elbert County. Still, the availability of water for other economic development purposes is an attractive part of recruitment efforts here.
"We have plenty of water for business and industry and for our residents," says Phyliss Brooks, president of the Elbert County Chamber of Commerce, as she hands a visitor a bottle of water labeled with the community's brand. "We give this to prospects to remind them that we have the water."
But there's a bit of apprehension, as well. "We're so scared people in Atlanta are going to send this big straw over here and get our water," Brooks says, with an uneasy laugh.
In a way, some people in the Atlanta area already are on to the benefits of the 26,500-acre Lake Russell and its 2,500-acre state park. Tim Hamilton has operated a restaurant on the lake for 10 years, and he added a marina seven years ago. It was an inspired decision. Hamilton's Beaverdam Marina is the only such facility on the Georgia side of Lake Russell, a body of water shared with South Carolina.
"I started with 16 [boat] slips in 2001," Hamilton says. "And that grew to 80 by 2005 and we are adding 50 more right now." Hamilton says his slips are full and there is a waiting list. "People are tired of [Lake] Lanier; they're tired of congestion and the no water problem," he says. "We are seeing people from the Athens to Lawrenceville corridor come here."
Hamilton says plentiful water for recreation and commerce is further guaranteed by a little nighttime maneuver down at the Russell dam. "The beauty of this dam is that it has pump-back capability," he says. "At night they can use the excess electricity to operate pumps to bring the water from below the dam back up to the reservoir. Where other lakes were empty, we always seem full and that was by design."
But there are indications some recent arrivals from the Atlanta area want more than a boat slip.
"I started here in 2001 and I don't think there were any subdivisions on the lake then," says Kevin Cameron, the tax appraiser for Elbert County. "Now there are anywhere from 10 to 13 out there. The property on the lake has really taken off in the last five years."
This growth, Cameron says, is boosted by building and use restrictions on the land, such as a 300-foot buffer the Corps of Engineers maintains around the lake's 540 miles of shoreline. That green beltway a-round the lake can never be developed, the Corps' Jones says.
"The attraction to land buyers and developers is that the lake is pristine," Cameron says. "And it is pristine because of the restrictions on it. We see a number of people coming from the Metro Atlanta counties that are attracted by that."
Beyond the subdivision and gated community development, there ap-pears to be some individual speculation on lakeside properties. "I think a lot of people are buying while the prices are still relatively low. I think they will build a home at some point," Cameron says.
History Preserved
Meanwhile, hammers and saws have been making sweet music in downtown Elberton.
On a golden autumn day, Julie LeNeave is hosting about 100 historic preservationists from throughout Georgia who are attending state-required training courses. True, the courses could have been held anywhere in the state, but LeNeave, executive director of Elberton's Downtown Development Authority, convinced the preservationists to come to Elberton to see what a warm embrace of historic architecture could accomplish. She had much to show them.
"In 2004, most of the downtown buildings were vacant," LeNeave says. "I think we had four businesses open. There was a big hole in the side of the theater." Today, the downtown square resembles a portrait by Norman Rockwell – an unfinished portrait to be sure, but one that promises to capture the classic municipal image of bygone America.
Funded by the largesse of local citizens and businesses, the Elbert Theatre has been restored to its original 1940 art deco splendor, and is now home to dinner theater productions. A neighboring 1930s auto dealership has become the Elberton Arts Center, a work in progress where local artists can produce and display their creations.
Across the street, a mid-18th century county jail has been leased by the Jim-Ree African American Museum, whose supporters have begun a fund-raising campaign to restore it as a permanent building for the museum. The jail is adjacent to the recently restored and modernized 1895 county courthouse, which sits across the street from the 1920s era Samuel Elbert Hotel, slated to become a 24-unit upscale senior living center funded in part by a loan from the Georgia Munic-ipal Association's Georgia Cities Foundation.
Also on the town square, the turn-of-the-century William O. Jones Building is the target of a $700,000 restoration and modernization project using already ap-proved federal funds and those of a revolving low-interest loan account. A short walk across the square finds a classically restored 1937 gas station and auto shop, now the unique home of the Elbert County Cham-ber of Commerce.
This recent flurry of downtown redevelopment centered on historic preservation, with the promise of more to come, is revitalizing a once important part of the local economy that had declined. "The William O. Jones Building project will add about 12 new jobs downtown," LeNeave says. "And right now I have only one little hair salon that is available for lease downtown. Now we have a downtown where somebody can actually go and shop and have lunch and spend some time." And where history is coming alive with commerce.
Diamond Life
In the summer of 1979, a stranger showed up in Elberton and purchased 100 tons of granite that he had shaped into six 22-foot tall slabs and arranged into what locals refer to as the "American Stonehenge" on an Elbert County hill. The slabs were carved with 10 "commandments," including "Avoid petty laws and useless officials" and "Balance personal rights with social duties."
The man's identity still is a mystery. The simple messages of the stones are written in eight languages, from Arabic and English to Swahili and Russian. The stones remain a local curiosity, but are also a kind of monument to the immigrant workers and artisans that began arriving in Elbert County in 1889 to find futures in the rich vein of granite that continues to be the bedrock of the local economy.
Today, the granite industry here employs more than 1,800 workers, and offers opportunity to a good number of entrepreneurs who mine the stone in other ways. Among the most recent arrivals is Mo Mehrabi who, with wife Pari, has carved out a successful business producing the equipment demanded by the granite industry.
At his office near the Elberton city limits, Mehrabi is sitting before three bottles of one of nature's most valuable commodities – diamonds. An inventor and entrepreneur, Mehrabi was drawn to Elbert County by the giant granite vein that runs beneath the region.
Mehrabi's tiny diamonds are to be used in various powdered or coarse forms for smoothing and polishing the granite extracted from the 45 quarries that dot the area's landscape. The different sizes of industrial diamonds are called grits, a word Mehrabi uses with great theatricality in front of his Southern-born visitors.
Mehrabi has received a patent for one of his inventions, a polishing plate that features blades covered with the natural or manmade diamonds used in finishing stone. Another of his creations is waiting on its patent. Customers for his wares are the granite quarrymen of Elbert and neighboring counties and their suppliers. Mehrabi's company, Diamond Cut & Polish, Inc. (DCP), also produces cutting and polishing tools that can give mundane concrete a glamorous sheen.
DCP's jewels are also used in the production of diamond wire, a length of cable with diamond-headed teeth that cut through stone. His is one of only two companies in the nation producing the diamond wire.
Elberton, says Mehrabi, was a perfect match for his background as a mechanical engineer in the marble industry of Iran, a land he says he left "because sometimes you don't fit into a society and the U.S. is famous as a land of opportunity."
Since arriving in Elberton a decade ago, Mehrabi has grown his company from just two employees, himself and his wife, to the current nine employees who produce DCP products, mostly using machines that Mehrabi designed and built himself.
Road Works
For decades, Elberton's trucking industry has been a mainstay of the local economy despite the absence of four-lane roads in and out of the county. And there have long been other transportation liabilities.
"We're not near an Interstate, which is what a lot of industry wants," says Anna Grant Jones, executive director of the Development Authority of Elbert County, Elberton and Bowman. "And for anybody that uses trucks, two lanes is difficult. But the trucking industry remains vibrant here thanks to the granite industry."
Elbert County trucking is getting the drivers it needs thanks to the recent purchase of two 18-wheel rigs for the Elberton campus of Athens Technical College. The trucks were acquired using USDA rural development funds and are used in driver training courses. And two important road improvement projects have been announced to remedy the four-lane shortage.
"The Department of Transportation (DOT) will start buying the rights-of-way for the widening of Georgia Highway 72 in the spring, and that will take about two years to complete," says Elbert County Commis-sion Chairman Tommy Lyon.
But the most significant road-widening project is farther down the road, and may hold pleasant consequences for Atlanta drivers.
"The completion of the widening of U.S. Highway 17 to four lanes from the South Carolina border to Interstate 85 and to Interstate 20 will give Elbert County a major connection to Interstate access," Lyon says. "We'll see more economic development out of that than even the Highway 72 widening. And that should relieve some of the truck traffic problems on I-85 into the Atlanta area by giving the trucks coming out of South Carolina a cut-through route to I-20."
Lyon says the DOT recently announced plans to fund the rights-of-way purchases in about four years.
Even without the four-lanes, some Elbert County workers will take to commuting when their jobs are moved out of town. Last July an Elberton textile manufacturer transferred its operation 30 miles up the two-lane road to Anderson, SC, in a company consolidation, taking 170 jobs out of state in the process. Yet 50 of those employees elected to stay and live and shop in Elbert County.
"I think that is a kind of endorsement of the quality of life here," says the Development Authority's Jones. "And I think that our ongoing progress in so many areas holds much promise. I think those road-widening projects, the availability of water, the renewal of the downtown area and the quality of life here are combining to step up the growth potential in Elbert County."
Elberton/Elbert County
At-A-Glance
Population
Elbert County, 20,799;
Elberton (county seat), 4,714; Bowman, 897
Per Capita Income
Elbert County, $22,253; Georgia, $29,782
Unemployment
(Oct. 2007)
Elbert County, 6.6 percent; Georgia, 4.6 percent
Major Employers
Pilgrim's Pride, 562; Honeywell, 427; Pinnacle Bank, 110; S.R. Plastics, 104; Wal-Mart, 104; Turner Concrete/Quality Block, 70; Carlisle Coating & Waterproofing, 70; IMEX, 65; Whitlow Electric, 60; Bubba Foods, 56
Sources
Elbert County Chamber of Commerce; Development Authority of Elbert County, Elberton and Bowman; Elbert County Board of Commissioners; Georgia Dept. of Labor; U.S. Census Bureau