Cobb County: Rebuilding Cobb
Suburban outposts move to reclaim the city center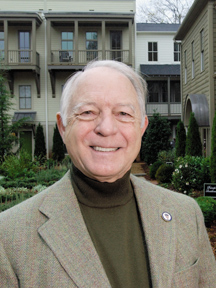 In the post-suburban era, Cobb County has found a way to keep growing.
Having basically built out its land suitable for traditional swim-and-tennis communities, Cobb also has found a way to turn the major nemesis of suburban sprawl into a positive for the bold new world of mixed-use development.
"This is one time that traffic congestion is our friend," says Marietta Mayor Bill Dunaway. "A lot of people are tired of commuting."
This "new" lifestyle resembles the way most people lived in the first part of the last century, when downtowns were commercial and residential hubs, and many people could walk to get what they needed.
The search for redevelopment alternatives in Cobb clearly is focusing on the types of land that spurred the flight to the suburbs in the first place – crime-breeding pockets of substandard housing, old strip malls gone to seed, even the grounds of an abandoned mental hospital.
Now, such commercially-developable property sells at rates of $1 million per acre and more. Around the county, at least half a dozen mixed-use projects, all in the $100 million-plus category, are being planned, built or lived in.
This growth has created a new, color-coded redevelopment vocabulary. "We're now looking at 'brown-field development,' rather than 'green-field development,'" Dunaway says.
Sometimes, he adds, redevelopment can be a bit more risky than the process of clearing a field and building single-family homes. Zoning variances are almost always required, and converting existing infrastructure, such as utilities, to an entirely different form of end user is often a complicated process.
That, however, is the direction the market is flowing. And there's really not much else to do but go with that flow, he adds.
"In Marietta, we've had practically no open space on which to build for several years now," Dunaway says. So, developers are taking dilapidated properties and building new projects, most of them featuring townhomes and retail and professional spaces.
People simply don't want to fight the traffic anymore, Dunaway says. Instead, they want to leave their cars parked once they get home, and walk to shopping, dining and entertainment options.
Marietta has been particularly successful at attracting "new urbanist" residents from the suburban areas of Cobb, Dunaway says. For 2006, about 80 percent of new residents to Marietta moved from other areas of the county, he explains.
County Commission Chairman Sam Olens says mixed-use projects are booming elsewhere in Cobb.
"They're selling these condos as fast as they can build them," he says. Empty-nesters and young, two-career couples find this lifestyle particularly attractive. "For these people, it's great not to have the need to get back into the car."
Olens notes that the trend toward live-work-play developments doesn't mean the end of the suburban lifestyle. Mixed-use projects are being approved only for locations where they can be supported by existing infrastructure, usually close to freeways or major arteries.
Attempts by developers to get suburban residential properties re-zoned for higher densities have almost always been turned down by the county commission, he says.
Growth And The Arts
There is, Olens says, one major engine for the redevelopment boom in Cobb County: the recently opened Cobb Energy Performing Arts Centre.
The approximately $3 billion in redevelopment projects – commercial, residential, retail and major new hotels – in the Cobb Galleria area (near U.S. 41 and I-285) "would not have happened without the performing arts center," Olens says.
The opening of the first new such center in Metro Atlanta in the past 40 years has made Cobb a major cultural destination, Olens says. People are coming from all around the region to see attractions such as the Atlanta Opera, which has made the new Cobb Energy Centre its permanent home.
Recently, a popular singer chose the Cobb venue over Atlanta stages, because of its superior acoustics, Olens says.
The new center's success is making things easier for developers of nearby projects, he says. For example, one developer told Olens that operators of top-flight restaurants were coming to him seeking spaces in the project, rather than the developer having to entice such tenants.
For Bob Voyles, president and CEO of Atlanta-based Seven Oaks Company, a convergence of factors have spurred his company's $300 million Riverwood mixed-use project in the Cobb Galleria area. These include a major redevelopment of the Cumberland Mall regional shopping center, transportation infrastructure improvements implemented over the past decade or more, proximity to Atlanta (inside I-285) while still located in Cobb, and finally, creation of the performing arts center.
As currently planned, the Riverwood project will consist of an office tower, restaurants, retail, condominiums, urban lofts and a major hotel.
While other elements of the Metro Atlanta housing industry are struggling, these high density, mixed-use projects retain their appeal, he says.
"Even though there is a slump in the condominium market today, about 15 to 20 percent of the buyers in the housing market want a more urbanized, mixed-use lifestyle," Voyles says.
It's all a case of history repeating itself, he notes. About 100 years ago, what is now Peachtree Center, north of downtown Atlanta's Five Points, was a residential neighborhood. "The history of Atlanta is that as land values rise and the city grows outward, residential areas are subsumed by commercial development," he says.
Now, he says, high land costs are pushing redevelopment projects to become more vertical than horizontal.
International Appeal
Redevelopment is the big-time buzzword for Cobb's business community.
"It doesn't take a rocket scientist to realize that redevelopment is the name of the game," says Don Beaver, COO and senior vice president of economic development for the Cobb Chamber.
The new performing arts center has set the bar high for nearby redevelopment projects he says, and for the most part, developers are rising to the new standard. "They [existing Cumberland-Galleria area projects] are changing their whole look to keep pace with the new development," he says, citing the announced $60 million makeover of the Cum-berland Mall as a prime example.
These projects are working well, in part, because of their accessibility, and that is a result of effective transportation planning. And to Beaver, that means more than roadbuilding. "There are more vanpools working in the Cobb Galleria area than in the entire city of Denver," he says, noting that there are currently 85 vans shuttling workers and customers into the commercial area on a daily basis.
The end result: making Cobb an attractive place for businesses seeking to locate or expand.
Two pharmaceutical firms have announced plans for major expansions of their Cobb facilities, Beaver says. UCB Pharma plans to add about 300 jobs in its expansion, and the expansion of Quintiles Corp. will add about 700 jobs. Those expansions, added to the existing presence of similar firms, will make Cobb the pharmaceutical industry hub for the state of Georgia, he says.
"At the end of the day, Cobb County is a great place to live and work," Beaver says.
That was essentially the theme of the Cobb County story recently told to top executives of major South Korean corporations by a delegation of Cobb government and business officials.
Cobb County Economic Develop-ment Director Michael Hughes was part of the late October trip to Korea. The Cobb story played well in Korean boardrooms, he says, especially when the current development initiatives were augmented by touting the county's highly-rated school system, its deep pool of educated workers and its relatively low tax rates.
Mostly, the Koreans were more aware of Atlanta than of Cobb, but they were open to learning that Cobb has its own growing identity, Hughes says. Executives at Korea-based LG Electronics, which already has a close business relationship with Cobb-based Home Depot, were open to the notion of expanding their presence in Cobb, he says.
Similarly, top executives at Hanjin Shipping and Kia Motors were invited to consider expanding their Southeastern regional headquarters operations in Cobb; both companies have made significant investments in Georgia.
Powerful Partnerships
It all adds up to a very good year for Cobb. Even though population growth has slowed dramatically from the years of suburban expansion, the influx of major commercial, industrial and mixed-use projects has enabled the county to lower millage rates on residential property, Olens says.
"Historically, we were perceived as just a community of great neighborhoods," Olens says. "Now we're showing that we have a complete community."
As successful as the new mixed-use developments have become, they don't happen easily or overnight.
In the case of West Village, a $450 million mixed-use project where homes range from rental apartments to $200,000 condominiums to $1 million-plus single-family homes, it took the developers about four years just to assemble the 63-acre tract, in an unincorporated section of the county near Smyrna and just off I-285.
The area was blighted by dilapidated housing and drug dealing, says Woody Snell, project manager for West Village's primary developers, the Atlanta-based Pacific Group. Also, his firm had to negotiate with dozens of property owners to assemble the land for West Village, he adds.
Then, Snell says, he had to convince residents of the surrounding area that West Village would be a good neighbor. Previously, he notes, area residents had protested a plan to build a Wal-Mart Supercenter on the property, resulting in the project's cancellation. His firm took busloads of residents to show them similar projects in other states.
West Village could never have been built, Snell says, without a working partnership with county officials. The project required "too many variances to even list," he says. Issues such as density levels, setbacks and underground parking decks all had to gain special approval.
The result is a project built around what Snell terms "a throwback to an old-time Main Street." Shops and restaurants line the street level of West Village's central district. People live in upper-floor condominiums or within an easy walk of the commercial center.
In its first year of sales about 350 units have been occupied, of the planned 1,100 units in the first phase of the project, Snell says.
But you don't have to live in West Village to enjoy it. For example, every Friday at the village's tavern, a group of workers from a Buckhead financial firm gather to celebrate the end of the week, passing up all the happy hour spots closer to their work.
"This is a Main Street that everyone can enjoy," Snell says.
For Cobb County's other cities, 2007 was a year of strong growth.
Kennesaw Community Development Director Bob Fox says the city plans to shift its overall tax base, attracting enough businesses to lower the percentage of land zoned residential from about 40 percent to about 30 percent.
Toward that end, three projects, one under construction and two planned, will add some 650,000 square feet of commercial and retail space to the city's Cobb Parkway corridor, he says.
In the city's industrial park, a plastics company has taken over an unused building and expects to bring about 250 jobs to the area in its first stage of expansion, Fox says.
Kennesaw also has approved projects that will add about 20,000 square feet of retail and restaurant space in the historic downtown area, he says.
The goal is to bring work and commerce closer to where Kennesaw residents live. "Folks are tired of the traffic, tired of the commute," Fox says.
In Acworth, Community Development Director Christine Dobbs says the opening of a $10 million multiplex theater operated by the Great Escape Co. will mean that local residents won't have to drive to a regional mall to go to a movie anymore.
Also, she says, the city has approved a $30-$40 million mixed-use project that will convert a former car dealership's property to residences and retail shops.
In Austell, Director of Community Affairs Jimmy Graham says the priority is to spruce up the city's downtown, to be better able to attract the type of mixed-use projects popping up elsewhere around Cobb.
Once the streetscapes are improved, downtown residential and retail projects should follow. "If you want to sell a car, you have to clean it up before you try to get top dollar," Graham says.
Downtown revitalization is also the top priority in Powder Springs, says John Lawrence, economic development specialist for the city.
The city is applying for grants to improve and coordinate the façades of downtown buildings. The hope is to emphasize the "small-town feel" which, combined with Powder Springs' close-in location, should make the city attractive to redevelopers looking for mixed-use project sites.
"People are looking for something different from the mall experience," Lawrence says.
Cobb County At-A-Glance
Population
(2007)
679,481
Municipalities
Marietta, 61,261; Smyrna, 47,643; Kennesaw, 30,552; Acworth, 18,428; Powder Springs, 14,507; Austell, 6,566
Per Capita Income
(2006)
$31,399
Unemployment
(Oct. 2007)
Cobb County, 4 percent; Georgia, 4.7 percent
Top 10 Employers
Cobb County Public Schools, 14,840; WellStar Health System, Inc., 11,131; The Home Depot, Inc., 7,000; Lockheed Martin Aeronautics Co., 7,000;
Cobb County Government, 5,629; Kennesaw State University, 3,254; Publix Super Markets, Inc., 3,152; Six Flags Atlanta Properties, 2,718;
IBM Corp., 1,400; Marietta City Schools, 1,258
Sources
Cobb Chamber of Commerce, U.S. Census Bureau, Georgia Dept. of Labor