What's Right With Public Education?
The problems are well-documented – so much so that the accomplishments are often overshadowed. Here's a look at some top Georgia schools, their strategies for success and the educators who make them work.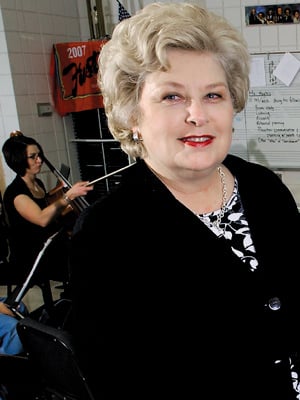 Davidson Fine Arts Magnet School may be the best school you never heard of. The low-profile Augusta school posts the highest SAT average in Georgia year after year. Davidson students averaged 1,710 out of 2,400 this year, far above the national average of 1,511.
Davidson's students do well on other standardized tests, too, including the state curriculum exam, known as the CRCT, which determines whether schools are succeeding under the No Child Left Behind Act. The school's middle grades program was named best in the state by the Georgia Public Policy Foundation, an organization that ranks schools based on test scores. Davidson also came out on top for high schools.
As successful as their students are, teachers at Davidson still pore over test data looking for concepts their students aren't learning. "My philosophy is there is no finish line," says Principal Vicky Addison. "We may have the highest SAT score in the state, but it can always be better. You have to keep looking for ways to improve."
It's an attitude principals, teachers, PTA parents and school board members have adopted statewide in recent years in an effort to overcome Georgia's reputation as a state that doesn't properly educate its children.
Georgia's poor performance on the SAT is an ugly bruise that has hindered the state for years. Last year, Gov. Sonny Perdue announced with obvious pleasure that Georgia was no longer last in the nation, a dubious distinction the state had shared with South Carolina. Georgia moved up to Number 46 in 2006 and held that position this year.
Still, it's cold comfort for business leaders looking to attract employees to the state. Elsewhere around the country, Georgia's move up from last place is not yet widely known, and 46 is hardly a number anyone wants to put on a billboard.
"The business community wants to change our brand that we're last," says Stephen Dolinger, president of the Georgia Partnership for Excellence in Education, an organization that works with the businesses to improve public schools. "We want a better story. We want to improve SAT scores. We want to improve the graduation rate and improve the brand."
Overall, Georgia schools do seem to be improving. Fourth-graders made great gains in reading on the National Assessment of Educational Progress (NAEP), a national yardstick. Sixty-six percent scored at or above the basic level in reading, one percentage point higher than the national average.
Kathy Cox, Georgia's Superinten-dent of Schools, attributes the gains to a new, tougher curriculum being phased in for all subjects and grades. Eighth-graders lagged the national average in reading, but still improved with 70 percent scoring at or above the basic level. Students did not do as well on the NAEP in math, but Cox notes that the new math curriculum is still being phased in. Once it's in place, she expects those scores to rise.
"We really have increased the rigor," says Cox, adding that not only is the curriculum more challenging, but the CRCT is as well. The questions are harder and the number of questions students must answer correctly in order to pass is increasing.
Cox wants Georgia students to be on par with peers in any other state in the country, a goal that will take time to reach, but that that will "give Georgia that competitiveness we have lacked," she says.
Meanwhile, some schools are showing remarkable improvement. Officials planning this year's banquet honoring schools participating in the federal Title I program that made test score gains couldn't find a facility big enough for the crowd. "We had to break up the Title I Distinguished Schools banquet into two locations," Cox says. "It is happening across the board … . We can find examples of that all across Georgia."
Here's a look at some top Georgia schools and what their leaders say makes the difference.
High Achievement
Some think Davidson Fine Arts Magnet School cherry-picks the best students from the Richmond County school district, but that's not so, Addison, the principal, says. Students need only a B average to apply. Admission is based on a student's audition.
And Davidson kids don't keep their noses buried in textbooks; they spend much of their school day in dance, chorus, theater and fine arts classes. "We try to nurture them from the sixth grade on," Addison says. "They get caught up in the culture of the school, which is to work hard and excel."
Though Addison says it's hard to pinpoint all the elements that converge at Davidson to promote a strong work ethic, she believes the emphasis on the arts plays a major role. Students learn discipline early on; and they learn to juggle academics and the arts, which requires them to be organized.
"The participation in the arts helps students focus more," she says. "They are used to practicing things over and over and focusing while they're learning. That carries over into the classroom. They see how they can improve if they work hard."
Enlisting Parents
International Community School is a DeKalb County charter school that operates separately from the school district but is held accountable through a board-approved charter. It welcomes students from countries reeling from war and dictatorship: Sudan, Somalia, Iraq, Afghan-istan, Liberia, Vietnam. Some never went to school in their home country. Many speak only a few words of English.
After two years, most are passing the CRCT. It's a feat that has earned the charter school national attention. This year, International Community School was named a national Distinguished Title I School for its success in closing the achievement gap between students with limited English and their American-born classmates.
"That's our mission," says Principal Bill Moon, who jumped to the charter school from Atlanta International School, a top private academy. "All of our staff are completely dedicated to the mission of the school."
And so are parents, thanks to the school's strategy of involving them and making them part of their children's education. A program called "Parents as Teachers" helps mothers understand how they can work with their children at home to reinforce lessons, even if they themselves don't speak English. After completing the program, parents are issued "teaching certificates," signed by Moon. "It means these parents no longer feel helpless," he says. "It keeps them engaged in the school."
International Community School does not issue grades, because parents from other countries have a hard time understanding what they mean. Instead, teachers print out each standard from the state curriculum and tell parents whether the child has reached standard, is on track to reach it or has exceeded it. If a child is lagging behind, the teacher marks the standard as an area of concern. Some say schools that serve students who don't speak English have a tougher road. But Moon notes that his students' parents are extremely motivated for their children to succeed.
The school keeps its classes a bit smaller than traditional public schools; and every class has an assistant, often someone from one of the countries represented by students in the class. "Two adults can make more headway than one," Moon says.
A "school within a school" program nurtures students in grades two through six who are not only illiterate in English but also had no formal education in their native country. They have "zero to build on," and require extra attention, which they get from volunteers who work with students one-on-one.
A Saturday school program was started last year with four Afghan girls whose siblings attended the school. Now students bring parents, grandparents, brothers and sisters for two hours of intensive instruction.
Georgia has more than 70 charter schools, which are allowed some autonomy from state regulations. Cox says many succeed because they have control over their resources. But charter schools generally operate with less money than traditional public schools. International Community School straddles two locations several miles apart and has been unable to find an affordable facility to house all its students.
Whatever It Takes
Eddie Pollard arrived as principal of Tyrone Elementary School in Fayette County eight years ago from a neighboring school, knowing he wouldn't have to work to get parents involved.
After all, Fayette County parents are largely middle class and educated, two factors that contribute heavily to a school's academic success. Also, Tyrone Elementary is small, with just 350 students. Many elementary schools around Georgia are bursting at the seams, with more than 1,000 kids, due to population increases and changing demographic patterns.
But Tyrone's success didn't stop Pollard from pushing. He had his staff read a book called Whatever It Takes, about how a faculty can work together to lift underachieving students. "Teachers have to be willing to do whatever it takes so their students will be successful," he says. "The book opened our eyes. It got us to say, 'What more can we do?'"
It also prompted some answers and some action. Fifth-grade math teachers suggested that the computer lab could be opened before school so students who arrive early could practice math problems. First-grade teachers worked together to divide kids into reading groups based on their skill level. "The kids who were reading at a higher level could move onto harder texts," Pollard says. Struggling students got more time and attention. Art and music teachers pitched in to work with students needing additional help. The staff developed a school creed that students recite every day: I will be responsible, respectful, safe and ready to learn.
For third- and fifth-grade students taking the "high-stakes" portions of the CRCT – the parts of the exam students must pass to get promoted – Pollard set a passing goal of 100 percent. All third graders passed and in fifth grade only three fell short. This year Tyrone Elementary was recognized as a Georgia School of Excellence for its high test scores.
Hire The Best
Hahira Middle School in Lowndes County also was named a Georgia School of Excellence this year, not for overall test scores but for making the greatest, continuous gains. "To be great, your expectations have to be extremely high," says Principal Kip McLeod. "Our school is about rigor, relevance and relationships."
He expects his teachers to make the classroom environment tough for students, including many from military families. He also wants students to know how what they're learning is relevant to life. And he wants students to know their teachers care. "We feel like we can build relationships with our kids," he says.
The 1,200-student school is divided into a dozen teams of 100 students each. The team concept enables teachers to focus on continuous improvement, says McLeod, who is fond of sports metaphors. "I have been around a lot of champions and know how to motivate people," he says.
McLeod also knows how the middle-schooler's mind works. He's big on incentives. "If you're going to get kids to do something, you have to give them something." Through the "Pride Power" program, teachers give tickets for passing classes, putting forth an extra effort and other small accomplishments. Every nine weeks, students can cash in their points for iPods, skateboards, movie passes and other goodies. "Give a kid an iPod, and they'll do just about anything for it," McLeod says.
Just as McLeod has high expectations for his students, he also has high expectations for teachers. He rewards them when they deliver. He has steak dinners – paid for by the school's business partners and proceeds from vending machines and school fund raisers – for his staff twice a year and showers new teachers with gifts as soon as they walk in the door.
The school offers Saturday school as well as extended learning time before school for struggling students. "We have all kinds of ways to help students achieve," he says. When it comes to hiring teachers, McLeod checks references as thoroughly as possible to make sure he is getting the best people. He cites Bill Haskin as an example of a teacher who represents what he expects at Hahira Middle School.
After 27 years in the Air Force, Haskin switched careers and entered the classroom. "It's the hardest job I've ever loved," he says, adding that he'll stay in the classroom until he's too old to work. "The most important thing for teachers is leading by example. When [students] see me modeling appropriate behavior, they tend to follow."
McLeod attributes Hahira Middle's success to teachers such as Haskin who treat their job like a calling. Says McLeod: "He feels like he is serving his country still."
State Superintendent Cox, herself a former high school social studies teacher, has toured countless successful schools and talked in-depth with principals such as McLeod who get the job done. She appreciates effective leadership, especially principals who take care of discipline problems swiftly. A strong leader can stop a misbehaving student just with a look, she says.
"The principal sets the expectation for behavior," Cox says. "That way teachers can teach, and students can learn."