The Long Haul
Over 28 years as head coach, Andy Landers has firmly established Lady Bulldog basketball as an elite program, with a No. 4 ranking in the all-time Associated Press women's basketball poll and a 96 percent graduation rate.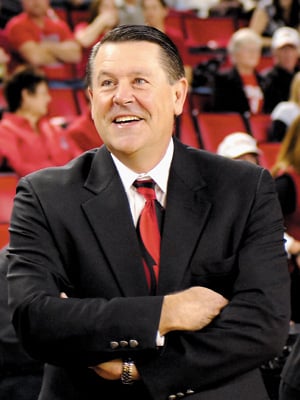 Andy Landers needed to be anywhere else that winter night of 1979. He had to put some miles between himself and a gut-wrenching, season-ending loss by his Roane State women's basketball team.
So he started driving south, took mountain back roads most of the way from Harriman, Tenn. (40 miles west of Knoxville). He'd never been to Athens, but the University of Georgia had been on his mind for a long time.
"Finally I got to Winder and saw a sign for Athens – 23 miles. I pulled into this little old motel and booked a room for the night. Next morning I went for a biscuit at the McDonald's across the street. I'm looking at the Atlanta paper, and right there is an article with the headline, 'UGA to hire first fulltime women's coach,'" Landers says.
"I remember thinking to myself at that moment, 'You're 23 miles from where you want to be.'"
It's almost three decades later, and he's where he wants to be – still. For 28 years Landers has coached the UGA women's basketball team. He's made the gradual transition from skinny 20-something wunderkind with 1970s hair into comfortable, burly middle age, demanding as ever at 54, straight shouldered with a slicked-back mane worthy of Pat Riley.
Landers has firmly established Lady Bulldog basketball as an elite program, guiding UGA to a No. 4 ranking in the all-time Associated Press women's basketball poll; and last summer he was inducted into the Women's Basketball Hall of Fame.
"A nice honor," Landers says, "but it's the culmination of a lot of very talented people's efforts. I've had a lot of great assistant coaches, great players, an administration that has always wanted us to succeed. When you put those things together, you win a lot of basketball games, and when you win a lot of games and do it the right way, you probably end up in the Hall of Fame."
The right way, in Landers' opinion, means a graduation rate within the program of 96 percent, and nary a whiff of scandal or controversy, while the Lady Dogs have won basketball games with mind-numbing consistency.
The first head coach hired by then-athletics director Vince Dooley, Landers has succeeded for decades in a woman's world, one of the few males on the list of winningest coaches in women's basketball.
The men's club among Southeastern Conference women's basketball programs has seen its membership go up and down, but Landers has remained, and he keeps on winning. Last year the Lady Bulldogs won 27 games and reached the Sweet 16 in the NCAA Women's Basketball Tournament.
There have been 26 NCAA Women's Basketball Tournaments, and Georgia has appeared in 24 of them, playing in 10 Elite Eights and five Final Fours. Landers has been national coach of the year four times, coach of the year in the Southeastern Conference three times. The one highlight missing on his resume is a national title, though the Lady Dogs have played in two championship games.
Barring an unprecedented team collapse, Landers will reach 700 wins at UGA this season (he entered 2007-2008 with 684 wins at UGA, 766 overall; his teams average over 24 wins a year, fourth on the all-time list).
"He was my first hire, and I'd say it was a great way to get started as athletics director," says Dooley, who still keeps an office in the UGA athletics department. "We didn't have a fulltime women's basketball coach, and the program had gone through some rough times. The first thing I wanted to do as athletics director was hire a fulltime coach. I'd say we hired the right guy for the job."
Funny thing about that is, at first Dooley didn't know Landers was a guy.
Write-In Candidate
Georgia was seeking a coach for its lackluster women's basketball program a year before Landers' evening ride to Winder. Landers called about the job and was told the new coach would have a full teaching load and no assistants.
"I was at a junior college in East Tennessee and had a better job than that," Landers says. "I thought Georgia didn't really understand what it would take to build a successful program at the major college level. Liz Murphey (UGA's athletics director for women's sports at the time) asked if I'd come down and say that to the search committee. She said they needed to hear it."
Landers said no. But he kept at UGA, sort of. He started sending Dooley notes.
"I'd see where Coach Dooley was speaking in Chattanooga, then cut out the newspaper clipping and send it to him with a note. And I'd send notes after he'd win a big football game, that sort of thing," Landers says. "I just wanted him to have my name in mind because I knew the job would be opening up again at Georgia eventually."
It did, after only a year. Following a miserable 6-19 season and near mutiny in the program, UGA was looking. After reading about his future over breakfast in Winder, Landers arrived, unannounced, at Murphey's office. A few months later, he had the job.
"All of those notes he sent me – I guess he was laying the groundwork," Dooley says.
But here's what Dooley didn't say.
"When they were going through the résumés, Coach sat back in his chair, looked at Liz and said, 'Now this Andy Landers, she sure sounds good,'" Landers says in a convincing imitation of Dooley. "He thought I was a girl the whole time I was writing him."
The turnaround was immediate. Working with transferred players from Roane State, walk-ons, and a few players from the previous UGA squad, Landers coached the team to 16 wins. The next year they won 27 games and the postseason Women's National Invitational Tournament championship.
"We were successful early on. But success was all we ever knew," says Bernadette Mattox, who led Landers' first UGA team (1979-80) in scoring and later became the program's first Academic All-American. Mattox – Bernadette Locke at the time – was one of the transfers from Roane State, where Landers had posted a four-year record of 82-21.
"Coach Landers always knew how to win and he saw himself taking Georgia to the highest levels of college basketball," says Mattox, now an assistant coach for the WNBA's Connecticut Sun.
"The thing about Coach is, he never beat around the bush. It was always, 'This is Georgia. This is the way it's going to be.' Even as a recruiter, he didn't wine and dine. That's not what he's about. You always knew what you were walking into."
And players who leave Georgia rarely walk out of Landers' life.
Old School
Teresa Edwards, who has been called the best women's basketball player in the world, was a two-time All-American for UGA in the 1980s, a four-time Olympian and a professional star in the U.S. and Europe. She hardly makes a move without consulting Landers.
"Every job offer that comes across my plate, every harebrained scheme I've ever tried, he knows about it," says Edwards, who just completed her first season as an assistant coach with the Minnesota Lynx in the WNBA. "His door has always been open, to all of his players, and somehow we don't get jealous.
"It's because he has this unique ability to love us for who we are – he doesn't treat everyone the same because we're not all the same. I never hesitate to dial his number. And he's great about laying it out there. Man, he tells it like he sees it. [Former UGA All-American] Katrina McClain and me sometimes debate if we want to hear what he really has to say or not."
Landers has molded dozens of players who played at the international and professional levels, or who have become coaches themselves. But he has a special fondness for his first recruiting class, back when his total program budget was $37,000 (today it's $2 million).
"I had five kids and sent their stuff over to admissions. Someone over there called me and said, 'Hey, you know none of these kids will ever graduate from Georgia.' That was news to me," says Landers, fast-forwarding to the present.
"Last week, one of those players, Wanda Holloway, walked through that door to my office and we sat in here, talked about old times. Wanda is a reading specialist for DeKalb County. Two days later Bam Bam Murray walked in here. She's a principal at an elementary school in Worth County. That's two who were not supposed to graduate."
The others are Rhonda Malone (high school basketball coach), Karen Miller (teacher) and Deborah Mitchell (teacher).
"That was a pretty good 0-for-5 recruiting year," Landers says.
Changing The Game
Landers, along with a handful of other coaches, such as Tennessee's Pat Summit and Stanford's Tara VanDerveer, represents the upper echelon of the profession, bellwethers who have guided women's basketball from the outskirts of sports consciousness to an honored place at the dais. Literally.
Trying to explain how the sport has changed, Landers sits back in his chair, pulls a mangled, unlit cigar from his desktop, chomps on it – he never smokes, only chomps – and thinks of the Final Four experience.
"In 1983, at the press conference for the Final Four coaches, they took us to a room about the size of this office and said, 'You stand in this corner, you stand in this corner, and the reporters will come talk to you.' Maybe six or eight reporters would come in.
"Now, you arm yourself with sports information people, and you'd better be prepared for the nonstop media blitz the entire time you're there. You're sitting up there on a stage with microphones and untold numbers of TV cameras pointed at you, because it's being shown live on ESPN, and there are 200 or so writers asking questions."
ESPN and the proliferation of local sports coverage brought women's basketball into the mainstream as the players have improved. Last year 19 Lady Bulldog games were televised, comparable to the UGA men's team.
Another way to gauge the growth of women's basketball, specifically at Georgia, would be a timeline of Landers' office space. First he shared an office with assistant football coaches Bill Pace and Erk Russell. Since then he's moved to a trophy room, a nurse's quarters, a bathroom, and now occupies spacious digs on the second floor of the new, $30 million Stegeman Coliseum Training Facility.
"Within the athletics department," Landers says, "I am very well-traveled."
The Power Of Preparation
Landers grew up in Blount County, Tenn., surrounded by the best girls basketball programs in the state. It was not unusual for two Blount County teams to meet in the state championship. And there was a coaching influence within the family. Landers' uncle, A.J. Wilson, coached Walland High School's girls program to 13 state tournaments.
"It made an impression on me, and I always thought it was something I'd like to do," Landers says.
Over the years, Landers has carefully picked his influences. When he was coaching at Roane State, he got to know Ray Mears, coach of the University of Tennessee's men's basketball team.
"I offered to chauffer him to and from speaking engagements," Landers says. "It was wonderful because I got to hear one of the great speakers in sports; but mainly, I got to talk about basketball and coaching with him riding to and from those events."
From an X's and O's perspective, Landers puts former UGA men's coach Hugh Durham at the top. "Without question, one of the best man-to-man defensive coaches to ever work on the men's side," says Landers, who worked with Durham in Athens for 17 years.
When it came to motivating players, though, Landers stood in awe of Dooley.
"He had an unbelievable knack of presenting the next opponent as all powerful," Landers says. "It always amazed me. I knew what the message was going to be and son of a gun, by the time he was finished I believed every word of it. That power of persuasion is something you need as a coach."
Landers also values the power of preparation. If something happens in March that costs his team a game, he traces it back to himself.
"Eighty to 90 percent of the time when things don't go well, it's because we haven't prepared as well as we could have, and that's my fault," Landers says.
So he prepares relentlessly, at all hours of the night. During the season, following a game, he won't leave the coliseum or the office until he's "bagged" the next game. That could include watching video, planning the next two days' practices, getting a game plan together. He rarely leaves before 2 a.m. and has been known to go home, pick up the morning paper, take a shower and go back to work.
Landers was at home last June when it occurred to him that all of the planning in the world can't prepare you for what or who may be coming around the corner. In this case, it was Landers' wife, Pam, coming to tell him that their son Drew, now a senior at North Oconee High School, had just been hurt in a collision that took the life of Shawn Smith, a North Oconee assistant basketball coach who was driving the car. Drew has fully recovered and returned to school, but there still are tremors in Landers' voice when he recalls the day.
"We also have an older daughter, so we've gone through the years of waiting for that door to open at 11 or 11:30. If it's raining or something outside, you have those thoughts, every parent has them," Landers says. "But it's not like you get up of a morning and say, 'OK, today's the day. At about 5 o'clock this afternoon, while you're standing out in the yard with a hose, your wife is gonna walk around the corner of the house and say we've got to go to Alabama, because Drew was in a bad wreck.'"
"You hear that and your mind goes blank and everything goes blank and you're trying to figure out where he is, how long it will take to get there, and you're thinking, 'This can't be right – dinner's at 6:00, and this isn't dinner.' You're never prepared to get that call."