A Watershead Moment
At long last, Georgia's first comprehensive water plan will be presented to the legislature in January. But troubling questions remain: Who should administer the plan – and how will it be funded?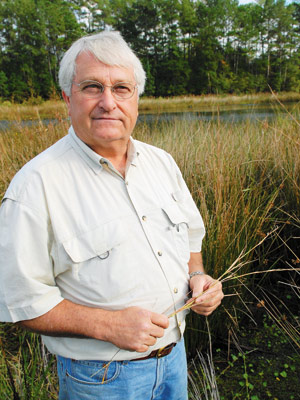 There is as much water today as there was 4 million years ago, when the human population could be measured with a show of hands. Since then, in spite of difficulties that may have sent a lesser species scurrying for extinction, we have vigorously multiplied.
Global population reached 1 billion 200 years ago, hit 2 billion 80 years ago and stands at 6.7 billion today. But the water volume is the same as it ever was – about 326 million cubic miles, give or take a Great Lake.
Here in Georgia, it took 300 years for the population to reach 9.3 million. At the current exponential rate of growth, we'll add 9 million more people in less than 30 years. Now, imagine 18 million people vying for a finite supply of water, the fundamental element to everything in life – food, nature, energy, culture, identity and virtually every product within our reach.
Do the math, but don't panic. We almost have a plan.
"We don't have 300 years to plan for a population that will double in 25 years," says Carol Couch, director of the Georgia Environmental Protection Division (EPD), who is directing creation of the state's first comprehensive water management plan which must, by law, emerge from the 2008 legislative session.
"The decisions we make today and in the next few years will determine our future. We've got to assure a stable and secure water supply. If nothing else, the historic drought we are in right now ought to be a sobering wake up call."
Sober or not, as Georgia lurches toward 2008 state leaders are finalizing the state water plan, grappling over who should administer it and wondering whether or not it will be funded, while downstream from thirsty Atlanta, farmers – exempt from plan regulations and among the state's biggest users of water – are learning lessons in efficiency during a devastating drought.
As October approached, many jurisdictions were on the brink of desiccation as water supplies circled the drain. Lakes Allatoona and Lanier were sinking to all-time lows. The Bear Creek Reservoir (serving Clarke, Barrow, Jackson and Oconee counties) had a six-week supply of water. A Level 4 drought – "exceptional drought" – was declared statewide and Georgia officials enacted a ban on virtually all outdoor watering.
In late October and November, Gov. Sonny Perdue was battling the Army Corps of Engineers – successfully – over the amount of water released from Lake Lanier to Alabama and Florida; the White House intervened to mediate an agreement among the three states' governors.
In some instances, consumers were exhibiting behavior that conjured images of the post-Katrina gasoline panic.
"I have students who work in Sam's Club, and they're seeing people pull pallets of bottled water," says Todd Rasmussen, associate professor of hydrology at the University of Georgia. "It's panic buying. Ridiculous. Clearly, we're not going to run out of bottled water. What it tells me is, we need a more measured response."
That's what the Georgia Water Council has in mind. Created by House Bill 237 in 2004, and chaired by Couch, the council is charged with approving a plan by Dec. 21 and submitting it to the General Assembly no later than the first day of the 2008 legislative session. HB 237 requires that a plan be in place by the end of the session.
EPD is developing the plan with guidance from the council. The first draft was released in June, followed by a public comment period and review by the water council. A revised draft was released in September, followed by more commentary and review. It will undoubtedly have gone through more nip and tuck before deemed fit for legislative consumption.
What form it will take – and whether or not it will be funded – are $30 million questions.
"It's absolutely critical that we have a good plan. We need to recognize that nobody has all of the answers – we're going to be feeling our way into this thing, so we've got to have flexibility," says Bill Ed-wards, executive director of Chat-tahoochee Riverwatch. Based in Columbus, Riverwatch advocates for the Chattahoochee River below West Point Dam.
"Once we start living with this, we have to have the capacity and ability to make changes. We can't afford to be hamstrung with a system that's not workable or adaptable."
Baby Steps
The Georgia plan (www.georgiawatercouncil.org) is supposed to help guide stewardship of water resources and create policy to govern water management decisions and practices, with the ultimate goal of meeting future water needs while protecting public health and the environment as well as the aquifers and surface waters that sustain our lives and economy.
"It'll be revised and perfected before it goes to the General Assembly, but remember, this is a broad-based guidance document, not intended to have specific numbers relating to water usage or water flows, or to allocate water to certain places," says David Word, former assistant director of EPD who is leading the planning process for the Metro North Georgia Water Planning District. "This is a good first step."
The plan is structured around management objectives that focus on supply, demand, conservation, efficiency and reuse, as well as interbasin transfer management and water quality.
This is the state's second stab at a water management plan in recent years. Urged on by population growth and a four-year drought that started in the late 1990s, lawmakers pursued a statewide plan in the 2003 session, but the bill was killed thanks to a determined effort by citizens groups, environmentalists and some legislators who hated the idea of permit trading – part of the proposed plan. It would have allowed permit holders to sell water – a public resource – to the highest bidder.
So in 2004 the assembly passed HB 237, calling for a plan that would be adopted as a resolution in the 2008 session. Permit trading isn't part of the plan but another sticking point from 2003, interbasin transfers, remains, with new strings attached.
"Interbasin transfers already are widely used, particularly in Atlanta. The plan doesn't introduce the concept, but because they are being used, how they are implemented needs to be regulated and governed," says Julie Mayfield, vice president and general counsel for the Georgia Conservancy.
"There currently are no criteria for the EPD to use in deciding whether or not to allow an interbasin transfer. The plan creates a list of criteria when considering a permit, which is something the Conservancy and other groups have been working on for three years."
But Mayfield and Shana Udvardy, water program manager for the Conservancy, both say stronger language is needed to discourage transfers; that receiving basin communities need to prove no harm is done to the donor basin or downstream communities.
"What seem like stringent criteria in Atlanta may not seem stringent downstream, like in Columbus," Udvardy says. "It makes sense that before you start taking water from another basin, conservation practices ought to be in place. This is something a receiving basin should be doing anyway."
Thirsty Atlanta
Interbasin transfers have been a fact of life in the 16-county Metro Atlanta region, which uses about 650 million gallons of water a day (a figure likey to double by 2030 – and Atlanta's supply tap already has slowed to a trickle).
To communities outside the metro area, especially downstream, Atlanta is a giant, growing sponge.
"We're scared to death of the growth in the metro area, in north Georgia as a whole," says Murray Campbell, a farmer in Camilla, where he chairs First United Ethanol LLC (FUEL), which is constructing Georgia's first corn ethanol plant in Mitchell County.
"They're talking about doubling population and doubling their water consumption in the next 25 years. I sure hope they're planning judiciously."
That task falls on the Metro North Georgia Water Planning District, created by the legislature in 2001. The district produced its first 25-year regional water management plan in 2003; the plan is being given the required five-year update for 2008. One of the frequent concerns raised in response to the early statewide draft plans has been whether or not the district plan meshes with the state plan, or conflicts with the needs of other regions.
"A fatal flaw is the lack of clarity as to how or if the 16-county metro district will be linked to the state water plan," says Sally Bethea, executive director of the Upper Chattahoochee Riverkeeper. "The metro area has been way too greedy at the expense of communities downstream, in Georgia and other states. Unrestricted water for unrestricted growth is a huge problem."
The proposed statewide plan depends on the integration of regional planning by local water councils. Couch says the district plan ultimately must conform to the state plan. But it will take three years and $30 million to implement the first phase of the state plan, which includes upfront research on the state's water resources, conservation planning and water quality monitoring.
"When the state completes all of the data work, and if those numbers are different from the district's, then we'll have to reassess our plan and change it to meet any new requirements," Word says. "In a perfect world, the state plan would have been completed first."
Georgia's approach to water management to this point has been mainly driven by federal mandates and drought. So far, the governor and legislature haven't been willing to ante up the money to measure available water resources – information that would be useful during a drought.
"I think the reason we don't have that information is be-cause an awful lot of people don't want to know. They would rather maintain the status quo," Bethea says. "And then there is a drought like this one and you've got problems."
In other words, the ostrich approach isn't working.
"The problem has been that we respond to something that happens only occasionally, like drought," UGA's Rasmussen says. "Water planning is something we need to think about on a more consistent basis, rather than once every decade or two."
Rasmussen is from California, where he says water issues are daily news, all of the time, regardless of the weather.
"It's part of the mindset, a fact of life. Water is mother and apple pie," Rasmussen says. "There is genuine, steady concern. Fortune 500 companies go the extra mile to make sure the water agenda is covered politically."
HB 237 tries to circumvent politics by directing the General Assembly to hold an up or down vote. That, along with the authority outlined for the EPD director in managing the plan, has been a problem for legislators and leaders who have only recently become acquainted with the draft plan.
But it isn't as if Couch is granted new power, says State Rep. Lynn Smith (R-Newnan), a council member who sometimes wonders if her colleagues are aware that the guidelines in HB 237 are three years old.
"This isn't brand new. It's something we've been working on for years," says Smith, who chairs the House Natural Resources and Environment Committee.
"We're not creating any new laws or new power for the EPD director – the plan is based on existing law. I've been pounding my drum for any legislator who will listen, telling them the time to interact is now, because it will be too late in January to start trying to understand this.
"I can't predict what will happen – anything can happen in the General Assembly," Smith says. "But I do expect this issue to be a geyser."
If the initial plan gets a "no" vote in January, it can be revised and resubmitted by the 20th day of the session – the halfway point. If the next version gets a no vote, legislators can draft their own version. If that fails to win support, the plan defaults to the last version submitted by the Water Council and that becomes the statewide management plan.
Then it's up to the legislature and the governor to approve initial funding for the plan. There are no guarantees, leaving local governments, utility companies and industries wondering if they'll wind up footing the bill through increased water permit fees.
"I look at it like this," says State Sen. John Bulloch (R-Ochlocknee), a farmer from Southwest Georgia who sits on the water council. "Somehow we found the money to support the governor's fishing program ($18 million). If we can find money to go fishing this year, we can find money to fund the water plan. This is one of the most important issues that the General Assembly has debated in modern times."
Conservation Is Key
Someone, probably a farmer, once said that humanity, despite all of its pretensions, refinements and achievements, owes its existence to a six-inch layer of topsoil and the fact that it rains. Bulloch, a fourth-generation farmer, is inclined to agree. So does the state plan, which virtually exempts farming – while new regulations on conservation focus heavily on local governments and major industry.
"We're protected," says Bulloch, who farms about 350 acres of pecans and 560 acres of row crops, most of it unirrigated land. "Nothing we're doing in the plan will change current Georgia code, which protects farmers."
Nothing could protect them from drought. May, June and most of July were mostly devoid of rain, cutting crop yields in half in Southwest Georgia farm communities. Scattered rains salvaged some crops, avoided others. Corn farmer and ethanol executive Murray Campbell describes flourishing fields on one side of the road, parched crops on the other.
More farmers used irrigation to compensate, but they had to contend with the high cost of fuel to run those systems, and the possibility of inadequate surface water supplies, wells running dry, and obscure leaks in the infrastructure that could be wasting lifeblood. All of which makes the Stripling Irrigation Research Park (SIRP) in Camilla an important neighbor these days.
Operating under the University of Georgia's College of Agriculture, SIRP researches ways to maintain crop production while decreasing water demand and optimizing use through innovative systems like Variable Rate Irrigation (VRI), or precision irrigation. The park also educates farmers in efficiency.
"We focus on remembering the basics," SIRP director Rad Yager says. "These are simple, but time consuming concepts, like irrigation uniformity testing, calibration testing, necessary maintenance that often gets overlooked for one too many years, only to find out you have one too many leaks out there.
"What we're trying to do here is drive home the point that sometimes the best conservation methods are just a matter of routine maintenance."
Best conservation practices can't be forced on a farmer, and a farm's watering permit can't be revoked under existing law – which the state plan can't change.
Nonetheless, conservation is given ample ink in the state water plan. Regional councils, local government and industries will be charged with developing conservation plans and demonstrate progress, or else. Imagine lost water permits, or higher rates for customers who use or waste the most water.
According to the United States Geological Survey, which prepares water use estimates every five years, thermoelectric power generation uses more water than any other activity in Georgia – about 3.31 billion gallons a day. It makes the Chattahoochee Riverwatch's Bill Edwards wonder why the state energy strategy (released last year) and the water plan were not part of an integrated process.
"You can't separate water and energy. You have to mesh the two plans. But right now they're driving down separate roads," Edwards says.
Lynn Smith believes that whatever emerges from the 2008 legislative session won't be worth the paper it's written on without a wholesale change in mindset, especially in regard to conservation.
"We can write all the laws we want to, but it's only going to work if it's the will of the people," Smith says. "When we understand that each of us has to be part of the solution, we're moving in the right direction. But it's going to take education and angst to get us there."