The Best Places To Work In Georgia
Sometimes it's the benefits, sometimes it's the educational opportunities. But sometimes it's the atmosphere, the community involvement or the sense that what you're doing is important that make a company a good place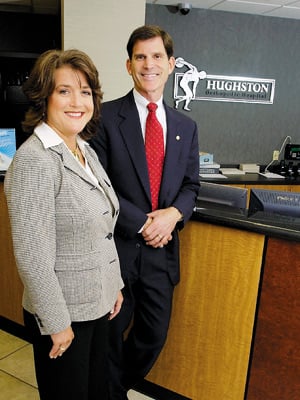 When we set out to present our first "Best Places To Work in Georgia" Honor Roll we decided to ask the experts – the people who work in Georgia's businesses, professional offices, governmental agencies, healthcare institutions and nonprofits.
We wanted to know who the state's best employers are and what makes them the best. Is it the salary, the benefits, the training they offer? The working environment? Co-workers and colleagues? The sense of mission, or the chance to make a difference in a community or a profession?
Turns out, those are all important, all mentioned frequently by employees who nominated their companies as the best. Georgia employees clearly like a team concept, and many mentioned a family atmosphere. But a word that appears over and over in the responses is "respect." Respect for employees, respect for customers and respect for the work being done – whether it's commerce, philanthropy or civic betterment.
To compile this year's "Best Places" Honor Roll, we issued an invitation, via our website and in the pages of our magazine, to all Georgia employees; we gave them an opportunity to nominate their companies – using an online ballot. We asked them to tell us what makes their company a good place to work.
We heard from employees throughout the state, representing companies large and small. Some of the respondents were long-time employees, some were new to their jobs. Some were high in the pecking order, but many were not.
From all the responses, the Georgia Trend editorial staff selected 15 companies whose employees convinced us they merited inclusion in our first Honor Roll. There were many worthy nominees, so the choice wasn't easy.
This year's honorees include a large manufacturing company, a growing community bank, a municipal government, an international relief organization, a local nonprofit that helps the homeless, an engineering firm, a small telephone company that's nearly 100 years old, an architectural firm, a hospital specializing in sports medicine, a CPA firm, a building supply company, an economic development agency, a general contractor, a law firm and a moving and storage company. We hope you enjoy reading about them.
Individual company profiles were written by Mary Anne Dunkin, Ray Glier, Carol Carter and Bobby Nesbitt. – Susan Percy, Editor
A.C. White Relocations
Moving and Storage
Alpharetta, Atlanta, Macon, Savannah
Archie White III, Chairman
Founded in 1926 by A.C. White, Sr., and now run by the third generation of the White family, this company has become one of the South's largest and most experienced moving and storage companies. Yet for its 150 employees, spread out over five offices throughout the state, A.C. White has maintained a small family-business feel.
Many employees, from management to helpers on the trucks, have been working at A.C. White for more than 20 years, says Mina Price, the company's director of business development.
When questioned about their long tenure with the firm, employees are apt to say they have stayed, "because I have been treated with respect," or "because even though my name isn't White, I have felt like part of the family."
Lassiter Copeland, a van operator who has been with A.C. White since 1954, says he has never had reason to look for a job anywhere else. Another employee, a single mom, says she appreciates knowing that if her children need her, she can leave without jeopardizing her job.
"Our paychecks may not be impressive in the world of business, but they are always there and on time," Price says. "It is rewarding to know that we can rely on our company." – MAD
Bank of North Georgia
Regional Bank
Alpharetta (with offices throughout Metro Atlanta)
Kessel Stelling, President and CEO
Good salary, great benefits, strong leadership, a family atmosphere – sounds like a great place to work. And it is, say the many Bank of North Georgia employees who wrote to nominate their company as one of Georgia's "Best Places to Work."
"I have been in the banking profession for more than 20 years and have worked for nine banks. Finally I found the right one where all the people are like family," says Abu Kibria of BNG's Norcross office.
Elizabeth McDonough of the Marietta office says she's "proud to work for a company that truly puts people – employees and customers – first."
BNG's leadership is praised by many, including Jay Jones, a vice president in Atlanta, who says, "At our company, not only do we have the ability to make decisions, but the leadership encourages this type of spirit."
These are comments BNG President/CEO Kessel Stelling says he is proud to hear. "We care a lot about our employees and do try to create a family environment," he says. "In the banking business, we all sell the same product. Hopefully, what sets us apart is our service; and it's our employees who provide good service."
BNG, part of the Columbus-based Synovus organization, has 33 offices in 13 metro Atlanta counties. – BN
The Boeing Company
Aircraft Manufacturing
Macon
Reed Morren, Site Leader
Asked why The Boeing Company in Macon is one of Georgia's best places to work, Robert A. "Al" Stewart can answer with one word: "teamwork."
The Macon facility, which opened in 1988, is home to 571 dedicated teammates who work in the forefront of aircraft technology to support the United States military, says Stewart, government affairs and community relations specialist, who has worked at Macon's Boeing facility since the day it opened.
"Macon has created a family atmosphere that encourages everyone to work as a team to accomplish their goals. There is no 'I' in Team Macon," he says.
The Macon facility produces high-quality sub-assemblies for the C-17 Airlifter and the Apache and Chinook helicopters on schedule and below targeted cost. Its performance has been honored with the Malcolm Baldrige Award, the Georgia Oglethorpe Award, and Large Industry of the Year Award, presented by the Macon chamber of commerce.
Boeing was named by Industry Week as one of the Top 10 Best Plants in North America in 2004. Stewart says Team Macon members know the lives of the men and women of the Armed Forces depend on the quality of product they produce – literally. "Our team takes a lot of pride in building a first-time quality product for our customers," he says. – MAD
CARE
Humanitarian Relief Organization
Atlanta
Dr. Helene Gayle, President
Atlanta-based CARE, dedicated to fighting poverty worldwide, employs 12,000 internationally – 338 in Atlanta. Like many nonprofits, CARE doesn't have the resources to match the salaries of investment bankers and corporate lawyers. But what CARE can't give its employees in their paychecks, it makes up for in terms of respect and purpose. And, says Christina Wooldridge, measurement and reporting analyst, it offers some valuable perks that many big corporations don't – and, in some cases, can't.
For example, after one year of employment, CARE contributes 8 percent of each employee's salary to his or her 401(k) – that's a contribution, not a match. CARE also allows for flex-time and telecommuting whenever possible and makes every effort to engage headquarters staff with the program and efforts of the field. "Not a week goes by without a brown-bag lunch or information event," Wooldridge says.
CARE has greatly encouraged and benefited from its diverse staff, she says. Some 40 different nationalities are represented at CARE's headquarters in Atlanta. The organization showcases the diversity in various ways, such as international fashion shows and pot-luck dinners at least once a year. (Imagine everything from apple pie to fried plantains to West African kebabs.)
"But most of all," Wooldridge says, "each staff member knows that their work contributes to CARE's mission of ending global poverty." – MAD
City of Warner Robins
Municipal Government
Donald Walker, Mayor
Marsha Buzzell loves Warner Robins. So much so she volunteered for 18 years with various city commissions and boards, including the board that oversees the Warner Robins Convention & Visitors Bureau, the department she now manages as a city employee.
She says working for the city is like being part of a family. "It's a great place to work," she says. "The city has over 600 employees but you feel like you know everyone. You are given so much respect by the city leaders … they are very supportive and give people a chance to prove themselves."
Located south of Macon, in Houston County, Warner Robins has a population of about 50,000.
Mayor Donald Walker, who is serving his fourth term, says he believes people like to work for the city "because of the way we [city leaders] perceive our employees – we take pride in them and do everything we can to help them do their jobs."
Walker says the city offers "an excellent benefits package" and "we've fully funded pay increases every year for the past 13 years." But he also credits the city's workplace enhancement program with helping retain good employees. "If it's a class or program that's job related or will help a person advance in a job with the city, we'll pay for it," he says. – BN
DPR Construction
Commercial General Contractor
Atlanta
Andy Andres, Southeastern Regional Manager
Employees cite an all-in culture at the Atlanta office of DPR Construction not only in the space where they work, but in the spaces they build. The office space occupies an open floor plan with managers working in the same space as staff; partitions are only eye-level so no one is cut off. More important, the company encourages employees to be just as "green" savvy as its executives and provides them with in-house training for LEED (Leadership in Energy and Environmental Design) certification.
"Who we build is as important as what we build," says Andy Andres, Southeast regional manager for the California-based company. "People want to build what their passion is and people, in this day and age, are very passionate about taking care of the earth. The first thing we do with people then is to get them LEED-certified. We are committed to it as a company, and so our people are committed to it."
Andres says DPR employees do a lot to educate the community about building sustainable structures. One of the benefits is that every fifth year, employees get a six-week sabbatical to recharge.
Project Engineer Kevin Murphy says, "You would be very hard-pressed to find a DPR employee who did not truly enjoy their job and look forward to waking up and going to the DPR office or jobsite." – RG
Hughston Orthopedic Hospital
Columbus
Don Avery, President/CEO
Hughston Orthopedic Hospital was founded in 1984 by two pathfinders in medicine: the late Dr. Jack Hughston, considered the father of sports medicine, and Dr. Thomas Frist, Sr. Both firmly believed in the importance of people in any organization. Dr. Frist's quote, "It's not bricks, mortar and equipment that make a hospital – it's people," has characterized the hospital's culture since day one, says Denise Kendust, vice president of business development.
Although the facility, with 100 beds, has long been known as a center for sports medicine, it is a complete orthopedic hospital, which performs spine surgeries and joint replacements.
"The culture of this hospital is clear: Hughston employees are our greatest asset," Kendust says.
To protect and grow its assets, Hughston offers a number of employee benefits, including 100 percent tuition reimbursement for fulltime employees (45 percent for part-timers), flexible working schedules, daycare discounts and the HOPE fund to help employees and their families who are affected by hardship.
The hospital also has programs that allow employees to voice their suggestions and to recognize staff for extraordinary service, Kendust says. – MAD
Kilpatrick Stockton LLP
Law Firm
Atlanta and Augusta
Diane Prucino and Bill Dorris,
Co-Managing Partners
For more than 125 years, Kilpatrick Stockton has been at the forefront of providing a progressive work environment, says co-managing partner Diane Prucino. It was the first law firm in Atlanta – and one of the first companies of any type – to offer domestic partnership benefits and was the first large law firm in Atlanta to have a female litigator and a woman co-managing partner.
But its progressive tradition did not stop there. "We try hard to be cutting edge when it comes to benefits and things that make a workplace a more enjoyable place to come to," Prucino says. Such benefits range from in-home, back-up childcare and eldercare for times when regular caregivers are unavailable, to nutritional counseling and gym memberships, to an annual employee talent show and trick-or-treating for employees' children.
Kilpatrick Stockton, a full-service international law firm headquartered in Atlanta, has 1,200 employees in nine offices, including locations in Washington, DC, New York and London.
Community service, volunteering and pro bono work also are firm priorities. This fall, employees purchased and filled 1,200 backpacks for underprivileged children, and 85 Atlanta employees have made a four-year commitment to mentor students at Atlanta's Booker T. Washington High School, Prucino says. – MAD
Mauldin & Jenkins
CPA Firm
Atlanta, Macon and Albany
Elton Wolf, Managing Partner
Accountants can feel the tug to change jobs at any time and Mauldin & Jenkins, an 89-year old accounting firm, founded in Albany and now based in Atlanta, has found a way to address those pulls on professionals. That's why the majority of partners and accountants at the firm don't move on – they move up.
"We try and give them a lot of opportunity for career growth without moving," says June Paschal, director of Human Resources. "People do move up rapidly and work with many different clients. Even though you are here for a long time, you could be doing a lot of different things."
Mauldin & Jenkins provides accounting, auditing and tax services to a variety of businesses, nonprofits and governmental entities.
"There is a lot of client interaction," Paschal says. "Our jobs, except for the governmental ones, typically last a week or two, so you get to meet a lot of different people, and that's what people like about this job."
The firm stresses the idea of work/life balance, she says, something that is important in a profession with a well-defined "busy season."
Another benefit is the opportunity for continuing education. Accountants and auditors can routinely polish their skills with professional-level classes from the American Institute of CPAs or the Georgia Society of CPAs. In addition, many lend their expertise on the boards of various nonprofit organizations around the state. – RG
Niles Bolton Associates
Architectural Firm
Atlanta
Niles Bolton, CEO
Niles Bolton, an Atlanta-based architectural firm, prides itself on being a company that treats its 190 employees as if they were family members. Bill Keen found that out in life, and others discovered it in his death.
A long-time custodian in the Buckhead building where the firm has its offices, Keen was laid off by the building's management company. Niles Bolton hired him as a part-time worker so he could continue to support himself. When Keen died suddenly in October 2006, and had no relatives in the area to handle the responsibility of burial, Niles Bolton paid for funeral expenses and organized a memorial service.
The company, founded by CEO Niles Bolton in his basement in 1975, has some 160 employees in Atlanta and others in offices in Arlington, Va., and San Jose, Calif. The firm handles residential, educational, institutional and retail projects.
"We have tried to emphasize that we are a learning organization and have continued to push ourselves as a firm in the types of projects we do," says Ray Kimsey, the firm's president. "Our approach to projects is to figure out ways to improve what we do and continue to learn." – RG
Ringgold Telephone Company
Telecommunications
Ringgold
Alice Evitt Bandy, Owner
In business since 1912, and still owned by descendants of its founder, Ringgold Telephone Company (RTC) is known both as an industry leader and as a company that cares about its employees and its community.
Human Resources Manager Kathy Hampton says she was aware of its reputation long before she went to work there: "I had always heard of RTC and how well the employees were treated."
One of the latest benefits the telephone company will offer is an in-house physician for employees and their dependents – for free.
On the customer service side, Sales Administrator Bradley Chambers says, "We were one of the first companies in Georgia to offer high-speed internet to every customer."
And now, RTC is adding fiber-to-the-home technology: "There are something like 2,000 fiber-to-the-home communities in the United States, and we have a couple of them here in Ringgold," a fact that Chambers says should spur economic growth in the community.
This is among the reasons, he says, that an industry magazine selected RTC as the nation's most innovative telephone company. – CC
Robert Bowden, Inc.
Wholesale Building Supplier
Marietta
Steve Cole, President
Some companies boast that they work every day to create customer satisfaction; but at Robert Bowden, Inc., a Marietta-based wholesale building supply company, they really do it, employees say.
"That's our number one thrust," says Human Resources Manager Buddy Minshew. "We never say no to our customers. Every meeting we have – the customer is always the main thrust. We ask that our customer service be beyond expectations. We want to do more for him than he expects us to."
That lofty goal may be more attainable for a company whose employees are truly vested in the business, as they have been since 2001 when Robert Bowden became employee-owned.
Employee ownership certainly helps, says Production Accounts Manager Michael Nowell, but, as a 22-year employee, he says the company always was a special place and that employee ownership "is just the icing on the cake."
What it adds, Nowell says, is the understanding among the company's 370 employees that the best way to have solid jobs for the long term is to work a little bit harder. "Everyone here gives a little extra." – CC
Savannah Economic Development Authority
Economic Development Agency
Savannah
Rick Winger, President/CEO
When Lee Grimes' son died after a lung transplant, she was able to take comfort in the support offered by her workplace and co-workers. "They allowed me to take off for six weeks," she says. "That was very special because when a person in a small office is gone it leaves a big hole. But here everyone pitches in. You don't hear 'That's not my job,' but 'What can I do to make it work?'"
Grimes is director of research/ established business initiatives for the economic development authority. It's a job she's proud of because she's helping "a city I love grow and prosper."
"Can you imagine something you love and are proud of and that's your job? It's like being paid to talk about your children. That's how I feel about the work we do here."
SEDA, an independently-funded organization, works to bring new business and jobs to the Savannah area as well as lending support to existing companies.
The pay and benefits are good, Grimes says, but what makes this workplace special are "my co-workers … these are people who care."
"I agree," says SEDA President/ CEO Rick Winger. "It's the people that make this a great place to work. When you love where you live and love where you work, that makes for a job hard to beat." – BN
Thomas & Hutton Engineering Co.
Civil Engineering Firm
Savannah
J. Mitchell Bohannon, President/CEO
If you go to work for Thomas & Hutton, be prepared to stay a while. "All three of our senior executive staff members have contributed at least 20 years of service to the organization," says Candice Clifton, human resources manager. She describes the firm's employees as "a tight-knit professional group that provides high quality services."
A thriving civil engineering firm since 1946, Thomas & Hutton values its employees as well as its many private, industrial, municipal and government clients. The company, founded in Savannah, has 220 employees in Georgia, 420 total.
Commitment to employees and their families is evident in the company's compensation and benefits packages – as well as employee longevity, Clifton says. "No employee pays premiums for their health, dental, short-term disability or long-term disability coverage. These benefits are extended not only to our employees, but also to their families." Other benefits include a generous 401(k) matching plan and regular bonuses.
Thomas & Hutton is committed to ensuring that its employees grow along with the firm, Clifton says. "Proof of our commitment is evident through our low turnover rates and the success of the employees that have risen through our ranks."
She says the company emphasizes community involvement and last year more than 25 local and regional charities received donations. – MAD
Union Mission, Inc.
Nonprofit Emergency Shelter and Supportive Services
Savannah
Micheal Elliott, President/CEO
Union Mission Inc., founded in 1936, exists to end and prevent homelessness in the greater Savannah area by offering housing, physical and behavioral healthcare, life skills, job training and a vast array of other supportive services.
While the benefits Union Mission provides to the Savannah community are immeasurable, its employees say they, too, are beneficiaries. "With a professional staff of over 200, the best aspect of our job is to be able to work in a high-level business atmosphere with the added fulfillment that all of us, whether a social worker or a member of the finance team, can help homelessness and change lives," says Shannon Trujillano, community liaison.
"Working here offers us daily reminders of how we are all alike," she says. "To quote Maya Angelou, 'Nobody, but nobody, can make it out here alone,'" she says. "We get the daily blessing of changing lives."
Union Mission extends that same caring attitude to its employees, Trujillano says. "It offers a great deal of understanding regarding personal matters, and this is held in high esteem by me and all of our other employees." – MAD