Rome/Floyd County: World-Class Appeal
A well-educated workforce and a vibrant community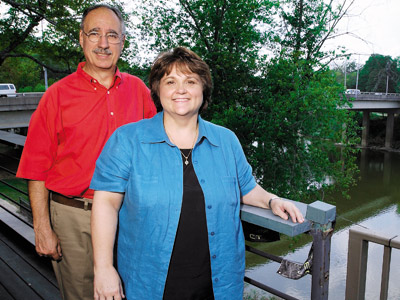 Few people in Rome compare the west Georgia city to its world-conquering namesake. However, they are fond of pointing out that for several world-class businesses many roads do indeed lead to Rome.
At a time when communities across the country are losing manufacturing jobs at a rapid pace, this small city, 75 miles northwest of Atlanta, has been winning an impressive list of world-class companies. From Suzuki Manufacturing of America's new all terrain vehicle factory to auto parts makers F&P and Pirelli Tire, the arrival of foreign employers has helped push manufacturing to 23 percent of the workforce. This comes at a time when the state average is less than half that, local officials say.
"We have a community that is business and industry friendly," declares Floyd County Commission Chairman Jerry Jennings. "We have a good system of incentives for business and industry to locate here."
Those incentives aren't limited to just the usual tax breaks and relocation help that most communities offer, but are heavily focused on every potential employer's primary concern: The availability of an appropriately educated and well-trained workforce.
Timely Training
Floyd County's local colleges and school system work closely with economic development officials to offer the types of training that will make local residents employable in a manufacturing economy. Here, talk is about the latest training in robotics and other high tech tools of the trade.
Officials say Rome's ability to tailor training for its workers often trumps any other incentive. And that's where the county's technical college and other educational institutions become strong partners to economic development team.
"We have a long history of being at the table when industrial prospects come in and then providing that training," says Dr. Craig McDaniel, president of Coosa Valley Technical College. "It is very much customized and focused on their specific needs and then we maintain that relationship after that."
As soon as a new prospect arrives in Rome or Floyd County, college officials meet with its representatives to determine the scope of their training needs. A visit to a similar company plant or facility lets the college identify subject matter experts who know the processes and requirements for each specific job.
"We develop onsite a very customized training program that will cover all the different processes that will be at the new plant in Rome," McDaniel explains. "We develop the training materials. We teach company people how to deliver the training using material that we have developed. It is very proprietary training. All of the training that we develop for that company belongs to that company."
For example, when Suzuki Manu-facturing of America was considering a plant here to build its popular all terrain vehicles, Coosa Valley instructors flew to Tokyo to film Suzuki's assembly lines. Using that footage, they created a 160-hour long "certified manufacturing specialist program" designed to meet the company's specific needs.
Coosa Valley Tech also provides a Business Expansion Center that serves as an incubator for new enterprises, providing low cost office and manufacturing space, along with professional support services. These facilities served as the home base for Pirelli Tire when it first came to town. Company officials operated out of the center for a year while their plant was being built, as did Suzuki and F&P.
Over the past decade Coosa Valley has trained more than 5,000 workers for a wide variety of businesses and industry. In a manufacturing community, helping workers keep up to date has been a key to success. And it's also a key to keeping high paying jobs in town – not losing them to other locations in the United States or abroad.
Locals also credit the close working relationship between government, schools and the chamber of commerce, which serves as economic developer for the area. Together these groups have carefully crafted plans recruiting business and also for determining what businesses they're after.
"An example is advanced manufacturing, value added, technology-based companies [that] would be in the category that we're looking for and then add minimal negative impact on the environment with good pay and benefits," says Al Hodge, president and CEO of the Greater Rome Chamber of Com-merce. "Additionally [we want] a company that can take positive advantage of the fact that we have four colleges and an educated workforce that is trainable for their specific type of business."
Career Academy
It isn't just the technical college that has industry on its mind. The local school system is getting ready to give local high school students advanced training for these jobs, which can pay as much as $40,000 to $70,000 a year right out of high school.
With funding expected from a $3.2 million grant from the state, Floyd will be able to replace the old Floyd County Technical High School with a new Charter Career Academy.
"It will be very different from our current program in many, many ways," says Floyd County School Superintendent Kelly Henson.
Located next door to Coosa Valley Technical College, the new school will offer students the opportunity to take courses at both institutions, giving them access to high tech equipment and advanced industrial training programs.
Just how different the approach for this type of education will be is reflected in the board of directors; members are drawn primarily from local industry, manufacturing and service providers. The school system plans to develop programs that are closely attuned to the needs of its supporting companies.
"We really do want to offer instruction that prepares students for current and future workforce needs, and we do not want to be one of those institutions that prepare people beautifully for jobs 10 or 20 years ago," Henson asserts.
To make sure that doesn't happen, the system is asking those local industries that will be offering jobs to help shape the curriculum for future students.
Downtown appeal
Of course, Rome's appeal is more than just training and tax breaks. A big reason companies locate here can be found in its busy and well kept downtown area.
Along Broad Street's wide ex-panse are rows of one-of-a-kind shops and high-end restaurants. In fact, it's hard to find an empty storefront in the city center; and that's by design. The local development authority has made use of a variety of grant and loan programs such as those offered by the state community affairs department.
"I think that being able to offer those programs [has] really been the catalyst in getting more development, getting local people interested in developing some of our big white elephants if you will," says Ann Arnold, director of the Rome Downtown and River Development Association.
Along with businesses, people also have been moving back downtown. Two large buildings on the corner of Second Avenue and Broad in the heart of downtown were recently renovated to house 18 new apartments.
"At this point there are only two vacancies," Arnold says.
Another old building also has been renovated into a Hawthorne Suites boutique hotel, providing business travelers accommodations within walking distance of downtown.
"Our program for the last six or seven years has been to focus on upper story development," Arnold says. "That's the area that's been underutilized and that's where we are trying to really get those upper stories filled with both office space and residential."
The idea is that having people living downtown around the clock benefits the entire area. Not the least of these is a feeling of greater safety that regular pedestrian traffic creates. In addition, downtown residents are shopping in local stores, eating in restaurants and inviting their friends to join them – all good for business.
"So there are a lot of advantages to having those residences downtown, and historically [people] did live here," Arnold adds. "They worked in their shops on the first floor and they lived upstairs."
The city also is considering adding condos to the mix – a first for downtown. Local developer Ira Levy, a partner in the Hawthorne Suites project, has proposed converting the historic Top Hat Building to three-story townhouses with street level shops.
Downtown also hopes to benefit from construction of a nearby plaza and dock on the river (see story, page 84). These attractions should pull more people back to enjoy the waters and shop here as well.
"That improves the investment that's already here and also encourages additional investment," Arnold explains. "It just sends a message that the community cares about its downtown, it cares about its people and it's a great place for people to live, to visit, to play, to invest their money in a new business."
Renewing Neighborhoods
Not far from downtown, the city is also working to revitalize a once prosperous, but now sadly downtrodden neighborhood. Bisected by Broad Street, the area known as South Rome encompasses a 2.2-square-mile area whose 3,500 residents make up fully a tenth of the city's population.
Many homes here fell into disrepair or were abandoned as crime gained a foothold and families moved away to safer areas. Rome has made a renewed effort to upgrade the neighborhood by forcing property owners to either repair houses or face condemnation proceedings.
"I can tell you that probably 85 to 90 percent of the property owners that the city is dealing with are absentee landowners," says Karen Moore, director of the South Rome Redevelopment Corp. "They are slum lords, they are not property owners. They are not families. They are absentee landlords, and it's multiple cases against individuals."
To upgrade the area, the city will soon start work on housing for seniors, thanks to a $500,000 grant that will be combined with other funding. At the same time, Moore's group has launched a project to build more affordable housing. A local developer already has three houses under construction on Wilson Avenue – all pre-sold.
In addition, a $2.8 million Boys & Girls Club is also under construction.
Moore also hopes the area can begin to attract some kind of retail, such as discount chain Fred's or a grocery. Two small food stores closed in the past year, meaning residents have to drive outside the community to shop.
"Many of our residents have to rely on public transportation," Moore says. "Right now we are negotiating on a site that would be large enough to accommodate a commercial development like Fred's.
While South Rome has been making incremental progress, locals hope momentum gained from new housing and retail will push a larger transformation. An area along the river called Etowah Terrace, with a collection of historic cottages, seems a good spot for creating an arts district. This is an area "where people can live and work from the same location," Moore says.
Rome/Floyd County At-A-Glance
Population
(2006)
Floyd County, 95,322; Rome, 36,142; Cave Spring, 1,010
Per Capita Income
(2005)
$19,004
Unemployment
(Aug. 2007)
Floyd County, 4.5 percent; Georgia, 4.5 percent
Top Private Employers
Mohawk Industries, 1,250; Temple Inland, 915; Zartic Corp., 800; Kellogg's, 660;
Sara Lee, 450
Sources
Greater Rome Chamber of
Commerce, Georgia Dept. of Labor,
U.S. Census Bureau