Battling Breast Cancer
Advancements in detection and treatment, available at medical centers throughout the state, are improving the lives and life expectancies of countless women. Here's a look at five trends.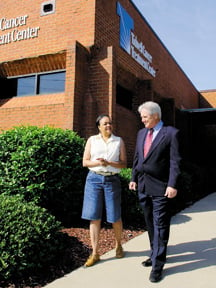 When Joyce Zoller was diagnosed with breast cancer last winter, her doctor at the Tidwell Cancer Treatment Center in Columbus gave her two treatment options – seven weeks of daily treatment that would involve radiating her entire breast and underlying tissue, or a relatively new targeted radiologic therapy that could be completed in five days and would carry a smaller risk of side effects.
For Zoller – as for an increasing number of the other women offered a similar choice – the decision was easy. The week following surgery to remove the cancerous lump from her breast, she went back to the surgeon for a much simpler procedure, which involved placing a deflated balloon attached to a catheter through the original incision in her breast. And for the next five days, she returned to the center – about an hour's drive from her home in Talbotton – to have a dose of radiation delivered directly to her breast tissue from a source placed inside the balloon.
The device, called the MammoSite Radiation Therapy System, was designed to target radiation to the area where tumors are most likely to recur, while minimizing exposure to healthy tissue in the breast, chest and lungs, says Tidwell Center Director Jack Tidwell, MD.
For most women, the procedure is relatively painless. "They gave me stuff for pain, but I didn't have much pain," says Zoller, 60, who was one of more than 4,000 Georgians diagnosed with breast cancer last year.
Zoller's daughter, who lives in North Carolina, stayed with her mother the week of treatment and took her to her appointments. "It was only five days." Zoller says. "If I had had the other procedure it would have been seven weeks. She works – she's a nurse – and has a family. She couldn't have been here for that long. Seven weeks would have been hard."
So hard, says Jan Pease, director of community relations at the Tidwell Center, that before the availability of MammoSite, many women in West Georgia and East Alabama – particularly those with long drives to Columbus – chose quick, drastic fixes for their breast cancer.
"In the seven years I have been at the cancer center, I can't tell you how many women I have seen who would be a perfect candidate for a lumpectomy, but they end up having to have a mastectomy because they don't have a ride to get to radiation treatment," Pease says.
MammoSite, which may be appropriate for as many as 64 percent of lumpectomy patients, is just one of many recent breast cancer advances that promise to improve the outcomes and lives of women diagnosed with breast cancer.
Georgia cancer centers, headed by physicians from the nation's cancer treatment meccas, including Houston's M.D. Anderson Cancer Center and New York's Memorial Sloan-Kettering, offer state-of-the-art breast cancer detection and treatment that is consistently improving the survival rate for the disease; some are pioneering research that promises to improve treatment for generations.
To learn more, Georgia Trend spoke with officials at the Atlanta-based American Cancer Society as well as representatives of leading medical centers around the state. Here are five advances they identified as tops.
1. Improved Detection
Last spring, The New England Journal of Medicine reported a sharp decrease in breast cancer cases in 2003. While an abrupt drop in the number of women using hormone replacement therapy (a known risk factor for breast cancer development) is probably the largest factor in that year's marked decrease, most doctors believe early detection – mainly through widespread use of mammography – has been largely responsible for an ongoing decline in breast cancer mortality since the 1990s.
While mammography is the standard for screening and early detection, for women at highest risk of breast cancer, MRI, a technology that uses magnetic fields to produce three-dimensional images of even tiny structures deep in the body, is preferable. "A woman who has breast cancer on one side has a 15 percent chance of developing it on the other side," says Dr. Tidwell, a radiation oncologist who trained at the M.D. Anderson Cancer Center. "That's where you want to go looking with the best tool you have, and that is MRI."
Certain women with an especially high risk of developing breast cancer should get MRI scans along with their yearly mammogram, according to new American Cancer Society guidelines released this spring. The two tests together give doctors a better chance of finding breast cancer early in these women, when it is easier to treat and the chance of survival is greatest.
The new guidelines also recommend using MRI at the time of diagnosis to see if there are additional cancers, particularly in the other breast. "Knowing that helps the physician in determining treatment," says Debbie Saslow, PhD, director of breast and gynecologic cancer for the American Cancer Society.
Another major factor in determining treatment is whether the cancer has spread beyond the breast. Because cancer cells can travel through the lymphatic system to other areas of the body, detecting the spread of cancer traditionally meant surgically removing clusters of lymph nodes – often as many as 20 or 30 of them – to check for cancerous cells. This required extensive surgery and often led to lymphedema, a condition in which excess fluid accumulates in tissues, causing swelling, says Susan Lucier, breast health coordinator for Northside Hospital's Breast Care Program in Atlanta.
Today, many larger hospitals, including Northside, are using a procedure that involves injecting a radioactive substance in the breast and following its movement to the lymph node (called the sentinel lymph node) where the tumor would drain. The surgeon can then remove the sentinel node (or cluster of nodes) and check for signs of spreading cancer. Only if the sentinel node is affected do other nodes need to be tested, sparing many women the discomfort of extensive lymph node removal.
2. Better Surgery Options
As early as the late 1800s – when the radical mastectomy was developed – a suspicious lump almost always meant the loss of the breast and underlying tissue. "Only in the last 30 years we have moved on from that," Dr. Tidwell says. Increasingly doctors are removing lumps, not entire breasts, and even when mastectomy is needed or large tumors are removed, new surgical techniques often offer cosmetically pleasing results.
At Emory University in Atlanta, for example, surgeons are using an innovative breast-conserving method, called oncoplastic surgery, which combines breast cancer surgery and breast reconstructive surgery during the same operation. Working together, a breast cancer surgeon and a plastic surgeon remove the cancerous tumor and immediately begin to reconstruct the defect, reshaping the breast using the patient's own tissue, often taken from the abdomen.
Albert Losken, MD, one of a few plastic surgeons who perform the procedure, notes that the surgery, which combines two disciplines, is beneficial for a number of reasons. "Breast cancer surgeons are typically faced with two conflicting issues," he says. "Their primary goal is to remove as much tissue as possible for effective cancer control, while at the same time trying to preserve breast tissue to prevent a poor aesthetic outcome. By working together as a team, we are able to address these issues simultaneously maximizing both the cancer and cosmetic outcomes."
Using the patient's own tissue to reconstruct and reshape the breast also avoids some potential problems of introducing a foreign substance in the body from an artificial breast implant, Saslow says.
3. Hormonal Therapies for Prevention
In the 1970s, a major breakthrough in breast cancer came in the form of tamoxifen (Nolvadex ®), the first in a class of medications called selective estrogen receptor modulators (SERMs), which interfere with the activity of estrogen and thus its ability to promote the growth of breast cancer cells. Two decades later, tamoxifen was approved as a preventive for certain at-risk women, when a study by the National Cancer Institute showed it reduced the risk of getting breast cancer by 44 percent.
"Tamoxifen has been single-handedly responsible for close to half of the decline in breast cancer deaths that we have seen since 1990," Saslow says. Yet despite all its benefits, tamoxifen has a downside – it carries the risk of side effects including hot flashes, vaginal dryness and discharge, blood clots and a slight risk of uterine cancer. "Now, a class of drugs called aromatase inhibitors seem to be even better – and work with fewer side effects," Saslow adds.
The three drugs that make up this class – anastrazole (Arimidex ®), letrozole (Femara ®) and exemestane (Aromasin ®) – have been approved by the FDA for preventing the recurrence of breast cancer in women with estrogen-sensitive cancers. The drugs work by inhibiting the aromatase enzyme, which helps the body make estrogen once the ovaries no longer produce the hormone, says Janice Galleshaw, MD, a medical oncologist with Georgia Cancer Specialists, the largest private oncology/hematology practice in the Southeast and a national leader in cancer research.
Dr. Galleshaw was the principal investigator in the Atlanta area for a National Cancer Institute-funded study showing that a newer SERM, raloxifene (marketed as an osteoporosis treatment under the trade name Evista ®), is as effective as tamoxifen in the prevention of invasive breast cancer, with fewer side effects and a lowered risk of uterine cancers and blood clots. The National Cancer Advisory Board is currently reviewing a 10-year study that would compare the effectiveness of raloxifene to the aromatase inhibitor in preventing invasive breast cancer.
Already, some researchers suspect that the number of women taking raloxifene for osteoporosis may be a factor in the recent drop in breast cancer rates.
4. Using Genes to Target Treatment
Many scientists say the most exciting – and promising – advance in breast cancer yet is the use of genetics in targeting treatment. The first major step area came almost a decade ago when the drug trastuzumab (Herceptin ®) was approved for treating metastatic breast cancer in women who over express a gene called HER-2-neu. Studies years later showed that for women with this genetic alteration, Herceptin plus standard chemotherapy resulted in a 52 percent reduction in recurrence rate compared to chemotherapy alone.
While Herceptin holds promise for the 20 percent or so of women who over express this gene, it isn't useful for others. Those others concern cancer researchers, including Ruth O'Regan, MD, director of the Translational Breast Cancer Research Program at Emory University's Winship Cancer Institute.
"It has become apparent in recent years that there are at least four or five subtypes of breast cancer based on the expression of different genes and proteins," she says. "A big area of interest right now is when patients come through the door to look at the proteins and genes that are involved in … [the] cancer and then decide treatment based on that."
Scientists at Emory and at least a couple of other Georgia institutions are working to understand the different genetic variations involved in cancer development and to devise targeted treatments based on those variations. Such work is made possible by two recent critical advances: "The completion of the Human Genome Project and a relative explosion in technology that has provided the tools to assay, measure, [and] explore the human genome on a very economical and high throughput scale," says Jeff Boyd, PhD, who recently moved from New York's Memorial Sloan-Kettering Cancer Center to head the newly created Labor-atory Research Program at Savan-nah's Memorial Health University Medical Center.
With just a small piece of a woman's tumor, doctors can extract genetic material, place it on a microarray chip, and then by using equipment at the center, can determine which of 30,000 genes are over expressed or under expressed by the tumor relative to normal tissue, Boyd says. "Using that information, we can create subcategories of tumors that we couldn't prior to now."
"Most importantly, using this knowledge of genomics and the technology we have, we can start to identify at a very profound level which molecules are aberrant and which pathways are aberrant in the cancer process so we can target those with designer drugs and that whole area known as personalized therapy or personalized medicine."
Such personalized, targeted therapies may not only improve cancer control and recurrence but may also reduce the risk of side effects, says Tom Samuel, MD, a hematologist/oncologist at Augusta's Medical College of Georgia, which is opening two trials that will examine specific compounds designed to target the appropriate cell in breast cancer.
"Traditional chemotherapy usually kills any cell that is growing in the body," Dr. Samuel explains. "In addition to killing the cancer cells it kills normal cells, things like hair cells; cells that line the stomach, which causes nausea; cells of the bone marrow which causes anemia. We are trying to get away from that bazooka approach and get more toward a sniper approach and just knock out the cancer cell without causing any other unusual type of disease.
"Initially these therapies will be used in conjunction with traditional chemotherapy; however, because we are using targeted therapies we are able to use lower doses of chemotherapy which hopefully will lessen some of the effects," Dr. Samuel says. "Eventually we want to get to the point where we will be able to avoid traditional chemotherapy altogether. Hopefully, that will come soon."
5. Increasing convenience
Treating breast cancer often involves a number of different medical specialties – a surgeon to remove the tumor, a radiation oncologist to plan treatments and a medical oncologist to prescribe chemotherapy and hormonal therapy.
Traditionally, for a newly diagnosed patient, that has meant a number of different doctor visits, often in different locations and spread over a number of days. Increasingly, however, that is changing, as medical centers are housing all their cancer services together for their patients' convenience. At Emory University, for example, the Winship Cancer Center's seven-story, 280,000-square-foot pavilion unites patients, doctors, nurses and scientists, all under a single roof.
Dr. Samuel says MCG, too, is taking "a one-stop shopping approach" to breast cancer treatment, setting up a multidisciplinary breast cancer center. "Patients come in one day and see all [of their] doctors at once," he says. "That way they have a whole picture as to what the approach to their breast cancer is going to be."
MCG is currently establishing the center within existing facilities; however, it's breaking ground later this year on a cancer clinical center, where people can go for inpatient treatment, biopsies, radiation and chemotherapy. "The goal now is to have the clinic in place so that when we do open up the new clinical building we will be able to move right in there with a framework and infrastructure in place."
Attention to the emotional and cosmetic effects of breast cancer treatment is another convenience that some Georgia centers, including Tidwell Cancer Center, are offering. Eve's New Attitude, a boutique for cancer patients and survivors, offers a wide range of products and services including wigs and prosthetics.
"Many of our patients were having to drive to Atlanta for these things at a time when they didn't really feel like going anywhere," Pease says. "Now they can get anything they need right here."