Valdosta/Lowndes County: Growing Up
Welcoming A High Rise, New Businesses And Well-Heeled Seniors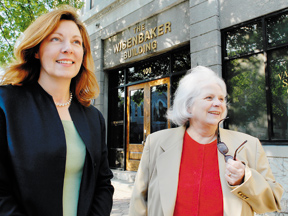 Set as far south as you can get in Georgia without being Florida, Valdosta and Lowndes County are shaking off the slumber of rural life and bidding to become urban and big city. Make no mistake; the region retains its charms – from grand old homes intown, to wide expanses of cropland in outlying areas.
Yet, change is coming, if not already here, and locals can point to the type of development they once only heard about in far distant places such as Atlanta or Jacksonville. In fact, an increasing number of people from those locales have already discovered Valdosta. Floridians escaping high prices and cruel weather have migrated north to find easy living and tranquil seasons.
The Valdosta Daily Times noted with some pride that the city "is growing up" literally as well as figuratively. A new 11-story mixed-use tower is sprouting at 2320 Patterson North, near the Smith Northview Hospital and Valdosta State University campuses. Not only will this building – the handiwork of local developers Gill Property Management and HG Pinnacle Properties – be the city's tallest, it will hold the record for all of South Georgia.
"We are going to incorporate a work/live type environment which is done in larger cities, but Valdosta is right on the edge of going in that direction with this project," says lead planner and project manager Santiago Iturralde.
The tower will provide residents of its top four floors commanding views of the countryside; its lower retail and office space will represent the first Class A office in the city, he adds.
Taking The Lead
Valdosta has always taken responsibility for its own progress. That explains the emphasis on cultivating small business and not waiting for big out of town developers to show up to enlighten the locals.
Several years ago, the city was named the state's first Entrepreneur Friendly Community by the Georgia Department of Economic Develop-ment, which created the program to encourage communities to integrate small businesses into their overall economic development strategy. Valdosta's recognition stemmed from the area's adoption of the so-called economic gardening strategy.
"In addition to traditional development and recruitment it's important to help those home grown companies or those future entrepreneurs foster their growth and success," says Tara Brinkmoeller, business development coordinator with the Valdosta-Lowndes Chamber of Commerce.
Through the chamber's Home-town Entrepreneurship Program at the S.E.E.D.S. [Sowing Entrepre-neur and Economic Development Success] Center, local businesspeople can get free help they might not be able to afford including access to direct mailing lists and demographic information, along with advice and counsel from an experienced businessperson.
"If we are going to meet our goal of growing jobs, especially for our technical college and university graduates, most of those jobs are going to come from homegrown entrepreneurs, many of whom are already in business and are ready to go to that next level," explains Chamber President Myrna Ballard.
These businesses include the company founded by Anne Barnas and Megan Smith, two human resources professionals who decided it was time to strike out on their own. To ensure they got off to a good start, they went first to the chamber to explore whether an HR company could make it in Valdosta.
They not only got a green light from the chamber, but were also directed to the S.E.E.D.S. Center and a business plan competition sponsored by Guardian Bank.
"At that time, we didn't think that we needed seed money," Barnas says. "We were prepared to invest our own. But going through that project required us to write a business plan, which we have found extremely helpful."
Not only did they emerge with a plan to guide their business, but by winning the eight-month-long competition, they also garnered $10,000 in start-up capital and about $40,000 of in-kind services such as accounting, legal advice and advertising.
Today, their firm, SmithBarnas & Associates is providing outsourced HR services to businesses large and small from an office in Valdosta Shared Office Space in the historic Wisenbaker building downtown. Created by local businessman Gino Fina, the facility provides flexible office space with shared reception and support services. While the concept is common in larger cities, Fina is the first to implement it locally.
His venture is part of a rebirth that has taken place in downtown Valdosta. New restaurants, coffee shops, specialty retail stores and even lofts have brought people back to the city center.
"The downtown has really made a comeback – particularly from where it once was," says longtime resident Linda Green, owner of the Fairview Inn Bed and Breakfast.
In earlier days, Valdosta's core was characterized by empty storefronts and low-end businesses. Now locals say those days are gone and this lively area is drawing professionals and college students to live, work and spend money.
Back in 1974 local property owners agreed to set up a special tax district to finance downtown streetscape improvements. They began paying first five mils and eventually an additional 15-mil tax that generated more than $12 million in improvements, says Valdosta Main Street Director Niki Knox.
"It's hard to attract somebody to open up a new business when your downtown's not putting its best foot forward," she says.
Valdosta is picky about the kinds of businesses it wants to attract and develop. The goal is to nurture higher end, better paying positions rather than the lower wage service jobs that are so plentiful in Georgia.
"That type of business is definitely what we want to achieve more and more because they provide those jobs for the college and university gradates which we desperately need in Valdosta," Brinkmoeller says.
The city also has received help from the Small Business Develop-ment Center at Valdosta State University, which has been providing aid to entrepreneurs and start-ups since 1991. Director Suzanne Bar-nett reports that she's now seeing a newer, bolder type of entrepreneur.
"Many of them are highly educated folks," she says. "They have definite ideas about what they are doing and they are looking for more help in terms of facilitating their own process for growth and development."
Ambitious Goals
Despite all this focus on hometown entrepreneurs, Valdosta wants and needs outside business and industry. Economic developers have proven adept at making the most of local assets and enticing big names to locate their warehouses and plants here.
Last year the Valdosta-Lowndes Co. Industrial Authority announced 11 projects totaling more than $45 million in new investment and resulting in more than 450 new jobs – mostly in manufacturing, says director Brad Lofton.
That Valdosta is serious about business has caught the eye of national observers such as Site Selection magazine, which named the city the third hottest metropolitan statistical area in the nation for industrial recruitment and expansion. Many of those businesses are coming from south of the state line.
"The cost of doing business in Florida has been a catalyst for us," Lofton says. "We've seen a lot of northern migration and when we won the award it was due to the prospect volume and activity of 2006 out of Florida."
The actual climate – as opposed to just the business climate – is attracting more than a few refugees from the Sunshine State. One business reason for relocating from Florida: an average wind insurance bill of $300,000.
Steeda Autosports, a leading seller of aftermarket parts for Ford Mustang, Focus and trucks, decided to move its manufacturing and engineering division from Pompano Beach, Fla., to a new $10 million, 100,000-square-foot facility in Valdosta that will bring up to 100 jobs to the area.
"We are the southernmost county in the state where you can move into Georgia and capitalize on all the business advantages of being here and having 20 million Floridians within one day's truck drive," Lofton notes.
And getting here is easy, thanks to the rail lines and Interstate 75. That infrastructure has propelled Lowndes County's reputation as a warehousing and logistics center. Lowe's Companies, Inc. recently expanded its regional distribution center here by 600,000 square feet to more than 1.6 million. Retailer Dillard's also has a major distribution center here and Federal Express recently expanded its package-processing center by 40,000 square feet.
Those efforts have been good for the local economy. Retail sales have grown from $800 million a decade ago to more than $1.8 billion today, Lofton says.
"We set a goal of 3,000 new jobs within the next five years and 25 percent of those new jobs have to be above the median wage in the county, not just the manufacturing wage," he adds. "We have also set a goal of $250 million in new industrial investment."
To meet those ambitious goals, the county will have to attract more firms such as Valdosta Optic Labs, a provider of components for high power solid state laser devices, which are used to disable roadside bombs in Iraq and in missile defense systems.
Lofton also notes that Moody Air Force Base injects a $197.8 million payroll into the local economy. The facility not only survived the most recent round of base closures, but is profiting from less fortunate facilities. Nearly 1,000 new jobs are arriving with the transfer of the 23rd Fighter Group from a base in North Carolina.
"They've got over $350 million just in construction right now on the base," Lofton says. "When you begin to think about how many jobs that creates just in the local construction market, not to mention the cost of purchasing goods and services, it is just unfathomable."
Along with welcoming business from Florida, local officials are also trying to persuade wealthy retirees that South Georgia is a better choice than Florida. Triple Crown Hometowns, a joint effort between neighboring Lowndes, Brooks and Lanier Counties, has successfully recruited more than 140 retiree households to the area.
The agency sends out information packets and provides information to prospects. The main goal is to get them to visit and see what the community has to offer, from good healthcare to theme park attractions such as Wild Adventures.
The one missing element – up till now – has been an active community that caters to these affluent and still spry retirees, says Triple Crown Director Alison Stokes.
"They are looking for a lifestyle," she explains. They want to be around their peers, people that are like-minded and like to do things. It's almost like when you were in college if you lived in a dorm where there were all these people your age and with similar interests."
Potential residents will soon be getting that environment in the form of The Villages at Lake Bowden, a 55-and-older age-restricted retirement village that would bring 722 single-family homes and 130 condominiums to a 291-acre parcel in Lake Park near Twin Lakes.
Another active adult community, Southern Landing, is under way on 1,200 acres just off I-75 at the last exit before the state line. It will feature amenities that have proven a hit with similar developments around the country, including lush greenspace with walking trails, a lake and upscale homes on small lots that require little lawn maintenance.
Another effort by local developers HG Pinnacle and Gill Property Management, the project is another example of locals taking the lead in an area usually reserved for big national companies such as Del Webb. But that's not surprising in a town that has always been inclined to make its own fortune.
Valdosta/Lowndes County
At-A-Glance
Population (2005)
Lowndes County, 96,705; Valdosta, 45,205; Hahira, 1,915; Lake Park, 560
Unemployment (March 2007)
3.5 percent;
Georgia 4.0 percent
Per Capita Income
$20,076
Major Employers
Moody Air Force Base, 4,448; South Georgia Medical Center, 2,300; Valdosta State University, 2,280; Lowndes County School System, 1,279; Valdosta City School System, 950; Lowe's Distribution Center, 900; Convergys Corp., 850
Sources
Georgia Dept. of Labor, U.S. Census Bureau, Valdosta-Lowndes County Chamber of Commerce