The "Go-To" Business Bank
Columbus-based Synovus is determined to become the Southeast's premier bank. It has a strong tradition of leadership, plenty of resources – and a corporate eye trained on Atlanta.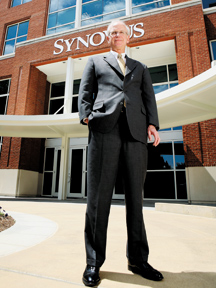 From his corner office on the fifth floor of the Synovus Center along the Riverwalk in Columbus, Richard E. Anthony can gaze west through his wide windows, across the rocky Chattahoochee River, at his native Alabama, where his family's roots in banking date back a century.
But the chairman and CEO of Synovus, the Columbus-based, $31 billion banking and financial services holding company, is looking in a lot of other directions as well these days.
Particularly to the northeast – to Atlanta.
"Atlanta is at the top of our list strategically," says Anthony, 60, who took the reins of the financial giant that grew out of Columbus Bank & Trust in October 2006, succeeding the legendary James H. Blanchard, who remains on the board. "And when I say strategically, I mean in terms of the strategies that we are putting in place to ensure long-term growth."
Synovus is looking at markets with good demographics, good population growth, a good mix of business activities and a healthy local economy. Like Atlanta.
"Atlanta is the best market in the Southeast and we are there," he says.
Synovus acquired the Bank of North Georgia, based in Alpharetta, in 1998 and has since folded several other banks into it, including Riverside Bancshares, Inc. of Marietta in 2006. Bank of North Georgia's revenues now top $4 billion.
"We're gaining market share and we're competing very well and becoming very successful in our Atlanta expansion efforts. So we're willing and want to invest in Atlanta, acquiring talent, building new locations or even making further acquisitions if the opportunities are there."
Atlanta is at the top of key markets in Synovus' five-state footprint – Georgia, Alabama, South Carolina, Florida and Tennessee. In addition to Georgia's capital city, Synovus also is in five other markets with SMSAs exceeding the 1 million population mark – Nashville and Memphis, Tenn.; Birmingham, Ala.; Jacksonville and the Tampa Bay area in Florida, which includes Sarasota and St. Petersburg. In Jacksonville, the company opened a Synovus bank, rather than acquiring a community bank there.
"Those are our upper tier markets and we have entered all of those and our preference is to come in with a low market share, but with a good, strong team that is highly responsive and able to make decisions that provide quick service," Anthony says.
With this strategy, he hopes to achieve "a growth rate that is well into the double digits for a long period of time." The goal is to grow core deposits by 11 to 13 percent per year.
Synovus focuses sharply on the market comprising small- to medium-sized businesses. And its strategic planning over the past couple of years has developed a bold ambition.
"We really want and expect to become the premier commercial bank in the Southeast and we're driving toward that," Anthony says. "That doesn't necessarily mean we'll be absolutely the largest, but I think you would expect us to have the best growth rate in that segment. The quality of our customers would be the best and the profitability and really the customer satisfaction that comes from this segment would be at the top."
Continued Consolidation
One factor that reaffirms this vision is continued consolidation in banking in the Southeast. Familiar and trusted names are vanishing from the Southern landscape into the maw of regionals and super-regionals: Union Planters, National Commerce, AmSouth and SouthTrust.
"These regionals keep consolidating, and I'm starting to believe that not only do we aspire to be the best commercial bank in the Southeast, but we really hold ourselves accountable to be at the very top of overall performers in the Southeast. And we're starting to move up the scale in terms of size."
Anthony emphasizes that Synovus is not one of the names that could vanish.
"We are not in the business of building a franchise that would be packaged and sold," he says. "We think we can create comparable shareholder value by having our own internal growth strategies, building organic growth year over year. And so consolidation, we believe, works in our favor.
"It does create a certain amount of unease and disruption so that if you are good, you can become the go-to bank. Part of being the premier commercial bank in the Southeast means that we become the go-to business bank in every market."
Synovus' strategy is to provide the best of both worlds – a community bank presence in a local market with the full backing of a regional banking powerhouse.
And community banking is in Anthony's genes.
He was born in Troy, Ala., and then moved to Andalusia, when his grandfather became president of Commercial Bank, one of two banks in the town. His father and uncle also worked there, as did Anthony in the summers and for a year after graduation from the University of Alabama, before going off to graduate school at the University of Virginia.
Commercial Bank provided the classic community bank environment.
"It was really more about people and relationships," Anthony recalls. "I was able to sit in on board meetings and really view firsthand all the customer interaction that took place. Everything that happened in that bank was in the lobby. There were really no private offices. And you just got a view of everything, from top to bottom."
Relatives on his mother's side were also in banking in Troy.
"My grandfather Anthony was a vice president in a bank that had as the chairman my grandfather Hen-derson," Anthony recalls.
Commercial Bank in Andalusia was sold to Regions Bank.
Anthony, who still has an affable, small-town smile to greet visitors, maintains that the community bank spirit is alive and well within Synovus, even though it now owns 39 banks.
"We use a positioning term, which is called Community Banking Powerfully Connected. We can enable a community bank that joins our company to build new offices more quickly; they can direct their sales efforts to bigger companies because they can accommodate larger companies' needs."
A case in point lies just across the river. Anthony joined Synovus in 1992, when the company acquired First Commercial Bancshares. One of the banks First Commercial had started was Sterling Bank in Montgomery.
Synovus, unlike most regionals and super-regionals, doesn't big-foot a local bank and change its name, signs and look. It lets the local bank keep its name and add a Synovus logo to the sign.
In Montgomery last year, Sterling Bank – with the full backing of parent Synovus – entered the fierce competition for the state of Alabama's cash management account. Synovus came away a winner and the account is now its largest.
The victory was prima facie evidence that "Community Banking Powerfully Connected" is more than just a slogan. "When we acquire a bank, as a general rule we keep that charter, that board of directors and the name of the bank intact," Anthony says. "And that helps us at times be the acquirer of choice."
Letting a community bank keep the personality that built it is a powerful selling point for Synovus. But not every bank can qualify.
Criteria include the market, population growth, demographics and size. Then Synovus examines the bank's track record. The holding company has little interest in turnarounds.
"If the track record of growth and performance is not impressive, then we usually shy away from that opportunity," Anthony says. Synovus believes it is buying people, talent and leadership as well as bricks and mortar and a customer base, he says.
Cultural Compatibility
"We develop a relationship with the leadership group and we have to decide – and they do, too – if there is compatibility from a cultural standpoint. That doesn't mean their culture has to be identical. Every bank has got its own personality and every bank would have some unique and positive characteristics that we would not want to take away."
The kind of banks Synovus wants to acquire usually have a strong history, in both culture and financial performance. Synovus lifts them to even higher performance by adding its resources, specialty products and expertise. The acquired banks then can compete more effectively in the small- to mid-size business market.
The large regionals and super-regionals tend to centralize decision-making. Synovus takes a different approach.
"We do centralize certain processes but not necessarily the decision-making," he says. In other words, the local bankers are empowered as they might not be in a regional or super-regional bank.
And this goes to the heart of what brings Synovus to national headlines more often than perhaps any other factor: being a great place to work. Fortune magazine has named Synovus to its list of 100 Best Companies to Work For since 1998. In 1999, Synovus was ranked number one and has since been inducted into Fortune's Hall of Fame.
The company maintains a strong focus on action teams that concentrate on areas of concern arising among employees and take tangible actions.
"If you're getting this positive press in Fortune magazine, you realize that you'd better be able to back up what you say about yourself at every level of the company with all the team members and at every location," Anthony says.
The Fortune honor wasn't the company's only national recognition. Synovus was named to the BusinessWeek 50, debuting at 46, as one of the top 50 companies on Standard & Poor's 500 stock index. On the U.S. Banker magazine list of the "Top 100 Banks," Synovus moved up this year to 20 from 25, based on three year average return on equity.
Synovus reported an 18.31 percent return on average equity in 2006 and a three-year average of 18.13.
Thirty percent of Synovus' bottom line comes from its 81 percent stake in Columbus-based TSYS, which provides outsourced payment services around the globe.
"The whole world is its marketplace today," Anthony says. TSYS has had some success in Canada, the UK and has moved into China and Japan.
"But for us to continue to have an exceptional growth contribution from TSYS, a lot of it is going to have to happen outside the country. Now, another possibility is that we could make some acquisitions into other forms of payment."
Community Player
With its roots in Columbus Bank & Trust, Synovus is a key civic and business player in Columbus, the former mill town now on the verge of an unprecedented boom. Fort Benning is expanding dramatically, with the addition of more than 10,300 military personnel, civilian employees and contractors with their 19,600 family members. Insurance giant Aflac is adding 2,000 new jobs over the next five to seven years. And Korean automaker Kia is opening a $1.2 billion manufacturing and assembly plant in nearby West Point.
"We're looking at some of the most prosperous years potentially ahead for Columbus that we've ever had," he says. "We've had excellent cooperation between the local government and business. It just seems to me that when something needs to happen for the good of this community, then the leaders come together very quickly and agree on how to make it happen."
Anthony sees similarity in the way Atlanta used to operate with the cooperation between City Hall and the business community, particularly The Coca-Cola Co. and legendary banker Mills B. Lane.
"There was a lot of private-public partnering that took place," he says, adding with pride that Synovus' local bank, CB&T, "is always right in the middle of what is going on."
As chairman, Anthony now has a much higher profile state-wide. He currently serves on the Commission for a New Georgia, and as the general co-chair for West Georgia for the Georgia Chamber of Commerce's capital campaign.
But he doesn't have nearly as much time as he would like to pursue his golfing passion. He plays with a 5-handicap but isn't satisfied. He played two years on the LSU golf team before transferring to Alabama.
Succeeding a chairman as revered as Blanchard, who was with the bank 36 years, doesn't seem to faze Anthony. In fact, he enjoys carrying on the legacy.
"The reputation he enjoyed over the years was, to a large degree, attributable to his passion for the people side of the business, providing opportunities for everyone to grow and prosper and be successful," Anthony says. Blanchard also created a culture of ethics and "servant leadership" that Anthony says is still alive in the company today.
"He has been very supportive of me and the company over the past couple of years as we have gone through this transition," says Anthony, who adds that he and his executive team "all view the company as being strong as ever with a very exciting set of prospects for the future and a company that has the same values that have existed for a number of years."