Farm 255: Fresh In Athens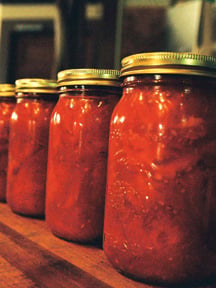 The question first occurred to me after paying $7 for a jar of maraschino cherries at Whole Foods. (It was an emergency: No time to make another stop, and dinner guests had been promised Manhattans.) OK, great, no artificial color, but: Seven dollars? Why does it cost more to leave out the additives?
The answer, of course, lies in terms like economies of scale and transportation costs. It's a lot cheaper to buy tomatoes from giant producers, and easier to ship them if they have the texture of balsa wood. Which means: No matter how poor your Southern farmer ancestors might have been, they likely ate better than you do. (Remember, "organic" is just your grandparents' unsprayed, unspoiled pole beans and grass-fed beef.)
Athens' Farm 255 is one of a handful of restaurants around the state offering organic produce and meats – but with a few twists: Its main supplier is its own farm – the Full Moon Cooperative – along with other small providers. That direct connection keeps produce fresh – and costs comparatively low (entrees range from $10 to $18).
For all its earthy roots, Farm 255 is anything but bumpkin-ish: Next to the students' favorite diner, Clocked, and just down from the legendary 40 Watt music stage, Farm 255 is also across the street from Athens new film arthouse, Ciné (where this month Five and Ten chef/owner Hugh Acheson's new restaurant, the National, will open).
What was once a deserted street is suddenly the town's coolest corner. Farm 255 makes good use of the former Quality Food Machinery building. Inside, the soaring, exposed ceiling caps an open space of wood, steel beams and old brick, and cooks scurry behind an open counter. A blackboard by the door announces the day's harvest – including the urban foodie's holy grail: farm-fresh eggs!
Our waitress was a knowledgeable, amiable young woman, tripping off recommendations and describing dishes in detail. She approved of our wine choice (Nino Franco Rustico, a light, summery prosecco, $24), and never interfered with our conversation's rhythm.
Carnivores shouldn't worry about the emphasis on fresh vegetables. Farm 255's menu offers charcuterie, including salami and speck, salad with bacon dressing, and even a cheeseburger of grass-fed Riverview angus, with Maytag blue. Finicky nibblers can graze on spiced pecans and pickled eggs, fried calamari and mac and cheese; main courses are simple dishes that let the central ingredients shine: orecchiette (ear-shaped pasta) with wild mushrooms, roast garlic and cream; cornmeal-crusted Darien shrimp with hushpuppies and slaw.
Our table opted for the chef's menu, offered from 5:30-7:00 pm: Four courses, chef's choice (but you're allowed to set guidelines). For $35, it's a good way to tour the menu, and the best seasonal ingredients: On our visit, that included a silky, sunny-side up egg on duck confit in buttered whole wheat toast – certainly the best Toad in a Hole I've ever tasted. A cheese plate (an extra course; $14 for three) included chevre, truffle sottocenere with local honey and Tilson point blue. Scallops poached in olive oil sing with fresh basil. The spaghetti carbonara is yellow with egg and cheese, and flecked with boar pancetta and sliced black truffle. The striped wild bass nestles on al dente vegetables: butter beans, rutabaga and onions.
By the time we reached dessert, we were sighing contentedly, lingering over locally roasted coffee and crème caramel. No problem keeping us down on this farm.
Farm 255
255 West Washington St. (between Hull and Pulaski)
Athens
706-549-4660
www.farm255.com
Hours: Dinner, Tuesday-Sunday; Sunday brunch.
Credit cards: All major.
Dress code: Professorial and/or bohemian.