Breaking Down The Last Barriers
Too often the vision of an inclusive workplace starts and ends with gender and race. Advocates for the disabled say many obstacles to their employment are surprisingly easy to fix. It's the attitudes that are harder to change.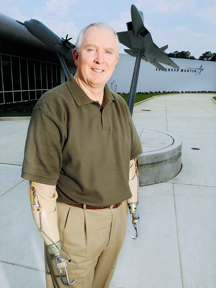 "Wake up," Randy Evatt tells his computer, his Southern drawl shifting from its usual amiable lilt to a mechanical-sounding order. "Start Dragon Pad."
The program comes to life. A blinking cursor awaits his next command.
"Click enter. Reply to mail. Reply to mail. Hi, Dorie … "
Without so much as a touch of the keyboard, words appear on the screen and he responds to email from a colleague. Voice recognition software spares Evatt from having to peck at the keys with the metal hooks on his two prosthetic arms. And it has transformed his world at Lockheed Martin in Marietta, where he is parking coordinator for the sprawling campus.
Perhaps it's a surprise to some visitors or new employees to encounter Evatt, 59, as they arrange for their parking privileges. After all, people with disabilities are almost invisible in corporate America despite the Americans with Disabilities Act, which requires companies to provide reasonable accommodations.
Businesses tout their diversity, but too often their vision of an inclusive workplace begins and ends with race and gender. Disability is the last bastion of bias in the workplace, where barriers can be as simple as the curb at the front door. A hearing-impaired applicant gives up in frustration when she's told she must have her first interview over the phone. A visually-impaired worker turns away when told she must fill out the application by hand; no assistance or online version is available. (Sure, they could argue and cite the ADA, but many people are reluctant to turn a job search into a legal battle.)
Sometimes the obstacles stem from a complex blend of good intent but bad assumptions. About one-third of large companies and 60 percent of small companies in the Atlanta area report that they don't employ any workers with physical disabilities, according to a survey by the Bobby Dodd Institute, an Atlanta nonprofit agency that specializes in employment programs for people with developmental disabilities.
The primary concern: Many employers don't believe people with disabilities can perform the necessary job functions, the survey found. That attitude contributes to a national unemployment rate of about 65 percent among people with serious disabilities.
Yet spend just a few minutes with Evatt and you'll be impressed not by the extent of his disability, but by how he overcomes it.
Evatt almost died when he fell from a ladder onto a breaker in an electrical substation and sustained about 12,000 volts of electricity. At first, he struggled simply to survive. He had 30 operations and "thousands of hours" of physical therapy.
"For the first 16 months, I had to have someone do everything for me. I never thought I'd return to work," Evatt says. He speaks matter-of-factly, accustomed to telling his story. A man with gleaming blue eyes and unquenchable good humor, he frequently talks to others who have been recently injured, including soldiers returning from Iraq.
He could no longer repair distribution breakers. But Lockheed Martin has made it a priority to hire and accommodate people with disabilities. The company kept the parking coordinator position open while he finished healing. "I didn't baby myself too much," says Evatt, whose car has been adjusted to enable him to drive. "I just said, 'We've got to figure out a way to do it.' And I did."
Problem-solving is the hallmark of people with disabilities. Long before they reach the workplace, they have found a way around a variety of impediments, small and large. When Empish Thomas, 35, was losing her sight, she wore a blindfold and carried a cane to learn how to navigate a world of darkness. Now she lives alone and uses voice recognition software in her job as information and referral coordinator at disAbility Link, an advocacy organization in Decatur.
In fact, Thomas also fulfilled her dream of becoming a freelance writer. She writes a column on hobby collectors for a local newspaper, interviewing by phone and sending her copy by email. For months, her editor didn't know that she was blind.
But what would that editor have thought if she had come in, cane in hand, and applied for a job?
"I knew just naturally that would be hard to swallow, but I wanted people to give me a chance," Thomas says. "I knew if I said I was blind, they would discount me totally."
At disAbility Link, there's a spirit of camaraderie, of people joined in the struggle of a modern-day civil rights movement. The wall is adorned with pictures of Martin Luther King, Jr., an image of the Statue of Liberty sitting in a wheelchair, famous people with disabilities. Employees build a unique bond with their clients around both advocacy and service.
But the case they make to the business community is a pragmatic one. Contrary to popular belief – or fear – it's generally not expensive to accommodate employees with disabilities, says Rebecca Ramage-Tuttle, president and CEO.
"Seventy-five percent of my staff are people with disabilities, and I can afford to make accommodations on my small budget," she says, noting that she has a budget of less than $1 million to run two offices with 19 employees. The only readily visible accommodation in the office is a wooden ramp at the copy machine. Several employees use voice recognition software or magnification devices.
For some businesses, accommodations actually have the mutual benefit of making them more accessible to customers. Since about 51 million Americans have a disability – 32.5 million of them severe – accessibility opens up a market estimated at $221 billion. It also benefits other customers; for example, a curb cut makes it easier for the mother with a stroller to get in the front door of a bank or a store.
At a SunTrust bank branch in Virginia, a teller responded to a customer who was deaf by using sign language. Word got around, and other people with hearing impairment came to the branch to talk to the teller.
Soon, even the bank president knew about the teller who spoke sign language, and SunTrust, headquartered in Georgia, embarked on a broader mission of serving customers with other kinds of disabilities, including visual impairment. ATMs converted text to voice. Bank statements became available in Braille or large print. So it was only a small step forward to look at the company's policies toward recruiting and hiring people with disabilities.
Katherine McCary was working in human resources when she set up a temporary call center for a new promotional product. She included three people who were legally blind and someone who was a quadriplegic. The project was one of the company's most successful – and it won an innovative practice award from the Society for Human Resource Management for its inclusiveness of people with disabilities.
Since then, SunTrust has become very involved in promoting employment of people with disabilities – and not just because it's the right thing to do. "Hiring people with disabilities is a business decision, just as all diversity programs should be tied to the business case," says Virginia-based McCary, who is now a bank vice president and manager of SunTrust's disability resource center. She also is president of the U.S. Business Leadership Network, which promotes inclusion of people with disabilities in the workforce.
Facing The Future
If recruiting people with disabilities now seems like a wise business decision, in the future it may be an imperative one. As Baby Boomers reach retirement age, some economists predict a U.S. labor shortage. People with disabilities have the potential to fill some of that gap.
"We're seeing something of a sea change in corporate America as it seeks to look at new, untapped sources of workers," says Carol Glazer, director of the National Employability Partnership, a program of the National Organization on Disability in Washington, DC.
In 2001, Booz Allen Hammond, a global strategy and technology consulting firm that has a large number of federal agencies as clients, started an internship program for young people with disabilities to expand its diversity program. Five years later, Booz Allen turned over the program to the National Business and Disabilities Council, a program of Abilities!, a nonprofit based in Albertson, NY.
"It attracted so many applicants we couldn't hire all the good people who were applying," explains Booz Allen senior associate John Hammond III. The program now places interns at a variety of companies around the country, including Bloomberg, Lehman Brothers, Lockheed Martin and SunTrust.
In Georgia, students with disabilities can shadow employees and learn job skills through a program called High School/High Tech. For example, in the Augusta area, students have visited the Savannah River Site (a U.S. Department of Energy nuclear materials processing center), area hospitals, a Sitel Corp. call center, and even a beauty salon.
President George Bush launched a "New Freedoms Initiative" and declared that he is "committed to tearing down the remaining barriers to equality that face Americans with disabilities today." Businesses may be eligible for tax incentives for making their workplaces more accessible, and people with disabilities may apply for low-interest loans to buy assistive equipment or special software. The federal government also requires its contractors to hire people with disabilities.
Still, the barriers that remain are not just physical. People with disabilities often worry about losing critical Medicaid or Medicare benefits or Social Security disability payments if they take a fulltime job.
And for people with cognitive disabilities, job prospects are especially bleak. A job offers them true inclusion in the community, a sense of worth, a way to contribute. Working alongside other coworkers as part of a team, people with developmental disabilities can break through persistent, negative images.
"One of the stereotypes in our culture is that people with developmental disabilities are more childlike," says Doug Crandell, director of employment services with the Cobb and Douglas community services boards. "That's absolutely a myth. When you give them information they learn from it just like the rest of us."
Project Exceed, launched in Cobb County in 2001, matches people with disabilities to jobs and, when necessary, provides job coaches to help them transition to the world of work. For example, one woman with cognitive disabilities was able to work at Deloitte Consulting in Atlanta, restocking and doing simple data entry.
Advocates don't want businesses to hire people with disabilities out of a sense of charity. They want the jobs to be a good fit for both. "Most of my clients at Shepherd just want an opportunity," says Barbara Teague, service coordinator and workers' compensation and vocational specialist at the Shepherd Center in Atlanta, where she works with clients who have suffered spinal cord injuries, serious head injuries and other conditions. "They don't want the focus to be on their disability."
Perhaps that attitude is best summed up by the motto on the website of Career Opportunities for Students with Disabilities (COSD), a national organization based in Knoxville, Tenn., that provides career services for students at more than 350 universities around the country: "Call me punctual. Call me productive. Call me loyal. Call me a valuable resource. But whatever you do, don't call me disabled."
Working Toward Inclusion
Diversity means including and understanding people who are different from us. But when it comes to disability, there's a chilling truth: We are all just one car wreck or illness or accident away from being in their shoes.
Most of us never think of that, of course. Companies will often go to great lengths to help an employee who becomes disabled. But will they give a chance to someone who comes to them with a disability?
Valerie Meadows Suber, 54, was an experienced public relations professional when she developed an inflammation of the optic nerve. Permanent scarring left her legally blind. At the time, Suber was working on a master's degree in philosophy and doing freelance work.
She took time to adjust to her new reality and braced herself for a return to the working world. It was hard enough being unable to drive or to read handwritten documents, and learning new computer and auditory skills. But it was demoralizing to face rejection before she even had a chance to explain how she compensated for her lost vision.
"I wasn't able to break through the attitude that you can't possibly do this," she recalls.
Eventually, Suber got a job with an employer who had a more open attitude – the Governor's Council on Developmental Disabilities. She is public information director, a job that includes supervising production of the council's magazine. She also organizes Discovery Day, a conference that exposes employers to the potential offered by people with disabilities.
Every day, she not only is an advocate for the community served by the council, she also is proof of that potential. "Diversity in general enhances everyone's view of what the human spirit can do," she says.
Perhaps as the Baby Boom generation ages – and faces more disabling injuries or illnesses – employers will understand the need for this aspect of diversity.
"It's going to be a voyage of discovery both for the workers and the employers," the National Employability Partnership's Glazer says. "But I think we have two willing groups wanting to move toward one another."
Where To Look
Here are some organizations that can provide resources or help connect employers to job
applicants with disabilities:
Bobby Dodd Institute Provides skills training, job placement and outsourcing of services such as data entry, packaging and mailroom operations. www.bobbydodd.com
disAbility Link An advocacy organization that offers information on complying with the Americans with Disabilities Act, training on disability awareness, information and referral, and job placement. www.disabilitylink.org
Career Opportunities for Students with Disabilities (COSD) A "one-stop" career services source for college students with disabilities at more than 350 universities around the country. Offers postings of jobs and résumés, as well as customized training of employers in working with people with disabilities. www.cosdonline.org
Emerging Leaders program An internship program for students with disabilities.
www.emerging-leaders.com
Georgia Committee on Employment of People with Disabilities, Inc. Specializes in youth and supports the High School/High Tech program to give students an introduction to the working world. 706-324-2150
Governor's Council on Developmental Disabilities An advocacy organization that sponsors "Making a Difference Discovery Day" (Sept. 27, 2007) to educate employers about the business value of hiring people with disabilities. www.gcdd.org
Job Accommodation Network A free consulting service on accommodations and the ADA offered by the Office of Disability Employment Policy at the U.S. Department of Labor. www.jan.wvu.edu
Marcus Community Bridge Program at the Shepherd Center Provides a range of vocational services, including vocational assessment, career exploration, job search skills, job site evaluation, and job placement. 404-350-7588
Tommy Nobis Center Provides skills training, vocational assessment, supported employment and other employment services, as well as outsourcing such as mailroom operations, printing and packing. www.tommynobiscenter.org – Michele Cohen Marill