ARCS Foundation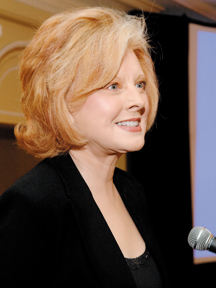 It's 1957 and the Russians have just launched the first satellite into orbit. The United States fears the consequences of being left behind in a race to produce the best and brightest scientists. The next year, a group of California women got together and formed Achievement Rewards for College Scientists (ARCS), a national organization dedicated to funding U.S. students pursuing degrees in science and technology.
In 1992, another small group of women decided to take advantage of Georgia's intellectual wealth and formed a state chapter, giving away three scholarships that year. Now celebrating its 15th anniversary, the chapter has awarded a total of $1.8 million in scientific, medical and engineering scholarships to students at four Georgia universities. Not bad for an original group that numbered about 16, says current president Jan Bennett.
"This is a landmark year for us, as we celebrate our anniversary and the 50th anniversary of the national organization," Bennett says, adding that an Atlanta member, Mary O'Connor, was just elected president of the national organization. This academic year, ARCS awarded some $4.4 million to 544 students at 46 universities.
ARCS' goals are just as pressing as they were in the '50s, Bennett says.
"Competitiveness in science and engineering has never been more important to the future of our country than it is now," she says, quoting statistics from the National Academy of Sciences that show the United States falling behind other countries in the number of students studying science. "Our commission is the same as it was: to encourage the best and brightest.
Scholars are selected by individual schools – in Georgia those participants are Emory University, Georgia Tech, Morehouse College and the University of Georgia – and scholarships are unrestricted. ARCS is unique in that every dollar the organization takes in goes toward scholarships; there is no paid staff. Money comes from membership dues, additional gifts from members and donations from other foundations, corporations and individuals. To join ARCS, you must be active in the volunteer community and be recommended for membership. "We want our members to have an interest in science and education," Bennett says.
In addition to funding scholarships, Bennett says the chapter places a high value on member enrichment, with field trips to university science labs and museums. In September, the chapter will host a gala attended by two of its first three scholarship recipients. "They've done some amazing things, and we can't wait to hear from them," Bennett says. – Kenna Simmons