Always In The Running
Tim Singleton got the Peachtree Road Race off to a good start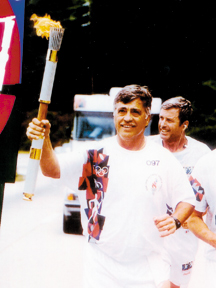 Looking for a true Renaissance Man? Consider Timothy (Tim) Monroe Singleton.
Singleton is perhaps best known as a runner. He founded the Peachtree Road Race with 110 participants in 1970 and sparked its growth to 55,000 with runners from all over the world. He did a "double dip" at the Grand Canyon at age 40. That is to say he ran from the north end of the canyon to the south end and back again. Not the same day, mind you; but, believe it or not, the very next day. It took 10.5 hours and 24 miles in each direction. It's not an easy task on a smooth surface, and Singleton had to cope with rockslides both ways.
Singleton had an impossible dream about running the canyon and fulfilled it, just as he did with his dream of a Fourth of July road race down Atlanta's Peachtree Street that would bring runners from all over the world.
Singleton was an Olympic Torch Bearer. He's won a place in the Peachtree Road Race Hall of Fame; and the Atlanta Track Club, which puts on the Peachtree Race, named another race after him in 1976. Says Julia Emmons, who was director of the Atlanta Track Club for 22 years, "My one goal was to maintain the integrity of the race. I wanted to be a worthy steward to what Tim put together."
Lest you think Singleton is a one-dimensional guy, think again. He played college football for the late coach Bobby Dodd at Georgia Tech, was captain of the Tech track team and in 1959 won the Southeastern AAU hurdles championships.
And he's more than just an athlete. He holds a PhD from Georgia State University and a master's degree from Georgia Tech. He was voted "Young Man of The Year" in education by the Atlanta Jaycees. Three times he was a Fulbright Scholar. He served as Dean of Men at Georgia State University and coach of the cross-country team.
Even his position as dean couldn't keep him still. He ran 11 miles a day, five times a week. He took his track team to Fort Benning to participate in the Fourth of July Medal of Honor races. Not only did his team win, his star speedster, Bruce LaBudde, finished first two consecutive years.
It was the Fort Benning Medal of Honor race that started Singleton thinking about a race down Peachtree. Singleton, Jack McFarland, Tom Aderhold, Charles Harris and Herb Benario formed the first race committee and ran all over Metro Atlanta recruiting participants.
Singleton was born in Atlanta and attended Druid Hills High School. He was a standout halfback on the football team. He helped lead the basketball team to capture back-to-back state championships, captained the track team and was a leading hitter on the baseball team.
He also was a member of the Drama Club and had a singing part in a musical production. He won the Librarian Award, and The Atlanta Journal Cup for being the best all-round student in his senior class.
When he was five years old, he started running with some of his Druid Hills neighbors. By the time he was 13 and in the eighth grade, he outran the competition. In the summers he played amateur baseball and worked in a cotton mill in South Carolina. When his supervisor found out he could play baseball, he quit picking cotton and picked up a bat, playing for the mill team. He says his claim to fame is getting two hits off Billy O'Dell, then a pitcher of some note for the San Francisco Giants.
After a stint as visiting scholar at the University of St. Thomas in Houston, Singleton returned to Georgia to accept a post as professor of management at North Georgia College. He's now retired and lives with his wife, Martha Anderson Singleton in Dahlonega. On Sundays, he sings in the choir at St. Elizabeth Church.
The Singletons have two children, Tim, 46, president of a bank in Alabama and Greg, 44, who sells real estate in Florida. "If I die tonight," Singleton says, I will have accomplished every thing I wanted to do, "be a good father to my children and a good husband to my wife."