West Central: Riding The Wave
A New Auto Plant, A Military Expansion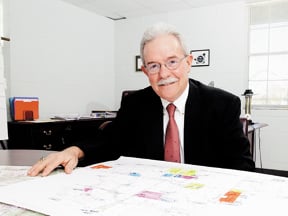 Three words sum up the economic hopes of many West Central Georgia counties this year: "Kia" and "Fort Benning."
Last year's announcement of a Kia plant near West Point reverberated through Troup County and its neighbors, bringing hopes for an influx of suppliers, spin-off businesses and new housing construction.
Meanwhile the announced expansion of Fort Benning has created ripples in Muscogee County and surrounding areas. According to the Fort Benning Futures Partnership, the number of permanent military personnel working at the base will grow by about 5,500. Add to those jobs about 5,600 civilian employees and contractors.
Residential development on four major parcels of land in Chattahoochee County this year will be "keyed to Fort Benning's base anticipated growth," says County Manager David George. "One proposed residential parcel will offer 1,200 units while two others have been rezoned for single family homes on one-acre lots."
In 2006, National Security Associates (NSA) began work on a facility to train law enforcement officers. The company will create up to 19 new jobs.
Harris County is hoping to prosper from Kia's arrival and attract suppliers and related industries. County Manager Carol Silva says the expectation of an influx of new businesses spurred county commissioners to buy 200 acres in the West Point area to develop the Harris Business Park. They designated 100 acres in Hamilton for another. "In 2007 we plan to develop these two parks," she says.
Harris also expects an uptick in tourism, now that Callaway Gardens has added an upscale lodge with a luxury spa.
Heard County Commission Chair June Jackson says the county's development authority is looking for 100 acres to develop a power plant in expectation of new residences and pilot industries affiliated with Kia. "The biggest highway, Ga. 27, is being four-laned, which will help us grow."
Voters renewed a local option sales tax for six more years, to bring in added millions of dollars. Of those, $12 million will go toward new recreation facilities around Franklin.
The Fort Benning base expansion has brought new energy to Marion County. Last year saw the loss of 200 jobs when two companies downsized: Tyson Foods and Baby Dreams, says County Commissioner Frank Powell.
But George Neal, county commission chairman, says things turned around in the last quarter of 2006. "The residential housing sector has grown with spec houses for the overflow from Fort Benning. We are less than a 30-minute drive from the base."
Meriwether County hopes Kia suppliers will take note of its available industrial park sites a short way north of the automaker. County Administrator Robert Hiss hopes to lease a 50,000-square-foot spec building in the Manchester Industrial Park, built with a OneGeorgia Authority grant.
Industrial Development Authority President Kit Purvis says plans are under way for spec buildings in two industrial parks, one in Greenville (230 acres) and another by I-85, near Hogansville. A group from Meriwether traveled to Korea in September 2006 and met with Kia and Hyundai suppliers to interest them in the county, he adds. Also in 2007, G&S Metals, an aluminum smelter, is expected to expand.
Muscogee County and Columbus are at the center of Fort Benning's growth. "Going into 2006, we were riding high after landing the state's largest public sector economic development project – the growth at Fort Benning – and the state's largest private sector project, Aflac," says Economic Development Director Brian Sillitto. The combined employment impact of expansions at Fort Benning and Aflac will be about 19,000 jobs. In 2007, the region will continue to benefit from aviation industry growth, including Pratt & Whitney's Columbus Engine Center and Cessna Aircraft.
Stewart County administrator Mac Moye says that, after nearly 110 years of population decline and no economic growth in the county, Apex Homes – a modular home plant – located there, employing 58 people with plans to grow to 150 in 2007. Also, Corrections Corporation of America opened a prison there to house 1,200 federal immigration detainees. It employs 300; a medical contingent will soon employ as many as 100.
The anticipated doubling of Fort Benning's footprint by 2011 has brought housing developers into Stewart County. "About two-thirds of our county is owned by forestry corporations, growing trees; but now they are starting to divest those acres, and we won't decline in population any more," Moye says.
Troup County planners, such as Nancy Seegar, have been smiling since Kia's announcement. In 2007, a training center for new Kia workers will be constructed. So will a new exit at I-85 between LaGrange and West Point, and both towns have several large-scale commercial/residential/industrial developments planned for completion, prior to Kia's opening.
"Five supplier companies have to locate within 30 miles of the plant, and we hope to get three of those in Troup County," Seegar says. "We expect to double our population in the next 10 years and project 6,500 to 9,500 new jobs."
In Upson County, two plant closings in 2005 and a projected closing of the BF Goodrich plant in late 2007 represent a downturn. But Jim Edwards, chairman of the Thomaston-Upson Industrial Development Authority, says things will improve. "Ply-Mart, a building supply company based in Atlanta, is buying a tract in one of our industrial parks for a manufacturing and distribution facility that should employ 100 people," he says. "They selected Upson because we have excellent access to Atlanta, Columbus and Macon."
An 80,000 square foot spec building in the Thomaston-Upson Technology Park is completed, and Upson is working with the Georgia Department of Transportation to enhance trucking access to the community.
Talbot County Manager Sandra Higginbotham hopes the Fort Benning expansion, which abuts the south end of the county, will spur some 2007 growth. The Kia plant, an hour from Talbotton, might bring activity as well, she adds.
Taylor County is investing heavily in a workforce development and training program to attract new industry, says County Commissioner Patty Carson-James. "Last year, Jet Air opened in our industrial park, and it should bring in 50 jobs over a two-year span. We have a 50,000-square-foot spec building in the industrial park ready for a tenant." A $500,000 grant from OneGeorgia will expand the workforce development center in Butler.
Webster County Commis-sion Chairman Dave Wills reports that Tolleson Lumber doubled employment in the sawmill in 2006, making it the county's single biggest employer. He also sees Floridians purchasing timberland for retirement homes. "They are tired of congestion and traffic in Florida and want to retire here," he says. The county and two towns are consolidating into a single Preston-Weston-Webster County government to increase efficiency.
I
n Pike County, Industrial Development Authority Director Steve Marro says 2006 brought $700,000 worth of utility lines and infrastructure in the Pike County Business Park. "As a result, we attracted a Frito-Lay distribution center, acquired an expansion of South Side Steel (from 5,000 to 15,000 square feet) and acquired Atha Interior Trim, which will add 30 new jobs in 2007."
The county also landed a new Yancey Corporation plant expansion on Highway 341 that will provide 45 new jobs. The plant converts diesel generators to natural gas generators.
Quitman County plans to make use of its natural assets in 2007. A new sewer system should help attract hotels and motels and an ambitious new marina to the lakeshore around Lake Walter George.
"That is a major tourist attraction, and we hope to capitalize," says Richard Morris, county commission chairman. Work has begun on George Place, a high-end gated community. In 2007 RFPs will go out to developers for a marina on the lake, with boat slips, restaurants, a hotel, marina sales and service and a conference center. On the industrial growth side, D&J Plastics, a fishing lure manufacturer, has expanded. "We are completing a new road into their plant, which now employs 200 and will add jobs in 2007," Morris says.
Schley County saw the reopening of Southeast Modular manufacturing, maker of mobile office buildings, in 2006, and the arrival of Southeastern Pneumatic, a company that refurbishes tankers that haul chemicals.
Chamber President Mickey Holloway also points to five new retailers in Ellaville and the expansion of the TCI powdered paint plant as positive signs of growth last year. On the boards for 2007: four-laning Highway 19 and adding 85 miles of pipe to provide deep-well water to more homes and businesses.
In Sumter County, commercial growth and jobs led in 2006, says economic development authority director, David Garriga. "We announced the opening of a Lowe's store in Americus as well as several new restaurants and drugstores. New construction at Georgia Southwestern University ap-proached $40 million." Sumter expects growth in the areas of aviation, biofuels and agribusiness, creating several hundred new jobs, he says.
On March 1, a powerful tornado hit Americus, killing two and destroying numerous houses and businesses, along with Sumter Regional Hospital. Muscogee, Stewart, Sumter and Taylor counties were all de-clared federal disaster areas as a result of the storm.