Northwest: Changing The Landscape
Small Suppliers Follow Big Manufacturers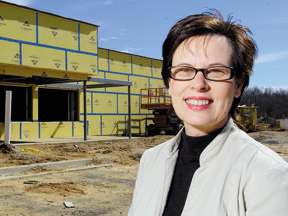 The home run in economic development, of course, is the auto assembly plant or some other mega-manufacturing facility. Watch one of these buildings rise out of the dirt and community pride swells with the passing of each bolt through steel. It's all about jobs and tax base.
Yet, there is some value, using the baseball analogy, in being a singles hitter. More and more, communities are satisfied – even elated – to have their economic development driven by the ancillary businesses that sprout up around the major manufacturing facility that went to the county, or state, next door.
Just look around northwest Georgia. Honda put an assembly plant in Alabama and companies from the Midwest started showing up in Haralson County manufacturing brakes and locks and door handles.
The carpet mills in northwest Georgia consolidated, some jobs were lost, but look what was coming through the front door: floor covering companies, home decoration outlets and other suppliers.
"The major manufacturer can transform the economic development landscape for 50 to 60 miles or more," says Olney Meadows, executive director of the Catoosa County Develop-ment Authority. "The tier two companies and suppliers come along with the big manufacturer and provide jobs. We're seeing that a lot in northwest Georgia."
There was nothing to brace Haralson County when its economy tumbled in the late 1980s. So many jobs were tied to the textile mills it was impossible for communities to avoid calamity. Double-digit unemployment provided a lot of the gloom, but so did the sight of 64 percent of the workforce leaving the county to go elsewhere to work.
But Haralson County is rebuilding its job base thanks to large automotive plants elsewhere. Honda Precision Parts of Georgia opened a 350,000-square-foot facility May 11, 2006 in Tallapoosa. The plant manufactures transmissions for the Honda assembly plant in Lincoln, Ala., farther west on I-20.
Joan Young, executive director of the Haralson County Development Authority, says the day Honda Precision held its grand opening, it also announced a $50 million expansion and hosted a job fair to find another 100 workers.
Honda Lock, located in Bremen, opened in 1998, two years before the Honda plant in Alabama. The company has continued to grow and in 2006 announced a $51 million expansion to cover 2006 through 2012. The company started with 38 employees and now has a workforce of 800.
Rome and Floyd County are also benefiting from ancillary automobile manufacturing businesses. Neaton Rome, Inc., which manufacturers steering wheels and other plastic parts for Honda and Nissan, announced expansion plans last May: 20 jobs and $6 million in new investment.
In addition, F&P Georgia manufacturing will expand its Rome-Floyd County operation to add 20 jobs to a facility that already employs 340. F&P manufactures suspension systems for Honda and Nissan. The company says it will invest some $12.5 million.
Even firms that don't make automotive supplies can benefit. Talla-poosa's Becker Electrical Supply opened in February 2006. This electrical supply house has no obvious connection to the automotive industry – except that its products are used inside the Honda plants.
"They are an Ohio-based company that moved here to take advantage of the huge auto market," Young says. "A lot of the companies that supply these automakers are looking to come down here out of the Midwest."
Young says another company, As-sociated Maintenance of Buffalo, NY, is opening a 15,000-square-foot building and will hire 25 employees over the next two years. Associated handles plant maintenance and repair, as well as expansions, upgrades, renovations, troubleshooting and many other tasks related to industrial buildings.
"This is a great smaller business that has followed the larger company, like Honda," Young says. "We have seen a lot off of Honda and we're working with more prospects now. They have seen all of the growth in automotive industry and are coming down to be part of it."
Suzukaku, a Japanese steel manufacturer, is moving into the Georgia West Business Park, near Buchanan. The plant, expected to open in June, will start with 23 workers and eventually employ 48. Suzukaku Co. Ltd. USA will initially invest $10 million in the facility, which will make parts for All Terrain Vehicles.
Walker County announced in October a $30 million expansion by Nissin Brake Georgia, which manufacturers brake assemblies for the Honda Odyssey vans built in Lincoln, Ala. The expansion in Rock Spring will double the size of the manufacturing facility and double the size of its workforce from 70 to 140.
While other nearby communities rely on the automotive industry, Dalton and Whitfield County have been building on carpet to make a significant transition to other types of flooring and, more recently, high-end home decorating.
"You really saw this when consolidation of the industry started 15 years ago when larger mills started to buy the smaller mills," says George Woodward, president of the Dalton-Whitfield Chamber of Commerce. "The ones that survive now are ones with niche markets, very specialized, and with that consolidation the larger companies realized they were in the flooring industry."
One of those industries is Marktec, Inc., a Korean firm that produces glues and resins used in countertops. The company picked Dalton as its first U.S. location and will open a manufacturing facility in early 2007 that will employ about 25 people.
The six largest carpet companies and 18 of the 35 largest carpet companies are in the state and Woodward says this concentration of flooring industries is attracting business to northwest Georgia. "Flooring has moved to high design," Woodward says. "Our industry now finds itself in the floor covering business and looking at other aspects of this total residential line. These other ancillary businesses come here where the flooring cluster is and they build on it."
Gordon County is also undergoing an economic transition. The Faus Group, with headquarters in Spain, purchased a 400,000-square-foot building and held a grand opening last October for its laminate wood flooring business. The first phase, according to Jimmy Phillips, president of the Gordon County Chamber of Commerce, includes plans for 200 new jobs.
"We were central to the floor covering industry, the workforce was already familiar with that kind of work, there was a quality building," Phillips says. "It was a perfect situation for them. It can be hard to find a 200,000 [or] 300,000 [square foot] facility with high ceiling." The company moved into the site abandoned by the former Outboard Marine Cor-poration. When the engine company went bankrupt seven years ago, Gordon County lost some 600 jobs.
Another key business moving into Gordon County is Nourison Rug Company of Saddlebrook, NJ, which broke ground for a 350,000-square-foot facility in 2006. Nourison distributes European and Asian rug product. "We got them because of the familiarity of the workforce with the rug product," Phillips says.
Woodward says the next wave in industry will be technology. Wired cities, such as Dalton, can be a hub for new technology-based business. Already, there is significant movement to tech industry in Dalton/Whitfield. Windstream Communications is consolidating its U.S. operations from 14 locations to three cities, and one of those will be Dalton. The company was expected to hire 50 customer service employees and 15 engineers in the first quarter of 2007.
Polk County is working to enhance its tourism industry. "Polk on Purpose" is an initiative designed to showcase the county's heritage. A new brochure highlights Polk's natural, cultural and historical beauty. The county is building a new amphitheatre in Peek's Park in Cedartown. There is already a civic auditorium in town, and the outdoor venue will provide another way to share Polk culture with tourists.
"Tourism is the second largest industry in the state and we have so much to offer," says Karolyn Hutcheson, president of the Polk County Chamber of Commerce and the Development Authority of Polk County.
Polk County is also planning for future business expansion. It's marketing a 100,000-square-foot spec building in the Rockmart 101 Business Park. In addition, Hutcheson says, plans were drawn up in 2006 for expansion of the airport.
Northwest Georgia saw other modest gains in industry in 2006. JMS Metal Products opened a steel products facility in Dade County with an initial workforce of 20.
Duncan Industries, a Valencia, Calif.-based company, purchased property in Chattooga County in 2006. Duncan, which makes safety gloves, will employ 25 workers and plans to grow the workforce to 150 over a three-to-five year period.
In Bartow County, BOC Gases, which is owned by the Linde Group, has invested $40 million in a facility to purify air and use it as a coolant. The plant will employ 35 to 40 and is set to open in July.